Abstract
The thiopurine drugs (6-mercaptopurine, 6-thioguanine and azathioprine) are commonly used cytotoxic agents and immunosuppressants. One important route for the metabolism of these agents is methylation, mediated by thiopurine methyltransferase (TPMT). It is now well established that inter-individual variation in sensitivity to thiopurines can be due to the presence of common genetic polymorphisms affecting the TPMT gene. More recently variations in the number of tandem repeats in the 5′ promoter region have been shown to influence TPMT expression in vitro. In this article, we review recent advances in the understanding of the range of inter-individual variation that may be involved in the open reading frame or promoter region of the TPMT gene. We also review the data which have been published regarding the influence such variations may have on both the clinical efficacy and toxicity of the thiopurine drugs.
Access options
Subscribe to Journal
Get full journal access for 1 year
$119.00
only $19.83 per issue
All prices are NET prices.
VAT will be added later in the checkout.
Tax calculation will be finalised during checkout.
Buy article
Get time limited or full article access on ReadCube.
$32.00
All prices are NET prices.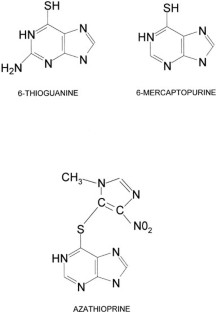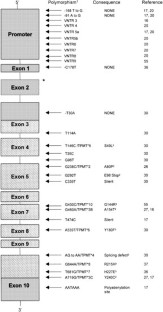 References
Elalamy I, Lecrubier C, Horellou MH, Conard J, Samama MM . Heparin-induced thrombocytopenia: laboratory diagnosis and management Ann Med 2000 32: Suppl 1: 60–67

Hobara N, Watanabe A . Impaired metabolism of azathioprine in carbon tetrachloride-injured rats Hepatogastroenterology 1981 28: 192–194

Gunnarsdottir S, Elfarra AA . Glutathione-dependent metabolism of cis-3-(9H-purin-6-ylthio)acrylic acid to yield the chemotherapeutic drug 6-mercaptopurine: evidence for two distinct mechanisms in rats J Pharmacol Exp Ther 1999 290: 950–957

Sauer H, Hantke U, Wilmanns W . Azathioprine lymphocytotoxicity. Potentially lethal damage by its imidazole derivatives Arzneimittelforschung 1988 38: 820–824

Swann PF, Waters TR, Moulton DC, Xu YZ, Zheng QG, Edwards M, Mace R . Role of postreplicative DNA mismatch repair in the cytotoxic action of thioguanine Science 1996 273: 1109–1111

Tay RS, Lilley RMcC, Murray AW, Atkinson MR . Inhibition of phosphoribosyl pyrophosphate amidotransferase from Ehrlich ascites-tumour cells by thiopurine nucleotides Biochem Pharmacol 1969 18: 936–938

Erb N, Harms DO, Janka-Schaub G . Pharmacokinetics and metabolism of thiopurines in children with acute lymphoblastic leukemia receiving 6-thioguanine versus 6-mercaptopurine Cancer Chemother Pharmacol 1998 42: 266–272

Vogt MH, Stet EH, De Abreu RA, Bokkerink JP, Lambooy LH, Trijbels FJ . The importance of methylthio-IMP for methylmercaptopurine ribonucleoside (Me-MPR) cytotoxicity in Molt F4 human malignant T-lymphoblasts Biochim Biophys Acta 1993 1181: 189–194

Evans WE, Horner M, Chu YQ, Kalwinsky D, Roberts WM . Altered mercaptopurine metabolism, toxic effects, and dosage requirement in a thiopurine methyltransferase-deficient child with acute lymphocytic leukemia J Pediatr 1991 119: 985–989

Dervieux T, Blanco JG, Krynetski EY, Vanin EF, Roussel MF, Relling MV . Differing contribution of thiopurine methyltransferase to mercaptopurine versus thioguanine effects in human leukemic cells Cancer Res 2001 61: 5810–5816

Lilleyman JS, Lennard L . Non-compliance with oral chemotherapy in childhood leukaemia—an overlooked and costly cause of late relapse Br Med J 1996 313: 1219–1220

Adamson PC, Poplack DG, Balis FM . The cytotoxicity of thioguanine vs mercaptopurine in acute lymphoblastic leukemia Leuk Res 1994 18: 805–810

Weinshilboum RM, Sladek SL . Mercaptopurine pharmacogenetics: monogenic inheritance of erythrocyte thiopurine methyltransferase activity Am J Hum Genet 1980 32: 651–662

Vuchetich JP, Weinshilboum RM, Price RA . Segregation analysis of human red blood cell thiopurine methyltransferase activity Genet Epidemiol 1995 12: 1–11

Lennard L, Van Loon JA, Weinshilboum RM . Pharmacogenetics of acute azathioprine toxicity: relationship to thiopurine methyltransferase genetic polymorphism Clin Pharmacol Ther 1989 46: 149–154

Szumlanski C, Otterness D, Her C, Lee D, Brandriff B, Kelsell D et al. Thiopurine methyltransferase pharmacogenetics: human gene cloning and characterization of a common polymorphism DNA Cell Biol 1996 15: 17–30

Krynetski EY, Fessing MY, Yates CR, Sun D, Schuetz JD, Evans WE . Promoter and intronic sequences of the human thiopurine S-methyltransferase (TPMT) gene isolated from a human PAC1 genomic library Pharm Res 1997 14: 1672–1678

Seki T, Tanaka T, Nakamura Y . Genomic structure and multiple single-nucleotide polymorphisms (SNPs) of the thiopurine S-methyltransferase (TPMT) gene J Hum Genet 2000 45: 299–302

Fessing MY, Krynetski EY, Zambetti GP, Evans WE . Functional characterization of the human thiopurine S-methyltransferase (TPMT) gene promoter Eur J Biochem 1998 256: 510–517

Spire-Vayron de la Moureyre C, Debuysere H, Fazio F, Sergent E, Bernard C, Sabbagh N et al. Characterization of a variable number tandem repeat region in the thiopurine S-methyltransferase gene promoter Pharmacogenetics 1999 9: 189–198

Yan L, Zhang S, Eiff B, Szumlanski CL, Powers M, O'Brien JF et al. Thiopurine methyltransferase polymorphic tandem repeat: genotype-phenotype correlation analysis Clin Pharmacol Ther 2000 68: 210–219

Weinshilboum RM, Raymond FA, Pazmino PA . Human erythrocyte thiopurine methyltransferase: radiochemical microassay and biochemical properties Clin Chim Acta 1978 85: 323–333

Woodson LC, Dunnette JH, Weinshilboum RM . Pharmacogenetics of human thiopurine methyltransferase: kidney-erythrocyte correlation and immunotitration studies J Pharmacol Exp Ther 1982 222: 174–181

Szumlanski CL, Honchel R, Scott MC, Weinshilboum RM . Human liver thiopurine methyltransferase pharmacogenetics: biochemical properties, liver-erythrocyte correlation and presence of isozymes Pharmacogenetics 1992 2: 148–159

McLeod HL, Relling MV, Liu Q, Pui CH, Evans WE . Polymorphic thiopurine methyltransferase in erythrocytes is indicative of activity in leukemic blasts from children with acute lymphoblastic leukemia Blood 1995 85: 1897–1902

Krynetski EY, Schuetz JD, Galpin AJ, Pui CH, Relling MV, Evans WE . A single point mutation leading to loss of catalytic activity in human thiopurine S-methyltransferase Proc Natl Acad Sci U S A 1995 92: 949–953

Tai HL, Krynetski EY, Yates CR, Loennechen T, Fessing MY, Krynetskaia NF et al. Thiopurine S-methyltransferase deficiency: two nucleotide transitions define the most prevalent mutant allele associated with loss of catalytic activity in Caucasians Am J Hum Genet 1996 58: 694–702

Tai HL, Krynetski EY, Schuetz EG, Yanishevski Y, Evans WE . Enhanced proteolysis of thiopurine S-methyltransferase (TPMT) encoded by mutant alleles in humans (TPMT*3A, TPMT*2): mechanisms for the genetic polymorphism of TPMT activity Proc Natl Acad Sci U S A 1997 94: 6444–6449

McLeod HL, Krynetski EY, Relling MV, Evans WE . Genetic polymorphism of thiopurine methyltransferase and its clinical relevance for childhood acute lymphoblastic leukemia Leukemia 2000 14: 567–572

Otterness D, Szumlanski C, Lennard L, Klemetsdal B, Aarbakke J, Park-Hah JO et al. Human thiopurine methyltransferase pharmacogenetics: gene sequence polymorphisms Clin Pharmacol Ther 1997 62: 60–73

Loennechen T, Yates CR, Fessing MY, Relling MV, Krynetski EY, Evans WE . Isolation of a human thiopurine S-methyltransferase (TPMT) complementary DNA with a single nucleotide transition A719G (TPMT*3C) and its association with loss of TPMT protein and catalytic activity in humans Clin Pharmacol Ther 1998 64: 46–51

Lee D, Szumlanski C, Houtman J, Honchel R, Rojas K, Overhauser J et al. Thiopurine methyltransferase pharmacogenetics. Cloning of human liver cDNA and a processed pseudogene on human chromosome 18q21.1 Drug Metab Dispos 1995 23: 398–405

Yates CR, Krynetski EY, Loennechen T, Fessing MY, Tai HL, Pui CH et al. Molecular diagnosis of thiopurine S-methyltransferase deficiency: genetic basis for azathioprine and mercaptopurine intolerance Ann Intern Med 1997 126: 608–614

Ameyaw MM, Collie-Duguid ES, Powrie RH, Ofori-Adjei D, McLeod HL . Thiopurine methyltransferase alleles in British and Ghanaian populations Hum Mol Genet 1999 8: 367–370

Coulthard SA, Rabello C, Robson J, Howell C, Minto L, Middleton PG et al. A comparison of molecular and enzyme-based assays for the detection of thiopurine methyltransferase mutations Br J Haematol 2000 110: 599–604

Spire-Vayron de la Moureyre C, Debuysere H, Sabbagh N, Marez D, Vinner E, Chevalier ED et al. Detection of known and new mutations in the thiopurine S- methyltransferase gene by single-strand conformation polymorphism analysis Hum Mutat 1998 12: 177–185

Hon YY, Fessing MY, Pui CH, Relling MV, Krynetski EY, Evans WE . Polymorphism of the thiopurine S-methyltransferase gene in African-Americans Hum Mol Genet 1999 8: 371–376

McLeod HL, Pritchard SC, Githang'a J Indalo A, Ameyaw MM, Powrie RH et al. Ethnic differences in thiopurine methyltransferase pharmacogenetics: evidence for allele specificity in Caucasian and Kenyan individuals Pharmacogenetics 1999 9: 773–776

Collie-Duguid ES, Pritchard SC, Powrie RH, Sludden J, Collier DA, Li T et al. The frequency and distribution of thiopurine methyltransferase alleles in Caucasian and Asian populations Pharmacogenetics 1999 9: 37–42

Ishioka S, Hiyama K, Sato H, Yamanishi Y, McLeod HL, Kumagai K et al. Thiopurine methyltransferase genotype and the toxicity of azathioprine in Japanese Intern Med 1999 38: 944–947

Schaeffeler E, Lang T, Zanger UM, Eichelbaum M, Schwab M . High-throughput genotyping of thiopurine S-methyltransferase by denaturing HPLC Clin Chem 2001 47: 548–555

Hall AG, Hamilton P, Minto L, Coulthard SA . The use of denaturing high-pressure liquid chromatography for the detection of mutations in thiopurine methyltransferase J Biochem Biophys Meth 2001 47: 65–71

Hiratsuka M, Agatsuma Y, Omori F, Narahara K, Inoue T, Kishikawa Y et al. High throughput detection of drug-metabolizing enzyme polymorphisms by allele-specific fluorogenic 5′ nuclease chain reaction assay Biol Pharm Bull 2000 23: 1131–1135

Schutz E, Von Ahsen N, Oellerich M . Genotyping of eight thiopurine methyltransferase mutations: three-color multiplexing, 'two-color/shared' anchor, and fluorescence-quenching hybridization probe assays based on thermodynamic nearest-neighbor probe design Clin Chem 2000 46: 1728–1737

Spire-Vayron de la Moureyre C, Debuysere H, Mastain B, Vinner E, Marez D, Lo Guidice JM et al. Genotypic and phenotypic analysis of the polymorphic thiopurine S-methyltransferase gene (TPMT) in a European population Br J Pharmacol 1998 125: 879–887

McLeod HL, Miller DR, Evans WE . Azathioprine-induced myelosuppression in thiopurine methyltransferase deficient heart transplant recipient Lancet 1993 341: 1151

Ben Ari Z, Mehta A, Lennard L, Burroughs AK . Azathioprine-induced myelosuppression due to thiopurine methyltransferase deficiency in a patient with autoimmune hepatitis J Hepatol 1995 23: 351–354

Leipold G, Schutz E, Haas JP, Oellerich M . Azathioprine-induced severe pancytopenia due to a homozygous two-point mutation of the thiopurine methyltransferase gene in a patient with juvenile HLA-B27-associated spondylarthritis Arthritis Rheum 1997 40: 1896–1898

Jackson A, Hall AG, McLelland J . Thiopurine methyltransferase levels should be measured before commencing patients on azathioprine Br J Dermatol 1997 136: 133–134

Lennard L, Gibson BE, Nicole T, Lilleyman JS . Congenital thiopurine methyltransferase deficiency and 6-mercaptopurine toxicity during treatment for acute lymphoblastic leukaemia Arch Dis Child 1993 69: 577–579

Andersen JB, Szumlanski C, Weinshilboum RM, Schmiegelow K . Pharmacokinetics, dose adjustments, and 6-mercaptopurine/methotrexate drug interactions in two patients with thiopurine methyltransferase deficiency Acta Paediatr 1998 87: 108–111

McBride KL, Gilchrist GS, Smithson WA, Weinshilboum RM, Szumlanski CL . Severe 6-thioguanine-induced marrow aplasia in a child with acute lymphoblastic leukemia and inhibited thiopurine methyltransferase deficiency J Pediatr Hematol Oncol 2000 22: 441–445

Stolk JN, Boerbooms AM, De Abreu RA, de Koning DG, Van Beusekom HJ, Muller WH et al. Reduced thiopurine methyltransferase activity and development of side effects of azathioprine treatment in patients with rheumatoid arthritis Arthritis Rheum 1998 41: 1858–1866

Evans WE, Hon YY, Bomgaars L, Coutre S, Holdsworth M, Janco R et al. Preponderance of thiopurine S-methyltransferase deficiency and heterozygosity among patients intolerant to mercaptopurine or azathioprine J Clin Oncol 2001 19: 2293–2301

Colombel JF, Ferrari N, Debuysere H, Marteau P, Gendre JP, Bonaz B et al. Genotypic analysis of thiopurine S-methyltransferase in patients with Crohn's disease and severe myelosuppression during azathioprine therapy Gastroenterology 2000 118: 1025–1030

Kader HA, Wenner WJ, Jr ., Telega GW, Maller ES, Baldassano RN. Normal thiopurine methyltransferase levels do not eliminate 6- mercaptopurine or azathioprine toxicity in children with inflammatory bowel disease J Clin Gastroenterol 2000 30: 409–413

Relling MV, Rubnitz JE, Rivera GK, Boyett JM, Hancock ML, Felix CA et al. High incidence of secondary brain tumours after radiotherapy and antimetabolites Lancet 1999 354: 34–39

Relling MV, Yanishevski Y, Nemec J, Evans WE, Boyett JM, Behm FG et al. Etoposide and antimetabolite pharmacology in patients who develop secondary acute myeloid leukemia Leukemia 1998 12: 346–352

Thomsen JB, Schroder H, Kristinsson J, Madsen B, Szumlanski C, Weinshilboum R et al. Possible carcinogenic effect of 6-mercaptopurine on bone marrow stem cells: relation to thiopurine metabolism Cancer 1999 86: 1080–1086

Lennard L, Lilleyman JS, Van Loon J, Weinshilboum RM . Genetic variation in response to 6-mercaptopurine for childhood acute lymphoblastic leukaemia Lancet 1990 336: 225–229

Relling MV, Hancock ML, Boyett JM, Pui CH, Evans WE . Prognostic importance of 6-mercaptopurine dose intensity in acute lymphoblastic leukemia Blood 1999 93: 2817–2823

Thervet E, Anglicheau D, Toledano N, Houllier AM, Noel LH, Kreis H et al. Long-term results of TMPT activity monitoring in azathioprine-treated renal allograft recipients J Am Soc Nephrol 2001 12: 170–176

Dervieux T, Medard Y, Baudouin V ., Maisin A, Zhang D, Broly F et al. Thiopurine methyltransferase activity and its relationship to the occurrence of rejection episodes in paediatric renal transplant recipients treated with azathioprine Br J Clin Pharmacol 1999 48: 793–800

White SD, Rosychuk RA, Outerbridge CA, Fieseler KV, Spier S, Ihrke PJ et al. Thiopurine methyltransferase in red blood cells of dogs, cats, and horses J Vet Intern Med 2000 14: 499–502

Cournoyer B, Watanabe S, Vivian A . A tellurite-resistance genetic determinant from phytopathogenic pseudomonads encodes a thiopurine methyltransferase: evidence of a widely-conserved family of methyltransferases Biochim Biophys Acta 1998 1397: 161–168

Tavadia SM, Mydlarski PR, Reis MD, Mittmann N, Pinkerton PH, Shear N et al. Screening for azathioprine toxicity: a pharmacoeconomic analysis based on a target case J Am Acad Dermatol 2000 42: 628–632

Tan BB, Lear JT, Gawkrodger DJ, English JS . Azathioprine in dermatology: a survey of current practice in the UK Br J Dermatol 1997 136: 351–355
About this article
Cite this article
Coulthard, S., Hall, A. Recent advances in the pharmacogenomics of thiopurine methyltransferase. Pharmacogenomics J 1, 254–261 (2001). https://doi.org/10.1038/sj.tpj.6500066
Received:

Revised:

Accepted:

Published:

Issue Date:

DOI: https://doi.org/10.1038/sj.tpj.6500066
Keywords
thiopurine methyltransferase

thiopurine

pharmacogenomics

immunosuppressants

leukaemia
This article is cited by
Luc J. J. Derijks
Dennis R. Wong
Adriaan A. van Bodegraven

Clinical Pharmacokinetics (2018)

Ioannis K. Litos
Evaggelia Emmanouilidou
Achille Gravanis

Analytical and Bioanalytical Chemistry (2007)

Sally Coulthard
Linda Hogarth

Investigational New Drugs (2005)