Understanding the Herpes Simplex Virus (HSV) can help dentists to avoid cross infection in their practice, and also to support and advise patients who suffer from cold sores.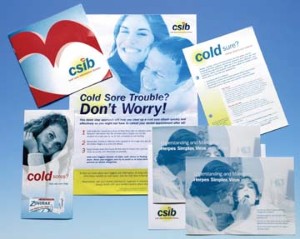 The Cold Sore Information Bureau (CSIB) has developed a new best practice guide to help dentists manage issues surrounding the treatment and support of patients who experience cold sores. The guide is based on the knowledge and experience of the CSIB's independent dental panel and provides practical advice for both dentists and patients.
The CSIB has also produced a bespoke dental pack for use in surgery, which includes a copy of the best practice guide; a colourful and informative A3 poster providing advice for patients for display in surgery waiting rooms, examples of CSIB patient leaflets, developed to provide cold sore sufferers with help and advice on the condition, plus an application form to request further copies of these leaflets for the surgery.
To request a free dental pack, send an email to the CSIB at CSIB@harvardhealth.co.uk. Please entitle the email CSIB Best Practice Guide and remember to include your name, address and practice details in the email. Or write to CSIB Dental Pack, c/o Harvard Health, Suite 2, Cobb House, Oyster Lane, Byfleet, Surrey KT14 7DU.
Reader response number 54
About this article
Cite this article
Cold sore advice. Br Dent J 195, 56 (2003). https://doi.org/10.1038/sj.bdj.4810323