Abstract
Bipolar disorder has been associated with anatomical as well as functional abnormalities in a brain network that mediates normal and impaired emotion regulation. Previous brain imaging studies have highlighted the subgenual cingulate (SC) and the amygdalo-hippocampal (AH) complex as core regions of this network. Thus we investigated white matter (WM) fiber tracts between the SC and the AH region, the uncinate fasciculus, as well as between two control regions (pons and cerebellum), using diffusion tensor imaging tractography in 16 euthymic bipolar patients (BP) and 16 sex-, age- and handedness-matched controls. Fractional anisotropy (FA) and apparent diffusion coefficient (ADC) of the reconstructed fiber bundle and the number of virtual reconstructed fibers were compared between groups. The tractography results revealed a significantly increased number of reconstructed fibers between the left SC and left AH in BP as compared to healthy controls. FA and ADC of the reconstructed fiber tract did not differ significantly between the groups. Furthermore, no significant group differences were observed neither for reconstructed fiber tracts between the right SC and right AH nor between the control regions. The present results suggest an altered WM pathway between the left SC and AH region and thus extend previous findings of anatomical and functional modifications in these structures in BP.
This is a preview of subscription content
Access options
Subscribe to Journal
Get full journal access for 1 year
$119.00
only $9.92 per issue
All prices are NET prices.
VAT will be added later in the checkout.
Tax calculation will be finalised during checkout.
Buy article
Get time limited or full article access on ReadCube.
$32.00
All prices are NET prices.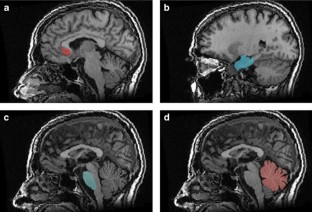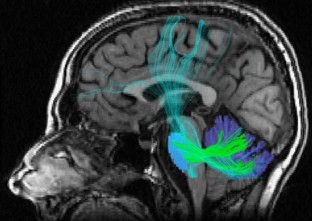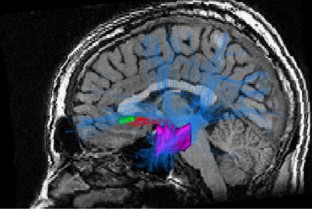 References
Wessa M, Houenou J, Paillere ML, Berthoz S, Artiges E, Leboyer M et al. Fronto-striatal overactivation in euthymic bipolar patients during an emotional go/nogo task. Am J Psychiatry 2007; 164: 638–646.

Strakowski SM, Adler CM, Holland SK, Mills N, DelBello MP . A preliminary FMRI study of sustained attention in euthymic, unmedicated bipolar disorder. Neuropsychopharmacology 2004; 29: 1734–1740.

Strakowski SM, Delbello MP, Adler CM . The functional neuroanatomy of bipolar disorder: a review of neuroimaging findings. Mol Psychiatry 2005; 10: 105–116.

Mayberg HS, Liotti M, Brannan SK, McGinnis S, Mahurin RK, Jerabek PA et al. Reciprocal limbic-cortical function and negative mood: converging PET findings in depression and normal sadness. Am J Psychiatry 1999; 156: 675–682.

Phillips ML, Drevets WC, Rauch SL, Lane R . Neurobiology of emotion perception I: the neural basis of normal emotion perception. Biol Psychiatry 2003; 54: 504–514.

Mayberg HS . Limbic-cortical dysregulation: a proposed model of depression. J Neuropsychiatry Clin Neurosci 1997; 9: 471–481.

Blumberg HP, Charney DS, Krystal JH . Frontotemporal neural systems in bipolar disorder. Semin Clin Neuropsychiatry 2002; 7: 243–254.

Bush G, Luu P, Posner MI . Cognitive and emotional influences in anterior cingulate cortex. Trends Cogn Sci 2000; 4: 215–222.

Mayberg HS, Lozano AM, Voon V, McNeely HE, Seminowicz D, Hamani C et al. Deep brain stimulation for treatment-resistant depression. Neuron 2005; 45: 651–660.

Bauer M, London ED, Rasgon N, Berman SM, Frye MA, Altshuler LL et al. Supraphysiological doses of levothyroxine alter regional cerebral metabolism and improve mood in bipolar disorder. Mol Psychiatry 2006; 10: 456–469.

Seminowicz DA, Mayberg HS, McIntosh AR, Goldapple K, Kennedy S, Segal Z et al. Limbic-frontal circuitry in major depression: a path modeling metanalysis. Neuroimage 2004; 22: 409–418.

Drevets WC . Prefrontal cortical-amygdalar metabolism in major depression. Ann NY Acad Sci 1999; 877: 614–637.

Videbech P . MRI findings in patients with affective disorder: a meta-analysis. Acta Psychiatr Scand 1997; 96: 157–168.

Stoll AL, Renshaw PF, Yurgelun-Todd DA, Cohen BM . Neuroimaging in bipolar disorder: what have we learned? Biol Psychiatry 2000; 48: 505–517.

Altshuler LL, Curran JG, Hauser P, Mintz J, Denicoff K, Post R . T2 hyperintensities in bipolar disorder: magnetic resonance imaging comparison and literature meta-analysis. Am J Psychiatry 1995; 152: 1139–1144.

Pillai JJ, Friedman L, Stuve TA, Trinidad S, Jesberger JA, Lewin JS et al. Increased presence of white matter hyperintensities in adolescent patients with bipolar disorder. Psychiatry Res 2002; 114: 51–56.

Lyoo IK, Lee HK, Jung JH, Noam GG, Renshaw PF . White matter hyperintensities on magnetic resonance imaging of the brain in children with psychiatric disorders. Compr Psychiatry 2002; 43: 361–368.

Bruno SD, Barker GJ, Cercignani M, Symms M, Ron MA . A study of bipolar disorder using magnetization transfer imaging and voxel-based morphometry. Brain 2004; 127: 2433–2440.

Beyer JL, Taylor WD, MacFall JR, Kuchibhatla M, Payne ME, Provenzale JM et al. Cortical white matter microstructural abnormalities in bipolar disorder. Neuropsychopharmacology 2005; 30: 2225–2229.

Adler CM, Holland SK, Schmithorst V, Wilke M, Weiss KL, Pan H et al. Abnormal frontal white matter tracts in bipolar disorder: a diffusion tensor imaging study. Bipolar Disord 2004; 6: 197–203.

Adler CM, Adams J, DelBello MP, Holland SK, Schmithorst V, Levine A et al. Evidence of white matter pathology in bipolar disorder adolescents experiencing their first episode of mania: a diffusion tensor imaging study. Am J Psychiatry 2006; 163: 322–324.

Haznedar MM, Roversi F, Pallanti S, Baldini-Rossi N, Schnur DB, Licalzi EM et al. Fronto-thalamo-striatal gray and white matter volumes and anisotropy of their connections in bipolar spectrum illnesses. Biol Psychiatry 2005; 57: 733–742.

Tuch DS, Salat DH, Wisco JJ, Zaleta AK, Hevelone ND, Rosas HD . Choice reaction time performance correlates with diffusion anisotropy in white matter pathways supporting visuospatial attention. Proc Natl Acad Sci USA 2005; 102: 12212–12217.

Basser PJ, Mattiello J, LeBihan D . MR diffusion tensor spectroscopy and imaging. Biophys J 1994; 66: 259–267.

Jones DK, Catani M, Pierpaoli C, Reeves SJ, Shergill SS, O'Sullivan M et al. Age effects on diffusion tensor magnetic resonance imaging tractography measures of frontal cortex connections in schizophrenia. Hum Brain Mapp 2006; 27: 230–238.

Mori S, Crain BJ, Chacko VP, van Zijl PC . Three-dimensional tracking of axonal projections in the brain by magnetic resonance imaging. Ann Neurol 1999; 45: 265–269.

Moseley ME, Cohen Y, Mintorovitch J . Early detection of regional cerebral ischemic injury in cats: evaluation of diffusion and T2-weighted MRI and spectroscopy. Mag Reson Med 1990; 14: 330–346.

Catani M . Diffusion tensor magnetic resonance imaging tractography in cognitive disorders. Curr Opin Neurol 2006; 19: 599–606.

Sullivan EV, Adalsteinsson E, Pfefferbaum A . Selective age-related degradation of anterior callosal fiber bundles quantified in vivo with fiber tracking. Cereb Cortex 2006; 16: 1030–1039.

Schmahmann JD, Pandya DN . Fiber Pathways of the Brain. Oxford University Press: New York, 2006.

Ebeling U, von Cramon D . Topography of the uncinate fascicle and adjacent temporal fiber tracts. Acta Neurochir (Wien) 1992; 115: 143–148.

Catani M, Howard RJ, Pajevic S, Jones DK . Virtual in vivo interactive dissection of white matter fasciculi in the human brain. Neuroimage 2002; 17: 77–94.

Lacerda AL, Keshavan MS, Hardan AY, Yorbik O, Brambilla P, Sassi RB et al. Anatomic evaluation of the orbitofrontal cortex in major depressive disorder. Biol Psychiatry 2004; 55: 353–358.

Lecrubier Y, Sheehan DV, Weiller E, Amorim P, Bonora I, Sheehan KH et al. The Mini-International Neuropsychiatric Interview (M.I.N.I.). A short diagnostic structured interview: reliability and validity according to the CIDI. Eur Psychiatry 1997; 12: 224–231.

Collet L, Cottraux J . The shortened Beck depression inventory (13 items). Study of the concurrent validity with the Hamilton scale and Widlocher's retardation scale. Encephale 1986; 12: 77–79.

Hamilton M . A rating scale for depression. J Neurol Neurosurg Psychiatry 1960; 23: 56–62.

Young RC, Biggs JT, Ziegler VE, Meyer DA . A rating scale for mania: reliability, validity and sensitivity. Br J Psychiatry 1978; 133: 429–435.

Cointepas Y, Poupon C, Maroy R, Rivière D, Le Bihan D, Mangin J-F . A freely available Anatomist/BrainVISA package for analysis of diffusion MR images [Abstract]. Proceedings of the 9th International Conference on Functional Mapping of the Human Brain. Available on CD-Rom in NeuroImage. Organization of Human Brain Mapping: New York, NY, 2003.

Brambilla P, Nicoletti MA, Harenski K, Sassi RB, Mallinger AG, Frank E et al. Anatomical MRI study of subgenual prefrontal cortex in bipolar and unipolar subjects. Neuropsychopharmacology 2002; 27: 792–799.

Nestor PJ, Fryer TD, Smielewski P, Hodges JR . Limbic hypometabolism in Alzheimer's disease and mild cognitive impairment. Ann Neurol 2003; 54: 343–351.

Hadjipavlou G, Dunckley P, Behrens TE, Tracey I . Determining anatomical connectivities between cortical and brainstem pain processing regions in humans: a diffusion tensor imaging study in healthy controls. Pain 2006; 123: 169–178.

Sullivan EV, Rosenbloom M, Serventi KL, Pfefferbaum A . Effects of age and sex on volumes of the thalamus, pons, and cortex. Neurobiol Aging 2004; 25: 185–192.

Freedman LJ, Insel TR, Smith Y . Subcortical projections of area 25 (subgenual cortex) of the macaque monkey. J Comp Neurol 2000; 421: 172–188.

Perrin M, Poupon C, Cointepas Y, Rieul B, Golestani N, Pallier C et al. Fiber tracking in q-ball fields using regularized particle trajectories. Proceedings of the 19th International Conference, IPMI 2005. Information Processing in Medical Imaging: Glenwood Springs, USA, 2005, pp 52–63.

Lazar M, Weinstein DM, Tsuruda JS, Hasan KM, Arfanakis K, Meyerand ME et al. White matter tractography using diffusion tensor deflection. Hum Brain Mapp 2003; 18: 306–321.

Nucifora PG, Verma R, Melhem ER, Gur RE, Gur RC . Leftward asymmetry in relative fiber density of the arcuate fasciculus. Neuroreport 2005; 16: 791–794.

Cabeza R . Hemispheric asymmetry reduction in older adults: the HAROLD model. Psychol Aging 2002; 17: 85–100.

Kier EL, Staib LH, Davis LM, Bronen RA . MR imaging of the temporal stem: anatomic dissection tractography of the uncinate fasciculus, inferior occipitofrontal fasciculus, and Meyer's loop of the optic radiation. AJNR Am J Neuroradiol 2004; 25: 677–691.

Nakamura M, McCarley RW, Kubicki M, Dickey CC, Niznikiewicz MA, Voglmaier MM et al. Fronto-temporal disconnectivity in schizotypal personality disorder: a diffusion tensor imaging study. Biol Psychiatry 2005; 58: 468–478.

Chen CH, Lennox B, Jacob R, Calder A, Lupson V, Bisbrown-Chippendale R et al. Explicit and implicit facial affect recognition in manic and depressed states of bipolar disorder: a functional magnetic resonance imaging study. Biol Psychiatry 2006; 59: 31–39.

Rich BA, Vinton DT, Roberson-Nay R, Hommer RE, Berghorst LH, McClure EB et al. Limbic hyperactivation during processing of neutral facial expressions in children with bipolar disorder. Proc Natl Acad Sci USA 2006; 103: 8900–8905.

Botteron KN, Raichle ME, Drevets WC, Heath AC, Todd RD . Volumetric reduction in left subgenual prefrontal cortex in early onset depression. Biol Psychiatry 2002; 51: 342–344.

Starkstein SE, Boston JD, Robinson RG . Mechanisms of mania after brain injury. 12 case reports and review of the literature. J Nerv Ment Dis 1988; 176: 87–100.

Robinson RG, Boston JD, Starkstein SE, Price TR . Comparison of mania and depression after brain injury: causal factors. Am J Psychiatry 1988; 145: 172–178.

Starkstein SE, Fedoroff P, Berthier ML, Robinson RG . Manic-depressive and pure manic states after brain lesions. Biol Psychiatry 1991; 29: 149–158.

Ongur D, Drevets WC, Price JL . Glial reduction in the subgenual prefrontal cortex in mood disorders. Proc Natl Acad Sci USA 1998; 95: 13290–13295.

Korbo L . Glial cell loss in the hippocampus of alcoholics. Alcohol Clin Exp Res 1999; 23: 164–168.

Rodrigo S, Oppenheim C, Chassoux F, Golestani N, Cointepas Y, Poupon C et al. Uncinate fasciculus fiber tracking in mesial temporal lobe epilepsy. Initial findings. Eur Radiol 2007 (E-pub ahead of print).

Kanaan RA, Shergill SS, Barker GJ, Catani M, Ng VW, Howard R et al. Tract-specific anisotropy measurements in diffusion tensor imaging. Psychiatry Res 2006; 146: 73–82.

Johansen-Berg H, Behrens TE . Just pretty pictures? What diffusion tractography can add in clinical neuroscience. Curr Opin Neurol 2006; 19: 379–385.

Pierpaoli C, Barnett A, Pajevic S, Chen R, Penix LR, Virta A et al. Water diffusion changes in Wallerian degeneration and their dependence on white matter architecture. Neuroimage 2001; 13: 1174–1185.

Catani M, Jones DK, Donato R, Ffytche DH . Occipito-temporal connections in the human brain. Brain 2003; 126: 2093–2107.

Brambilla P, Nicoletti MA, Sassi RB, Mallinger AG, Frank E, Kupfer DJ et al. Magnetic resonance imaging study of corpus callosum abnormalities in patients with bipolar disorder. Biol Psychiatry 2003; 54: 1294–1297.

Brambilla P, Nicoletti M, Sassi RB, Mallinger AG, Frank E, Keshavan MS et al. Corpus callosum signal intensity in patients with bipolar and unipolar disorder. J Neurol Neurosurg Psychiatry 2004; 75: 221–225.

Atmaca M, Ozdemir H, Cetinkaya S, Parmaksiz S, Belli H, Kursad Poyraz A et al. Cingulate gyrus volumetry in drug free bipolar patients and patients treated with valproate or valproate and quetiapine. J Psychiatr Res 2006 (E-pub ahead of print).

Moore GJ, Bebchuk JM, Wilds IB, Chen G, Manji HK . Lithium-induced increase in human brain grey matter. Lancet 2000; 356: 1241–1242.

Sassi RB, Nicoletti M, Brambilla P, Mallinger AG, Frank E, Kupfer DJ et al. Increased gray matter volume in lithium-treated bipolar disorder patients. Neurosci Lett 2002; 329: 243–245.
Acknowledgements
This study was supported by grants from the Deutsche Forschungsgemeinschaft (WE 3638/1-1 to MW), the French National Academy of Medicine (to JH), the French Institute for Health and Medical Research (RBM 04-27 and AP-HP/INSERM interface research grant 2003 to MLPM) and ANR grant 'PSY-marker' (Agence Nationale pour la Recherche). We thank Jean-Francois Mangin and Yann Cointepas for methodological assistance and helpful comments on the manuscript.
Supplementary information
About this article
Cite this article
Houenou, J., Wessa, M., Douaud, G. et al. Increased white matter connectivity in euthymic bipolar patients: diffusion tensor tractography between the subgenual cingulate and the amygdalo-hippocampal complex. Mol Psychiatry 12, 1001–1010 (2007). https://doi.org/10.1038/sj.mp.4002010
Received:

Revised:

Accepted:

Published:

Issue Date:

DOI: https://doi.org/10.1038/sj.mp.4002010
Keywords
anisotropy

diffusion magnetic resonance imaging

humans

adult

bipolar disorder