Abstract
Signs of an inflammatory process, in particular increased pro-inflammatory cytokines and increased levels of prostaglandine E2 (PGE2), have repeatedly been described in major depression (MD). As cyclooxygenase-2 (COX-2) inhibitors inhibit the PGE2 production and the production of pro-inflammatory cytokines, we performed a therapeutic trial with the COX-2 inhibitor celecoxib. In a prospective, double-blind, add-on study, 40 patients suffering from an acute depressive episode were randomly assigned to either reboxetine and celecoxib or to reboxetine plus placebo. After a wash-out period, 20 patients received 4–10 mg reboxetine plus placebo and 20 received reboxetine plus 400 mg celecoxib for 6 weeks. The treatment effect was calculated by analysis of variance. There were no significant differences between groups in age, sex, duration or severity of disease or psychopathology, or reboxetine dose or plasma levels. Over 6 weeks, both groups of patients showed significant improvement in scores of the Hamilton Depression Scale. However, the celecoxib group showed significantly greater improvement compared to the reboxetine-alone group. Additional treatment with celecoxib has significant positive effects on the therapeutic action of reboxetine with regard to depressive symptomatology. Moreover, the fact that treatment with an anti-inflammatory drug showed beneficial effects on MD indicates that inflammation is related to the pathomechanism of the disorder, although the exact mechanisms remain to become elucidated.
This is a preview of subscription content
Access options
Subscribe to Journal
Get full journal access for 1 year
$119.00
only $9.92 per issue
All prices are NET prices.
VAT will be added later in the checkout.
Tax calculation will be finalised during checkout.
Buy article
Get time limited or full article access on ReadCube.
$32.00
All prices are NET prices.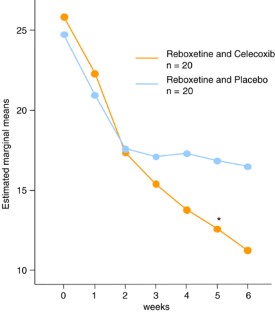 References
Lopez AD, Murray CC . The global burden of disease, 1990–2020. Nat Med 1998; 11: 1241–1243.

Pollmächer T, Haack M, Schuld A, Reichenberg A, Yirmija R . Low levels of circulating inflammatory cytokines – do they affect human brain function? Brain Behav Immun 2002; 16: 525–532.

Schäfer M, Horn M, Schmidt F, Schmid-Wendtner MH, Volkenandt M, Ackenheil M et al. Correlation between sICAM-1 and depressive symptoms during adjuvant treatment of melanoma with Interferon-a. Brain Behav Immun 2004; 18: 555–562.

Zephir H, De Seze J, Stojkovic T, Delisse B, Ferriby D, Cabaret M et al. Multiple sclerosis and depression: influence of interferon beta therapy. Mult Scler 2003; 9: 284–288.

Capuron L, Ravaud A, Miller AH, Dantzer R . Baseline mood and psychosocial characteristics of patients developing depressive symptoms during interleukin-2 and/or interferon-alpha cancer therapy. Brain Behav Immun 2004; 18: 205–213.

van West D, Maes M . Activation of the inflammatory response system: a new look at the etiopathogenesis of major depression. Neuroendocrinol Lett 1999; 20: 11–17.

Müller N, Hofschuster E, Ackenheil M, Mempel W, Eckstein R . Investigations of the cellular immunity during depression and the free interval: evidence for an immune activation in affective psychosis. Prog Neuro-Psychopharmacol Biol Psychiat 1993; 17: 713–730.

Lanquillon S, Krieg J-C, Bening-Abu-Shach U, Vedder H . Cytokine production and treatment response in major depressive disorder. Neuropsychopharmacology 2000; 22: 370–379.

Rothermundt M, Arolt V, Peters M, Gutbrodt H, Fenker J, Kersting A et al. Inflammatory markers in major depression and melancholia. J Affect Disord 2001; 63: 93–102.

Song C, Lin A, Bonaccorso S, Heide C, Verkerk R, Kenis G et al. The inflammatory response system and the availability of plasma tryptophan in patients with primary sleep disorders and major depression. J Affect Disord 1998; 49: 211–219.

Linnoila M, Whorton R, Rubinow DR, Cowdry RW, Ninan PT, Waters RN . CSF prostaglandin levels in depressed and schizophrenic patients. Arch Gen Psychiatry 1983; 40: 405–406.

Calabrese JR, Skwerer AG, Barna B, Gulledge AD, Valenzuela R, Butkus A et al. Depression, immunocompetence, and prostaglandins of the E series. Psychiatry Res 1986; 17: 41–47.

Ohishi K, Ueno R, Nishino S, Sakai T, Hayaishi O . Increased level of salivary prostaglandins in patients with major depression. Biol Psychiatry 1988; 23: 326–334.

Nishino S, Ueno R, Ohishi K, Sakai T, Hayaishi O . Salivary prostaglandin concentrations: possible state indicators for major depression. Am J Psychiatry 1989; 146: 365–368.

Maes M, Scharpe S, Meltzer HY, Bosmans E, Suy E, Calabrese J et al. Relationships between interleukin-6 activity, acute phase proteins, and function of the hypothalamic-pituitary-adrenal axis in severe depression. Psychiatry Res 1993; 49: 11–27.

Frommberger UH, Bauer J, Haselbauer P, Fraulin A, Riemann D, Berger M . Interleukin-6-(IL-6) plasma levels in depression and schizophrenia: comparison between the acute state and after remission. Eur Arch Psychiatry Clin Neurosci 1997; 247: 228–233.

Maes M, Bosmans E, De Jongh R, Kenis G, Vandoolaeghe E, Neels H . Increased serum IL-6 and IL-1 receptor antagonist concentrations in major depression and treatment resistant depression. Cytokine 1997; 9: 853–858.

Mtabaji JP, Manku MS, Horrobin DF . Actions of the tricyclic antidepressant clomipramine on responses to pressor agents. Interactions with prostaglandin E2. Prostaglandins 1977; 14: 125–132.

Yaron I, Shirazi I, Judovich R, Levartovsky D, Caspi D, Yaron M . Fluoxetine and amitriptyline inhibit nitric oxide, prostaglandin E2, and hyaluronic acid production in human synovial cells and synovial tissue cultures. Arthritis Rheum 1999; 42: 2561–2568.

Dantzer R . Cytokine-induced sickness behavior: Where do we stand? Brain Behav Immun 2001; 15: 7–24.

Yirmiya R, Barak O, Avitsur R, Avitsur R, Gallily R, Weidenfeld J . Intracerebral administration of Mycoplasma fermentans produces sickness behavior: role of prostaglandins. Brain Res 1997; 749: 71–81.

Collantes-Esteves E, Fernandez-Perrez Ch . Improved self-control of ostheoarthritis pain and self-reported health status in non-responders to celecoxib switched to rofecoxib: results of PAVIA, an open-label post-marketing survey in Spain. Curr Med Res Opin 2003; 19: 402–410.

Müller N, Riedel M, Schwarz MJ, Engel RR . Clinical effects of COX-2 inhibitors on cognition in schizophrenia. Eur Arch Psychiatry Clin Neurosci 2004; 254: 149–151.

Hamilton M . A rating scale for depression. J Neurol Neurosurg Psychiat 1960; 23: 56–62.

Kasper S, el Giamal N, Hilger E . Reboxetine: the first selective noradrenaline re-uptake inhibitor. Expert Opin Pharmacother 2000; 1: 771–782.

Hajós M, Fleishaker JC, Filipiak-Reisner JK, Brown MT, Wong EH . The selective norepinephrine reuptake inhibitor antidepressant reboxetine: pharmacological and clinical profile. CNS Drug Rev 2004; 10: 23–44.

Müller N, Riedel M, Scheppach C, Brandstätter B, Sokkullu S, Krampe K et al. Beneficial antipsychotic effects of celecoxib add-on therapy compared to risperidone alone in schizophrenia. Am J Psychiatry 2002; 159: 1029–1034.

Müller N, Strassnig M, Schwarz MJ, Ulmschneider M, Riedel M . COX-2 inhibitors as adjunctive therapy in schizophrenia. Exp Opin Investig Drugs 2004; 13: 1033–1044.

Wexler WE . Beyond the Kraepelinian dichotomy (Editorial). Biol Psychiatry 1992; 32: 539–541.

Cao C, Matsumura K, Ozaki M, Watanabe Y . Lipopolysaccharide injected into the cerebral ventricle evokes fever through induction of cyclooxygenase-2 in brain endothelial cells. J Neurosci 1999; 19: 716–725.

Casolini P, Catalani A, Zuena AR, Angelucci L . Inhibition of COX-2 reduces the age-dependent increase of hippocampal inflammatory markers, corticosterone secretion and behavioral impairment in the rat. J Neurosci Res 2002; 68: 337–343.

Hu F, Wang X, Pace TWW, Wu H, Miller AH . Inhibition of COX-2 by celecoxib enhances glucocorticoid receptor function. Mol Psychiatry 2005; 10: 426–428.

Song C, Leonard B . Fundamentals of Psychoneuroimmunology. J Wiley and sons: Chichester, NY, 2000.

Sandrini M, Vitale G, Pini LA . Effect of rofecoxib on nociception and the serotonin system in the rat brain. Inflamm Res 2002; 51: 154–159.
Acknowledgements
This study was in part supported by Pharmacia GmbH, Erlangen, Germany.
Additional information
Aspects of the paper have been pre-published at the 43rd annual meeting of the 'American College of Neuropsychopharmacology', 12–16 December, 2004, San Juan, Puerto Rico, USA.
About this article
Cite this article
Müller, N., Schwarz, M., Dehning, S. et al. The cyclooxygenase-2 inhibitor celecoxib has therapeutic effects in major depression: results of a double-blind, randomized, placebo controlled, add-on pilot study to reboxetine. Mol Psychiatry 11, 680–684 (2006). https://doi.org/10.1038/sj.mp.4001805
Received:

Revised:

Accepted:

Published:

Issue Date:

DOI: https://doi.org/10.1038/sj.mp.4001805
Keywords
major depression

immunity

COX-2 inhibition

inflammation

psychoneuroimmunology