Abstract
Serotonergic and opioidergic neurotransmitter system alterations have been observed in people with eating disorders; the genes for the serotonin 1D receptor (HTR1D) and the opioid delta receptor (OPRD1) are found on chr1p36.3–34.3, a region identified by our group in a linkage analysis of anorexia nervosa (AN). These candidate genes were evaluated for sequence variation and for linkage and association of this sequence variation to AN in family and case : control data sets. Resequencing of the HTR1D locus and a portion of the OPRD1 locus identified novel SNPs and confirmed existing SNPs. Genotype assay development and genotyping of nine SNPs (four at HTR1D and five at OPRD1) was performed on 191 unrelated individuals fulfilling DSM-IV criteria (w/o amenorrhea criterion) for AN, 442 relatives of AN probands and 98 psychiatrically screened controls. Linkage analysis of these candidate gene SNPs with 33 microsatellite markers in families including relative pairs concordantly affected with restricting AN (N=37) substantially increased the evidence for linkage of this region to restricting AN to an NPL score of 3.91. Statistically significant genotypic, allelic, and haplotypic association to AN in the case : control design was observed at HTR1D and OPRD1 with effect sizes for individual SNPs of 2.63 (95% CI=1.21–5.75) for HTR1D and 1.61 (95% CI=1.11–2.44) for OPRD1. Using genotype data on parents and AN probands, three SNPs at HTR1D were found to exhibit significant transmission disequilibrium (P<0.05). The combined statistical genetic evidence suggests that HTR1D and OPRD1 or linked genes may be involved in the etiology of AN.
Relevant articles
Open Access articles citing this article.
Sayed Koushik Ahamed

,

Md Abdul Barek

…

S. M. Naim Uddin

Future Journal of Pharmaceutical Sciences Open Access 26 May 2021

Yiran Guo

,

Zhi Wei

…

Hakon Hakonarson

BMC Medical Genomics Open Access 20 January 2016

A E Jaffe

,

A Deep-Soboslay

…

J E Kleinman

Translational Psychiatry Open Access 02 September 2014
Access options
Subscribe to this journal
Receive 12 print issues and online access
$259.00 per year
only $21.58 per issue
Rent or buy this article
Get just this article for as long as you need it
$39.95
Prices may be subject to local taxes which are calculated during checkout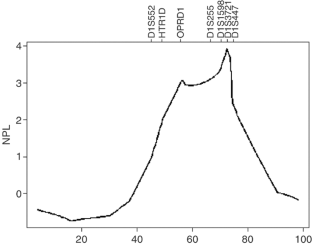 References
Sullivan PF . Mortality in anorexia nervosa. Am J Psychiatry 1995; 152: 1073–1074.

Klump KL, Bulik CM, Pollice C, Halmi KA, Fichter MM, Berrettini WH et al. Temperament and character in women with anorexia nervosa. J Nerv Ment Dis 2000; 188: 559–567.

Casper RC . Personality features of women with good outcome from restricting anorexia nervosa. Psychosom Med 1990; 52: 156–170.

Srinivasagam NM, Kaye WH, Plotnicov KH, Greeno C, Weltzin TE, Rao R . Persistent perfectionism, symmetry, and exactness after long-term recovery from anorexia nervosa. Am J Psychiatry 1995; 152: 1630–1634.

Strober M, Freeman R, Lampert C, Diamond J, Kaye W . Controlled family study of anorexia nervosa and bulimia nervosa: evidence of shared liability and transmission of partial syndromes. Am J Psychiatry 2000; 157: 393–401.

Lilenfeld LR, Kaye WH, Greeno CG, Merikangas KR, Plotnicov K, Pollice C et al. A controlled family study of anorexia nervosa and bulimia nervosa: psychiatric disorders in first-degree relatives and effects of proband comorbidity. Arch Gen Psychiatry 1998; 55: 603–610.

Klump KL, Miller KB, Keel PK, McGue M, Iacono WG . Genetic and environmental influences on anorexia nervosa syndromes in a population-based twin sample. Psychol Med 2001; 31: 737–740.

Wade TD, Bulik CM, Neale M, Kendler KS . Anorexia nervosa and major depression: shared genetic and environmental risk factors. Am J Psychiatry 2000; 157: 469–471.

Kortegaard LS, Hoerder K, Joergensen J, Gillberg C, Kyvik KO . A preliminary population-based twin study of self-reported eating disorder. Psychol Med 2001; 31: 361–365.

Leibowitz SF, Shor-Posner G . Brain serotonin and eating behavior. Appetite 1986; 7(Suppl): 1–14.

Blundell JE . Serotonin and appetite. Neuropharmacology 1984; 23: 1537–1751.

Johnson RD . Opioid involvement in feeding behaviour and the pathogenesis of certain eating disorders. Med Hypotheses 1995; 45: 491–497.

Mann JJ . Role of the serotonergic system in the pathogenesis of major depression and suicidal behavior. Neuropsychopharmacology 1999; 21: 99S–105S.

Lucki I . The spectrum of behaviors influenced by serotonin. Biol Psychiatry 1998; 44: 151–162.

Kaye WH . Anorexia and bulimia nervosa, obsessional behavior, and serotonin. In: Kaye WH, Jimerson DC (eds). Eating Disorders. Balliere's Tindell, Inc: London, 1997.

Walsh BT, Devlin MJ . Eating disorders: progress and problems. Science 1998; 280: 1387–1390.

Wolfe BE, Metzger E, Jimerson DC . Research update on serotonin function in bulimia nervosa and anorexia nervosa. Psychopharmacol Bull 1997; 33: 345–354.

O'Dwyer AM, Lucey JV, Russell GF . Serotonin activity in anorexia nervosa after long-term weight restoration: response to D-fenfluramine challenge. Psychol Med 1996; 26: 353–359.

Ward A, Brown N, Lightman S, Campbell IC, Treasure J . Neuroendocrine, appetitive and behavioural responses to D-fenfluramine in women recovered from anorexia nervosa. Br J Psychiatry 1998; 172: 351–358.

Kaye WH, Gwirtsman HE, George DT, Ebert MH . Altered serotonin activity in anorexia nervosa after long-term weight restoration. Does elevated cerebrospinal fluid 5-hydroxyindoleacetic acid level correlate with rigid and obsessive behavior? Arch Gen Psychiatry 1991; 48: 556–562.

Grandison L, Guidotti A . Stimulation of food intake by muscimol and beta endorphin. Neuropharmacology 1977; 16: 533–536.

McCarthy PS, Dettmar PW, Lynn AG, Sanger DJ . Anorectic actions of the opiate antagonist naloxone. Neuropharmacology 1981; 20: 1347–1349.

Lowy MT, Yim GK . The anorexic effect of naltrexone is independent of its suppressant effect on water intake. Neuropharmacology 1981; 20: 883–886.

Pecina S, Berridge KC . Opioid site in nucleus accumbens shell mediates eating and hedonic 'liking' for food: map based on microinjection Fos plumes. Brain Res 2000; 863: 71–86.

Marrazzi MA, Bacon JP, Kinzie J, Luby ED . Naltrexone use in the treatment of anorexia nervosa and bulimia nervosa. Int Clin Psychopharmacol 1995; 10: 163–172.

Moore R, Mills IH, Forster A . Naloxone in the treatment of anorexia nervosa: effect on weight gain and lipolysis. J R Soc Med 1981; 74: 129–131.

Kaye WH, Lilenfeld LR, Berrettini WH, Strober M, Devlin B, Klump KL et al. A search for susceptibility loci for anorexia nervosa: methods and sample description. Biol Psychiatry 2000; 47: 794–803.

Grice DE, Halmi KA, Fichter MM, Strober M, Woodside DB, Treasure JT et al. Evidence for a susceptibility gene for an-orexia nervosa on chromosome 1. Am J Hum Genet 2002; 70: 787–792.

Libert F, Passage E, Parmentier M, Simons MJ, Vassart G, Mattei MG . Chromosomal mapping of A1 and A2 adenosine receptors, VIP receptor, and a new subtype of serotonin receptor. Genomics 1991; 11: 225–227.

Hamblin MW, Metcalf MA . Primary structure and functional characterization of a human 5-HT1D-type serotonin receptor. Mol Pharmacol 1991; 40: 143–148.

Weinshank RL, Zgombick JM, Macchi MJ, Branchek TA, Hartig PR . Human serotonin 1D receptor is encoded by a subfamily of two distinct genes: 5-HT1D alpha and 5-HT1D beta. Proc Natl Acad Sci USA 1992; 89: 3630–3634.

Knapp RJ, Malatynska E, Fang L, Li X, Babin E, Nguyen M et al. Identification of a human delta opioid receptor: cloning and expression. Life Sci 1994; 54: 463–469.

Simonin F, Befort K, Gaveriaux-Ruff C, Matthes H, Nappey V, Lannes B et al. The human delta-opioid receptor: genomic organization, cDNA cloning, functional expression, and distribution in human brain. Mol Pharmacol 1994; 46: 1015–1021.

Befort K, Mattei MG, Roeckel N, Kieffer B . Chromosomal localization of the delta opioid receptor gene to human 1p34.3–p36.1 and mouse 4D bands by in situ hybridization. Genomics 1994; 20; 143–145.

Bzdega T, Chin H, Kim H, Jung HH, Kozak CA, Klee WA . Regional expression and chromosomal localization of the delta opiate receptor gene. Proc Natl Acad Sci USA 1993; 90: 9305–9309.

Sakurai T, Amemiya A, Ishii M, Matsuzaki I, Chemelli RM, Tanaka H et al. Orexins and orexin receptors: a family of hypothalamic neuropeptides and G protein-coupled receptors that regulate feeding behavior. Cell 1998; 92: 573–585 (Comment in: Cell 1998;92: 1 page following 696).

Cargill M, Altshuler D, Ireland J, Sklar P, Ardlie K, Patil N et al. Characterization of single-nucleotide polymorphisms in coding regions of human genes. Nat Genet 1999; 22: 231–238.

Mayer P, Rochlitz H, Rauch E, Rommelspacher H, Hasse HE, Schmidt S et al. Association between a delta opioid receptor gene polymorphism and heroin dependence in man. Neuroreport 1997; 8: 2547–2550.

Gelernter J, Kranzler HR . Variant detection at the delta opioid receptor (OPRD1) locus and population genetics of a novel variant affecting protein sequence. Hum Genet 2000; 107: 86–88.

Peyron C, Faraco J, Rogers W, Ripley B, Overeem S, Charnay Y et al. A mutation in a case of early onset narcolepsy and a generalized absence of hypocretin peptides in human narcoleptic brains. Nat Med 2000; 6: 991–997.

Sheehan DV, Lecrubier Y, Sheenan KH, Nevsimalova S, Aldrich M, Reynolds D et al. The validity of the mini-international neuropsychiatric interview (MINI) according to the SCID-P and its reliability. Eur Psychiatry 1997; 12: 232–241.

Morin PA, Saiz R, Monjazeb A . High-throughput single nucleotide polymorphism genotyping by fluorescent 5′ exonuclease assay. Biotechniques 1999; 27: 538–540, 542, 544 passim.

Schneider S, Roessli D, Excoffier L . Arlequin Ver.2.000: A Software for Population Genetic Analysis. Genetics and Biometry Laboratory, University of Geneva: Switzerland, 2000.

Kruglyak L, Daly MJ, Reeve-Daly MP, Lander ES . Parametric and nonparametric linkage analysis: a unified multipoint approach. Am J Hum Genet 1996; 58: 1347–1363.

SAS Institute Inc. SAS Procedures Guide, Version 8. SAS Institute Inc.: Cary, NC, 1999.

Zhao JH, Curtis D, Sham PC . Model-free analysis and permutation tests for allelic associations. Hum Hered 2000; 50: 133–139.

Horvath S, Xu X, Laird NM . The family based association test method: strategies for studying general genotype–phenotype associations. Eur J Hum Genet 2001; 9: 301–306.

Altschul SF, Madden TL, Schäffer AA, Zhang J, Zhang Z, Miller W et al. Gapped BLAST and PSI-BLAST: a new generation of protein database search programs. Nucleic Acids Res 1997; 25: 3389–3402.

Horikawa Y, Oda N, Cox NJ, Li X, Orho-Melander M, Hara M et al. Genetic variation in the gene encoding calpain-10 is associated with type 2 diabetes mellitus. Nat Genet 2000; 26: 163–175.

Camp NJ . Genomewide transmission/disequilibrium testing—consideration of the genotypic relative risks at disease loci. Am J Hum Genet 1997; 61: 1424–1430.

Knapp M . A note on power approximations for the transmission/disequilibrium test. Am J Hum Genet 1999; 64: 1177–1185.

Franke P, Nothen MM, Wang T, Neidt H, Knapp M, Lichtermann D et al. Human delta-opioid receptor gene and susceptibility to heroin and alcohol dependence. Am J Med Genet 1999; 88: 462–464.

Hinney A, Remschmidt H, Hebebrand J . Candidate gene polymorphisms in eating disorders. Eur J Pharmacol 2000; 410(2–3): 147–159.

Devlin B, Bacanu S-A, Klump KL, Bulik CM, Fichter MM, Halmi KA et al. Linkage analysis of anorexia nervosa incorporating behavioral covariates. Hum Mol Genet 2002; 11: 689–696.

Risch N, Merikangas K . The future of genetic studies of complex human diseases. Science 1996; 273: 1516–1517.

Mayer LE, Walsh BT . The use of selective serotonin reuptake inhibitors in eating disorders. J Clin Psychiatry 1998; 59(Suppl 15): 28–34.
Acknowledgements
We acknowledge the support of the Price Foundation, the review and comments of Bernie Devlin, and the assistance of Amy Deep-Soboslay and Michael Mullokandov.
Additional information
This manuscript does not represent the opinion of the NIH, DHHS, or the Federal Government.
About this article
Cite this article
Bergen, A., van den Bree, M., Yeager, M. et al. Candidate genes for anorexia nervosa in the 1p33–36 linkage region: serotonin 1D and delta opioid receptor loci exhibit significant association to anorexia nervosa. Mol Psychiatry 8, 397–406 (2003). https://doi.org/10.1038/sj.mp.4001318
Received:

Revised:

Accepted:

Published:

Issue Date:

DOI: https://doi.org/10.1038/sj.mp.4001318
Keywords
anorexia nervosa

serotonin

opioid

gene

association

linkage