Abstract
Although antidepressants may not be primary mood stabilizers, they are efficacious in the prophylaxis of recurrent depressive illnesses, as well as in the treatment of acute episodes. Pharmacological effects that may contribute to the prophylactic effects of these drugs are not understood. Studies have been carried out in which antidepressants have been given to laboratory animals, such as rats, for periods of up to 3–4 weeks. Data obtained in such studies are thought to be important for their beneficial effects in depressive episodes, but also may be relevant to their prophylactic effects. Results are presented showing that when selective inhibitors of serotonin or norepinephrine uptake are given for such time periods, they still produce selective effects on serotonergic or noradrenergic parameters. For example, long-term administration of selective norepinephrine reuptake inhibitors causes a down-regulation of β1 adrenoceptors. Selective serotonin reuptake inhibitors do not produce this effect. Long-term administration of selective serotonin reuptake inhibitors causes down-regulation of the serotonin transporter, but not the norepinephrine transporter. In contrast, selective norepinephrine reuptake inhibitors down-regulate the norepinephrine transporter but not the serotonin transporter. Substantial loss of serotonin transporter binding sites takes 15 days to occur and is accompanied by a marked reduction of serotonin transporter function in vivo.
Relevant articles
Open Access articles citing this article.
Lynn Boschloo

,

Fredrik Hieronymus

…

Elias Eriksson

Translational Psychiatry Open Access 21 January 2023

Haixia Wang

,

Yi He

…

Jian Yang

Journal of Neuroinflammation Open Access 06 June 2022

Radhika Rawat

,

Elif Tunc-Ozcan

…

John A. Kessler

Nature Communications Open Access 12 May 2022
Access options
Subscribe to Journal
Get full journal access for 1 year
$119.00
only $9.92 per issue
All prices are NET prices.
VAT will be added later in the checkout.
Tax calculation will be finalised during checkout.
Buy article
Get time limited or full article access on ReadCube.
$32.00
All prices are NET prices.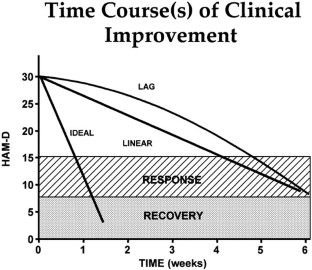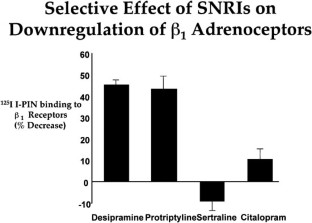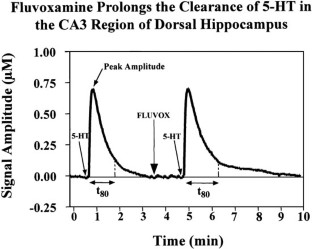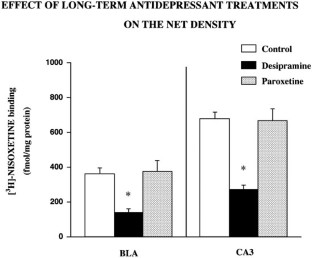 References
Solomon DA, Keller MB, Leon AC et al. Multiple recurrences of major depressive disorder Am J Psychiatry 2000 157: 229–233

Keller MB, Lavori PW, Lewis CE et al. Predictors of relapse in major depressive disorder JAMA 1983 250: 3299–3304

Montgomery SA . Efficacy in long-term treatment of depression J Clin Psychiatry 1996 57 (Suppl 2): 24–30

Weiss JM, Cierpial MA, West CH . Selective breeding of rats for high and low motor activity in a swim test: toward a new animal model of depression Pharmacol Biochem Behav 1998 61: 49–66

Willner P . Validity, reliability and utility of the chronic mild stress model of depression: a 10-year review and evaluation Psychopharmacology 1997 134: 319–329

Gelenberg AJ, Chesen CL . How fast are antidepressants? J Clin Psychiatry 2000 61: 712–721

Quitkin FM, Rabkin JG, Ross D et al. Identification of true drug response to antidepressants Arch Gen Psychiatry 1984 41: 782–786

Stassen HH, Angst J, Delini-Stula A . Fluoxetine versus moclobemide: cross-comparison between the time courses of improvement Pharmacopsychiatry 1999 32: 56–60

Katz MM, Koslow SH, Frazer A . Onset of antidepressant activity: reexamining the structure of depression and multiple actions of drugs Depress Anxiety 1996/1997 4: 257–267

Popoli M, Brunello N, Perez J et al. Second messenger-regulated protein kinases in the brain: their functional role and the action of antidepressant drugs J Neurochem 2000 74: 21–33

Duman RS, Malberg J, Thome J . Neural plasticity to stress and antidepressant treatment Biol Psychiatry 1999 46: 1181–1191

Mongeau R, Blier P, de Montigny C . The serotonergic and noradrenergic systems of the hippocampus: their interactions and the effects of antidepressant treatments Brain Res Rev 1997 23: 145–195

Frazer A . Norepinephrine involvement in antidepressant action J Clin Psychiatry 2000 61: 25–30

Delgado PL, Miller HL, Salomon RM et al. Tryptophan-depletion challenge in depressed patients treated with desipramine or fluoxetine: implications for the role of serotonin in the mechanism of antidepressant action Biol Psychiatry 1999 46: 212–220

Miller HL, Delgado PF, Salomon RM et al. Clinical and biochemical effects of catecholamine depletion on antidepressant-induced remission of depression Arch Gen Psychiatry 1996 53: 117–128

Banerjee SP, Kung LS, Chanda SK . Development of beta-adrenergic receptor subsensitivity by antidepressants Nature (Lond) 1977 268: 455–456

Frazer A, Pandey G, Mendels J et al. The effect of triiodothyronine on [3 H]-cyclic AMP production in slices of rat cerebral cortex Neuropharmacology 1974 13: 1131–1140

Ordway GA, Gambarana C, Tejani-Butt SM et al. Preferential reduction of binding of 125I-iodopindolol to beta-1 adrenoceptors in the amygdala of rat after antidepressant treatments J Pharmacol Exp Ther 1991 257: 681–690

Frazer A . Antidepressants J Clin Psychiatry 1997 58 (Suppl 6): 9–25

Blakely RD, Bauman AL . Biogenic amine transporters: regulation in flux Curr Opin Neurobiol 2000 10: 328–336

Durand M, Berton O, Aguerre S et al. Effects of repeated fluoxetine on anxiety-related behaviors, central serotonergic systems, and the corticotropic axis in SHR and WKY rats Neuropharmacology 1999 38: 893–907

Dean B, Pereira A, Pavey G et al. Repeated antidepressant drug treatment, time of death and frequency of handling do not affect [3H] paroxetine binding in rat cortex Psychiatry Res 1997 73: 173–179

Gobbi M, Crespi D, Foddi MC et al. Effects of chronic treatment with fluoxetine and citalopram on 5-HT uptake, 5-HT1B autoreceptors, 5-HT3 and 5-HT4 receptors in rats Naunyn Schmiedeberg Arch Pharmacol 1997 356: 22–28

Pineyro G, Blier P, Dennis T et al. Desensitization of the neuronal 5-HT carrier following its long-term blockade J Neurosci 1994 14: 3036–3047

Hrdina PD, Vu TB . Chronic fluoxetine treatment upregulates 5-HT uptake sites and 5-HT2 receptors in rat brain Synapse 1993 14: 324–331

Bauer ME, Tejani-Butt SM . Effects of repeated administration of desipramine or electroconvulsive shock on norepinephrine uptake sites measured [3H]nisoxetine autoradiography Brain Res 1992 582: 208–214

Marcusson JO, Ross SB . Binding of some antidepressants to the 5-hydroxytryptamine transporter in brain and platelets Psychopharmacology 1990 102: 145–155

Frazer A, Morilak DA . Drug for the treatment of affective (mood) disorders In: Brody TM, Larner J, Minneman KP (eds) Human Pharmacology: Molecular to Clinical, 3rd edn Mosby Year Book: St Louis 1998 pp 349–363

Owens MJ, Morgan WN, Plott SJ et al. Neurotransmitter receptor and transporter binding profile of antidepressants and their metabolites J Pharmacol Exp Ther 1997 283: 1305–1322

Tremaine LM, Welch WM, Ronfeld RA . Metabolism and disposition of the 5-hydroxytryptamine uptake blocker sertraline in the rat and dog Drug Metab Dispos 1989 17: 542–550

Fredricson Overo OK . Kinetics of citalopram in test animals: drug exposure in safety studies Prog Neuropsychopharmacol Biol Psychiatry 1982 6: 297–309

Howell SR, Hicks DR, Scatina JA et al. Pharmacokinetics of venlafaxine and O-desmethylvenlafaxine in laboratory animals Xenobiotica 1994 24: 315–327

Benmansour S, Cecchi M, Morilak DA et al. Effects of chronic antidepressant treatments on serotonin transporter function, density, and mRNA level J Neurosci 1999 19: 10494–10501

Benmansour S, Cecchi M, Morilak DA et al. Effects of chronic antidepressant (AD) treatment on serotonin (SERT) and norepinephrine (NET) transporters Soc Neurosci 2000 Abstr 26: 400

Daws LC, Toney GM, Davis DJ et al. In vivo chronoamperometric measurements of extracellular serotonin clearance in the rat dentate gyrus J Neurosci Meth 1997 78: 139–150

Daws LC, Toney GM, Gerhardt GA et al. In vivo chronoamperometric measures of extracellular serotonin clearance in rat dorsal hippocampus: contribution of serotonin and norepinephrine transporters J Pharmacol Exp Ther 1998 286: 967–976

Gerhardt GA, Oke AF, Nagy G et al. Nafion-coated electrodes with high selectivity for CNS electrochemistry Brain Res 1984 290: 390–394

Tejani-Butt SM . [3H]Nisoxetine: a radioligand for quantitation of norepinephrine uptake sites by autoradiography or by homogenate binding J Pharmacol Exp Ther 1992 260: 427–436
About this article
Cite this article
Frazer, A., Benmansour, S. Delayed pharmacological effects of antidepressants. Mol Psychiatry 7 (Suppl 1), S23–S28 (2002). https://doi.org/10.1038/sj.mp.4001015
Published:

Issue Date:

DOI: https://doi.org/10.1038/sj.mp.4001015
Keywords
selective serotonin reuptake inhibitors

selective norepinephrine reuptake inhibitors

serotonin transporter

norepinephrine transporter