Abstract
The neurobiology of cognitive interference is unknown. Previous brain imaging studies using the Stroop Color-Word (SCW) task indicate involvement of the cingulate cortex cognitive division. The present study examines interrelationships between regional brain N-Acetyl aspartate (NAA) levels (as identified by in vivo proton magnetic resonance spectroscopy in the right and left anterior cingulate cortex (ACC), dorsolateral prefrontal cortex, orbitofrontal cortex and thalamus) and cognitive interference (as measured by the SCW task) in 15 normal subjects. The results show that brain chemistry depends on cognitive interference levels (high vs low). Reduction of NAA levels was demonstrated in the right ACC (ie, cognitive midsupracallosal division) of high interference subjects, as compared to the low interference group (P < 0.01, two-tailed t-test). Chemical-cognitive relationships were analyzed by calculating correlations between regional NAA levels and the SCW task scores. Cognitive interference was highly correlated with the right anterior cingulate NAA (r = 0.76, P < 0.001), and was unrelated to other studied regional NAA, including the left ACC (P < 0.025; comparing the difference between r values in the right and left ACC). The interrelationships between NAA across brain regions were examined using correlation analysis (square matrix correlation maps), which detected different connectivity patterns between the two groups. These findings provide evidence of ACC involvement in cognitive interference suggesting a possibility of neuronal reorganization in the physiological mechanism of interference (most likely due to genetically predetermined control of the number of neurons, dendrites and receptors, and their function). We conclude that spectroscopic brain mapping of NAA, the marker of neuronal density and function, to the SCW task measures differentiates between high and low interference in normal subjects. This neuroimaging/cognitive tool may be useful for documentation of interference in studying cognitive control mechanisms, and in diagnosis of neuropsychiatric disorders where dysfunction of cingulate cortex is expected.
Relevant articles
Open Access articles citing this article.
Giuseppina Rota

,

Ralf Veit

…

Grzegorz Dogil

Experimental Brain Research Open Access 20 December 2007
Access options
Subscribe to this journal
Receive 12 print issues and online access
$259.00 per year
only $21.58 per issue
Rent or buy this article
Get just this article for as long as you need it
$39.95
Prices may be subject to local taxes which are calculated during checkout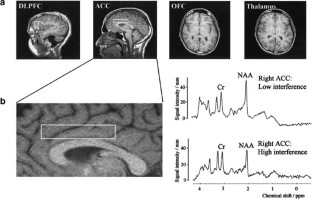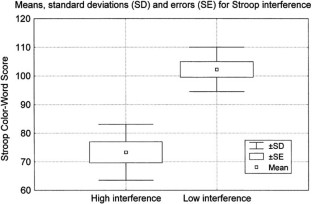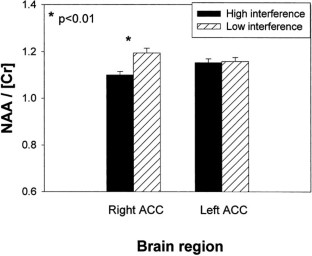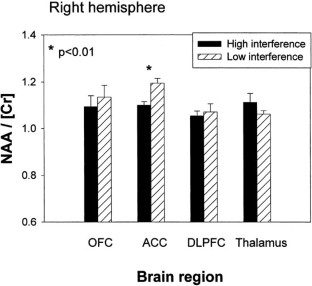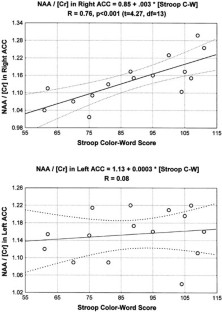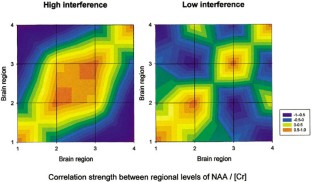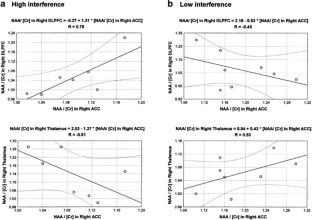 References
Stroop JR . Studies of interference in serial verbal reactions J Exp Psychol 1935 18: 643–661

MacLeod CM . Half a century of research on the Stroop effect: an integrative review Psychol Bull 1991 109: 163–203

Carter CS, Krener P, Chaderjian M, Northcutt C, Wolfe V . Abnormal processing of irrelevant information in attention deficit hyperactivity disorder Psychiatry Res 1995 56: 59–70

Bush G, Frazier JA, Rauch SL, Seidman LJ, Whalen PJ, Jenike MA et al. Anterior cingulate cortex dysfunction in attention-deficit/hyperactivity disorder revealed by fMRI and the Counting Stroop Biol Psychiatry 1999 45: 1542–1552

Hepp HH, Maier S, Hermle L, Spitzer M . The Stroop effect in schizophrenic patients Schizophr Res 1996 22: 187–195

Phillips ML, Woodruff PW, David AS . Stroop interference and facilitation in the cerebral hemispheres in schizophrenia Schizophr Res 1996 20: 57–68

Purdon SE . Olfactory identification and Stroop interference converge in schizophrenia J Psychiatry Neurosci 1998 23: 163–171

Boucart M, Mobarek N, Cuervo C, Danion JM . What is the nature of increased Stroop interference in schizophrenia? Acta Psychol (Amst) 1999 101: 3–25

Fuentes LJ, Boucart M, Vivas AB, Alvarez R, Zimmerman MA . Inhibitory tagging in inhibition of return is affected in schizophrenia: evidence from the Stroop task Neuropsychology 2000 14: 134–140

George MS, Ketter TA, Parekh PI, Rosinsky N, Ring HA, Pazzaglia PJ et al. Blunted left cingulate activation in mood disorder subjects during a response interference task (the Stroop) J Neuropsychiatry Clin Neurosci 1997 9: 55–63

Thomas J, Raoux N, Everett J, Dantchev N, Widlocher D . Deficit in selective attention and its evolution in depression [French] Encephale 1997 23: 108–112

Metzger LJ, Orr SP, Lasko NB, McNally RJ, Pitman RK . Seeking the source of emotional Stroop interference effects in PTSD: a study of P3s to traumatic words Integr Physiol Behav Sci 1997 32: 43–51

Andrews TM, Anderson IM . Information processing in anxiety: a pilot study of the effect of manipulating 5-HT function J Psychopharmacol 1998 12: 155–160

Lundh LG, Wikstrom J, Westerlund J, Ost LG . Preattentive bias for emotional information in panic disorder with agoraphobia J Abnorm Psychol 1999 108: 222–232

Moradi AR, Taghavi MR, Neshat Doost HT, Yule W, Dalgleish T . Performance of children and adolescents with PTSD on the Stroop colour-naming task Psychol Med 1999 29: 415–419

Rinne JO, Portin R, Ruottinen H, Nurmi E, Bergman J, Haaparanta M et al. Cognitive impairment and the brain dopaminergic system in Parkinson disease: [18F]fluorodopa positron emission tomographic study Arch Neurol 2000 57: 470–475

Spieler DH, Balota DA, Faust ME . Stroop performance in healthy younger and older adults and in individuals with dementia of the Alzheimer's type J Exp Psychol Hum Percept Perform 1996 22: 461–479

Hinkin CH, Castellon SA, Hardy DJ, Granholm E, Siegle G . Computerized and traditional stroop task dysfunction in HIV-1 infection Neuropsychology 1999 13: 306–316

Pardo JV, Pardo PJ, Janer KW, Raichle ME . The anterior cingulate cortex mediates processing selection in the Stroop attentional conflict paradigm Proc Natl Acad Sci USA 1990 87: 256–259

Bench CJ, Frith CD, Grasby PM, Friston KJ, Paulesu E, Frackowiak RSJ et al. Investigations of the functional anatomy of attention using the Stroop test Neuropsychologia 1993 31: 907–922

George MS, Ketter TA, Parekh PI, Rosinsky N, Ring HA, Casey BJ et al. Regional brain activity when selecting a response despite interference: an H215O PET study of the Stroop and an emotional Stroop Hum Brain Mapping 1994 1: 194–209

Derbyshire SW, Vogt BA, Jones AK . Pain and Stroop interference tasks activate separate processing modules in anterior cingulate cortex Exp Brain Res 1998 118: 52–60

Leung HC, Skudlarski P, Gatenby JC, Peterson BS, Gore JC . An event-related functional MRI study of the Stroop color word interference task Cereb Cortex 2000 10: 552–560

MacDonald AW III, Cohen JD, Stenger VA, Carter CS . Dissociating the role of the dorsolateral prefrontal and anterior cingulate cortex in cognitive control Science 2000 288: 1835–1838

Bush G, Whalen PJ, Rosen BR, Jenike MA, McInerney SC, Rauch SL . The counting Stroop: an interference task specialized for functional neuroimaging—validation study with functional MRI Hum Brain Mapping 1998 6: 270–282

Talairach J, Tournoux P . Co-planar Stereotactic Atlas of the Human Brain. 3-Dimensional Proportional System: An Approach to Cerebral Imaging Thieme: Stuttgart 1988

Whalen PJ, Bush G, McNally RJ, Wilhelm S, McInerney SC, Jenike MA et al. The emotional counting Stroop paradigm: a functional magnetic resonance imaging probe of the anterior cingulate affective division Biol Psychiatry 1998 44: 1219–1228

Corbetta M, Miezin F, Dobmeyer S, Shulman G, Petersen S . Selective and divided attention during visual discriminations of shape, color, and speed: functional anatomy by positron emission tomography J Neurosci 1991 11: 2383–2402

Carter CS, Braver TS, Barch DM, Botvinick MM, Noll D, Cohen JD . Anterior cingulate cortex, error detection, and the online monitoring of performance Science 1998 280: 747–749

Menon V, Adleman NE, White CD, Glover GH, Reiss AL . Error-related brain activation during a Go/NoGo response inhibition task Hum Brain Mapping 2001 12: 131–143

Carter CS, Botvinick MM, Cohen JD . The contribution of the anterior cingulate cortex to executive processes in cognition Rev Neurosci 1999 10: 49–57

Carter CS, MacDonald AM, Botvinick MM, Ross LL, Stenger VA, Noll D et al. Parsing executive processes: strategic vs evaluative functions of the anterior cingulate cortex Proc Natl Acad Sci USA 2000 97: 1944–1948

Rubia K, Russell T, Overmeyer S, Brammer MJ, Bullmore ET, Sharma T et al. Mapping motor inhibition: conjunctive brain activations across different versions of Go/No-Go and Stop tasks NeuroImage 2001 13: 250–261

Zysset S, Muller K, Lohmann G, von Cramon DY . Color-word matching Stroop task: separating interference and response conflict NeuroImage 2001 13: 29–36

Pujol J, Vendrell P, Deus J, Junque C, Bello J, Marti-Vilalta JL et al. The effect of medial frontal and posterior parietal demyelinating lesions on Stroop interference NeuroImage 2001 13: 68–75

Grachev ID, Apkarian AV . Anxiety in healthy humans is associated with orbital frontal chemistry Mol Psychiatry 2000 5: 482–488

Grachev ID, Apkarian AV . Chemical mapping of anxiety in the brain of healthy humans: an in vivo 1H MRS study on the effects of sex, age and brain region Hum Brain Mapping 2000 11: 261–272

Grachev ID, Fredrickson BE, Apkarian AV . Abnormal brain chemistry in chronic back pain: an in vivo proton magnetic resonance spectroscopy study Pain 2000 89: 7–18

Grachev ID, Fredrickson BE, Apkarian AV . Dissociating anxiety from pain: mapping the neuronal marker N-acetyl aspartate to perception distinguishes closely interrelated characteristics of chronic pain Mol Psychiatry 2001 6: 256–258

Miller BL . A review of chemical issues in 1H NMR spectroscopy: N-acetyl-L-aspartate, creatine, and choline NMR Biomed 1991 4: 47–52

Castillo M, Kwock L, Scatliff J, Mukherji S . Proton MR spectroscopy in neoplastic and non-neoplastic brain disorders Magn Reson Imaging Clin N Am 1998 6: 1–20

Tsai G, Coyle JT . N-acetylaspartate in neuropsychiatric disorders [Review] Prog Neurobiol 1995 46: 531–540

Manji HK, Moore GJ, Rajkowska G, Chen G . Neuroplasticity and cellular resilience in mood disorders Mol Psychiatry 2000 5: 578–593

Stanley JA, Drost DJ, Williamson PC, Carr TJ . In vivo proton MRS study of glutamate and schizophrenia. In: Nasrallah HA, Pettegrew JW (eds) NMR Spectroscopy in Psychiatric Brain Disorders American Psychiatric Press: Washington 1995 pp 21–44

Nasrallah HA, Skinner TE, Schmalbrock P, Robitaille PM . In vivo 1H-NMR spectroscopy of the limbic temporal lobe in patients with schizophrenia. In: Nasrallah HA, Pettegrew JW (eds) NMR Spectroscopy in Psychiatric Brain Disorders American Psychiatric Press: Washington 1995 pp 1–20

Pfefferbaum A, Adalsteinsson E, Spielman D, Sullivan EV, Lim KO . In vivo brain concentrations of N-acetyl compounds, creatine, and choline in Alzheimer disease Arch Gen Psychiatry 1999 56: 185–192

Winsberg ME, Sachs N, Tate DL, Adalsteinsson E, Spielman D, Ketter TA . Decreased dorsolateral prefrontal N-acetyl aspartate in bipolar disorder Biol Psychiatry 2000 47: 475–481

Ebert D, Speck O, Konig A, Berger M, Hennig J, Hohagen F . 1H-magnetic resonance spectroscopy in obsessive-compulsive disorder: evidence for neuronal loss in the cingulate gyrus and the right striatum Psychiatry Res 1997 74: 173–176

Bartha R, Stein MB, Williamson PC, Drost DJ, Neufeld RW, Carr TJ et al. A short echo 1H spectroscopy and volumetric MRI study of the corpus striatum in patients with obsessive-compulsive disorder and comparison subjects Am J Psychiatry 1998 155: 1584–1591

Fitzgerald KD, Moore GJ, Paulson LA, Stewart CM, Rosenberg DR . Proton spectroscopic imaging of the thalamus in treatment-naive pediatric obsessive-compulsive disorder Biol Psychiatry 2000 47: 174–182

Grachev ID, Berdichevsky D, Rauch SL, Heckers S, Kennedy DN, Caviness VS et al. A method for assessing the accuracy of intersubject registration of the human brain using anatomic landmarks NeuroImage 1999 9: 250–268

Ono M, Kubik S, Abernathey CD . Atlas of the Cerebral Sulci Georg Thieme Verlag: Stuttgart, Germany 1990 pp 112–113

Salibi N, Brown MA . Clinical MR Spectroscopy: First Principles John Wiley & Sons: New York, NY 1998

Trenerry MR, Crosson B, DeBoe J, Leber WR . Stroop Neuropsychological Screening Test Manual Psychological Assessment Resources: Odessa FL 1988

Grachev ID, Apkarian AV . Chemical network of the living human brain: evidence of reorganization with aging Brain Res Cogn Brain Res 2001 11: 185–197

Grachev ID, Swarnkar A, Szeverenyi NM, Ramachandran TS, Apkarian AV . Aging alters multi-chemical networking profile of the human brain: an in vivo 1H-MRS study of young vs middle-aged subjects J Neurochem 2001 77: 292–303

Flood DG . Critical issues in the analysis of dendritic extent in aging humans, primates, and rodents Neurobiol Aging 1993 14: 649–654

Flood DG, Coleman PD . Dendritic regression dissociated from neuronal death but associated with partial deafferentation in aging rat supraoptic nucleus Neurobiol Aging 1993 14: 575–587

Auer DP, Putz B, Kraft E, Lipinski B, Schill J, Holsboer F . Reduced glutamate in the anterior cingulate cortex in depression: an in vivo proton magnetic resonance spectroscopy study Biol Psychiatry 2000 47: 305–313

Vendrell P, Carme J, Pujol J, Jurado MA, Molet J, Grafman J . The role of prefrontal regions in the Stroop task Neuropsychologia 1995 33: 341–352

Kingma A, Heij WL, Fasotti L, Elimg P . Stroop interference and disorders of selective attention Neuropsychologia 1996 34: 273–281

Albanese AM, Merlo AB, Mascitti TA, Tornese EB, Gomez EE, Konopka V et al. Inversion of the hemispheric laterality of the anterior cingulate gyrus in schizophrenics Biol Psychiatry 1995 38: 13–21

Davis KD, Taylor SJ, Crawley AP, Wood ML, Mikulis DJ . Functional MRI of pain- and attention-related activations in the human cingulate cortex J Neurophysiol 1997 77: 3370–3380

Rainville P, Duncan GH, Price DD, Carrier B, Bushnell MC . Pain affect encoded in human anterior cingulate but not somatosensory cortex Science 1997 277: 968–971

Peyron R, Garcia-Larrea L, Gregoire MC, Convers P, Lavenne F, Veyre L et al. Allodynia after lateral-medullary (Wallenberg) infarct: a PET study Brain 1998 121: 345–356

Kwan CL, Crawley AP, Mikulis DJ, Davis KD . An fMRI study of the anterior cingulate cortex and surrounding medial wall activations evoked by noxious cutaneous heat and cold stimuli Pain 2000 85: 359–374

Fuster JM . The Prefrontal Cortex: Anatomy, Physiology, and Neuropsychology of the Frontal Lobe Lippincott–Raven Publishers:Philadelphia, Pennsylvania 1997

Pandya DN, Yeterian EH . Comparison of prefrontal architecture and connections. In: Roberts AC, Robbins TW, Weiskrantz L (eds) The Prefrontal Cortex: Executive and Cognitive Functions Oxford University Press: New York 1998 pp 51–66

Bechara A, Damasio AR, Damasio H, Anderson SW . Insensitivity to future consequences following damage to human prefrontal cortex Cognition 1994 50: 7–15

Bechara A, Damasio H, Tranel D, Damasio AR . Deciding advantageously before knowing the advantageous strategy Science 1997 275: 1293–1295

Damasio AR . The somatic marker hypothesis and the possible functions of the prefrontal cortex. In: Roberts AC, Robbins TW, Weiskrantz L (eds) The Prefrontal Cortex: Executive and Cognitive Functions Oxford University Press: New York 1998 pp 36–50

Smith EE, Jonides J . Storage and executive processes in the frontal lobes Science 1999 283: 1657–1661
Acknowledgements
We would like to thank G Tillapaugh-Fay and N Horton for technical assistance, and P Sheehe for discussion of data analysis. The project was funded by Research Initiative Fund in Radiology (IDG, NMS) at SUNY Upstate Medical University.
About this article
Cite this article
Grachev, I., Kumar, R., Ramachandran, T. et al. Cognitive interference is associated with neuronal marker N-acetyl aspartate in the anterior cingulate cortex: an in vivo 1H-MRS study of the Stroop Color-Word task. Mol Psychiatry 6, 529–539 (2001). https://doi.org/10.1038/sj.mp.4000940
Received:

Revised:

Accepted:

Published:

Issue Date:

DOI: https://doi.org/10.1038/sj.mp.4000940
Keywords
brain chemistry

Stroop Color-Word task

cognitive interference

anterior cingulate cortex

N-Acetyl aspartate

in vivo proton magnetic resonance spectroscopy
This article is cited by
Sonya Kaur
Alex C. Birdsill
Andreana P. Haley

Metabolic Brain Disease (2017)

Giuseppina Rota
Ralf Veit
Grzegorz Dogil

Experimental Brain Research (2008)