Abstract
Potential pharmacokinetic interactions between dapoxetine, a serotonin transporter inhibitor developed for the treatment of premature ejaculation (PE), and the phosphodiesterase-5 inhibitors tadalafil and sildenafil, agents used in the treatment of erectile dysfunction (ED), were investigated in an open-label, randomized, crossover study (n=24 men) comparing dapoxetine 60 mg, dapoxetine 60 mg+tadalafil 20 mg, and dapoxetine 60 mg+sildenafil 100 mg. Plasma concentrations of dapoxetine, tadalafil, and sildenafil were determined by liquid chromatography–tandem mass spectrometry. Tadalafil did not affect the pharmacokinetics of dapoxetine, whereas sildenafil increased the dapoxetine AUCinf by 22%; these effects were deemed not clinically important. Dapoxetine did not appear to affect the pharmacokinetics of tadalafil or sildenafil. Most adverse events were mild in nature. Thus, dapoxetine has no clinically important pharmacokinetic interactions with tadalafil or sildenafil, and the combinations are well tolerated.
Access options
Subscribe to Journal
Get full journal access for 1 year
$119.00
only $14.88 per issue
All prices are NET prices.
VAT will be added later in the checkout.
Tax calculation will be finalised during checkout.
Buy article
Get time limited or full article access on ReadCube.
$32.00
All prices are NET prices.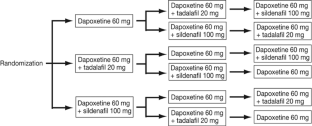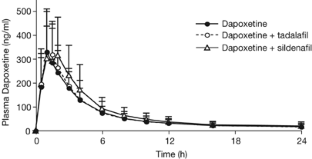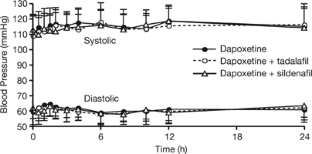 References
Patrick DL, Althof SE, Pryor JL, Rosen R, Rowland DL, Ho KF et al. Premature ejaculation: an observational study of men and their partners. J Sex Med 2005; 2: 358–367.

Symonds T, Roblin D, Hart K, Althof S . How does premature ejaculation impact a man's life? J Sex Marital Ther 2003; 29: 361–370.

Byers ES, Grenier G . Premature or rapid ejaculation: heterosexual couples' perceptions of men's ejaculatory behavior. Arch Sex Behav 2003; 32: 261–270.

Montague DK, Jarow J, Broderick G, Dmochowski RR, Heaton JP, Lue TF et al. AUA guideline on the pharmacologic management of premature ejaculation. J Urol 2004; 172: 290–294.

Stone KJ, Viera AJ, Parman CL . Off-label applications for SSRIs. Am Fam Physician 2003; 68: 498–504.

Waldinger MD, Hengeveld MW, Zwinderman AH, Olivier B . Effect of SSRI antidepressants on ejaculation: a double-blind, randomized, placebo-controlled study with fluoxetine, fluvoxamine, paroxetine, and sertraline. J Clin Psychopharmacol 1998; 18: 274–281.

Pryor JL, Althof SE, Steidle C, Miloslavsky M, Kell S . Efficacy and tolerability of dapoxetine in the treatment of premature ejaculation. J Urol 2005; 173 (Suppl): 201 (abstract 740).

Laumann EO, Paik A, Rosen RC . Sexual dysfunction in the United States: prevalence and predictors. JAMA 1999; 281: 537–544.

Metz ME, Pryor JL, Nesvacil LJ, Abuzzahab F, Koznar J . Premature ejaculation: a psychophysiological review. J Sex Marital Ther 1997; 23: 3–23.

Chia S . Management of premature ejaculation – a comparison of treatment outcome in patients with and without erectile dysfunction. Int J Androl 2002; 25: 301–305.

Ozturk B, Cetinkaya M, Saglam H, Adsan O, Akin O, Memis A . Erectile dysfunction in premature ejaculation. Arch Ital Urol Androl 1997; 69: 133–136.

Shabsigh R, Perelman MA . Men with both premature ejaculation (PE) and erectile dysfunction (ED) experience lower quality of life than men with either PE or ED alone. Presented at the World Congress of Sexology, July 10–15, 2005, Montreal, Canada.

CIALIS® (tadalafil) product information. Available at: http://pdrel.thomsonhc.com/pdrel/librarian/PFDefaultActionId/pdrcommon.IndexSearchTranslator#PDRDIAO, accessed January 25, 2005.

VIAGRA® (sildenafil citrate) Package Insert. Available at: http://viagra.com/pi/prodInfo.html, accessed July 19, 2005.

Davit B, Reynolds K, Yuan R, Ajayi F, Conner D, Fadiran E et al. FDA evaluations using in vitro metabolism to predict and interpret in vivo metabolic drug–drug interactions: impact on labeling. J Clin Pharmacol 1999; 39: 899–910.

Gibaldi M, Perrier G . Pharmacokinetics. Marcel Dekker: New York, 1982.

Chow S, Liu J . Statistical methods for average bioavailability. In: Chow S, Liu J (eds). Design and Analysis of Bioavailability and Bioequivalence Studies. Marcel Dekker: New York, NY, 2000, pp 79–124.

FDA/Center for Drug Evaluation and Research (CDER). Guidance for Industry: In Vivo Drug Metabolism/Drug Interaction Studies-Study Design, Data Analysis, and Recommendations for Dosing and Labeling. November 1999.

Meuleman EJ . Review of tadalafil in the treatment of erectile dysfunction. Expert Opin Pharmacother 2003; 4: 2049–2056.

Anderson PC, Gommersall L, Hayne D, Arya M, Patel HR . New phosphodiesterase inhibitors in the treatment of erectile dysfunction. Expert Opin Pharmacother 2004; 5: 2241–2249.

Committee for Proprietary Medicinal Products. Note for guidance on the investigation of drug interactions (CPMP/EWP/560/95). July 2001.

Dresser GK, Spence JD, Bailey DG . Pharmacokinetic–pharmacodynamic consequences and clinical relevance of cytochrome P450 3A4 inhibition. Clin Pharmacokinet 2000; 38: 41–57.

Guengerich FP . Cytochromes P450, drugs, and diseases. Mol Interv 2003; 3: 194–204.

Ring BJ, Patterson BE, Mitchell MI, Vandenbranden M, Gillespie J, Bedding AW et al. Effect of tadalafil on cytochrome P450 3A4-mediated clearance: studies in vitro and in vivo. Clin Pharmacol Ther 2005; 77: 63–75.

Bjornsson TD, Callaghan JT, Einolf HJ, Fischer V, Gan L, Grimm S et al. The conduct of in vitro and in vivo drug–drug interaction studies: a Pharmaceutical Research and Manufacturers of America (PhRMA) perspective. Drug Metab Dispos 2003; 31: 815–832.

LEVITRA® (vardenafil HCl) tablets Patient Information. Available at: http://www.levitra.com/, accessed July 19, 2005.

Salonia A, Maga T, Colombo R, Scattoni V, Briganti A, Cestari A et al. A prospective study comparing paroxetine alone versus paroxetine plus sildenafil in patients with premature ejaculation. J Urol 2002; 168: 2486–2489.

Montejo-Gonzalez AL, Llorca G, Izquierdo JA, Ledesma A, Bousono M, Calcedo A et al. SSRI-induced sexual dysfunction: fluoxetine, paroxetine, sertraline, and fluvoxamine in a prospective, multicenter, and descriptive clinical study of 344 patients. J Sex Marital Ther 1997; 23: 176–194.
Acknowledgements
This work was supported by ALZA Corporation.
About this article
Cite this article
Dresser, M., Desai, D., Gidwani, S. et al. Dapoxetine, a novel treatment for premature ejaculation, does not have pharmacokinetic interactions with phosphodiesterase-5 inhibitors. Int J Impot Res 18, 104–110 (2006). https://doi.org/10.1038/sj.ijir.3901420
Received:

Revised:

Accepted:

Published:

Issue Date:

DOI: https://doi.org/10.1038/sj.ijir.3901420
Keywords
dapoxetine

tadalafil

sildenafil

pharmacokinetics

premature ejaculation