Abstract
Peyronie's disease is an idiopathic, localized connective tissue disorder of the penis which involves the tunica albuginea of the corpus cavernosum and the adjacent areolar space. Peyronie's disease is characterized by local changes in the collagen and elastic fiber composition of the tunica albuginea. The formation of fibrotic plaques alters penile anatomy and can cause different degrees of bending and narrowing, as well as penile pain and erectile dysfunction. Though long recognized as an important clinical entity of the male genitalia, the etiology of this disease has remained poorly understood. Until recently there have been no studies to examine the role nitric oxide (NO) and nitric oxide synthase (NOS) isoforms may play in the onset and progression of Peyronie's disease. NO is a potent biological mediator with diverse physiological and pathophysiological roles. The purpose of this review is to describe each of the NOS isoforms and their potential roles in the pathophysiology of Peyronie's disease, with particular emphasis on the regulation of endothelial and inducible NOS isoforms.
This is a preview of subscription content
Access options
Subscribe to Journal
Get full journal access for 1 year
$119.00
only $14.88 per issue
All prices are NET prices.
VAT will be added later in the checkout.
Tax calculation will be finalised during checkout.
Buy article
Get time limited or full article access on ReadCube.
$32.00
All prices are NET prices.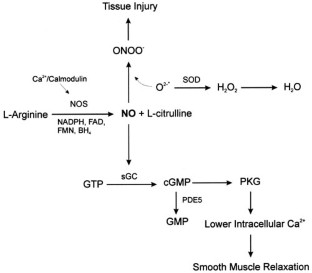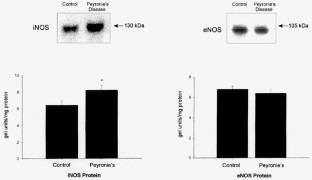 References
Jarow JP, Lowe FC . Penile trauma: an etiologic factor in Peyronie's disease and erectile dysfunction J Urol 1997 158: 1388–1390

Levine LA . Peyronie's disease: a difficult sexual dysfunction problem West J Med 1998 169: 168–169

Hellstrom WJG, Bivalacqua TJ . Peyronie's disease: etiology, medical, and surgical therapy J Androl 2000 21: 347–354

Carson CC . Peyronie's disease: medical and surgical management In: Hellstrom WJG, ed Handbook of sexual dysfunction. American Society of Andrology: San Francisco 1999 93–98

Gelbard MK, Dorey F, James K . The natural history of Peyronie's disease J Urol 1990 144: 1376–1380

Schwarzer U et al. Prevalence of Peyronie's disease-results of an 8000 men survey J Urol 2000 163: (suppl.) A742

Lindsay MB et al. The incidence of Peyronie's disease in Rochester, Minnesota, 1950 through 1984 J Urol 1991 146: 1007–1009

Scardino PL, Scott WW . The use of tocopherols in the treatment of Peyronie's disease Ann NY Acad Sci 1949 52: 390–401

Yudkin JS . Peyronie's disease is association with metoprolol Lancet 1977 2: 1355

Van de Berg JS et al. Mechanisms in calcification in Peyronie's disease J Urol 1982 127: 52–56

Somers KD, Winters PA, Dawson DM . Chromosomal abnormalities in Peyronie's disease J Urol 1987 137: 672–676

Nyberg LM, Bias WB, Hochberg MC, Walsh PC . Identification of an inherited form of Peyronie's disease with autosomal dominant inheritance and association with Dupuytren's contracture and histocompatibility B7 cross-reacting antigens J Urol 1982 128: 48–51

Chilton CP, Castle WM, Westwood CA, Pryor JP . Factors associated in the aetiology of Peyronie's disease Br J Urol 1982 54: 748–750

Perinchery G et al. Microsatellite alterations and loss of heterozygosity in Peyronie's disease J Urol 2000 164: 842–846

Mulhall JP, Thom J, Lubrano T, Shankey TV . Basic fibroblast growth factor expression in Peyronie's disease J Urol 2001 165: 419–423

El-Sakka AI et al. Peyronie's disease is associated with an increase in transforming growth factor-β protein expression J Urol 1997 158: 1391–1396

Diegelmann RF . Cellular and biochemical aspects of normal and abnormal wound healing: an overview J Urol 1997 157: 298–302

Arnal JF et al. Endothelium-derived nitric oxide and vascular physiology and pathology Cell Mol Life Sci 1999 55: 1078–1087

Moncada S, Palmer RMJ, Higgs EA . Nitric oxide: physiology, pathophysiology, and pharmacology Pharmacol Rev 1991 43: 109–142

Burnett AL . Nitric oxide in the penis: physiology and pathology J Urol 1997 157: 320–324

Xie K, Fidler IJ . Therapy of cancer metastasis by activation of the inducible nitric oxide synthase Cancer Metastasis Rev 1998 17: 55–75

Shukla A, Rasik AM, Shankar R . Nitric oxide inhibits wounds collagen synthesis Mol Cell Biochem 1999 200: 27–33

Alderton WK, Cooper CE, Knowles RG . Nitric oxide synthases: structure, function and inhibition Biochem J 2001 357: 593–615

Burnett AL et al. Nitric oxide: a physiologic mediator of penile erection Science 1992 257: 401–403

Rajfer J et al. Nitric oxide as a mediator of relaxation of the corpus cavernosum in response to nonadrenergic, noncholinergic neurotransmission N Engl J Med 1992 326: 90–94

van't Hof RJ et al. Requirement of the inducible nitric oxide synthase pathway for IL-1-induced osteoclastic bone resorption Proc Natl Acad Sci USA 2000 97: 7993–7998

Wong JM, Billiar TR . Regulation and function of inducible nitric oxide synthase during sepsis and acute inflammation Adv Pharmacol 1995 34: 155–170

Blanco FJ, Geng Y, Lotz M . Differentiation-dependent effects of IL-1 and TGF-beta on human articular chondrocyte proliferation are related to inducible nitric oxide synthase expression J Immunol 1995 154: 4018–4026

Ignarro LJ, Cirino G, Casini A, Napoli C . Nitric oxide as a signaling molecule in the vascular system: an overview J Cardiovasc Pharmacol 1999 34: 879–886

Nathan C, Xie QW . Nitric oxide synthases: roles, tolls, and controls Cell 1994 78: 915–919

Xie QW, Kashiwabara Y, Nathan C . Role of transcription factor NF-kappa B/Rel in induction of nitric oxide synthase J Biol Chem 1994 269: 4705–4708

Xia Y, Zweier JL . Direct measurement of nitric oxide generation from nitric oxide synthase Proc Natl Acad Sci USA 1997 94: 12705–13710

Beckman JS et al. Apparent hydroxyl radical production by peroxynitrite: implications for endothelial injury from nitric oxide and superoxide Proc Natl Acad Sci USA 1990 87: 1620–1624

Ducrocq C, Blanchard B, Pignatelli B, Ohshima H . Peroxynitrite: an endogenous oxidizing and nitrating agent Cell Mol Life Sci 1999 55: 1068–1077

Lopez BL, Liu GL, Christopher TA, Ma XL . Peroxynitrite, the product of nitric oxide and superoxide, causes myocardial injury in the isolated perfused rat heart Coron Artery Dis 1997 8: 149–153

Radi R, Beckman JS, Bush KM, Freeman BA . Peroxynitrite-induced membrane lipid peroxidation: the cytotoxic potential of superoxide and nitric oxide Arch Biochem Biophys 1991 288: 481–487

Lin KT, Xue JY, Sun FF, Wong PYK . Reactive oxygen species participate in peroxynitrite-induced apoptosis in HL-60 cells Biochem Biophys Res Commun 1997 230: 115–119

Ronson RS, Nakamura M, Vinten-Johansen J . The cardiovascular effects and implications of peroxynitrite Cardiovasc Res 1999 44: 47–59

Khan MA et al. The effect of nitric oxide and peroxynitrite on rabbit cavernosal smooth muscle relaxation World J Urol 2001 19: 220–224

Czapski G, Goldstein S . The role of the reactions of NO with superoxide and oxygen in biological systems: a kinetic approach Free Radic Biol Med 1995 19: 785–794

Shreiber DI, Enever PA, Tranquillo RT . Effects of PDGF-BB on rat dermal fibroblast behavior in mechanically stressed and unstressed collagen and fibrin gels Exp Cell Res 2001 266: 155–166

Border WA, Noble NA . Transforming growth factor beta in tissue fibrosis N Engl J Med 1994 331: 1286–1292

Werner-Felmayer G et al. Tetrahydrobiopterin-dependent formation of nitrite and nitrate in murine fibroblasts J Exp Med 1990 172: 1599–1607

Stuehr DJ, Marletta MA . Induction of nitrite/nitrate synthesis in murine macrophages by BCG infection, lymphokines, or interferon-gamma J Immunol 1987 139: 518–525

Stallmeyer B et al. The function of nitric oxide in wound repair: inhibition of inducible nitric oxide-synthase severely impairs wound reepithelialization J Invest Dermatol 1999 113: 1090–1098

Cao M et al. Nitric oxide inhibits the synthesis of type-II collagen without altering Col2A1 mRNA abundance: prolyl hydroxylase as a possible target Biochem J 1997 324: 305–310

Schaffer MR et al. Nitric oxide, an autocrine regulator of wound fibroblast synthetic function J Immunol 1997 158: 237523–237581

Yamasaki K et al. Reversal of impaired wound repair in iNOS-deficient mice by topical adenoviral-mediated iNOS gene transfer J Clin Invest 1998 101: 967–971

Thornton FJ et al. Enhanced collagen accumulation following direct transfection of the inducible nitric oxide synthase gene in cutaneous wounds Biochem Biophys Res Comm 1998 246: 654–659

Szabo C et al. Protection against peroxynitrite-induced fibroblast injury and arthritis development by inhibition of poly (ADP-ribose) synthase Proc Natl Acad Sci USA 1998 95: 3867–3872

Morrissey JJ, Ishidoya S, McCracken R, Klahr S . Nitric oxide generation ameliorates the tubulointerstitial fibrosis of obstructive nephropathy J Am Soc Nephrol 1996 7: 2202–2212

Casini A et al. Neutrophil-derived superoxide anion induces lipid peroxidation and stimulates collagen synthesis in human hepatic stellate cells: role of nitric oxide Hepatology 1997 25: 361–367

Niu XL et al. Inducible nitric oxide synthase deficiency does not affect the susceptibility of mice to atherosclerosis but increases collagen content in lesions Circulation 2001 103: 1115–1120

Seftel AD et al. Advanced glycation end products in human penis: elevation in diabetic tissue, site of deposition, and possible effect through iNOS or eNOS Urology 1997 50: 1016–1026

Bivalacqua TJ, Champion HC, Kadowitz PJ, Hellstrom WJG . Effect of diabetes and Peyronie's disease on nitric oxide synthase and arginase protein expression in human corpus cavernosum Int J Impot Res 2000 12: (suppl.) 83

Ferrini M et al. Inducible nitric oxide synthase (iNOS) and hemoxygenase (HO-1) in the Peyronie's plaque J Urol 2001 154: (suppl.) 832A

El-Sakka AI et al. An animal model of Peyronie's-like condition associated with an increase of transforming growth factor beta mRNA and protein expression J Urol 1997 158: 2284–2290

El-Sakka AI et al. The effect of surgical trauma on rat tunica albuginea J Urol 1998 159: 1700–1707

El-Sakka AI et al. Histological and ultrastructural alterations in an animal model of Peyronie's disease Br J Urol 1998 181: 445–452

Bivalacqua TJ et al. A rat model of Peyronie's disease associated with a decrease in erectile activity and an increase in inducible nitric oxide synthase protein expression J Urol 2000 163: 1992–1998

Bivalacqua TJ et al. Potential role of nuclear factor-κB in the induction of a Peyronie's-like condition in the rat J Urol 1999 161: (suppl.) A781

Bivalacqua TJ et al. Evaluation of nitric oxide synthase and arginase in the induction of a Peyronie's-like condition in the rat J Androl 2001 22: 497–506

Bivalacqua TJ et al. Adenoviral gene transfer of endothelial nitric oxide synthase (eNOS) to the penis improves age-related erectile dysfunction in the rat Int J Impot Res 2000 12: S8–S17

Ferrini M et al. Aging-related expression of inducible nitric oxide synthase and markers of tissue damage in the rat penis Biol Reprod 2001 64: 974–982

Rajasekaran M, Hellstrom WJ, Sikka SC . Nitric oxide induces oxidative stress and mediates cytotoxicity to human cavernosal cells in culture J Androl 2001 22: 34–39

McNaul KH, Hutchinson NI . Differential expression of iNOS and eNOS mRNA in human vascular smooth muscle cells and endothelial cells under normal and inflammatory conditions Biochem Biophys Res Commun 1993 196: 1330–1334
Acknowledgements
The authors would like to thank Melanie Cross for her assistance in the preparation of this manuscript. This work was supported in part by a Young Investigator Award from the International Society of Impotence Research and Pfizer Inc. and the American Foundation for Urological Diseases to Trinity J. Bivalacqua.
About this article
Cite this article
Bivalacqua, T., Champion, H. & Hellstrom, W. Implications of nitric oxide synthase isoforms in the pathophysiology of Peyronie's disease. Int J Impot Res 14, 345–352 (2002). https://doi.org/10.1038/sj.ijir.3900872
Published:

Issue Date:

DOI: https://doi.org/10.1038/sj.ijir.3900872
Keywords
Peyronie's

disease

eNOS

iNOS

collagen

erectile dysfunction