Abstract
A recombination between the short homologous regions of nucleotide sequences in the retroviral vector and packaging cell line has been thought to be a major cause of the production of replication-competent retrovirus (RCR). Therefore, the removal of overlapping sequences between the vector and the packaging constructs is crucial for minimizing the possibility of homologous recombination, and therefore, the production of RCR. We have recently constructed a series of retroviral vectors that contain no viral coding sequences, but still produce high viral titer and high-level gene expression. However, many previously constructed murine leukemia viurs (MLV)-based packaging constructs contained significantly long 5′ and/or 3′ untranslated regions of MLV, which are also present in the retroviral vector, and as such could possibly lead to homologous recombination. To make a retroviral production system that is free from homologous recombination, we constructed expression plasmids for gag-pol and env, precisely starting from the start codon and ending at the stop codon of respective open reading frames. When the packaging function was provided from one plasmid, a vector containing bits of all three viral coding sequences produced RCR at a significant frequency, while our vector remained free of any RCR. Our retrovirus production system is anticipated to have the minimum possible frequency of RCR production due to the elimination of potential sites for homologous recombination. Based on these results, a highly efficient new packaging line Vamp that contains no overlapping sequences with our retroviral vector was also developed.
Access options
Subscribe to Journal
Get full journal access for 1 year
$119.00
only $9.92 per issue
All prices are NET prices.
VAT will be added later in the checkout.
Tax calculation will be finalised during checkout.
Buy article
Get time limited or full article access on ReadCube.
$32.00
All prices are NET prices.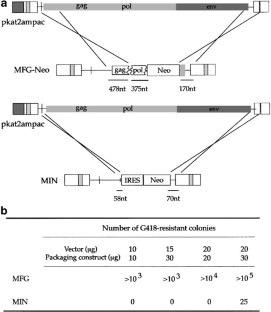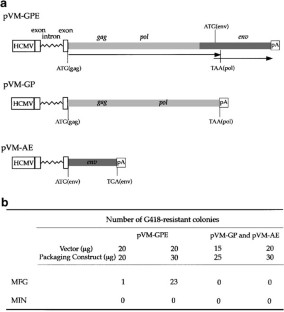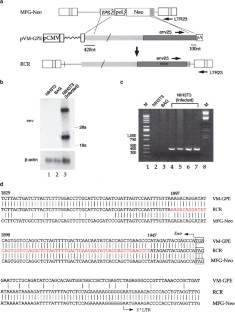 References
Chong H, Starkey W, Vile RG . A replication-competent retrovirus arising from a split-function packaging cell line was generated by recombination events between the vector, one of the packaging constructs, and endogenous retroviral sequences. J Virol 1998; 72: 2663–2670.

Otto E et al. Characterization of a replication-competent retrovirus resulting from recombination of packaging and vector sequences. Hum Gene Ther 1994; 5: 567–575.

Garrett E et al. Characterization of recombination events leading to the production of an ecotropic replication-competent retrovirus in a GP+envAM12-derived producer cell line. Virology 2000; 266: 170–179.

Yu SS, Kim JM, Kim S . High efficiency retroviral vectors that contain no viral coding sequences. Gene Ther 2000; 7: 797–804.

Dranoff G et al. Vaccination with irradiated tumor cells engineered to secrete murine granulocyte-macrophage colony-stimulating factor stimulates potent, specific, and long-lasting anti-tumor immunity. Proc Natl Acad Sci USA 1993; 90: 3539–3543.

Finer MH et al. kat: a high-efficiency retroviral transduction system for primary human T lymphocytes. Blood 1994; 83: 43–50.

Byun J et al. A simple and rapid method for the determination of recombinant retrovirus titer by G418 selection. Gene Ther 1996; 3: 1018–1020.

Pear WS, Nolan GP, Scott ML, Baltimore D . Production of high titer helper-free retroviruses by transient transfection. Proc Natl Acad Sci USA 1993; 90: 8392–8396.

Danos O, Mulligan RC . Safe and efficient generation of recombinant retroviruses with amphotropic and ecotropic host ranges. Proc Natl Acad Sci USA 1988; 85: 6460–6464.

Markowitz D, Goff S, Bank A . A safe packaging line for gene transfer: separating viral genes on two different plasmids. J Virol 1988; 62: 1120–1124.

Soneoka Y et al. A transient three-plasmid expression system for the production of high titer retroviral vectors. Nucleic Acids Res 1995; 23: 628–633.

Miller AD, Roseman GJ . Improved retroviral vectors for gene transfer and expression. Biotechniques 1989; 7: 980–990.

Cosset FL et al. High-titer packaging cells producing recombinant retroviruses resistant to human serum. J Virol 1995; 69: 7430–7436.

Lee Y et al. Improved expression of vascular endothelial growth factor by naked DNA in mouse skeletal muscles: implication for gene therapy of ischemic diseases. Biochem Biophys Res Commun 2000; 272: 230–235.

Kim VN, Mitrophanous K, Kingsman SM, Kingsman AJ . Minimal requirement for a lentivirus vector based on human immunodeficiency virus type 1. J Virol 1998; 72: 811–816.

Cornetta K et al. Amphotropic murine leukemia retrovirus is not an acute pathogen for primates. Hum Gene Ther 1990; 1: 15–30.

Donahue RE et al. Helper virus induced T cell lymphoma in nonhuman primates after retroviral mediated gene transfer. J Exp Med 1992; 176: 1125–1135.

Sheridan PL et al. Generation of retroviral packaging and producer cell lines for large- scale vector production and clinical application: improved safety and high titer. Mol Ther 2000; 2: 262–275.

Hildinger M, Abel KL, Ostertag W, Baum C . Design of 5′ untranslated sequences in retroviral vectors developed for medical use. J Virol 1999; 73: 4083–4089.

Shinnick TM, Lerner RA, Sutcliffe JG . Nucleotide sequence of Moloney murine leukaemia virus. Nature 1981; 293: 543–548.
Acknowledgements
This work was supported in part by grants from the Korean Ministry of Commerce, Industry and Energy (grant no. ND3-990-5411-031-1-3), the Ministry of Science and Technology (grant no. MI-9808-00-0040), IVI-Affiliated Lab Program (01-1-1), and the Korea Science and Engineering Foundation (grant no. 2000-0-20200-003-2).
About this article
Cite this article
Yu, S., Han, E., Hong, Y. et al. Construction of a retroviral vector production system with the minimum possibility of a homologous recombination. Gene Ther 10, 706–711 (2003). https://doi.org/10.1038/sj.gt.3301892
Received:

Accepted:

Published:

Issue Date:

DOI: https://doi.org/10.1038/sj.gt.3301892
Keywords
retroviral vector

packaging line

homologous recombination

RCR