Abstract
Recombinant adenoviral vectors expressing u-PA, t-PA, PAI-1 and PAI-2 were employed to correlate the expression of components of the fibrinolytic system with the invasiveness of HT 1080 tumor cells. Migration through Transwell inserts in vitro in the presence of plasminogen was increased up to 22% by overexpression of u-PA, whereas t-PA had no effect. Gene transfer of PAI-1 or PAI-2 both reduced migration in a dose-dependent manner by up to 43% with PAI-1 and 29% with PAI-2. Two routes of gene transfer were used to alter metastasis of subcutaneously implanted HT 1080 cells expressing firefly luciferase in nude mice. Infection of cultured tumor cells with adeno- virus expressing either PAI-1 or PAI-2 before implantation significantly reduced the incidence of lung metastasis by 60% compared with control virus. However, only PAI-2 reduced the incidence of lung and brain metastasis following liver gene transfer. Although PAI gene transfer by either route reduced primary tumor size, it had little effect on tumor vascularization or host survival. The migratory and metastatic phenotype of HT 1080 tumor cells is thus directly dependent on u-PA expression levels and can be altered by gene transfer of u-PA or plasminogen activator inhibitors.
Relevant articles
Open Access articles citing this article.
Wayne A. Schroder

,

Thiago D. Hirata

…

Andreas Suhrbier

Scientific Reports Open Access 27 August 2019

N Nishioka

,

T Matsuoka

…

J D Roberts

British Journal of Cancer Open Access 20 October 2011

George Perides

,

Yuzheng Zhuge

…

Julian K Wu

BMC Cancer Open Access 09 March 2006
Access options
Subscribe to Journal
Get full journal access for 1 year
$119.00
only $9.92 per issue
All prices are NET prices.
VAT will be added later in the checkout.
Tax calculation will be finalised during checkout.
Buy article
Get time limited or full article access on ReadCube.
$32.00
All prices are NET prices.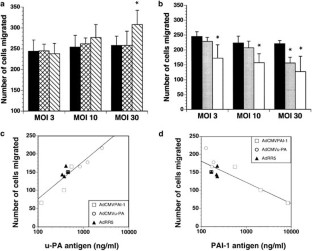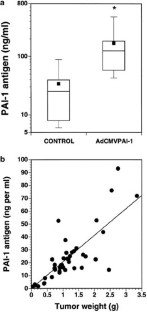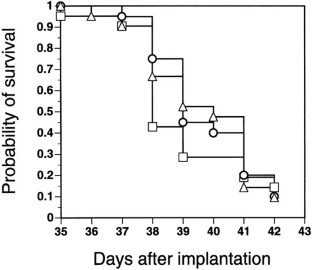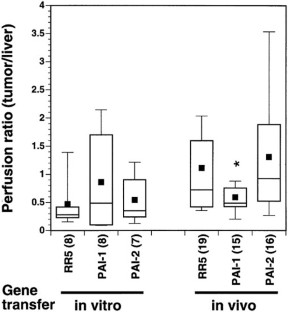 References
Thorgeirsson UP, Lindsay CK, Cottam DW, Gomez DE . Tumor invasion, proteolysis and angiogenesis J Neuro-Oncol 1994 18: 89–103

Andreasen PA, Kjoller L, Christensen L, Duffy MJ . The urokinase-type plasminogen activator system in cancer metastasis: a review Int J Cancer 1997 72: 1–22

Collen D, Lijnen HR . Basic and clinical aspects of fibrinolysis and thrombolysis Blood 1991 78: 3114–3124

Blasi F . Urokinase and urokinase receptor: a paracrine/autocrine system regulating cell migration and invasiveness BioEssays 1993 15: 105–110

Simpson AJ, Booth NA, Moore NR, Bennett B . Distribution of plasminogen activator inhibitor (PAI-1) in tissue J Clin Pathol 1991 44: 139–143

Fearns C, Loskutoff DJ . Induction of plasminogen activator inhibitor 1 gene expression in murine liver by lipopolysaccharide. Cellular localization and role of endogenous tumor necrosis factor-alpha Am J Pathol 1997 150: 579–590

Wiman B, Almquist A, Sigurdardottir O, Lindahl T . Plasminogen activator inhibitor 1 (PAI) is bound to vitronectin in plasma FEBS Lett 1988 19: 125–128

Stefanson S, Lawrence DA . The serpin PAI-1 inhibits cell migration by blocking integrin avb3 binding to vitronectin Nature 1996 383: 441–443

Kjoller L et al. Plasminogen activator inhibitor-1 represses integrin- and vitronectin-mediated cell migration independently of its function as an inhibitor of plasminogen activation Exp Cell Res 1997 232: 420–429

Waltz DA et al. Plasmin and plasminogen activator inhibitor type 1 promote cellular motility by regulating the interaction between the urokinase receptor and vitronectin J Clin Invest 1997 100: 58–67

Jensen PH et al. Urokinase binds to a plasminogen activator inhibitor type-2-like molecule in placental microvillous membranes Biochim Biophys Acta 1989 986: 135–140

von Hijne G et al. The efficiency of the uncleaved secretion signal in the plasminogen activator inhibitor type 2 protein can be enhanced by point mutations that increase its hydrophobicity J Biol Chem 1991 266: 15240–15243

Kumar S, Baglioni C . Protection from tumor necrosis mediated cytolysis by overexpression of plasminogen activator inhibitor type-2 J Biol Chem 1991 266: 20960–20964

Mikus P, Urano T, Liljestrom P, Ny T . Plasminogen-activator inhibitor type 2 (PAI-2) is a spontaneously polymerising SERPIN. Biochemical characterisation of the recombinant intracellular and extracellular forms Eur J Biochem 1993 218: 1071–1082

Stahl A, Mueller BM . Binding of urokinase to its receptor promotes migration and invasion of human melanoma cells in vitro Cancer Res 1994 54: 3066–3071

Kook YH, Adamski J, Zelent A, Ossowski L . The effect of antisense inhibition of urokinase receptor in human squamous cell carcinoma on malignancy EMBO J 1994 13: 3983–3991

Alizadeh H et al. Tissue-type plasminogen activator induced invasion and metastasis of murine melanomas Curr Eye Res 1995 14: 449–458

Soff GA et al. Expression of plasminogen activator inhibitor type 1 in human prostate carcinoma cells inhibits primary tumor growth, tumor-associated angiogenesis, and metastasis to lung and liver in athymic mouse model J Clin Invest 1996 96: 2593–2600

Mueller BM, Yu YB, Laug WE . Overexpression of plasminogen activator inhibitor 2 in human melanoma cells inhibits spontaneous metastasis in scid/scid mice Proc Natl Acad Sci USA 1995 92: 205–209

Astedt B, Billstrom A, Lecander I . Urokinase-producing tumour growth in SCID mice inhibited by recombinant PAI-2 Fibrinolysis 1995 9: 175–177

Laug WE et al. Inhibition of invasion of HT1080 sarcoma cells expressing recombinant plasminogen activator inhibitor 2 Cancer Res 1993 53: 6051–6057

Ma D et al. Inhibition of metastasis of intraocular melanomas by adenoviral gene transfer of plasminogen activator inhibitor type 1 (PAI-1) in an athymic mouse model Blood 1997 90: 2738–2746

Carmeliet P et al. Inhibitory role of pharminogen activator inhibitor-1 in arterial wound healing and neointima formation. A gene targeting and gene transfer study in mice Circ 1997 96: 3180–3190

Rasheed A et al. Characterization of a newly derived human sarcoma cell line (HT-1080) Cancer 1974 33: 1027–1033

Laug WE et al. Clonal variation of expression of the genes coding for plasminogen activators, their inhibitors and the urokinase receptor in HT-1080 sarcoma cells Int J Cancer 1992 52: 298–304

Eitzman DT et al. Lack of plasminogen activator inhibitor-1 effect in a transgenic mouse model of metastatic melanoma Blood 1996 87: 4718–4722

Carmeliet P et al. Urokinase-generated plasmin is a candidate activator of metalloproteinases during atherosclerotic aneurism formation Nature 1997 17: 439–444

Kondo S, Asano M, Suzuki H . Significance of vascular endothelial growth factor/vascular permeability factor for solid tumor growth, and its inhibition by the antibody Biochem Biophys Res Commun 1993 194: 1234–1241

Bikfalvi A et al. Interaction of vasculotropin/vascular endothelial growth factor with human umbilical vein endothelial cells: binding, internalization, degradation and biochemical effects J Cell Physiol 1991 149: 50–59

Jankun J, Selman S, Swiercz R, Skrzypczak-Jankun E . Why drinking green tea could prevent cancer Nature 1997 387: 561

Declerk P, van Keer L, Verstrecken M, Collen D . An enzyme-linked immunosorbent assay for urokinase-type plasminogen activator (u-PA) and mutants and chimeras containing the serine protease domain of u-PA Thromb Haemostas 1992 67: 95–100

Holvoet P, Cleemput H, Collen D . Assay of tissue-type plasminogen activator with enzyme-linked immunosorbent assay (ELISA) based on three murine monoclonal antibodies to t-PA Thromb Haemostas 1985 54: 684–687

Declerk P et al. Measurement of PAI-1 in biological fluids with murine monoclonal antibody-based enzyme linked immunoassay Blood 1988 8: 220–225

Fallaux FJ et al. Characterization of 911: a new helper cell line for the titration and propagation of early region 1-deletedadenoviral vectors Hum Gene Ther 1996 7: 215–222

Gerard RD, Meidell RS . Adenovirus vectors. In: Hames BD, Glover D (eds) DNA Cloning – A Practical Approach: Mammalian Systems Oxford University Press: Oxford, 1995, pp 285–307

Bett AJ, Krougliak V, Graham FL . DNA sequence of the deletion/insertion in early region 3 of Ad5dl309 Virus Res 1995 39: 75–82

Lorence MC, Murry BA, Trant JM, Mason JI . Human 3β-hydroxysteroid dehydrogenase/Δ5→4isomerase from placenta: expression in nonsteroidogenic cells of a protein that catalyzes the dehydrogenation/isomerization of C21 and C19 steroids Endocrinology 1990 126: 2493–2498

Antalis TM et al. Cloning and expression of a cDNA coding for a human monocyte-derived plasminogen activator inhibitor Proc Natl Acad Sci USA 1988 85: 985–989

Shubeita HE, Cottey TL, Franke AE, Gerard RD . Mutational and immunochemical analysis of plasminogen activator inhibitor 1 J Biol Chem 1990 265: 18379–18385

Herz J, Gerard RD . Adenovirus-mediated transfer of low density lipoprotein receptor acutely accerates cholesterol clearance in normal mice Proc Natl Acad Sci USA 1993 90: 2812–2816

van Doren K, Hanahan D, Gluzman Y . Infection of eucaryotic cells by helper-independent recombinant adenoviruses: early region I is not obligatory for integration of viral DNA J Virol 1994 50: 606–614

Dowell RT, Gairola CG, Diana JN . Reproductive organ blood flow measured using radioactive microspheres in diestrous and estrous mice Reg Integ Comp Physiol 1992;31: R666–R670
About this article
Cite this article
Praus, M., Wauterickx, K., Collen, D. et al. Reduction of tumor cell migration and metastasis by adenoviral gene transfer of plasminogen activator inhibitors. Gene Ther 6, 227–236 (1999). https://doi.org/10.1038/sj.gt.3300802
Received:

Accepted:

Published:

Issue Date:

DOI: https://doi.org/10.1038/sj.gt.3300802
Keywords
adenovirus

plasminogen activator

metastasis

gene transfer