Abstract
Histone deacetylase (HDAC) inhibitors can induce differentiation, cell cycle and growth arrest or in certain cases apoptosis in cancer cells. In a remarkably short period of time, especially considering that their mechanism of action remains largely undefined, HDAC inhibitors have realized both success and failure as therapeutics for cancer in clinical trials. Notably, the pleiotropic HDAC inhibitors, suberoylanilide hydroxamic acid (SAHA) and depsipeptide, have shown efficacy in a wide range of cancers, in particular for cutaneous T-cell lymphoma (CTCL), and are progressing in phase II clinical studies. However, evidence is accumulating that specific HDAC enzymes are important with respect to clinical efficacy, calling the usefulness of the classical inhibitors into question. Class I enzymes are being heralded as the most clinically relevant, however, this is still controversial and much of the information is in the private domain. Nevertheless, the potential to alter the expression of a more focused, disease-related subset of genes and to limit adverse effects has prompted the development of isoform-specific HDAC inhibitors. Here, we consider the growing view that broad-spectrum HDAC inhibitors may be superseded by more specific compounds.
Access options
Subscribe to this journal
Receive 12 print issues and online access
$259.00 per year
only $21.58 per issue
Rent or buy this article
Prices vary by article type
from$1.95
to$39.95
Prices may be subject to local taxes which are calculated during checkout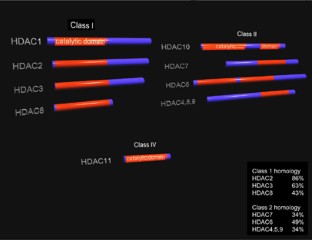 References
Johnstone RW, Licht JD . Histone deacetylase inhibitors in cancer therapy: is transcription the primary target? Cancer Cell 2003; 4: 13–18.

Minucci S, Pelicci PG . Histone deacetylase inhibitors and the promise of epigenetic (and more) treatments for cancer. Nat Rev Cancer 2006; 6: 38–51.

Lindemann RK, Gabrielli B, Johnstone RW . Histone-deacetylase inhibitors for the treatment of cancer. Cell Cycle 2004; 3: 779–788.

Johnstone RW . Histone-deacetylase inhibitors: novel drugs for the treatment of cancer. Nat Rev Drug Discov 2002; 1: 287–299.

Harikrishnan KN, Chow MZ, Baker EK, Pal S, Bassal S, Brasacchio D et al. Brahma links the SWI/SNF chromatin-remodeling complex with MeCP2-dependent transcriptional silencing. Nat Genet 2005; 37: 254–264.

Kouzarides T . Acetylation: a regulatory modification to rival phosphorylation? EMBO J 2000; 19: 1176–1179.

Kelly WK, Marks PA . Drug insight: Histone deacetylase inhibitors – development of the new targeted anticancer agent suberoylanilide hydroxamic acid. Nat Clin Pract Oncol 2005; 2: 150–157.

Piekarz R, Bates S . A review of depsipeptide and other histone deacetylase inhibitors in clinical trials. Curr Pharm Des 2004; 10: 2289–2298.

Bruserud O, Stapnes C, Tronstad KJ, Ryningen A, Anensen N, Gjertsen BT . Protein lysine acetylation in normal and leukaemic haematopoiesis: HDACs as possible therapeutic targets in adult AML. Expert Opin Ther Targets 2006; 10: 51–68.

Drummond DC, Noble CO, Kirpotin DB, Guo Z, Scott GK, Benz CC . Clinical development of histone deacetylase inhibitors as anticancer agents. Annu Rev Pharmacol Toxicol 2005; 45: 495–528.

Sanchez-Gonzalez B, Yang H, Bueso-Ramos C, Hoshino K, Quintas-Cardama A, Richon VM et al. Antileukemia activity of the combination of an anthracycline with a histone deacetylase inhibitor. Blood 2006; 108: 1174–1182.

Kano Y, Akutsu M, Tsunoda S, Izumi T, Kobayashi H, Mano H et al. Cytotoxic effects of histone deacetylase inhibitor FK228 (depsipeptide, formally named FR901228) in combination with conventional anti-leukemia/lymphoma agents against human leukemia/lymphoma cell lines. Invest New Drugs 2006; 25: 31–40.

Lundqvist A, Abrams SI, Schrump DS, Alvarez G, Suffredini D, Berg M et al. Bortezomib and depsipeptide sensitize tumors to tumor necrosis factor-related apoptosis-inducing ligand: a novel method to potentiate natural killer cell tumor cytotoxicity. Cancer Res 2006; 66: 7317–7325.

Butler LM, Liapis V, Bouralexis S, Welldon K, Hay S, Thai le M et al. The histone deacetylase inhibitor, suberoylanilide hydroxamic acid, overcomes resistance of human breast cancer cells to Apo2L/TRAIL. Int J Cancer 2006; 119: 944–954.

Kuendgen A, Schmid M, Schlenk R, Knipp S, Hildebrandt B, Steidl C et al. The histone deacetylase (HDAC) inhibitor valproic acid as monotherapy or in combination with all-trans retinoic acid in patients with acute myeloid leukemia. Cancer 2006; 106: 112–119.

Qi H, Ratnam M . Synergistic induction of folate receptor beta by all-trans retinoic acid and histone deacetylase inhibitors in acute myelogenous leukemia cells: mechanism and utility in enhancing selective growth inhibition by antifolates. Cancer Res 2006; 66: 5875–5882.

Cerna D, Camphausen K, Tofilon PJ . Histone deacetylation as a target for radiosensitization. Curr Top Dev Biol 2006; 73: 173–204.

Karagiannis TC, El-Osta A . Modulation of cellular radiation responses by histone deacetylase inhibitors. Oncogene 2006; 25: 3885–3893.

Karagiannis TC, El-Osta A . The paradox of histone deacetylase inhibitor-mediated modulation of cellular responses to radiation. Cell Cycle 2006; 5: 288–295.

Garber K . Purchase of Aton spotlights HDAC inhibitors. Nat Biotechnol 2004; 22: 364–365.

Richards DA, Boehm KA, Waterhouse DM, Wagener DJ, Krishnamurthi SS, Rosemurgy A et al. Gemcitabine plus CI-994 offers no advantage over gemcitabine alone in the treatment of patients with advanced pancreatic cancer: results of a phase II randomized, double-blind, placebo-controlled, multicenter study. Ann Oncol 2006; 17: 1096–1102.

Loprevite M, Tiseo M, Grossi F, Scolaro T, Semino C, Pandolfi A et al. In vitro study of CI-994, a histone deacetylase inhibitor, in non-small cell lung cancer cell lines. Oncol Res 2005; 15: 39–48.

Konstantinopoulos PA, Vandoros GP, Papavassiliou AG . FK228 (depsipeptide): a HDAC inhibitor with pleiotropic antitumor activities. Cancer Chemother Pharmacol 2006; 58: 711–715.

O'Connor OA, Heaney ML, Schwartz L, Richardson S, Willim R, MacGregor-Cortelli B et al. Clinical experience with intravenous and oral formulations of the novel histone deacetylase inhibitor suberoylanilide hydroxamic acid in patients with advanced hematologic malignancies. J Clin Oncol 2006; 24: 166–173.

Piekarz RL, Robey R, Sandor V, Bakke S, Wilson WH, Dahmoush L et al. Inhibitor of histone deacetylation, depsipeptide (FR901228), in the treatment of peripheral and cutaneous T-cell lymphoma: a case report. Blood 2001; 98: 2865–2868.

Sandor V, Bakke S, Robey RW, Kang MH, Blagosklonny MV, Bender J et al. Phase I trial of the histone deacetylase inhibitor, depsipeptide (FR901228, NSC 630176), in patients with refractory neoplasms. Clin Cancer Res 2002; 8: 718–728.

Zhang C, Richon V, Ni X, Talpur R, Duvic M . Selective induction of apoptosis by histone deacetylase inhibitor SAHA in cutaneous T-cell lymphoma cells: relevance to mechanism of therapeutic action. J Invest Dermatol 2005; 125: 1045–1052.

de Ruijter AJ, van Gennip AH, Caron HN, Kemp S, van Kuilenburg AB . Histone deacetylases (HDACs): characterization of the classical HDAC family. Biochem J 2003; 370 (Part 3): 737–749.

Gregoretti IV, Lee YM, Goodson HV . Molecular evolution of the histone deacetylase family: functional implications of phylogenetic analysis. J Mol Biol 2004; 338: 17–31.

Verdin E, Dequiedt F, Kasler HG . Class II histone deacetylases: versatile regulators. Trends Genet 2003; 19: 286–293.

Guardiola AR, Yao TP . Molecular cloning and characterization of a novel histone deacetylase HDAC10. J Biol Chem 2002; 277: 3350–3356.

Ledent V, Vervoort M . Comparative genomics of class 4 histone deacetylases indicates a complex evolutionary history. BMC Biol 2006; 4: 24.

Gao L, Cueto MA, Asselbergs F, Atadja P . Cloning and functional characterization of HDAC11, a novel member of the human histone deacetylase family. J Biol Chem 2002; 277: 25748–25755.

Blander G, Guarente L . The Sir2 family of protein deacetylases. Annu Rev Biochem 2004; 73: 417–435.

Furumai R, Matsuyama A, Kobashi N, Lee KH, Nishiyama M, Nakajima H et al. FK228 (depsipeptide) as a natural prodrug that inhibits class I histone deacetylases. Cancer Res 2002; 62: 4916–4921.

Peart MJ, Smyth GK, van Laar RK, Bowtell DD, Richon VM, Marks PA et al. Identification and functional significance of genes regulated by structurally different histone deacetylase inhibitors. Proc Natl Acad Sci USA 2005; 102: 3697–3702.

Cho Y, Griswold A, Campbell C, Min KT . Individual histone deacetylases in Drosophila modulate transcription of distinct genes. Genomics 2005; 86: 606–617.

Foglietti C, Filocamo G, Cundari E, De Rinaldis E, Lahm A, Cortese R et al. Dissecting the biological functions of Drosophila histone deacetylases by RNA interference and transcriptional profiling. J Biol Chem 2006; 281: 17968–17976.

Lagger G, O'Carroll D, Rembold M, Khier H, Tischler J, Weitzer G et al. Essential function of histone deacetylase 1 in proliferation control and CDK inhibitor repression. EMBO J 2002; 21: 2672–2681.

Glaser KB, Li J, Staver MJ, Wei RQ, Albert DH, Davidsen SK . Role of class I and Class II histone deacetylases in carcinoma cells using siRNA. Biochem Biophys Res Commun 2003; 310: 529–536.

Bali P, Pranpat M, Bradner J, Balasis M, Fiskus W, Guo F et al. Inhibition of histone deacetylase 6 acetylates and disrupts the chaperone function of heat shock protein 90: a novel basis for antileukemia activity of histone deacetylase inhibitors. J Biol Chem 2005; 280: 26729–26734.

Huang BH, Laban M, Leung CH, Lee L, Lee CK, Salto-Tellez M et al. Inhibition of histone deacetylase 2 increases apoptosis and p21Cip1/WAF1 expression, independent of histone deacetylase 1. Cell Death Differ 2005; 12: 395–404.

Barnes PJ . Reduced histone deacetylase in COPD: clinical implications. Chest 2006; 129: 151–155.

Ito K, Ito M, Elliott WM, Cosio B, Caramori G, Kon OM et al. Decreased histone deacetylase activity in chronic obstructive pulmonary disease. N Engl J Med 2005; 352: 1967–1976.

Inoue S, Mai A, Dyer MJ, Cohen GM . Inhibition of histone deacetylase class I but not Class II is critical for the sensitization of leukemic cells to tumor necrosis factor-related apoptosis-inducing ligand-induced apoptosis. Cancer Res 2006; 66: 6785–6792.

Kim IA, Shin JH, Kim IH, Kim JH, Kim JS, Wu HG et al. Histone deacetylase inhibitor-mediated radiosensitization of human cancer cells: class differences and the potential influence of p53. Clin Cancer Res 2006; 12 (3 Part 1): 940–949.

Kao GD, McKenna WG, Guenther MG, Muschel RJ, Lazar MA, Yen TJ . Histone deacetylase 4 interacts with 53BP1 to mediate the DNA damage response. J Cell Biol 2003; 160: 1017–1027.

Furumai R, Komatsu Y, Nishino N, Khochbin S, Yoshida M, Horinouchi S . Potent histone deacetylase inhibitors built from trichostatin A and cyclic tetrapeptide antibiotics including trapoxin. Proc Natl Acad Sci USA 2001; 98: 87–92.

Park JH, Jung Y, Kim TY, Kim SG, Jong HS, Lee JW et al. Class I histone deacetylase-selective novel synthetic inhibitors potently inhibit human tumor proliferation. Clin Cancer Res 2004; 10: 5271–5281.

Ryan QC, Headlee D, Acharya M, Sparreboom A, Trepel JB, Ye J et al. Phase I and pharmacokinetic study of MS-275, a histone deacetylase inhibitor, in patients with advanced and refractory solid tumors or lymphoma. J Clin Oncol 2005; 23: 3912–3922.

Hu E, Dul E, Sung CM, Chen Z, Kirkpatrick R, Zhang GF et al. Identification of novel isoform-selective inhibitors within class I histone deacetylases. J Pharmacol Exp Ther 2003; 307: 720–728.

Van Lint C, Emiliani S, Verdin E . The expression of a small fraction of cellular genes is changed in response to histone hyperacetylation. Gene Expr 1996; 5: 245–253.

Glaser KB, Staver MJ, Waring JF, Stender J, Ulrich RG, Davidsen SK . Gene expression profiling of multiple histone deacetylase (HDAC) inhibitors: defining a common gene set produced by HDAC inhibition in T24 and MDA carcinoma cell lines. Mol Cancer Ther 2003; 2: 151–163.

Mariadason JM, Corner GA, Augenlicht LH . Genetic reprogramming in pathways of colonic cell maturation induced by short chain fatty acids: comparison with trichostatin A, sulindac, and curcumin and implications for chemoprevention of colon cancer. Cancer Res 2000; 60: 4561–4572.

Kelly WK, O'Connor OA, Krug LM, Chiao JH, Heaney M, Curley T et al. Phase I study of an oral histone deacetylase inhibitor, suberoylanilide hydroxamic acid, in patients with advanced cancer. J Clin Oncol 2005; 23: 3923–3931.

Kelly WK, Richon VM, O'Connor O, Curley T, MacGregor-Curtelli B, Tong W et al. Phase I clinical trial of histone deacetylase inhibitor: suberoylanilide hydroxamic acid administered intravenously. Clin Cancer Res 2003; 9 (10 Part 1): 3578–3588.

Shah MH, Binkley P, Chan K, Xiao J, Arbogast D, Collamore M et al. Cardiotoxicity of histone deacetylase inhibitor depsipeptide in patients with metastatic neuroendocrine tumors. Clin Cancer Res 2006; 12: 3997–4003.

Piekarz RL, Frye AR, Wright JJ, Steinberg SM, Liewehr DJ, Rosing DR et al. Cardiac studies in patients treated with depsipeptide, FK228, in a phase II trial for T-cell lymphoma. Clin Cancer Res 2006; 12: 3762–3773.

Marshall JL, Rizvi N, Kauh J, Dahut W, Figuera M, Kang MH et al. A phase I trial of depsipeptide (FR901228) in patients with advanced cancer. J Exp Ther Oncol 2002; 2: 325–332.

Yamada H, Arakawa Y, Saito S, Agawa M, Kano Y, Horiguchi-Yamada J . Depsipeptide-resistant KU812 cells show reversible P-glycoprotein expression, hyper-acetylated histones, and modulated gene expression profile. Leuk Res 2006; 30: 723–734.

Xiao JJ, Huang Y, Dai Z, Sadee W, Chen J, Liu S et al. Chemoresistance to depsipeptide FK228 [(E)-(1S, 4S, 10S, 21R)-7-[(Z)-ethylidene]-4, 21-diisopropyl-2-oxa-12, 13-dithi a-5, 8, 20, 23-tetraazabicyclo-tricos-16-ene-3, 6, 9, 22-pentanone] is mediated by reversible MDR1 induction in human cancer cell lines. J Pharmacol Exp Ther 2005; 314: 467–475.

Piekarz RL, Robey RW, Zhan Z, Kayastha G, Sayah A, Abdeldaim AH et al. T-cell lymphoma as a model for the use of histone deacetylase inhibitors in cancer therapy: impact of depsipeptide on molecular markers, therapeutic targets, and mechanisms of resistance. Blood 2004; 103: 4636–4643.

Xiao JJ, Foraker AB, Swaan PW, Liu S, Huang Y, Dai Z et al. Efflux of depsipeptide FK228 (FR901228, NSC-630176) is mediated by P-glycoprotein and multidrug resistance-associated protein 1. J Pharmacol Exp Ther 2005; 313: 268–276.

Tabe Y, Konopleva M, Contractor R, Munsell M, Schober WD, Jin L et al. Up-regulation of MDR1 and induction of doxorubicin resistance by histone deacetylase inhibitor depsipeptide (FK228) and ATRA in acute promyelocytic leukemia cells. Blood 2006; 107: 1546–1554.

El-Osta A . DNMT cooperativity--the developing links between methylation, chromatin structure and cancer. Bioessays 2003; 25: 1071–1084.

El-Osta A, Kantharidis P, Zalcberg JR, Wolffe AP . Precipitous release of methyl-CpG binding protein 2 and histone deacetylase 1 from the methylated human multidrug resistance gene (MDR1) on activation. Mol Cell Biol 2002; 22: 1844–1857.

Eikel D, Lampen A, Nau H . Teratogenic effects mediated by inhibition of histone deacetylases: evidence from quantitative structure activity relationships of 20 valproic acid derivatives. Chem Res Toxicol 2006; 19: 272–278.

Menegola E, Di Renzo F, Broccia ML, Prudenziati M, Minucci S, Massa V et al. Inhibition of histone deacetylase activity on specific embryonic tissues as a new mechanism for teratogenicity. Birth Defects Res B Dev Reprod Toxicol 2005; 74: 392–398.
Acknowledgements
The support of the Australian Institute of Nuclear Science and Engineering is acknowledged. TCK was the recipient of AINSE awards. Molecular Radiation Biology and Epigenetics in Human Health and Disease Laboratories are supported by the National Health and Medical Research Council of Australia (350359 and 268905).
About this article
Cite this article
Karagiannis, T., El-Osta, A. Will broad-spectrum histone deacetylase inhibitors be superseded by more specific compounds?. Leukemia 21, 61–65 (2007). https://doi.org/10.1038/sj.leu.2404464
Received:

Revised:

Accepted:

Published:

Issue Date:

DOI: https://doi.org/10.1038/sj.leu.2404464
Keywords
histone deacetylase

histone deacetylase inhibitors

suberoylanilide hyroxamic acid

depsipeptide

class I histone deacetylase

isoform-specific histone deacetylase