Abstract
Determining the percentage of peripheral blood (PB) and bone marrow (BM) blasts is important for diagnosing and classifying acute myeloid leukemia (AML) and myelodysplastic syndromes (MDS). Although most patients with acute leukemia or MDS have a higher percentage of BM blasts than PB blasts, the relative proportion is reversed in some patients. We explored the clinical relevance of this phenomenon in MDS (n=446), AML (n=1314), and acute lymphoblastic leukemia (ALL) (n=385). Among patients with MDS or ALL, but not AML, having a higher blast percentage in PB than in BM was associated with significantly shorter survival. In multivariate analyses, these associations were independent of other relevant predictors, including cytogenetic status. Our findings suggest that MDS and ALL patients who have a higher percentage of PB blasts than BM blasts have more aggressive disease. These data also suggest that MDS classification schemes should take into account the percentage of blasts in PB differently from the percentage of blasts in BM.
This is a preview of subscription content
Access options
Subscribe to Journal
Get full journal access for 1 year
$119.00
only $9.92 per issue
All prices are NET prices.
VAT will be added later in the checkout.
Tax calculation will be finalised during checkout.
Buy article
Get time limited or full article access on ReadCube.
$32.00
All prices are NET prices.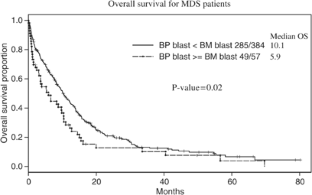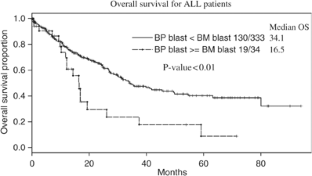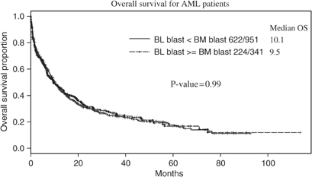 References
Bennett JM, Catovsky D, Daniel MT, Flandrin G, Galton DA, Gralnick HR et al. Proposals for the classification of acute leukaemias. French–American–British (FAB) cooperative group. Br J Haematol 1976; 33: 451–458.

Bennett JM, Catovsky D, Daniel MT, Flandrin G, Galton DA, Gralnick HR et al. Proposed revised criteria for the classification of acute myeloid leukemia. A report of the French–American–British Cooperative Group. Ann Intern Med 1985; 103: 620–625.

Bennett JM, Catovsky D, Daniel MT, Flandrin G, Galton DA, Gralnick HR et al. Proposals for the classification of the myelodysplastic syndromes. Br J Haematol 1982; 51: 189–199.

Brunning RD, Bennett JM, Flandrin G, Flandrin G, Matutes E, Head D et al. Myelodysplastic syndromes: introduction. In: Jaffe ES, Harris NL, Stein H, Vardiman JW (eds). World Health Organization Classification of Tumors: Pathology and Genetics of Tumors of Haematopoietic and Lymphoid Tissues. Lyon, France: IARC Press, 2001, pp 63–67.

Griffin TC, Shuster JJ, Buchanan GR, Murphy SB, Camitta BM, Amylon MD . Slow disappearance of peripheral blood blasts is an adverse prognostic factor in childhood T cell acute lymphoblastic leukemia: a Pediatric Oncology Group study. Leukemia 2000; 14: 792–795.

Vehmeyer K, Haase D, Alves F . Increased peripheral stem cell pool in MDS: an indicator of disease progression? Leuk Res 2001; 25: 955–959.

Berer A, Jager E, Sagaster V, Streubel B, Wizamal F, Sperr WR et al. Circulating myeloid colony-forming cells predict survival in myelodysplastic syndromes. Ann Hematol 2003; 82: 271–277.

Verstovsek S, Kantarjian H, Aguayo A, Manshouri T, Freireich E, Keating M et al. Significance of angiogenin plasma concentrations in patients with acute myeloid leukaemia and advanced myelodysplastic syndrome. Br J Haematol 2001; 114: 290–295.

Aref S, Mabed M, Sakrana M, Goda M, El-Sherbiny M . Soluble hepatocyte growth factor (sHGF) and vascular endothelial growth factor (sVEGF) in adult acute myeloid leukemia: relationship to disease characteristics. Hematology 2002; 7: 273–279.

Recher C, Ysebaert L, Beyne-Rauzy O, Mansat-De Mas V, Ruidavets JB, Cariven P et al. Expression of focal adhesion kinase in acute myeloid leukemia is associated with enhanced blast migration, increased cellularity, and poor prognosis. Cancer Res 2004; 64: 3191–3197.

Thomas X, Anglaret B, Bailly M, Maritaz O, Magaud JP, Archimbaud E . Differential adhesiveness between blood and marrow leukemic cells having similar pattern of VLA adhesion molecule expression. Leuk Res 1998; 22: 953–960.

Bradstock KF, Gottlieb DJ . Interaction of acute leukemia cells with the bone marrow microenvironment: implications for control of minimal residual disease. Lymphoma 1995; 18: 1–16.

Voermans C, van Heese WP, de Jong I, Gerritsen WR, van Der Schoot CE . Migratory behavior of leukemic cells from acute myeloid leukemia patients. Leukemia 2002; 16: 650–657.

Greenberg P, Anderson J, de Witte T, Estey E, Fenaux P, Gupta P et al. Problematic WHO reclassification of myelodysplastic syndromes. Members of the International MDS Study Group. J Clin Oncol 2000; 18: 3447–3452.
Acknowledgements
We thank Jeff Radcliff for his excellent help in preparing this article.
About this article
Cite this article
Amin, H., Yang, Y., Shen, Y. et al. Having a higher blast percentage in circulation than bone marrow: clinical implications in myelodysplastic syndrome and acute lymphoid and myeloid leukemias. Leukemia 19, 1567–1572 (2005). https://doi.org/10.1038/sj.leu.2403876
Received:

Accepted:

Published:

Issue Date:

DOI: https://doi.org/10.1038/sj.leu.2403876
Keywords
blasts

acute leukemia

myelodysplastic syndrome

survival
Further reading
Bee Luan Khoo
Menglin Shang
Jongyoon Han

npj Precision Oncology (2019)

Ishay Wohl
Naomi Zurgil
Mordechai Deutsch

European Biophysics Journal (2019)

Deepak Arya
Sasikala P Sachithanandan
Sudhir Krishna

Cell Death & Disease (2018)