Abstract
In patients with hematological malignancies receiving HLA-matched stem cell transplantation, T cells specific for minor histocompatibility antigens play a major role in graft rejection, induction of graft-versus-host disease and beneficial graft-versus-leukemia reactivity. Several human minor histocompatibility antigens recognized by T cells have been identified, but only two are presented by HLA class II molecules. In search of an efficient approach to identify antigenic peptides processed through the HLA class II pathway, we constructed a cDNA library in bacteria that were induced to express proteins. Bacteria were opsonized with complement to enforce receptor-mediated uptake by Epstein–Barr virus immortalized B cells that were subsequently used as antigen-presenting cells. This approach was validated with an HLA class II-restricted antigen encoded by gene DBY. We were able to identify bacteria expressing DBY diluted into a 300-fold excess of bacteria expressing a nonrelevant gene. Screening of a bacterial library using a DBY-specific CD4 T cell clone resulted in the isolation of several DBY cDNAs. We propose this strategy for a rapid identification of HLA class II-restricted antigenic peptides recognized by CD4 T cells.
Relevant articles
Open Access articles citing this article.
Claire Ventura

,

Hélène Bisceglia

…

Pascal Chaux

Journal of Clinical Immunology Open Access 15 July 2012
Access options
Subscribe to Journal
Get full journal access for 1 year
$119.00
only $9.92 per issue
All prices are NET prices.
VAT will be added later in the checkout.
Tax calculation will be finalised during checkout.
Buy article
Get time limited or full article access on ReadCube.
$32.00
All prices are NET prices.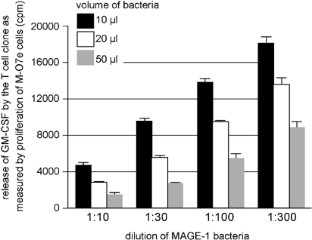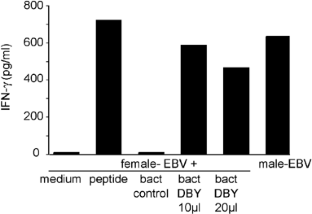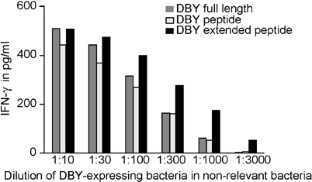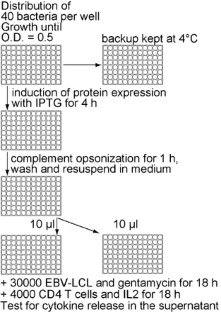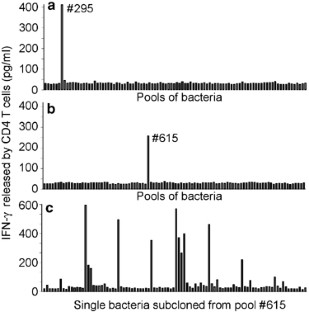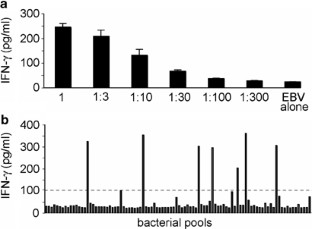 References
den Haan JM, Meadows LM, Wang W, Pool J, Blokland E, Bishop TL et al. The minor histocompatibility antigen HA-1: a diallelic gene with a single amino acid polymorphism. Science 1998; 279: 1054–1057.

den Haan JM, Sherman NE, Blokland E, Huczko E, Koning F, Drijfhout JW et al. Identification of a graft versus host disease-associated human minor histocompatibility antigen. Science 1995; 268: 1476–1480.

Pierce RA, Field ED, Mutis T, Golovina TN, Von Kap-Herr C, Wilke M et al. The HA-2 minor histocompatibility antigen is derived from a diallelic gene encoding a novel human class I myosin protein. J Immunol 2001; 167: 3223–3230.

Pierce RA, Field ED, den Haan JMM, Caldwell JA, White FM, Marto JA et al. Cutting edge: the HLA-A*0101-restricted HY minor histocompatibility antigen originates from DFFRY and contains a cysteinylated cysteine residue as identified by a novel mass spectrometric technique. J Immunol 1999; 163: 6360–6364.

Sahara H, Shastri N . Second class minors: molecular identification of the autosomal H46 histocompatibility locus as a peptide presented by major histocompatibility complex class II molecules. J Exp Med 2003; 197: 375–385.

Vogt MH, van den Muijsenberg JW, Goulmy E, Spierings E, Kluck P, Kester MG et al. The DBY gene codes for an HLA-DQ5-restricted human male-specific minor histocompatibility antigen involved in graft-versus-host disease. Blood 2002; 99: 3027–3032.

de Rijke B, Fredrix H, Zoetbrood A, Scherpen F, Witteveen H, de Witte T et al. Generation of autologous cytotoxic and helper T-cell responses against the B-cell leukemia-associated antigen HB-1: relevance for precursor B-ALL-specific immunotherapy. Blood 2003; 102: 2885–2891.

Marijt WA, Heemskerk MH, Kloosterboer FM, Goulmy E, Kester MG, van der Hoorn MA et al. Hematopoiesis-restricted minor histocompatibility antigens HA-1- or HA-2-specific T cells can induce complete remissions of relapsed leukemia. Proc Natl Acad Sci USA 2003; 100: 2742–2747.

Faber LM, van Luxemburg-Heijs SA, Veenhof WF, Willemze R, Falkenburg JH . Generation of CD4+ cytotoxic T-lymphocyte clones from a patient with severe graft-versus-host disease after allogeneic bone marrow transplantation: implications for graft-versus-leukemia reactivity. Blood 1995; 86: 2821–2828.

Voogt PJ, Fibbe WE, Marijt WAF, Veenhof WFJ, Hamilton M, Zwaan FE et al. Rejection of bone-marrow graft by recipient-derived cytotoxic T lymphocytes against minor histocompatibility antigens. Lancet 1990; 335: 131–134.

Marijt WA, Kernan NA, Diaz-Barrientos T, Veenhof WF, O'Reilly RJ, Willemze R et al. Multiple minor histocompatibility antigen-specific cytotoxic T lymphocyte clones can be generated during graft rejection after HLA-identical bone marrow transplantation. Bone Marrow Transplant 1995; 16: 125–132.

Vogt MH, Goulmy E, Kloosterboer FM, Blokland E, de Paus RA, Willemze R et al. UTY gene codes for an HLA-B60-restricted human male-specific minor histocompatibility antigen involved in stem cell graft rejection: characterization of the critical polymorphic amino acid residues for T-cell recognition. Blood 2000; 96: 3126–3132.

Vogt MH, de Paus RA, Voogt PJ, Willemze R, Falkenburg JH . DFFRY codes for a new human male-specific minor transplantation antigen involved in bone marrow graft rejection. Blood 2000; 95: 1100–1105.

Jiang YZ, Barrett J . The allogeneic CD4+ T-cell-mediated graft-versus-leukemia effect. Leuk Lymphoma 1997; 28: 33–42.

Serrano J, Roman J, Herrera C, Castillejo JA, Navarro JA, Reina ML et al. Increasing mixed haematopoietic chimaerism after BMT with total depletion of CD4+ and partial depletion of CD8+ lymphocytes is associated with a higher incidence of relapse. Bone Marrow Transplant 1999; 23: 475–482.

Sullivan KM, Weiden PL, Storb R, Witherspoon RP, Fefer A, Fisher L et al. Influence of acute and chronic graft-versus-host disease on relapse and survival after bone marrow transplantation from HLA-identical siblings as treatment of acute and chronic leukemia. Blood 1989; 73: 1720–1728.

Faber LM, Van Luxemburg-Heus SAP, Willemze R, Falkenburg JHF . Generation of leukemia-reactive cytotoxic T lymphocyte clones from the HLA-identical bone marrow donor of a patient with leukemia. J Exp Med 1992; 176: 1283–1289.

Smit WM, Rijnbeek M, van Bergen CA, Fibbe WE, Willemze R, Falkenburg JH . T cells recognizing leukemic CD34(+) progenitor cells mediate the antileukemic effect of donor lymphocyte infusions for relapsed chronic myeloid leukemia after allogeneic stem cell transplantation. Proc Natl Acad Sci USA 1998; 95: 10152–10157.

Gromme M, Neefjes J . Antigen degradation or presentation by MHC class I molecules via classical and non-classical pathways. Mol Immunol 2002; 39: 181–202.

Spierings E, Brickner AG, Caldwell JA, Zegveld S, Tatsis N, Blokland E et al. The minor histocompatibility antigen HA-3 arises from differential proteasome-mediated cleavage of the lymphoid blast crisis (Lbc) oncoprotein. Blood 2003; 102: 621–629.

Brickner AG, Warren EH, Caldwell JA, Akatsuka Y, Golovina TN, Zarling AL et al. The immunogenicity of a new human minor histocompatibility antigen results from differential antigen processing. J Exp Med 2001; 193: 195–206.

Wang W, Meadows LR, den Haan JM, Sherman NE, Chen Y, Blokland E et al. Human H-Y: a male-specific histocompatibility antigen derived from the SMCY protein. Science 1995; 269: 1588–1590.

Meadows L, Wang W, den Haan JM, Blokland E, Reinhardus C, Drijfhout JW et al. The HLA-A*0201-restricted H-Y antigen contains a posttranslationally modified cysteine that significantly affects T cell recognition. Immunity 1997; 6: 273–281.

Dolstra H, Fredrix H, Maas F, Coulie PG, Brasseur F, Mensink E et al. A human minor histocompatibility antigen specific for B cell acute lymphoblastic leukemia. J Exp Med 1999; 189: 301–308.

Warren EH, Gavin MA, Simpson E, Chandler P, Page DC, Disteche C et al. The human UTY gene encodes a novel HLA-B8-restricted H-Y antigen. J Immunol 2000; 164: 2807–2814.

Akatsuka Y, Nishida T, Kondo E, Miyazaki M, Taji H, Iida H et al. Identification of a polymorphic gene, BCL2A1, encoding two novel hematopoietic lineage-specific minor histocompatibility antigens. J Exp Med 2003; 197: 1489–1500.

Spierings E, Vermeulen CJ, Vogt MH, Doerner LE, Falkenburg JH, Mutis T et al. Identification of HLA class II-restricted H-Y-specific T-helper epitope evoking CD4+ T-helper cells in H-Y-mismatched transplantation. Lancet 2003; 362: 610–615.

Nussbaum AK, Kuttler C, Tenzer S, Schild H . Using the World Wide Web for predicting CTL epitopes. Curr Opin Immunol 2003; 15: 69–74.

Lanzavecchia A . Mechanisms of antigen uptake for presentation. Curr Opin Immunol 1996; 8: 348–354.

Vogt AB, Moldenhauer G, Hammerling GJ, Kropshofer H . HLA-DM stabilizes empty HLA-DR molecules in a chaperone-like fashion. Immunol Lett 1997; 57: 209–211.

Elliott EA, Drake JR, Amigorena S, Elsemore J, Webster P, Mellman I et al. The invariant chain is required for intracellular transport and function of major histocompatibility complex class II molecules. J Exp Med 1994; 179: 681–694.

Chiari R, Hames G, Stroobant V, Texier C, Maillère B, Boon T et al. Identification of a tumor-specific shared antigen derived from an Eph-receptor and presented to CD4T cells on HLA class II molecules. Cancer Res 2000; 60: 4855–4863.

Novellino L, Renkvist N, Rini F, Mazzocchi A, Rivoltini L, Greco A et al. Identification of a mutated receptor-like protein tyrosine phosphatase kappa as a novel, class II HLA-restricted melanoma antigen. J Immunol 2003; 170: 6363–6370.

Wang R-F, Wang X, Atwood AC, Topalian SL, Rosenberg SA . Cloning genes encoding MHC class II-restricted antigens: mutated CDC27 as a tumor antigen. Science 1999; 284: 1351–1354.

Wang R-F, Wang X, Rosenberg SA . Identification of a novel major histocompatibility complex class II-restricted tumor antigen resulting from a chromosomal rearrangement recognized by CD4+ T cells. J Exp Med 1999; 189: 1659–1667.

Chaux P, Lethé B, Van Snick J, Corthals J, Schultz ES, Cambiaso CL et al. A MAGE-1 peptide recognized on HLA-DR15 by CD4+ T cells. Eur J Immunol 2001; 31: 1910–1916.

Davis CA, Benzer S . Generation of cDNA expression libraries enriched for in-frame sequences. Proc Natl Acad Sci USA 1997; 94: 2128–2132.

Avanzi GC, Brizzi MF, Giannotti J, Ciarletta A, Yang YC, Pegoraro L et al. M-07e human leukemic factor-dependent cell line provides a rapid and sensitive bioassay for the human cytokines GM-CSF and IL-3. J Cell Physiol 1990; 145: 458–464.

Meazza R, Basso S, Gaggero A, Detotero D, Trentin L, Pereno R et al. Interleukin (IL)-15 induces survival and proliferation of the growth factor-dependent acute myeloid leukemia M-07e through the IL-2 receptor beta/gamma. Int J Cancer 1998; 78: 189–195.

Hess MW, Schwendinger MG, Eskelinen EL, Pfaller K, Pavelka M, Dierich MP et al. Tracing uptake of C3dg-conjugated antigen into B cells via complement receptor type 2 (CR2, CD21). Blood 2000; 95: 2617–2623.

Thornton BP, Vetvicka V, Ross GD . Natural antibody and complement-mediated antigen processing and presentation by B lymphocytes. J Immunol 1994; 152: 1727–1737.

Godkin AJ, Smith KJ, Willis A, Tejada-Simon MV, Zhang J, Elliott T et al. Naturally processed HLA class II peptides reveal highly conserved immunogenic flanking region sequence preferences that reflect antigen processing rather than peptide-MHC interactions. J Immunol 2001; 166: 6720–6727.

Rotzschke O, Falk K, Mack J, Lau JM, Jung G, Strominger JL . Conformational variants of class II MHC/peptide complexes induced by N- and C-terminal extensions of minimal peptide epitopes. Proc Natl Acad Sci USA 1999; 96: 7445–7450.

Alderson MR, Bement T, Day CH, Zhu L, Molesh D, Skeiky YA et al. Expression cloning of an immunodominant family of Mycobacterium tuberculosis antigens using human CD4+ T cells. J Exp Med 2000; 191: 551–560.
Acknowledgements
We would like to thank CA Davis (Department of Developmental Molecular Genetics, Ben Gurion University of the Negev, Beer Sheva, Israel) for providing us with the pKE-1 vector, and Dr Edus H Warren (Fred Hutchinson Cancer Research Center, Seattle, WA, USA) for interesting discussion, careful reading and English editing of the manuscript. We also thank Mrs C Wildmann for her precious assistance, and Mrs N Krack for editorial assistance.
About this article
Cite this article
van de Corput, L., Chaux, P., van der Meijden, E. et al. A novel approach to identify antigens recognized by CD4 T cells using complement-opsonized bacteria expressing a cDNA library. Leukemia 19, 279–285 (2005). https://doi.org/10.1038/sj.leu.2403583
Received:

Accepted:

Published:

Issue Date:

DOI: https://doi.org/10.1038/sj.leu.2403583
Keywords
minor histocompatibility antigen (mHag)

CD4

antigen

cDNA library
This article is cited by
Claire Ventura
Hélène Bisceglia
Pascal Chaux

Journal of Clinical Immunology (2012)

Marie Bleakley
Stanley R Riddell

Immunology & Cell Biology (2011)