Abstract
Although myelodysplastic syndromes (MDSs) are generally thought to be diseases of elderly patients, younger patients also have rarely been diagnosed with MDS. This is a report of the clinical, morphologic and cytogenetic features of 52 cases of primary MDS occurring in adults under the age of 50 years. Cases secondary to chemotherapy or radiotherapy were excluded. There were 31 males and 21 females. The median age at presentation was 39 years (range, 18 to 49 years). The interval between onset of symptoms and diagnosis was brief (median, 4 weeks; range, 1–32 weeks). Of the 49 patients for whom information about duration of symptoms was available, 13 (27%) were asymptomatic. Forty-two (81%) of the patients were classified using FAB criteria for blood and bone marrow morphology: refractory anemia (RA), 11; refractory anemia with ringed sideroblasts (RARS), four; refractory anemia with excess blasts (RAEB), 12; chronic myelomonocytic leukemia (CMML), three; refractory anemia with excess blasts in transformation (RAEB-T), 12 patients. Ten patients could not be categorized. Abnormalities involving chromosome 7 was the most frequent cytogenetic abnormality (31%). Partial chromosomal deletion and chromosome gain were also common abnormalities (22% and 9%, respectively). Translocations accounted for only 9% of the main cytogenetic abnormalities encountered in this patient population. For the 49 patients for whom information regarding AML transformation was available, 23 (47%) progressed to acute myeloid leukemia, with an overall median time to progression of 2 months (range 3 weeks to 3 years). In each category except for RARS, approximately half of the patients progressed, with a slightly less median time to progression in RAEB-T than for the other subtypes of MDS. Thirteen patients underwent bone marrow transplantation at the time of presentation of their disease.
Your institute does not have access to this article
Relevant articles
Open Access articles citing this article.
Pierre Fenaux

,

Aristoteles Giagounidis

…

Alan F. List

Journal of Hematology & Oncology Open Access 26 June 2017
Access options
Subscribe to Journal
Get full journal access for 1 year
$119.00
only $9.92 per issue
All prices are NET prices.
VAT will be added later in the checkout.
Tax calculation will be finalised during checkout.
Buy article
Get time limited or full article access on ReadCube.
$32.00
All prices are NET prices.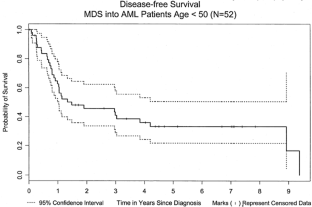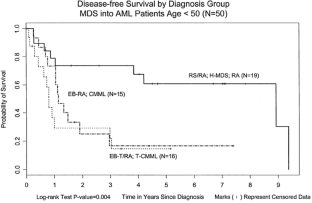 References
Bennett JM, Catovsky D, Daniel MT, Flandrin G, Galton DAG, Gralnick HR, Sultan C . Proposals for the classification of the myelodysplastic syndromes Br J Haematol 1982 51: 189–199

Foucar K, Langdon RMI, Armitage JO, Olson DB, Carroll TJJ . Myelodysplastic syndromes. A clinical and pathologic analysis of 109 cases Cancer 1985 56: 553–561

LeBeau M, Albain K, Larson R, Vardiman J, Davis E, Blough R, Golomb H, Rowley J . Clinical and cytogenetic correlations in 63 patients with therapy-related myelodysplastic syndromes and acute nonlymphocytic leukemia: further evidence for characteristic abnormalities of chromosomes 5 and 7 J Clin Oncol 1986 4: 325–345

Kantarjian HM, Keating MJ . Therapy-related leukemia and myelodysplastic syndrome Semin Oncol 1987 14: 435–443

Pedersen-Bjergaard J . Therapy-related myelodysplasia and acute leukemia Leuk Lymphoma 1995 15: 11–12

Traweek ST, Slovak ML, Nademanee AP, Brynes RK, Niland JC, Forman SJ . Myelodysplasia and acute myeloid leukemia occurring after autologous bone marrow transplantation for lymphoma Leuk Lymphoma 1996 20: 365–372

Yakoub-Agha I, deLaSalmoniere P, Ribaud P, Sutton L, Wattel E, Kuentz M, Jouet J, Marit G, Milpied N, Deconinck E, Gratecos N, Leporrier M, Chabbert I, Caillot D, Damaj G, Dauriac C, Dreyfus F, Francois S, Molina L, Tanguy M, Chevret S, Gluckman E . Allogeneic bone marrow transplantation for therapy-related myelodysplastic syndrome and acute myeloid leukemia: a long-term study of 70 patients – report of the French Society of Bone Marrow Transplantation J Clin Oncol 2000 18: 963–971

Gyger M, Bonny Y, Forest L . Childhood monosomy 7 syndrome Am J Hematol 1982 13: 329–334

Passmore SJ, Hann IM, Stiller CA, Ramani P, Swansbury GJ, Gibbons B, Reeves BR, Chessells JM . Pediatric myelodysplasia: a study of 68 children and a new prognostic scoring system Blood 1995 85: 1742–1750

Bader-Meunier B, Mielot F, Tchernia G, Buisine J, Delsol G, Duchayne E, Lemerle S, Leverger G, deLumley L, Manel A-M, Nathanson M, Plantaz D, Robert A, Schaison G, Sommelet D, Vilmer E . Myelodysplastic syndromes in childhood: report of 49 patients from a French multicentre study Br J Haematol 1996 92: 344–350

Passmore SJ, Hann IM . Paediatric myelodysplasia Br Med Bull 1996 52: 778–786

Creutzig U, Ritter J, Vormoor J, Ludwig WD, Niemeyer C, Reinisch I, Stollmann-Gibbels B, Zimmermann M, Harbott J . Myelodysplasia and acute myelogenous leukemia in Down's syndrome Leukemia 1996 10: 1677–1686

Barnard D, Kalousek D, Wiersma S, Lange B, Benjamin D, Arthur D, Buckley J, Kobrinsky N, Neudorf S, Sanders J, Miller L, DeSwarte J, Shina D, Hammond G, Woods W . Morphologic, immunologic, and cytogenetic classification of acute myeloid leukemia and myelodysplastic syndrome in childhood: a report from the Children's Cancer Group Leukemia 1996 10: 5–12

Davies SM, Wagner JE, Defor T, Blazar BR, Katsanis E, Kersey JH, Orchard PJ, McGlave PB, Weisdorf DJ, Ramsay NK . Unrelated donor bone marrow transplantation for children and adolescents with aplastic anaemia or myelodysplasia Br J Haematol 1997 96: 749–756

Groupe Francais de Cytogenetique Hematologique. Forty-four cases of childhood myelodysplasia with cytogenetics, documented by the Groupe Francais de Cytogenetique Hematologique Leukemia 1997 11: 1478–1485

Fenaux P, Preudhomme C, Estienne M, Morel P, Lai J, Gardin C, Jouet J, Bauters F . De novo myelodysplastic syndromes in adult aged 50 or less. A report on 37 cases Leuk Res 1990 14: 1053–1059

Kerkhofs H, Hagemeijer A, Leeksma CHW, Abels J, denOttolander GJ, Somers R, Gerrits WBJ, Langenhuiÿen MMAC, von dem Borne AEGK, van Hemel JO, Geraedts JPM . The 5q− chromosome abnormality in haematological disorders: a collaborative study of 34 cases from the Netherlands Br J Haematol 1982 52: 365–381

Groupe Francaise De Morphologie Hematologique. French Registry of acute leukemia and myelodysplastic syndromes. Age distribution and hemogram analysis of the 4496 cases recorded during 1982–1983 and classified according to FAB criteria Cancer 1987 60: 1385–1394

Goasguen J-E, Garand R, Bizet M, Bremond J-L, Gardais J, Callat MP, Accard F, Chaperon J . Prognostic factors of myelodysplastic syndromes – a simplified 3-D scoring system Leuk Res 1990 14: 255–262

Aul C, Gatterman N, Heyll A, Germing U, Derigs G, Schneider W . Primary myelodysplastic syndromes: analysis of prognostic factors in 235 patients and proposals for an improved scoring system Leukemia 1992 6: 52–59

Mathew P, Tefferi A, Dewald GW, Goldberg SL, Su J, Hoagland HC, Noel P . The 5q− syndrome: a single-institution study of 43 consecutive patients Blood 1993 81: 1040–1045

Sutton L, Chastang C, Ribaud P, Jouet J-P, Kuentz M, Attal M, Reiffers J, Tigaud J-M, Rio B, Dauriac C, Legros M, Dreyfus F, Lioure B, Troussard X, Milpied N, Witz F, Oriol P, Cahn J-Y, Michallet M, Gluckman E, Ifrah N, Pico J-L, Vilmer E, Leblond V . Factors influencing outcome in de novo myelodysplastic syndromes treated by allogeneic bone marrow transplantation: a long-term study of 71 patients Blood 1996 88: 358–365

Sole F, Espinet B, Sanz GF, Cervera J, Calasanz MJ, Luno E, Prieto F, Granada I, Hernandez JM, Cigudosa JC, Diez JL, Bureo E, Marques ML, Arranz E, Rios R, Martinez-Climent JA, Vallespi T, Florensa L, Woessner S . Incidence, characterization and prognostic significance of chromosomal abnormalities in 640 patients with primary myelodysplastic syndromes. Grupo Cooperativo Espanol de Citogenetica Hematologica Br J Haematol 2000 108: 346–356

Mufti GJ, Stevens JR, Oscier DG, Hamblin TJ, Machin D . Myelodysplastic syndromes: a scoring system with prognostic significance Br J Haematol 1985 59: 425–433

Worsley A, Oscier DG, Stevens J, Darlow S, Figes A, Mufti GJ, Hamblin TJ . Prognostic features of chronic myelomonocytic leukemia: a modified Bournemouth score gives the best prediction of survival Br J Haematol 1988 68: 17–21

Sanz GF, Sanz MA, Vallespi T, Canizo MC, Torrabadella M, Garcia S, Irriguible D, San Miguel JF . Two regression models and a scoring system for predicting survival and planning treatment in myelodysplastic syndromes: a multivariate analysis of prognostic factors in 370 patients Blood 1989 74: 395–408

Morel P, Hebbar M, Lai J-L, Duhamel A, Preudhomme C, Wattel E, Bauters F, Fenaux P . Cytogenetic analysis has strong independent prognostic value in de novo myelodysplastic syndromes and can be incorporated in a new scoring system: a report on 408 cases Leukemia 1993 7: 1315–1323

Greenberg P, Cox C, LeBeau MM, Fenaux P, Morel P, Sanz G, Sanz M, Vallespi T, Hamblin T, Oscier D, Ohyashiki K, Toyama K, Aul C, Mufti G, Bennett J . International scoring system for evaluating prognosis in myelodysplastic syndromes Blood 1997 89: 2079–2088

Nand S, Godwin JE . Hypoplastic myelodysplastic syndrome Cancer 1988 62: 958–964

Tuzuner N, Cox C, Rowe J, Watrous D, Bennett J . Hypocellular myelodysplastic syndromes (MDS): new proposals Br J Haematol 1995 91: 612–617

Mitelman F (ed). ISCN (1995): An International System for Human Cytogenetic Nomenclature Karger: Basel 1995

Brunning R . Proposed World Health Organization (WHO) classification of acute leukemia and myelodysplastic syndromes Mod Pathol 1999 12: 102

Karcher D, Frost A . The bone marrow in human immunodeficiency virus (HIV)-related disease. Morphology and clinical correlation Am J Clin Pathol 1991 95: 63–71

Watts E, Majer R, Green P, Mavor W . Hyperfibrotic myelodysplasia: a report of three cases showing haematological remission following treatment with prednisolone Br J Haematol 1991 78: 120–122

Mangi M, Mufti G . Primary myelodysplastic syndromes: diagnostic and prognostic significance of immunohistochemical assessment of bone marrow biopsies Blood 1992 79: 198–205

Clatch R, Krigman H, Peters M, Zutter M . Dysplastic haemopoiesis following orthotopic liver transplantation: comparison with similar changes in HIV infection and primary myelodysplasia Br J Haematol 1994 88: 685–692

Kaloutsi V, Kohlmeyer U, Maschek H, Nafe R, Choritz H, Amor A, Georgii A . Comparison of bone marrow and hematologic findings in patients with human immunodeficiency virus infection and those with myelodysplastic syndromes and infectious diseases Am J Clin Pathol 1994 101: 123–129

Hamblin TJ . Immunological abnormalities in myelodysplastic syndromes Semin Hematol 1996 33: 150–162

Fenaux P, Morel P, Lai J . Cytogenetics of myelodysplastic syndromes Semin Hematol 1996 33: 127–138

Brunning RD, McKenna RW . Tumors of the bone marrow In: Rosai J (ed.) Atlas of Tumor Pathology Armed Forces Institute of Pathology: Bethesda 1994 pp 161

Yunis JJ, Brunning RD . Prognostic significance of chromosomal abnormalities in acute leukaemias and myelodysplastic syndromes Clin Hematol 1986 15: 597–620

Boultwood J, Fidler C . Chromosomal deletions in myelodysplasia Leuk Lymphoma 1995 17: 71–78

Arber DA, Chang KL, Spielberger RT, Slovak ML . t(3;5) high-grade myelodysplasia and acute myeloid leukemia of young adults responds favorably to allogeneic bone marrow transplantation Leuk Res 1997 21: S52

Grigg A, Gascoyne R, Phillips G, Horsman D . Clinical, haematological and cytogenetic features in 24 patients with structural rearrangements of the Q arm of chromosome 3 Br J Haematol 1993 83: 158–165

Escudier S, Albitar M, Robertson L, Andreeff M, Pierce S, Kantarjian H . Acute lymphoblastic leukemia following preleukemic syndromes in adultss Leukemia 1996 10: 473–477

Lima CS, deSouza CA, Cardinalli IA, Lorand-Metze I . Lymphoblastic transformation of myelodysplastic syndrome Rev Paul Med 1997 115: 1508–1512

Balduini CL, Guarnone R, Pecci A, Centenara E, Invernizzi R, Ascari E . The myelodysplastic syndromes: predictive value of eight prognostic systems in 143 cases from a single institution Haematologica 1999 84: 12–16
About this article
Cite this article
Chang, K., O'Donnell, M., Slovak, M. et al. Primary myelodysplasia occurring in adults under 50 years old: a clinicopathologic study of 52 patients. Leukemia 16, 623–631 (2002). https://doi.org/10.1038/sj.leu.2402391
Received:

Accepted:

Published:

Issue Date:

DOI: https://doi.org/10.1038/sj.leu.2402391
Keywords
myelodysplastic syndromes

bone marrow transplantation

younger adults
Further reading
Pierre Fenaux
Aristoteles Giagounidis
Alan F. List

Journal of Hematology & Oncology (2017)

H Cheng
V G Kirtani
U Gergis

Bone Marrow Transplantation (2012)

H Hasle
I Baumann
C M Niemeyer

Leukemia (2004)