Abstract
Pneumatosis cystoides intestinalis (PCI) is still a poorly understood phenomenon, currently considered to result from primary mucosal insult from varying causes. We report a case of severe PCI in a patient with chronic GVHD after bone marrow transplantation (BMT) performed to treat secondary AML. Post BMT, the patient suffered acute intestinal and cutaneous GVHD, eventually developing intestinal and biopsy-proven cutaneous chronic GVHD, which necessitated continuous steroid therapy. Chronic pancreatitis associated with GVHD was diagnosed by explorative surgery in February 2000 on the basis of increasing epigastric discomfort, tumour marker (CA 125) increase and the CT finding of a suspicious mass in the pancreas. Readmission occurred in April 2000 for rapid onset of inferior abdominal pain with distinct peritoneal signs. Relaparotomy, deemed necessary on the grounds of both clinical and radiological findings, revealed marked PCI of the ascending and transverse colon and attached mesentery in an otherwise intact gastrointestinal tract. Post-operative reconvalescence was uneventful, with no clinical or radiological recurrence of PCI in the following 10 months. In the context of a review of the relevant literature, this case report illustrates the complex underlying pathophysiology, and difficulty in making a differential diagnosis and treating PCI.
Your institute does not have access to this article
Access options
Subscribe to Journal
Get full journal access for 1 year
$119.00
only $9.92 per issue
All prices are NET prices.
VAT will be added later in the checkout.
Tax calculation will be finalised during checkout.
Buy article
Get time limited or full article access on ReadCube.
$32.00
All prices are NET prices.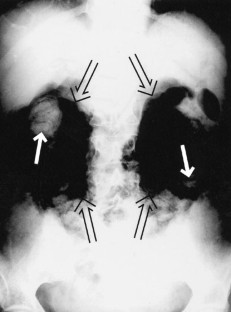 References
Du Vernoy JG . Aer intestinorum tam sub extima quam intima tunica inclusus: observationes anatomicae: comment Acad Acient Imp Petropol 1730 5: 213 225

Koss LG . Abdominal gas cysts (pneumatosis cystoides intestinorum hominis) Arch Pathol 1952 53: 523 549

Galandiuk S, Fazio VW . Pneumatosis cystoides intestinalis: a review of the literature Dis Colon Rectum 1986 29: 358 363

McDonald GB, Shulman HM, Sullivan KM, Spencer GD . Intestinal and hepatic complications of human bone marrow transplantation. Part II Gastroenterology 1986 90: 770 784

Brandt LJ, Simon D . Pneumatosis cystoides intestinalis. In: Haubrich WS, Schaffner JE, Berk JE (eds) Bockus Gastroenterology, 5th edn WB Saunders: Philadelphia 1995 1685 1693

Day DL, Ramsay NKC, Letorneau JG . Pneumatosis intestinalis after bone marrow transplantation Am J Roentgenol 1988 151: 85 87

Gellman SF, Brandt LJ . Pneumatosis intestinalis and AIDS: a case report and review of the literature Am J Gastroenterol 1998 93: 646 650

Keyting WS, McCarver RR, Kovarik JL . Pneumatosis intestinalis: a new concept Radiology 1961 76: 733 741

Yale CE, Balish E, Wu JP . The bacterial etiology of pneumatosis cystoides intestinalis Arch Surg 1974 109: 89 94

Forgacs P, Wright PH, Wyatt AP . Treatment of intestinal gas cysts by oxygen breathing Lancet 1973 1: 579 582

Ellis BW . Symptomatic treatment of primary pneumatosis coli with metronidazole Br Med J 1980 280: 763 764

Bang BLF . Nord Med Ark 1876 8: 1

Knechtle SJA, Davidoff AM, Rice RP . Pneumatosis intestinalis. Surgical management and clinical outcome Ann Surg 1990 212: 160 165

Pieterse AS, Leong ASY, Rowland R . The mucosal changes and pathogenesis of pneumatosis cystoides intestinalis Hum Pathol 1985 16: 683 688

Schindelman LE, Geller SA, Wisch N, Bauer JJ . Pneumatosis cystoides intestinalis: a complication of systemic chemotherapy Am J Gastroenterol 1981 75: 270 274

Navari RM, Sharma P, Deeg HL et al. Pneumatosis cystoides intestinalis following allogeneic marrow transplantation Transplant Proc 1983 25: 1720 1724

Borns PF, Johnston TA . Indolent pneumatosis of the bowel wall associated with immune suppressive therapy Ann Radiol 1973 16: 163 166

O'Connell DJ, Thompson AJ . Pneumatosis coli in non-Hodgkins lymphoma Br J Radiol 1978 51: 203 205

Tamura N, Kojo H, Miyoshi Y et al. Pneumatosis cystoides intestinalis: report of three cases with special reference to its non-surgical treatment Z Gastroenterol 1980 18: 617 624

Wood BJ . Pneumatosis intestinalis in adults with AIDS: clinical significance and imaging findings Am J Roentgenol 1995 165: 1387 1390

Schulenburg A, Herold C, Eisenhuber E et al. Pneumatosis cystoides intestinalis with pneumoperitoneum and pneumoretroperitoneum in a patient with extensive chronic graft-versus-host disease Bone Marrow Transplant 1999 24: 331 333

Bates F, Gurney JW, Goodman LR et al. Pneumatosis intestinalis in bone-marrow transplantation patients: diagnosis on routine chest radiographs Am J Roentgenol 1989 152: 991 994

de Magalhaes-Silverman M, Simpson J, Ball E . Pneumoperitoneum without peritonitis after allogeneic peripheral blood stem cell transplantation Bone Marrow Transplant 1998 21: 1153 1154

Ringden V, Deeg HJ . Clinical spectrum of Graft-versus-Host-Disease. In: Ferrara J, Deeg HJ, Burakoff SJ (eds) Graft-versus-Host Disease 2nd edn Marcel Dekker: New York 1997 525 560

van Son WJ, van der Jagt E, van der Woude FJ et al. Pneumatosis intestinalis in patients after cadaveric kidney transplantation. Possible relationship with an active cytomegalovirus infection Transplantation 1984 38: 506 510

Jauhonen P, Lethola J, Kartttunen T . Treatment of pneumatosis-coli with metronidazole Dis Colon Rect 1987 30: 800 801

Shallal JA, Van Heerden JA, Bartholomew JG et al. Pneumatosis cystoides intestinalis Mayo Clin Proc 1974 49: 180 184

Case WG, Hall R . Surgical treatment of pneumatosis coli Ann R Coll Surg Engl 1985 67: 368 369

Ellberg JJ . Oxygen therapy for pneumatosis coli Acta Chir Scan 1985 151: 399 400

Soutter DI, Paloshi GB, Prentice RS . Pneumatosis cystoides intestinalis simulating malignant colonic obstruction Can J Surg 1985 28: 272 273

van der Linden W, Marsell R . Pneumatosis cystoides intestinalis associated with high H2-excretion: treatment with an elemental diet Scand J Gastroenterol 1979 14: 173 174

Reynolds HLJ, Gauderer MW, Hrabowsky EE . Pneumatosis cystoides intestinalis in children beyond the first year of life: manifestations and management J Pediatr Surg 1991 26: 1376 1380

Longo WE, Ballantyne GH, Graham AJ . Pneumatosis cystoides intestinalis. Presentation as an acute abdomen J Clin Gastroenterol 1987 9: 571 573

Jamart J . Pneumatosis cystoides intestinalis: a statistical study of 919 cases Acta Hepatogastroenterol 1979 216: 419 422

Bartsch D, Nies C, Klotter HJ et al. Pneumatosis coli – eine seltene Ursache des Invaginationsileus beim Erwachsenen Chirurg 1993 64: 349 352
About this article
Cite this article
Zülke, C., Ulbrich, S., Graeb, C. et al. Acute pneumatosis cystoides intestinalis following allogeneic transplantation – the surgeon's dilemma. Bone Marrow Transplant 29, 795–798 (2002). https://doi.org/10.1038/sj.bmt.1703527
Received:

Accepted:

Published:

Issue Date:

DOI: https://doi.org/10.1038/sj.bmt.1703527
Keywords
pneumatosis cystoides intestinalis

bone marrow transplantation

graft-versus-host disease

surgery
Further reading
Siyang Li
Jeffrey Traubici
Lillian Sung

Supportive Care in Cancer (2012)

Hiroshi I. Suzuki
Koji Izutsu
Mineo Kurokawa

International Journal of Hematology (2008)