Abstract
Hepatic graft-versus-host disease (GVHD) generally presents as cholestatic jaundice, and increased serum alkaline phosphatase (ALP) is followed by hyperbilirubinemia and clinical jaundice. Currently accepted standards for evaluating the clinical severity of GVHD are based not on serum aminotransferase levels but on the serum bilirubin level. We describe a 17-year-old Japanese female who had increased aminotransferases without cholestasis on day 23 after allogeneic peripheral blood stem cell transplantation (allo-PBSCT). Liver biopsy revealed lymphocytic infiltration of the portal tracts and pericentral necrosis of the lobuli. The limiting plates were not clearly defined due to cellular infiltrates. There was periductal lymphocytic infiltration and vacuolization of the biliary epithelial cells with exocytosis, compatible with GVHD of cholangiohepatitic type. These findings indicate that acute hepatic GVHD may present as acute hepatitis and this should be included in the differential diagnosis for patients with increased aminotransferases after allogeneic stem cell transplantation. Bone Marrow Transplantation (2001) 27, 1007–1010.
Relevant articles
Open Access articles citing this article.
Daniele Lodi

,

Tommaso Iannitti

&

Beniamino Palmieri

Journal of Experimental & Clinical Cancer Research Open Access 17 January 2011
Access options
Subscribe to Journal
Get full journal access for 1 year
$119.00
only $9.92 per issue
All prices are NET prices.
VAT will be added later in the checkout.
Tax calculation will be finalised during checkout.
Buy article
Get time limited or full article access on ReadCube.
$32.00
All prices are NET prices.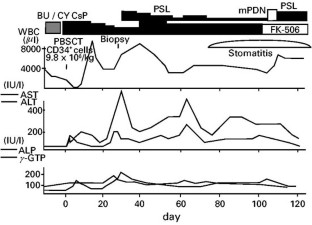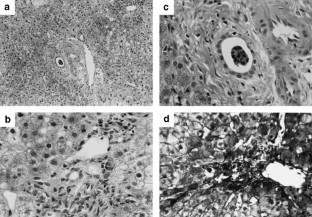 References
McDonald GB, Shulman HM, Wolford JL, Spencer GD . Liver disease after human marrow transplantation Semin Liver Dis 1987 7: 210–229

Kim BK, Chung KW, Sun HS et al. Liver disease during the first post-transplant year in bone marrow transplantation recipients: retrospective study Bone Marrow Transplant 2000 26: 193–197

Yasmineh WG, Filipovich AH, Killeen AA et al. Serum 5′ nucleotidase and alkaline phosphatase – highly predictive liver function tests for the diagnosis of graft-versus-host disease in bone marrow transplantation recipients Transplantation 1989 48: 809–814

Crawford JM . Graft-versus-host disease of the Liver. In:Ferrara JLM (ed) Graft-versus-Host Disease, 2nd edn Marcel Dekker: New York 1997 pp 315–336

Harada M, Nagafuji K, Fujisaki T et al. G-CSF-induced mobilization of peripheral blood stem cells from healthy adults for allogeneic transplantation J Hematother 1996 5: 63–71

McDonald GB, Hinds MS, Fisher LD et al. Veno-occlusive disease of the liver and multiorgan failure after bone marrow transplantation: a cohort study of 355 patients Ann Intern Med 1993 118: 255–267

Snover DC, Weisdorf SA, Ramsay NK et al. Hepatic graft versus host disease: a study of the predictive value of liver biopsy in diagnosis Hepatology 1984 4: 123–130

Gholson CF, Yau JC, LeMaistre CF, Cleary KR . Steroid-responsive chronic hepatic graft-versus-host disease without extrahepatic graft-versus-host disease Am J Gastroenterol 1989 10: 1306–1309

Srasser SI, Shulman HM, McDonald GB . Chronic graft-vs-host disease (GVHD) of the liver: presentation as an acute hepatitis Hepatology 1997 26: 605A (Abstr.)

Bensinger WI, Clift RA, Anasetti C et al. Transplantation of allogeneic peripheral blood stem cells mobilized by recombinant human granulocyte colony stimulating factor Stem Cells 1996 14: 90–105

Bensinger WI, Clift RA, Martin P et al. Allogeneic peripheral blood stem cell transplantation in patients with advanced hematologic malignancies: a retrospective comparison with marrow transplantation Blood 1996 88: 2794–2800

Harada M, Shinagawa K, Kawano T et al. Allogeneic peripheral blood stem cell transplantation for standard-risk leukemia. A multicenter pilot study: Japanese experience. Japan Blood Cell Transplantation Study Group Bone Marrow Transplant 1998 21 (Suppl. 3): S4–6

Storek J, Gooley T, Siadak M et al. Allogeneic peripheral blood stem cell transplantation may be associated with a high risk of chronic graft-versus-host disease Blood 1997 90: 4705–4709

Majolino I, Saglio G, Scime R et al. High incidence of chronic GVHD after primary allogeneic peripheral blood stem cell transplantation in patients with hematologic malignancies Bone Marrow Transplant 1996 17: 555–560

Champlin RE, Schmitz N, Horowitz MM et al. Blood stem cells compared with bone marrow as a source of hematopoietic cells for allogeneic transplantation Blood 2000 95: 3702–3709

Brown RA, Adkins D, Khoury H et al. Long-term follow-up of high-risk allogeneic peripheral-blood stem-cell transplant recipients: graft-versus-host disease and transplant-related mortality J Clin Oncol 1999 17: 806–812
About this article
Cite this article
Fujii, N., Takenaka, K., Shinagawa, K. et al. Hepatic graft-versus-host disease presenting as an acute hepatitis after allogeneic peripheral blood stem cell transplantation. Bone Marrow Transplant 27, 1007–1010 (2001). https://doi.org/10.1038/sj.bmt.1702997
Received:

Accepted:

Published:

Issue Date:

DOI: https://doi.org/10.1038/sj.bmt.1702997
Keywords
graft-versus-host disease

acute hepatitis

aminotransferase

allogeneic stem cell transplantation
This article is cited by
Ashley E Stueck
Thomas D Schiano
M Isabel Fiel

Modern Pathology (2018)

Judith Stift
Hideo A. Baba
Thomas Longerich

Virchows Archiv (2014)

Daniele Lodi
Tommaso Iannitti
Beniamino Palmieri

Journal of Experimental & Clinical Cancer Research (2011)