Abstract
Objective:
To describe the vitamin D status of women living in two Asian cities, – Jakarta (6°S) and Kuala-Lumpur (2°N), to examine the association between plasma 25-hydroxyvitamin D and parathyroid hormone (PTH) concentrations, and to determine a threshold for plasma 25-hydroxyvitamin D above which there is no further suppression of PTH. Also, to determine whether dietary calcium intake influences the relationship between PTH and 25-hydroxyvitamin D.
Design:
Cross-sectional.
Setting:
Jakarta, Indonesia and Kuala Lumpur, Malaysia.
Participants:
A convenience sample of 504 non-pregnant women 18–40 years.
Main measures:
Plasma 25-hydroxyvitamin D and PTH.
Results:
The mean 25-hydroxyvitamin D concentration was 48 nmol/l. Less than 1% of women had a 25-hydroxyvitamin D concentration indicative of vitamin D deficiency (<17.5 nmol/l); whereas, over 60% of women had a 25-hydroxyvitamin D concentration indicative of insufficiency (<50 nmol/l). We estimate that 52 nmol/l was the threshold concentration for plasma 25-hydroxyvitamin D above which no further suppression of PTH occurred. Below and above this concentration the slopes of the regression lines were −0.18 (different from 0; P=0.003) and −0.01 (P=0.775), respectively. The relation between vitamin D status and parathyroid hormone concentration did not differ between women with low, medium or high calcium intakes (P=0.611); however, even in the highest tertile of calcium intake, mean calcium intake was only 657 mg/d.
Conclusion:
On the basis of maximal suppression of PTH we estimate an optimal 25-hydroxyvitamin D concentration of ∼ 50 nmol/l. Many women had a 25-hydroxyvitamin D below this concentration and may benefit from improved vitamin D status.
Relevant articles
Open Access articles citing this article.
Noriklil Bukhary Ismail Bukhary

,

Zaleha Md Isa

…

Noor Sharifatul Hana Yeop

BMC Pregnancy and Childbirth Open Access 13 July 2016

I. S. Shafinaz

&

F. M. Moy

BMC Public Health Open Access 07 March 2016

Marlena C Kruger

,

Joanne M Todd

…

Kim Wylie

BMC Musculoskeletal Disorders Open Access 05 March 2013
Access options
Subscribe to Journal
Get full journal access for 1 year
$119.00
only $9.92 per issue
All prices are NET prices.
VAT will be added later in the checkout.
Tax calculation will be finalised during checkout.
Buy article
Get time limited or full article access on ReadCube.
$32.00
All prices are NET prices.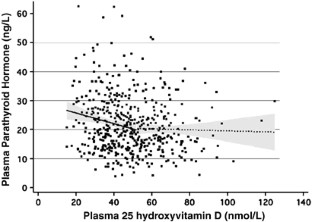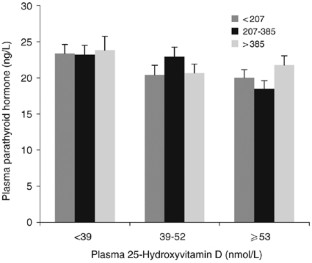 References
Aloia JF, Talwar SA, Pollack S, Feuerman M, Yeh JK (2006). Optimal vitamin D status and serum parathyroid hormone concentrations in African American women. Am J Clin Nutr 84, 602–609.

Atiq M, Suria A, Nizami SQ, Ahmed I (1998). Maternal vitamin-D deficiency in Pakistan. Acta Obstet Gynecol Scand 77, 970–973.

Bischoff-Ferrari HA, Giovannucci E, Willett WC, Dietrich T, Dawson-Hughes B (2006). Estimation of optimal serum concentrations of 25-hydroxyvitamin D for multiple health outcomes. Am J Clin Nutr 84, 18–28.

Brooke OG, Brown IR, Bone CD, Carter ND, Cleeve HJ, Maxwell JD et al. (1980). Vitamin D supplements in pregnant Asian women: effects on calcium status and fetal growth. Br Med J 280, 751–754.

Chapuy MC, Pamphile R, Paris E, Kempf C, Schlichting M, Arnaud S et al. (2002). Combined calcium and vitamin D3 supplementation in elderly women: confirmation of reversal of secondary hyperparathyroidism and hip fracture risk: the Decalyos II study. Osteoporos Int 13, 257–264.

Dawson-Hughes B, Harris SS, Krall EA, Dallal GE (1997). Effect of calcium and vitamin D supplementation on bone density in men and women 65 years of age or older. N Engl J Med 337, 670–676.

Dawson-Hughes B, Heaney RP, Holick MF, Lips P, Meunier PJ, Vieth R (2005). Estimates of optimal vitamin D status. Osteoporos Int 16, 713–716.

Du X, Greenfield H, Fraser DR, Ge K, Trube A, Wang Y (2001). Vitamin D deficiency and associated factors in adolescent girls in Beijing. Am J Clin Nutr 74, 494–500.

Fonseca V, Tongia R, el-Hazmi M, Abu-Aisha H (1984). Exposure to sunlight and vitamin D deficiency in Saudi Arabian women. Postgrad Med J 60, 589–591.

Fraser DR (2004). Vitamin D-deficiency in Asia. J Steroid Biochem Mol Biol 89–90, 491–495.

Gizi P (1990). Komposisi zat gizi pangan Indonesia. (Composition of Indonesian foods.). Puslitbang Gizi: Bogor Indonesia.

Harinarayan CV (2005). Prevalence of vitamin D insufficiency in postmenopausal south Indian women. Osteoporos Int 16, 397–402.

Holick MF (1994). McCollum Award Lecture, 1994: vitamin D--new horizons for the 21st century. Am J Clin Nutr 60, 619–630.

Holick MF (2004). Sunlight and vitamin D for bone health and prevention of autoimmune diseases, cancers, and cardiovascular disease. Am J Clin Nutr 80, 1678S–1688S.

Hollis BW, Wagner CL (2004). Assessment of dietary vitamin D requirements during pregnancy and lactation. Am J Clin Nutr 79, 717–726.

Islam MZ, Akhtaruzzaman M, Lamberg-Allardt C (2006). Hypovitaminosis D is common in both veiled and nonveiled Bangladeshi women. Asia Pac J Clin Nutr 15, 81–87.

Kung AW, Lee KK (2006). Knowledge of vitamin D and perceptions and attitudes toward sunlight among Chinese middle-aged and elderly women: a population survey in Hong Kong. BMC Public Health 6, 226.

Lamberg-Allardt CJ, Outila TA, Karkkainen MU, Rita HJ, Valsta LM (2001). Vitamin D deficiency and bone health in healthy adults in Finland: could this be a concern in other parts of Europe? J Bone Miner Res 16, 2066–2073.

Lips P (2004). Which circulating level of 25-hydroxyvitamin D is appropriate? J Steroid Biochem Mol Biol 89–90, 611–614.

Looker AC, Dawson-Hughes B, Calvo MS, Gunter EW, Sahyoun NR (2002). Serum 25-hydroxyvitamin D status of adolescents and adults in two seasonal subpopulations from NHANES III. Bone 30, 771–777.

McGrath JJ, Kimlin MG, Saha S, Eyles DW, Parisi AV (2001). Vitamin D insufficiency in south-east Queensland. Med J Aust 174, 150–151.

Rahman SA, Chee WS, Yassin Z, Chan SP (2004). Vitamin D status among postmenopausal Malaysian women. Asia Pac J Clin Nutr 13, 255–260.

Rockell JE, Green TJ, Skeaff CM, Whiting SJ, Taylor RW, Williams SM et al. (2005). Season and ethnicity are determinants of serum 25-hydroxyvitamin D concentrations in New Zealand children aged 5–14 y. J Nutr 135, 2602–2608.

Rockell JE, Skeaff CM, Williams SM, Green TJ (2006). Serum 25-hydroxyvitamin D concentrations of New Zealanders aged 15 years and older. Osteoporos Int 17, 1382–1389.

Ruston D, Hoare J, Henderson L, Bates C, Prentice A, Birch M (2004). National Diet and Nutrition Survey: Adults aged 19–64 years 4 Nutritional Status (Anthropometry and Blood Analytes). Blood Pressure and Physical Activity. TSO: London.

Tee ES, Noor MI, Azudin MN, Idris K (1997). Nutrient Composition of Malaysian Foods,4th edn. Institute For Medical Research: Kuala Lumpur.

US Department of Agriculture ARS (2006). USDA Nutrient Database for Standard Reference, Release 1 U.S. Department of Agriculture.

Wactawski-Wende J, Kotchen JM, Anderson GL, Assaf AR, Brunner RL, O'Sullivan MJ et al. (2006). Calcium plus vitamin D supplementation and the risk of colorectal cancer. N Engl J Med 354, 684–696.

Zittermann A (2003). Vitamin D in preventive medicine: are we ignoring the evidence? Br J Nutr 89, 552–572.
Acknowledgements
This work was supported by a research grant from Fonterra Brands Limited.
About this article
Cite this article
Green, T., Skeaff, C., Rockell, J. et al. Vitamin D status and its association with parathyroid hormone concentrations in women of child-bearing age living in Jakarta and Kuala Lumpur. Eur J Clin Nutr 62, 373–378 (2008). https://doi.org/10.1038/sj.ejcn.1602696
Received:

Revised:

Accepted:

Published:

Issue Date:

DOI: https://doi.org/10.1038/sj.ejcn.1602696
Keywords
vitamin D

parathyroid hormone

women

survey

Jakarta

Kuala Lumpur