Abstract
Background:
World-wide obesity has risen to alarming levels. We present experimental support for a new and very challenging hypothesis linking obesity, voracity, and growth hormone (GH) deficiency, to the consumption of elevated amounts of the amino-acid glutamate (GLU). Supraphysiological doses of GLU are toxic for neuronal cells.
Methods:
Human data were obtained from 807 592 German conscripts born between 1974 and 1978, and from 1 432 368 women of the German birth statistics (deutsche Perinatalerhebung) 1995–1997. The effects of orally administered monosodium glutamate (MSG) were investigated in 30 pregnant Wistar rats and their offspring. Pregnant animals either received no extra MSG, or 2.5 g MSG, or 5 g MSG per day, up to the end of the weaning period. In all, 2.5 g, respectively 5 g, MSG accounted for some 10%, respectively 20%, of dry weight of the average daily food ration. After weaning, MSG feeding was continued in the offspring.
Findings:
Morbid obesity associates with short stature. Average stature of conscripts progressively declines when body mass index increases above 38 kg/m2. Also morbidly obese young women are shorter than average though to a lesser extent than conscripts. Oral administration of MSG to pregnant rats affects birth weight of the offspring. Maternal feeding with 5 g MSG per day results in severe birth weight reduction (P<0.01). Weight increments remain subnormal when MSG feeding to the mothers is maintained during weaning (P<0.01). GH serum levels are affected in animals that received MSG during prenatal life via maternal feeding. Animals that are kept on high MSG diet (5 g MSG per day) continue to show serum GH levels that are as low or even lower than those of MSG injected animals (P<0.05), both at day 30 and at day 90 of life. Animals that were kept on medium MSG diet (2.5 g MSG per day) showed low serum GH levels at day 30 of life (P<0.01), but seemed to partially recover before day 90. Almost identical results were observed in IGF-1 serum levels. Oral MSG resulted in dose dependent voracity. The animals fed 5 g MSG per day increased water uptake by threefold (P<0.01), and food uptake by almost two-fold (P<0.01). The influence of MSG is in general more marked in males than in females.
Interpretation:
GLU is a widely used nutritional substance that potentially exhibits significant neuronal toxicity. Voracity, and impaired GH secretion are the two major characteristics of parenterally administered GLU-induced neuronal damage. GLU maintains its toxicity in animals even when administered orally. Males appear to be more sensitive than females. The present study for the first time demonstrates, that a widely used nutritional monosubstance – the flavouring agent MSG – at concentrations that only slightly surpass those found in everyday human food, exhibits significant potential for damaging the hypothalamic regulation of appetite, and thereby determines the propensity of world-wide obesity. We suggest to reconsider the recommended daily allowances of amino acids and nutritional protein, and to abstain from the popular protein-rich diets, and particularly from adding the flavouring agents MSG.
Your institute does not have access to this article
Relevant articles
Open Access articles citing this article.
Pan Zhuang

,

Haoyu Li

…

Jingjing Jiao

Microbiome Open Access 10 September 2021

International Journal of Obesity Open Access 26 October 2015

James P Grantham

,

Kaspar Staub

…

Maciej Henneberg

Nutrition Journal Open Access 06 February 2014
Access options
Subscribe to Journal
Get full journal access for 1 year
$119.00
only $9.92 per issue
All prices are NET prices.
VAT will be added later in the checkout.
Tax calculation will be finalised during checkout.
Buy article
Get time limited or full article access on ReadCube.
$32.00
All prices are NET prices.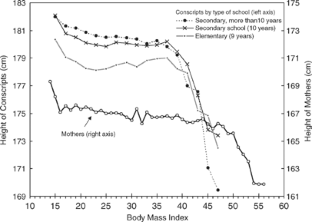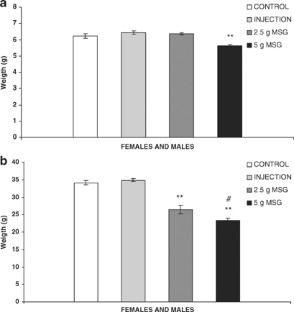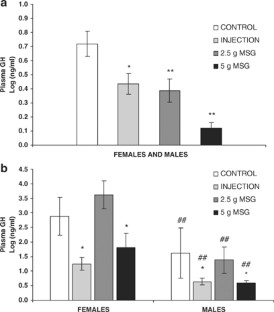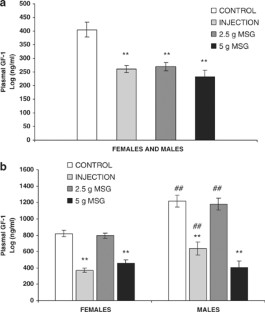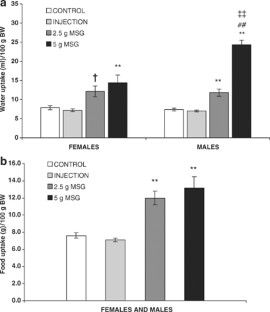 References
Azcoitia I, Sierra A, Garcia-Segura LM (1999). Neuroprotective effects of estradiol in the adult rat hippocampus: interaction with insulin-like growth factor-I signalling. J Neurosci Res 58, 815–822.

Beas-Zarate C, Rivera-Huizar SV, Martinez-Contreras A, Feria-Velasco A, Armendariz-Borunda J (2001). Changes in NMDA-receptor gene expression are associated with neurotoxicity induced neonatally by glutamate in the rat brain. Neurochem Int 39, 1–10.

Bloch B, Ling N, Benoit R, Wehrenberg WB, Guillemin R (1984). Specific depletion of immunoreactive growth hormone-releasing factor by monosodium glutamate in rat median eminence. Nature 307, 272–273.

Clement K, Vaisse C, Lablou N, Cabrol S, Pelloux V, Cassuto D et al. (1998). A mutation in the human leptin receptor gene causes obesity and pituitary dysfunction,. Nature 392, 398–401.

Cuzzocrea S, Mazzon E, Sautebin L, Serraino I, Dugo L, Calabro G et al. (2001). The protective role of endogenous estrogens in carrageenan-induced lung injury in the rat. Mol Med 7, 478–487.

Elmquist JK (2001). Hypothalamic pathways underlying the endocrine, autonomic, and behavioral effects of leptin. Int J Obes Relat Metab Disord 25 (Suppl 5), S78–82.

Fan W, Boston BA, Kesterson RA, Hruby VJ, Cone RD (1997). Role of melanocortinergic neurons in feeding and the agouti obesity syndrome. Nature 385, 165–168.

Farooqi IS, Yeo GS, Keogh JM, Aminian S, Jebb SA, Butler G et al. (2000). Dominant and recessive inheritance of morbid obesity associated with melanocortin 4 receptor deficiency. J Clin Invest 106, 271–279.

Hermanussen M, Danker-Hopfe H, Weber GW (2001). Body weight and the shape of the natural distribution of weight, in very large samples of German, Austrian, and Norwegian conscripts. Int J Obesity Relat Metab Disord 25, 1550–1553.

Hermanussen M, Rol de Lama M, Perez Romero A, Ariznavarreta C, Burmeister J, Tresguerres JAF (1996). Differential catch-up in body weight and bone growth after short term starvation in rats. Growth Regulation 6, 230–237.

Hermanussen M, Tresguerres JAF (2003a). Does high glutamate intake cause obesity? J Pediatr Endocrinol Metabol 16, 965–968.

Hermanussen M, Tresguerres JAF (2003b). Does the thrifty phenotype result from chronic glutamate intoxication? A hypothesis. J Perinat Med 31, 489–495.

Hermanussen M, Tresguerres JAF (2005). A new anti-obesity drug treatment: First clinical evidence that antagonising glutamate-gated Ca2+ ion channels with memantine normalises binge-eating disorders. Econ Hum Biol 3, 329–337.

Hirata AE, Andrade IS, Vaskevicius P, Dolnikoff MS (1997). Monosodium glutamate (MSG)-obese rats develop glucose intolerance and insulin resistance to peripheral glucose uptake. Braz J Med Biol Res 30, 671–674.

Holzwarth-McBride MA, Sladek JR, Knigge KM (1976). Monosodium glutamate induced lesion of the arcuate nucleus. II Fluorescence histochemistry of catecholamines. Anat Rec 186, 197–205.

Huggins DJ, Grant GH (2005). The function of the amino terminal domain in NMDA receptor modulation. J Mol Graph Model 23 (4), 381–388.

Jequier E (2002). Leptin signaling, adiposity, and energy balance. Ann NY Acad Sci 967, 379–388.

Kaufhold A, Nigam PK, Dhir RN, Shapiro BH (2002). Prevention of latently expressed CYP2C11, CYP3A2, and growth hormone defects in neonatally monosodium glutamate-treated male rats by the N-methyl-D-aspartate receptor antagonist dizocilpine maleate. J Pharmacol Exp Ther 302, 490–496.

Koletzko B (2002). Beikostprodukte auf Milchbasis. Pädiat Prax 62, 386–388.

Krude H, Biebermann H, Luck W, Horn R, Brabant G, Grüters A (1998). Severe early-onset obesity, adrenal insufficiency and red hair pigmentation caused by POMC mutations in humans. Nat Genet 19, 155–157.

Lima L, Arce V, Tresguerres JAF, Devesa J (1993). Clonidine potentiates the GH response to GHRH in norepinephrine synthesis inhibited rats: evidence for an alpha2 adrenergic control of hypothalamic release of somatostatin. Neuroendocrinology 57, 1155–1166.

Lu XY (2001). Role of central melanocortin signaling in eating disorders. Psychopharmacol Bull 35, 45–65.

Macho L, Fickova M, Jezova D, Zorad S (2000). Late effects of postnatal administration of monosodium glutamate on insulin action in adult rats. Physiol Res 49 (Suppl 1), S79–85.

McLellan F (2002). Obesity rising to alarming levels around the world. Lancet 359, 1412.

Meistas MT, Foster GV, Margolis S, Kowarski AA (1982). Integrated concentrations of growth hormone, insulin, C-peptide and prolactin in human obesity. Metabolism 31, 1224–1228.

Murphy TH, Schnaar RL, Coyle JT (1990). Immature cortical neurones are uniquely sensitive to GLU toxicity by inhibition of cystine uptake. FASEB J 4, 1624–1633.

Olney JW (1969). Brain lesions, obesity, and other disturbances in mice treated with monosodium glutamate. Science 164, 719–721.

Olney JW, Sharpe LG (1969). Brain lesions in an infant rhesus monkey treated with monosodium glutamate. Science 166, 386–388.

Robinson TN (2001). Television viewing and childhood obesity. Pediatr Clin N Am 48, 1017–1025.

Ruiz-Larrea MB, Leal AM, Martin C, Martinez R, Lacort M (1997). Antioxidant action of estrogens in rat hepatocytes. Rev Esp Fisiol 53, 225–229.

Schmid RD (2002). Taschenatlas der Biotechnologie und Gentechnik. Weinheim: Wiley-VCH.

Strobel A, Issad T, Camoin L, Ozate M, Strosberg AD (1998). A leptin missense mutation associated with hypogonadism and morbid obesity. Nat Tenet 18, 213–215.

Veldhuis JD, Iranmanesh A, Ho KK, Waters MJ, Johnson ML, Lizarralde G (1991). Dual defects in pulsatile growth hormone secretion and clearance subserve the hyposomatotropism of obesity in man. J Clin Endocrinol Metab 72, 51–59.

Voigt M, Friese K, Pawlowski P, Schneider R, Wenzlaff P, Wermke K (2001). Analyse des Neugeborenenkollektivs der Jahre 1995–1997 der Bundesrepublik Deutschland. Geburtsh Frauenheilk 61, 700–706.

Votruba SB, Horvith MA, Schoeller DA (2000). The role of exercise in the treatment of obesity. Nutrition 16, 179–188.

Walker R, Lupien JR (2000). The safety evaluation of monosodium glutamate. J Nutr 130 (4S Suppl), 1049S–1052S.

Xue YD, Wong PT, Leong SK (1997). Nitric oxide synthase-, N-methyl-D-aspartate receptor-, glutamate- and aspartate-immunoreactive neurones in the mouse arcuate nucleus: effects of neonatal treatment with monosodium glutamate. Acta Neuropathol (Berlin) 94, 572–582.

Zhang Y, Proenca R, Maffei M, Barone M, Leopold L, Friedman JM (1996). Positional cloning of the mouse obese gene and its human homologue. Nature 372, 425–432.
Acknowledgements
This work was supported by the Deutsche Gesellschaft für Auxologie, and by Dölling-Hareico, 25335 Elmshorn, Germany and by the European project EURISKED (EVK1-CT2002 -00128).
Additional information
Guarantors: M Hermanussen and JAF Tresguerres.
Contributors: MS is responsible for conscript data; MV for women's data; APG, VS and JAFT for animal data; and MH for idea, coordination and writing.
About this article
Cite this article
Hermanussen, M., García, A., Sunder, M. et al. Obesity, voracity, and short stature: the impact of glutamate on the regulation of appetite. Eur J Clin Nutr 60, 25–31 (2006). https://doi.org/10.1038/sj.ejcn.1602263
Received:

Revised:

Accepted:

Published:

Issue Date:

DOI: https://doi.org/10.1038/sj.ejcn.1602263
Keywords
obesity

voracity

short stature

glutamate

arcuate nucleus