Abstract
Dehydration is a reliable predictor of impaired cognitive status. Objective data, using tests of cortical function, support the deterioration of mental performance in mildly dehydrated younger adults. Dehydration frequently results in delirium as a manifestation of cognitive dysfunction. Although, the occurrence of delirium suggests transient acute global cerebral dysfunction, cognitive impairment may not be completely reversible. Animal studies have identified neuronal mitochondrial damage and glutamate hypertransmission in dehydrated rats. Additional studies have identified an increase in cerebral nicotinamide adenine dinucleotide phosphate-diaphorase activity (nitric oxide synthase, NOS) with dehydration. Available evidence also implicates NOS as a neurotransmitter in long-term potentiation, rendering this a critical enzyme in facilitating learning and memory. With ageing, a reduction of NOS activity has been identified in the cortex and striatum of rats. The reduction of NOs synthase activity that occurs with ageing may blunt the rise that occurs with dehydration, and possibly interfere with memory processing and cognitive function. Dehydration has been shown to be a reliable predictor of increasing frailty, deteriorating mental performance and poor quality of life. Intervention models directed toward improving outcomes in dehydration must incorporate strategies to enhance prompt recognition of cognitive dysfunction.
Your institute does not have access to this article
Relevant articles
Open Access articles citing this article.
Woo-Jeong Shon

,

Mi-Na Park

…

Dong-Mi Shin

Scientific Reports Open Access 28 June 2022

Behnaz Torkan

,

Mahsasadat Mousavi

…

Ali Montazeri

BMC Women's Health Open Access 28 January 2021
Access options
Subscribe to Journal
Get full journal access for 1 year
$119.00
only $9.92 per issue
All prices are NET prices.
VAT will be added later in the checkout.
Tax calculation will be finalised during checkout.
Buy article
Get time limited or full article access on ReadCube.
$32.00
All prices are NET prices.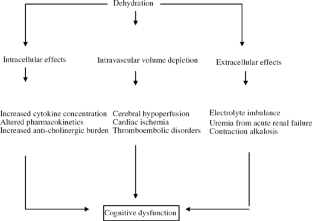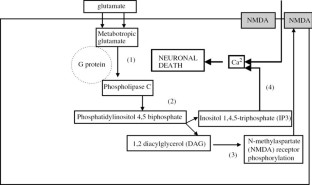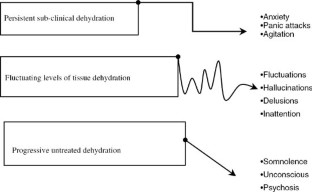 References
Barr BJ (1993): How does a serial, integrated and very limited stream of consciousness emerge from a nervous system that is mostly unconscious, distributed parallel and of enormous capacity? Ciba Found. Symp. 174, 282–290.

Beckwith BE, Petros TV & Knutson KK (1990): Effects of DDAVP on gender-specific verbal and visuospatial tasks in healthy young adults. Peptides 11, 1313–1315.

Bernard V, Somogyi P & Bolam JP (1997): Cellular, subcellular and subsynaptic distribution of AMPA-type glutamate receptor subunits in the neostriatum of the rat. J. Neurosci. 17, 819–833.

Bianchi M, Sacerdote P & Panerai AE (1998): Cytokines and cognitive function in mice. Biol. Signals Receptors 7, 45–54.

Buchanan TW & Lovallo (WR2001): Enhanced memory for emotional material following stress-level cortisol treatment in humans. Psychoneuroendocrinology 26, 307–317.

Calabresi P, Centonze D & Bernardi G (2000): Cellular factors controlling neuronal vulnerability in the brain. Neurology 55, 1249–1255.

Calka J, Wolf G & Brosz M (1994): Ultrastructural demonstration of NADPH-diaphorase histochemical activity in the supraoptic nucleus of normal and dehydrated rats. Brain Res. Bull. 34, 301–308.

Chen Q, Patel R, Sales A, Qji G, Kim J, Monreal AW & Brinton RD (2000): Vasopressin-induced neurotrophism in cultured neurons of the cerebral cortex: dependency on calcium signaling and protein kinase activity. Neuroscience 101, 19–26.

Chen Q, Veenman CL & Reiner A (1996): Cellular expression of ionotropic glutamate receptor sub-units on specific striatal neuron types and its implication for striatal vulnerability in glutamate-mediated excitotoxicity. Neuroscience 73, 715–731.

Choi DW & Rothmann SM (1990): The role of glutamate neurotoxicity in hypoxic-ischemic neuronal death. Ann. Rev. Neurosci. 13, 171–182.

Cian C, Barraud PA, Melin B & Raphel C (2001): Effects of fluid ingestion on cognitive function after heat stress or exercise-induced dehydration. Int. J. Psychophysiol. 42, 243–251.

Cian C, Koulmann N, Barraud PA, Raphel C, Jimenez C & Melin B (2000): Influence of variation of body hydration on cognitive function: effect of hyperhydration, heat stress and exercise-induced dehydration. J. Psychophysiol. 14, 29–36.

Ciriello J, Hochstenbach SL & Pastor Solano-Flores L (1996): Changes in NADPH diaphorase activity in forebrain structures of the laminae terminalis after chronic dehydration. Brain Res. 708, 167–172.

Cohen S (1983): After effects of stress on human performance during a heat acclimatization regimen. Aviat. Space Environ. Med. 54, 709–713.

Dimagl U, Iadecola C & Moskowitz MA (1999): Pathobiology of ischemic stroke: an integrated view. Trends Neurosci. 22, 391–397.

Francesconi RP, Sawka MN, Hubbard RW & Pandolf KB (1989): Hormonal regulation of fluid and electrolytes: effects of heat exposure and exercise in the heat. In: Hormonal regulation of fluid and electrolytes. ed. JR Claybaugh & CE Wade, pp 45–85. New York and London: Plenum Press.

Francis J & Kapoor W (1992): Prognosis after hospital discharge of older medical patients with delirium. J. Am. Geriatr. Soc. 40, 601–606.

Gopinathan PM, Pichan G & Sharma MA (1988): Role of dehydration in heat stress-induced variations in mental performance. Arch. Environ. Health 43, 15–17.

Haddad GG & Jiang C (1993): O2 deprivation in the central nervous system: on the mechanisms of neuronal response, differential sensitivity and injury. Prog. Neurobiol. 40, 277–318.

Häussinger D, Roth E, Lang F & Gerok W (1993): Cellular hydration state: an important determinant of protein catabolism in health and disease. Lancet 341, 1330–1332.

Hill AG & Hill GL (1998): Metabolic response to severe injury. Br. J. Surg. 85, 884–890.

Hill AG, Jacobson L, Gonzalez J, Rounds J, Majzoub JA & Wilmore DW (1996): Chronic central nervous system exposure to interleukin-1 beta, but not interleukin-6, mediates catabolism in rats. Am. J. Physiol. 271, R1142–R1148.

Hoffman N (1991): Dehydration in the elderly: Insidious and manageable. Geriatrics 46, 35–38.

Kinouchi K, Brown G, Pasternak G & Donner DB (1991): Identification and characterization of receptors for tumor necrosis factor-alpha in the brain. Biochem. Biophys. Res. Commun. 181, 1532–1538.

Lee J-M, Zipfel GJ & Choi DW (1999): The changing landscape of ischemic brain injury mechanisms. Nature 399(Suppl), A7–A14.

Leskell LG (1976): Influence of PGE on cerebral mechanisms involved in control of fluid balance. Acta Physiol. Scand. 93, 286.

Levkoff S, Safrana C, Cleary P, Gallop J & Phillips R (1988): Identification of factors associated with the diagnosis of delirium in elderly hospitalized patients. J. Am. Geriatr. Soc. 36, 1099–1104.

Lieberman AP, Pitha PM, Shin HS & Shin ML (1989): Production of tumor necrosis factor and other cytokines by astrocytes stimulated with lipopolysaccharide or a neurotropic virus. Proc. Natl. Acad. Sci. USA 86, 6348–6352.

Martin RL, Lloyd HE & Cowan AI (1994): The early events of oxygen and glucose deprivation: setting the scene for neuronal death? Trends Neurosci. 17, 251–257.

Mentes J, Culp K, Wakefield B, Gaspar P, Papp CG, Mobily P & Tripp-Reimer T (1998): Dehydration as a precipitating factor in the development of acute confusion in the frail elderly. In: Hydration and Aging. Facts, Research, and Intervention in Geriatric Series. ed. B Vellas, JL Albarede, PJ Garry, pp 83–98. Paris, New York: Serdi & Springer.

Mester M, Carter EA, Tompkins RG, Gelfand JA, Dinarello CA, Burke JF & Clark BD (1994): Thermal injury induces very early production of interleukin-1 alpha in the rat by mechanisms other than endotoxemia. Surgery 115, 588–596.

Miller DK, Perry HM & Morley JE (1998): Relationship of dehydration and chronic renal insufficiency with function and cognitive status in older US blacks. In: Hydration and Aging. Facts, Research, and Intervention in Geriatric Series. ed. B Vellas, JL Albarede, PJ Garry, pp 149–159. New York: Serdi and Springer.

Murray A, Levkoff S, Wetle T, Beckett L, Cleary P, Schor J, Lipsitz B, Rowe J & Evans D (1993): Acute delirium and functional decline in the hospitalized elderly patient. J. Gerontol. Sci. 48, M181–M186.

Neelon V & Champagne M (1992): Managing cognitive impairment: The current bases for practice. In: Key Aspects of Eldercare: Managing falls, incontinence and cognitive impairment. eds. S Funk, E Tournquist, M Champagne, pp 122–131. New York: Springer.

Newcomer JW, Selke G, Melson AK, Hershey T, Craft S, Richards K & Alderson AL (1999): Decreased memory performance in healthy humans induced by stress-level cortisol treatment. Arch. Gen. Psychiatry 56, 527–533.

Noda Y, Yamada K & Nabeshima T (1997): Role of nitric oxide in the effect of aging on spatial memory in rats. Behav. Brain Res. 83, 153–158.

Obrenovitch TP & Urenjjak J (1994): Altered glutamatergic transmission in neurological disorders: from high extracellular glutamate to excessive synaptic efficacy. Prog. Neurobiol. 51, 39–87.

Rennie MJ, MacLennan PA, Hundal HS, Weryk B, Smith K, Taylor PM, Egan C & Watt PW (1989): Skeletal muscle glutamine transport, intramuscular glutamine concentration, and muscle-protein turnover. Metabolism 38, 47–51.

Rolls BJ & Phillips PA (1990): Aging and disturbances of thirst and fluid balance. Nutr. Rev. 48, 137–144.

Salemme E, Diano S, Maharajan P & Maharajan V (1996): Nitric oxide, a neuronal messenger. Its role in hippocampal plasticity. Riv. Biol. 89, 87–107.

Sharma VM, Sridharan K, Pichan G & Panwar MR (1986): Influence of heat stress-induced dehydration on mental functions. Ergonomics 29, 791–799.

Silver AJ (1987): Aging and risks for dehydration. Cleveland Clin. J. Med. 57, 341–344.

Tallaksen-Greene SJ & Albin RL (1996): Splice variants of glutamate receptor sub-units 2 and 3 in striatal projection neurons. Neuroscience 75, 1057–1064.

Vedhara K, Hyde J, Gilchrist ID, Tytherleigh M & Plummer S (2000): Acute stress, memory, attention and cortisol. Psychoneuroendocrinology 25, 535–549.

Warren JL, Bacon WE, Harris T, McBean AM, Foley DJ & Phillips C (1994): The burden and outcomes associated with dehydration among US elderly. Am. J. Pub. Health 84, 1265–1269.

Weitzman RE & Kleeman CR (1979): The clinical physiology of arginine vasopressin secretion and thirst. West. J. Med. 131, 373–400.

Yamamoto M, Share L & Shade RE (1976): Vasopressin release during ventriculocisternal perfusion with Prostaglandin E2 . J. Endocrinol. 71, 325.
About this article
Cite this article
Wilson, MM., Morley, J. Impaired cognitive function and mental performance in mild dehydration. Eur J Clin Nutr 57, S24–S29 (2003). https://doi.org/10.1038/sj.ejcn.1601898
Published:

Issue Date:

DOI: https://doi.org/10.1038/sj.ejcn.1601898
Keywords
dehydration

cognition

memory

frailty

aging