Abstract
Objective: To determine if it is possible to deliver a one-quarter reduction in the sodium content of bread without detection.
Design: Single-blind, randomized, controlled trial.
Setting: The Royal North Shore Hospital in Sydney, Australia.
Participants: One-hundred and ten volunteers from the hospital staff that completed 94% of scheduled assessments.
Intervention: Six consecutive weeks of bread with usual sodium content or six consecutive weeks of bread with cumulating 5% reductions in sodium content each week.
Main outcome measure: The proportion of participants reporting a difference in the salt content of the study bread from week to week.
Results: The intervention group were no more likely than the control group to report a difference in the salt content of the bread from week to week (P=0.8). Similarly, there were no differences between randomized groups in the scores for flavour (P=0.08) or liking of the bread (P=0.95) over the study follow-up period. However, the saltiness scores recorded on a visual analogue scale did decline in the intervention group compared with the control group (P=0.01)
Conclusions: A one-quarter reduction in the sodium content of white bread can be delivered over a short time period, while maintaining consumer acceptance. Over the long term, and particularly if achieved for multiple foods, a decrease in sodium content of this magnitude would be expected to reduce population levels of blood pressure and the risks of stroke and heart attack.
Sponsorship: A research grant was obtained from the Northern Sydney Area Health Service and the study bread was provided by George Weston Foods (Tip-Top).
Relevant articles
Open Access articles citing this article.
Soghra Aliasgharzadeh

,

Mehrangiz Ebrahimi-Mameghani

…

Fathollah Pourali

BMC Medical Research Methodology Open Access 16 November 2022

Daisy H. Coyle

,

Maria Shahid

…

Jason H. Y. Wu

International Journal of Behavioral Nutrition and Physical Activity Open Access 23 June 2020

Carlo Federici

,

Patrick Detzel

…

Giovanni Fattore

BMC Nutrition Open Access 07 January 2019
Access options
Subscribe to Journal
Get full journal access for 1 year
$119.00
only $9.92 per issue
All prices are NET prices.
VAT will be added later in the checkout.
Tax calculation will be finalised during checkout.
Buy article
Get time limited or full article access on ReadCube.
$32.00
All prices are NET prices.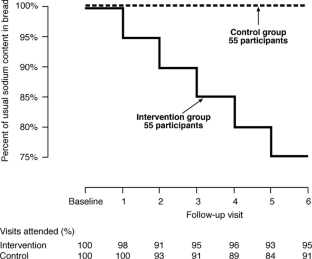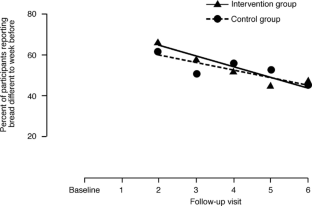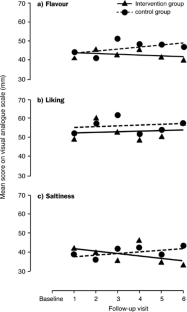 References
Alderman, M, Cohen, H & Madhavan, S (1998). Dietary sodium intake and mortality: the National Health and Nutrition Examination Survey (NHANES I). Lancet, 351, 781–785.

Beauchamp, G, Bertino, M & Moran, M (1982). Sodium regulation: Sensory aspects. J. Am. Diet. Assoc., 80, 40–45.

Bertino, M, Beauchamp, G & Engelman, K (1982). Long-term reduction in dietary sodium alters the taste of salt. Am. J. Clin. Nutr., 36, 1134–1140.

Blood Pressure Lowering Treatment Trialists' Collaboration (2000). Effects of ACE inhibitors, calcium antagonists and other blood pressure lowering drugs: results of prospectively designed overviews of randomised trials. Lancet, 356, 1955–1964.

Breslin, P & Beauchamp, G (1997). Salt enhances flavour by suppressing bitterness. (Letter.). Nature, 387, 365

Cutler, J, Follmann, D & Allender, P (1997). Randomized trials of sodium reduction: an overview. Am. J. Clin. Nutr., 65, 643S–651S.

Diggle, P, Liang, K & Zeger, S (1994). Analysis of longitudinal data. Oxford University Press, Oxford, UK

Elliott, P, Stamler, J, Nichols, R, Dyer, AR, Stamler, R, Kesteloot, H & Marmot, M (1996). Intersalt revisited: further analysis of 24 hour sodium excretion and blood pressure within and across populations. Br. Med. J., 312, 1249–1253.

Greenfield, H, Smith, A & Maples, J (1984). Contributions of foods to sodium in the Australian food supply. Hum. Nutr. Appl. Nutr., 38, 203–210.

James, W, Ralph, A & Sanchez-Castillo, C (1987). The dominance of salt in manufactured food in the sodium intake of affluent societies. Lancet, 1, 426–429.

Law, MR, Frost, CD & Wald, NJ III (1991). Analysis of data from trials of salt reduction. Br. Med. J., 302, 819–824.

MacMahon, S, Peto, R, Cutler, J, Collins, R, Sorlie, P, Neaton, J, Abbott, R, Godwin, J, Dyer, A & Stamler, J (1990). Blood pressure, stroke, and coronary heart disease. Part 1, prolonged differences in blood pressure: prospective observational studies corrected for the regression dilution bias. Lancet, 335, 765–774.

Maples, J, Wills, R & Greenfield, H (1982). Sodium and potassium levels in Australian processed foods. Med. J. Austr., 2, 20–22.

Murray, CJL & Lopez, AD (1997). Global mortality, disability, and the contribution of risk factors: Global Burden of Disease Study. Lancet, 349, 1436–1442.

Rodgers, A & Neal, B (1999). Less salt does not necessarily mean less taste. Lancet, 353, 1332

Rodgers, A, Lawes, C & MacMahon, S (2000). Recucing the global burden of blood pressure-related disease. J. Hypertens., 18, (Suppl 1) S3–S6.

Salovaara, H, Hellemann, U & Kurkela, R (1982). Effects of salt on bread flavour. Lebensm-Wiss. Technol., 15, 270–274.

Selmer, R, Kristiansen, I, Haglerod, A & Graff-Iversen, S et al (2000). Cost and health consequences of reducing the population intake of salt. J. Epidemiol. Community Health, 54, 697–702.

Tuomilehto, J, Jousilahti, P, Rastenyte, D, Moltchanov, V, Tanskanen, A, Pietinen, P & Nissinen, A (2001). Urinary sodium excretion and cardiovascular mortality in Finland: a prospective study. Lancet, 357, 848–851.

Verbeke, G & Molenberghs, G (2000). Linear Mixed Models for Longitudinal data, New York: Springer

Xie, J, Sasaki, S, Joossens, J & Kestelool, H (1992). The relationship between urinary cations obtained from the INTERSALT study and cerebrovascular mortality. J. Hum. Hypertens., 6, 17–21.
Acknowledgements
This project was supported by a grant from the Northern Sydney Area Health Service. N Vincent assisted in the early stages of the project. F Fleming and P Giddings from George Weston Foods (Tip-Top) provided the bread for the study.
About this article
Cite this article
Girgis, S., Neal, B., Prescott, J. et al. A one-quarter reduction in the salt content of bread can be made without detection. Eur J Clin Nutr 57, 616–620 (2003). https://doi.org/10.1038/sj.ejcn.1601583
Received:

Revised:

Accepted:

Published:

Issue Date:

DOI: https://doi.org/10.1038/sj.ejcn.1601583
Keywords
randomized trial

salt

bread

blood pressure

stroke

heart attack