Abstract
Objective: Recently, it has been proposed that dietary factors may contribute to the etiology and progression of Sjögren's syndrome, and that nutritional intervention may modify the severity of pathological abnormalities. The objective of this study was to determine whether the nutrient intake of women with primary (1°SS) or secondary (2°SS; ie with systemic lupus erythematosus (2°SS/SLE) or rheumatoid arthritis (2°SS/RA) Sjögren's syndrome is significantly different than that of age- and gender-matched controls.
Design: Women with Sjögren's syndrome were asked to complete the 97 General Purpose Semi-Quantitative Food Frequency Questionnaire, which consists of a list of 147 separate food items that represent the major sources of multiple nutrients. Nutritional data were evaluated in terms of absolute and energy-adjusted nutrient amounts and analyzed by ANOVA.
Results: Our results showed: (a) greater intake of energy, glutamate, carbohydrates, lactose, phosphorus, caffeine and unsupplemental thiamin and riboflavin in 1°SS, as well as supplemental calcium in 2°SS/SLE, compared with controls; (b) greater nutrient intake of energy, protein, glutamate, methionine, tryptophan, carbohydrates, lactose, supplemental calcium and phosphorus, sodium, caffeine and unsupplemental calcium, riboflavin and thiamin in 2°SS/RA, relative to 1°SS and/or 2°SS/SLE; (c) higher energy-adjusted values for supplemental calcium in 2°SS/SLE, and for vitamin A and supplemental iron and zinc in 2°SS/RA, compared with other groups; and (d) higher energy-adjusted intake of supplemental calcium, and a lower energy-adjusted intake of unsupplemental vitamin C, polyunsaturated fat, linoleic acid, omega-3 fatty acid, and specific other unsaturated fatty acids, in the Sjögren's syndrome group as a whole, relative to controls.
Conclusions: Our findings demonstrate that nutrient intake is altered in Sjögren's syndrome.
Sponsorship: This research was supported by a grant from Allergan Inc.
Access options
Subscribe to Journal
Get full journal access for 1 year
$119.00
only $9.92 per issue
All prices are NET prices.
VAT will be added later in the checkout.
Tax calculation will be finalised during checkout.
Buy article
Get time limited or full article access on ReadCube.
$32.00
All prices are NET prices.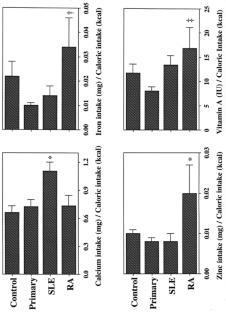 References
Alexander, JW (1998). Immunonutrition: the role of omega-3 fatty acids. Nutrition, 14, 627–633.

Arkachaisri, T & Lehman, TJ (1999). Systemic lupus erythematosus and related disorders of childhood. Curr. Opin. Rheumatol., 11, 384–392.

Baum, BJ (1989). Salivary gland fluid secretion during aging. Journal of the American Geriatric Society, 37, 453–458.

Brown, NA, Bron, AJ, Harding, JJ & Dewar, HM (1998). Nutrition supplements and the eye. Eye, 12, 127–133.

Calder, PC (1997). n-3 polyunsaturated fatty acids and cytokine production in health and disease. Ann. Nutr. Metab., 41, 203–234.

Chandrasekar, B & Fernandes, G (1994). Decreased pro-inflammatory cytokines and increased antioxidant enzyme gene expression by ω-3 lipids in murine lupus nephritis. Biochem. Biophys. Res. Commun., 200, 893–898.

Collins, R Jr, Dunn, TL, Walthaw, J, Harrell, P & Alarcon, GS (1987). Malnutrition in rheumatoid arthritis. Clin. Rheumatol., 6, 391–398.

Cook, J, Altman, DG, Jacoby, A & Holland, WW (1975). The contribution made by school milk to the nutrition of primary schoolchildren. Br. J. Nutr., 34, 91–103.

Danieli, MG & Candela, M (1990). Diet and autoimmunity. Rec. Prog. Med., 81, 532–538.

Diethelm, U (1993). Ernahrung und chronische Polyarthritis. Schweiz. Rundsch. Med. Prax., 82, 359–363.

Di Giacinto, G & Piergiacomi, G (1991). La sindrome di Sjoegren: attualita terapeutiche. Clin. Ter., 139, 81–92.

Dusek, M, Simmons, J, Buschang, PH & al-Hashimi, I (1996). Masticatory function in patients with xerostomia. Gerodontology, 13, 3–8.

Ettinger, RL (1981). Xerostomia—a complication of ageing. Aust. Dent. J., 26, 365–371.

Fernandes, G, Venkatraman, J, Khare, A, Horbach, GJMJ & Friedrichs, W (1990). Modulation of gene expression in autoimmune disease and aging by food restriction and dietary lipids. Proceedings of the Society of Experimental Biology and Medicine, 193, 16–22.

Ghelardini, C, Galeotti, N & Bartolini, A (1997). Caffeine induces central cholinergic analgesia. Naunyn Schmiedeberg's Arch. Pharmac., 356, 590–595.

Gobetti, JP & Froeschle, ML (1997). Sjogren's syndrome: a challenge for dentistry. Gen. Dent., 45, 268–272.

Hansen, G, Nielsen, L & Kluger, E et al (1998). Ernaeringstilstanden for danske patienter med reumatoid arthritis og virkningen af en kost der korrigeres for energiindhold, fisk og antioxidanter. Ugeskr. Laeger., 160, 3074–3078.

Helliwell, M, Coombes, EJ, Moody, BJ, Batstone, GF & Robertson, JC (1984). Nutritional status in patients with rheumatoid arthritis. Ann. Rheum. Dis., 43, 386–390.

Henderson, CJ & Panush, RS (1999). Diets, dietary supplements, and nutritional therapies in rheumatic diseases. Rheum. Dis. Clin. N. Am., 25, 937–968.

Herod, EL (1994). The use of milk as a saliva substitute. J. Public Health Dent., 54, 184–189.

Homma, M, Sugai, S, Tojo, T, Miyasaka, N & Akizuki, M Eds. (1994). Sjögren's Syndrome. State of the Art, Amsterdam: Kugler Press

Honkanen, V, Konttinen, YT & Mussalo-Rauhamaa, H (1989). Vitamins A and E, retinol binding protein and zinc in rheumatoid arthritis. Clin. Exp. Rheumatol., 7, 465–469.

Honkanen, V, Konttinen, YT & Sorsa, T et al (1991). Serum zinc, copper and selenium in rheumatoid arthritis. J. Trace Elem. Electrolytes Health Dis., 5, 261–263.

Hu, FB, Rimm, E & Smith-Warner, SA et al (1999). Reproducibility and validity of dietary patterns assessed with a food-frequency questionnaire. Am. J. Clin. Nutr., 69, 243–249.

James, MJ & Cleland, LG (1997). Dietary n-3 fatty acids and therapy for rheumatoid arthritis. Sem. Arthritis Rheum., 27, 85–97.

Kowsari, B, Finnie, SK & Carter, RL et al (1983). Assessment of the diet of patients with rheumatoid arthritis and osteoarthritis. J. Am. Diet. Assoc., 82, 657–659.

Kraetsch, HG, Hummel, T, Lotsch, J, Kussat, R & Kobal, G (1996). Analgesic effects of propyphenazone in comparison to its combination with caffeine. Eur. J. Clin. Pharmac., 49, 377–382.

Kremer, JM & Bigaouette, J (1996). Nutrient intake of patients with rheumatoid arthritis is deficient in pyridoxine, zinc, copper, and magnesium. J. Rheumatol., 23, 990–994.

London, SJ, Sacks, FM, Caesar, J, Stampfer, MJ, Siguel, E & Willett, WC (1991). Fatty acid composition of subcutaneous adipose tissue and diet in postmenopausal US women. Am. J. Clin. Nutr., 54, 340–345.

Mangge, H, Hermann, J & Schauenstein, K (1999). Diet and rheumatoid arthritis—a review. Scand. J. Rheumatol., 28, 201–209.

Manoussakis, MN & Moutsopoulos, HM (1999). Siogren's syndrome. Otolaryngol. Clin. N. Am., 32, 843–860.

Minami, Y, Sasaki, T & Komatsu, S et al (1993). Female systemic lupus erythematosus in Miyagi Prefecture, Japan: a case-control study of dietary and reproductive factors. Tohoku J. Exp. Med., 169, 245–252.

Pedersen, AM, Reibel, J & Nauntofte, B (1999). Primary Sjogren's syndrome (pSS): subjective symptoms and salivary findings. J. Oral Pathol. Med., 28, 303–311.

Rauma, AL, Nenonen, M, Helve, T & Hanninen, O (1993). Effect of a strict vegan diet on energy and nutrient intakes by Finnish rheumatoid patients. Eur. J. Clin. Nutr., 47, 747–749.

Redlich, K, Ziegler, S & Kiener, HP et al (2000). Bone mineral density and biochemical parameters of bone metabolism in female patients with systemic lupus erythematosus. Ann. Rheum. Dis., 59, 308–310.

Reifen, R, Blank, M & Afek, A et al (1998). Dietary polyunsaturated fatty acids decrease anti-dsDNA and anti-cardiolipin antibodies production in idiotype induced mouse model of systemic lupus erythematosus. Lupus, 7, 192–197.

Rhodus, NL (1988). Qualitative nutritional intake analysis of older adults with Sjogren's syndrome. Gerodontology, 7, 61–69.

Shapiro, JA, Koepsell, TD, Voigt, LF, Dugowson, CE, Kestin, M & Nelson, JL (1996). Diet and rheumatoid arthritis in women: a possible protective effect of fish consumption. Epidemiology, 7, 256–263.

Soto-Rojas, AE, Villa, AR, Sifuentes-Osornio, J, Alarcon-Segovia, D & Kraus, A (1998). Oral manifestations in patients with Sjogren's syndrome. J. Rheumatol., 25, 906–910.

Stryker, WS, Sampson, L, Stampfer, MJ, Colditz, GA & Willett, WC (1991). Contributions of specific foods to absolute intake and between-person variation of nutrient consumption. J. Am. Diet. Assoc., 91, 172–178.

Swanson, CA, Levy, JA & Morrow, WJ (1989). Effect of low dietary lipid on the development of Sjogren's syndrome and haematological abnormalities in (NZB×NZW)F1 mice. Ann. Rheum. Dis., 48, 765–770.

Touger-Decker, R (1988). Nutritional considerations in rheumatoid arthritis. J. Am. Diet. Assoc., 88, 327–331.

van de Laar, MA, Nieuwenhuis, JM, Former-Boon, M, Hulsing, J & van der Korst, JK (1990). Nutritional habits of patients suffering from seropositive rheumatoid arthritis: a screening of 93 Dutch patients. Clin. Rheumatol., 9, 483–488.

Venkatraman, JT & Chu, WC (1999). Effects of dietary omega-3 and omega-6 lipids and vitamin E on serum cytokines, lipid mediators and anti-DNA antibodies in a mouse model for rheumatoid arthritis. J. Am. Coll. Nutr., 18, 602–613.

Willett, WC, Reynolds, RD, Cottrell-Hoehner, S, Sampson, L & Browne, ML (1987). Validation of a semi-quantitative food frequency questionnaire: comparison with a 1-year diet record. J. Am. Diet. Assoc., 87, 43–47.
Acknowledgements
The authors would like to thank Katherine Stack, Deborah Stutz, Laura Sampson, Lauren Wolfert, Benjamin D Sullivan and Dr Debra A. Schaumberg (Boston, MA, USA), and Dr Brenda Reis (Irvine, CA, USA), and the Sjogren's Syndrome Foundation (Jericho, NY, USA) for their assistance during these studies. This research was supported by a grant from Allergan, Inc.
About this article
Cite this article
Cermak, J., Papas, A., Sullivan, R. et al. Nutrient intake in women with primary and secondary Sjögren's syndrome. Eur J Clin Nutr 57, 328–334 (2003). https://doi.org/10.1038/sj.ejcn.1601543
Received:

Revised:

Accepted:

Published:

Issue Date:

DOI: https://doi.org/10.1038/sj.ejcn.1601543
Keywords
nutrient

nutrition survey

Sjögren's syndrome

systemic lupus erythematosus

rheumatoid arthritis