Abstract
There are three major isoforms of BAG-1 in mammalian cells, termed BAG-1L (p50), BAG-1M (p46) and BAG-1S (p36) that function as pro-survival proteins and are associated with tumorigenesis and chemoresistance. Initiation of BAG-1 protein synthesis can occur by both cap-dependent and cap-independent mechanisms and it has been shown that synthesis of BAG-1S is dependent upon the presence of an internal ribosome entry segment (IRES) in the 5′-UTR of BAG-1 mRNA. We have shown previously that BAG-1 IRES–meditated initiation of translation requires two trans-acting factors poly (rC) binding protein 1 (PCBP1) and polypyrimidine tract binding protein (PTB) for function. The former protein allows BAG-1 IRES RNA to attain a structure that permits binding of the ribosome, while the latter protein appears to be involved in ribosome recruitment. Here, we show that the BAG-1 IRES maintains synthesis of BAG-1 protein following exposure of cells to the chemotoxic drug vincristine but not to cisplatin and that this is brought about, in part, by the relocalization of PTB and PCBP1 from the nucleus to the cytoplasm.
Access options
Subscribe to this journal
Receive 50 print issues and online access
$259.00 per year
only $5.18 per issue
Rent or buy this article
Prices vary by article type
from$1.95
to$39.95
Prices may be subject to local taxes which are calculated during checkout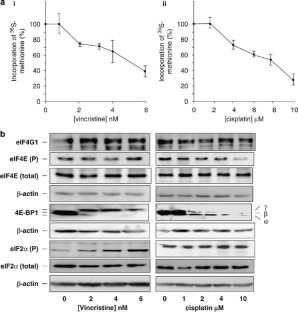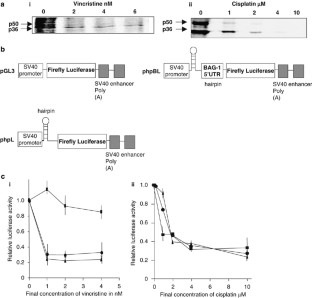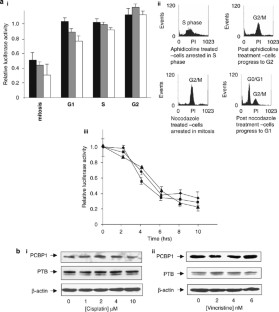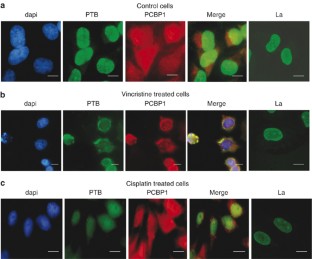 Similar content being viewed by others
References
Akiri G, Nahiri D, Finkelstein Y, Le S-Y, Elroy-Stein O, Levi B-Z . (1998). Regulation of vascular endothelial growth factor (VEGF) expression is mediated by internal initiation of translation and alternative initiation of transcription. Oncogene 17: 227–236.

Back SH, Kim YK, Kim WJ, Cho S, Oh HR, Kim JE et al. (2002). Translation of polioviral mRNA is inhibited by cleavage of polypyrimidine tract-binding proteins executed by polioviral 3C(pro). J Virol 76: 2529–2542.

Bardelli A, Longati P, Albero D, Goruppi S, Schneider C, Ponzetto C et al. (1996). HGF receptor associates with the anti-apoptotic protein BAG-1 and prevents cell death. EMBO J 15: 6205–6212.

Bimston DN, Song J, Winchester D, Takayama S, Reed JC, Morimoto RI . (1998). BAG-1, a negative regulator of Hsp70 chaperone activity, uncouples nucleotide hydrolysis from substrate release. EMBO J 17: 6871–6878.

Bushell M, Stoneley M, Kong YW, Hamilton TL, Spriggs KA, Dobbyn HC et al. (2006). Polypyrimidine tract binding protein regulates IRES-mediated gene expression during apoptosis. Mol Cell 23: 401–412.

Cato ACB, Mink S . (2001). BAG-1 family of cochaperones in the modulation of nuclear receptor action. J Steroid Biochem and Mol Biol 78: 379–388.

Clevenger CV, Thickman K, Ngo W, Chang WP, Takayama S, Reed JC. (1997). Role of Bag-1 in the survival and proliferation of the cytokine-dependent lymphocyte lines, Ba/F3 and Nb2. Mol Endocrin 11: 608–618.

Coldwell MJ, deSchoolmeester ML, Fraser CA, Pickering BM, Packham G, Willis AE . (2001). The p36 isoform of BAG-1 is translated by internal ribosome entry following heat shock. Oncogene 20: 4095–4100.

Cornelis S, Bruynooghe Y, Denecker G, Huffel SV, Tinton S, Beyaert R . (2000). Identification and characterization of a novel cell cycle-regulated internal ribosome entry site. Mol Cell 5: 597–605.

Fraser CS, Pain VM, Morley SJ . (1999). Cellular stress in Xenopus kidney cells enhances the phoshorylation of eukaryotic initiation factor eIF(4E) and the association of eIF4F with poly(A)-binding protein. Biochem J 342: 519–526.

Gebauer M, Zeiner M, Gehring U . (1998). Interference between proteins Hap46 and Hop/p60, which bind to different domains of the molecular chaperone hsp70/hsc70. Mol Cell Biol 18: 6238–6244.

Hague A, Packham G, Huntley S, Shefford K, Eveson JW . (2002). Deregulated Bag-1 protein expression in human oral squamous cell carcinomas and lymph node metastases. J Path 197: 60–71.

Holcik M, Yeh C, Korneluk RG, Chow T . (2000). Translational upregulation of X-linked inhibitor of apoptosis (XIAP) increases resistance to radiation induced cell death. Oncogene 19: 4174–4177.

Jolly C, Morimoto RI . (2000). Role of the heat shock response and molecular chaperones in oncogenesis and cell death. J Nat Cancer Inst 92: 1564–1572.

Kamath RV, Leary DJ, Huang S . (2001). Nucleocytoplasmic shuttling of polypyrimidine tract-binding protein is uncoupled from RNA export. Mol Biol Cell 12: 3808–3820.

Leffers H, Dejgaard K, Celis JE . (1995). Characterisation of two cellular poly(rC)-binding proteins, each containing three K-homologous(KH) domains. Eur J Biochem 230: 447–453.

Michael WM, Elder PS, Dreyfuss G . (1997). The K nuclear shuttling domain: a novel signal for nuclear import in HnRNP K protein. EMBO J 16: 3587–3598.

Pain VMEJB . (1996). Initiation of protein synthesis in eukaryotic cells. Eur J Biochem 236: 747–771.

Pickering BM, Mitchell SA, Evans JR, Willis AE . (2003). Polypyrimidine tract binding protein and poly (rC) binding protein 1 interact with the BAG-1 IRES and stimulate its activity in vitro and in vivo. Nucleic Acids Res 31: 639–646.

Pickering BM, Mitchell SA, Spriggs KA, Stoneley M, Willis AE . (2004). BAG-1 internal ribosome entry segment activity is promoted by structural changes mediated by poly (rC) binding protein 1 and recruitment of polypyrimidine tract binding protein 1. Mol Cell Biol 24: 5595–5604.

Pyronnet S, Dostis J, Sonenberg N . (2001). Suppression of cap-dependent translation in mitosis. Genes Dev 15: 2083–2093.

Qin XL, Sarnow P . (2004). Preferential translation of internal ribosome entry site-containing mRNAs during the mitotic cycle in mammalian cells. J Biol Chem 279: 13721–13728.

Stein I, Itin A, Einat P, Skaliter R, Grossman Z, Keshet E . (1998). Translation of vascular endothelial growth factor mRNA by internal ribosome entry: implications for translation under hypoxia. Mol Cell Biol 18: 3112–3119.

Stoneley M, Chappell SA, Jopling CL, Dickens M, MacFarlane M, Willis AE . (2000). c-Myc protein synthesis is initiated from the internal ribosome entry segment during apoptosis. Mol Cell Biol 20: 1162–1169.

Takayama S, Bimston DN, Matsuzawa S, Freeman BC, Aime-Sempe C, Xie Z et al. (1997). BAG-1 modulates the chaperone activity of Hsp70/Hsc70. EMBO J 16: 4887–4896.

Tang S-C, Shaheta N, Chernenko G, Khalifa M, Wang X . (1999). Expression of BAG-1 in invasive breast carcinomas. J Clin Oncol 17: 1710–1719.

Townsend PA, Cutress RI, Sharp A, Brimmell M, Packham G . (2003a). BAG-1 prevents stress-induced long-term growth inhibition in breast cancer cells via a chaperone-dependent pathway. Cancer Res 63: 4150–4157.

Townsend PA, Cutress RI, Sharp A, Brimmell M, Packham G . (2003b). BAG-1: a multi-functional regulator of cell growth and survival. Biochim Biophys Acta 1603: 83–89.

Townsend PA, Dublin E, Hart IR, Kao RH, Hanby AH, Cutress RI et al. (2002). BAG-1 expression in human breast cancer; interrelationship between BAG-1 RNA, protein, HSC70 expression and clinico-pathological data. J Path 197: 51–59.

Wang C, Politz JC, Pederson T, Huang S . (2003). RNA polymerase III transcripts and the PTB protein are essential for the integrity of the perinucleolar compartment. Mol Biol Cell 14: 2425–2435.

West MJ, Stoneley M, Willis AE. (1998). Translational induction of the c-myc oncogene via activation of the FRAP/TOR signalling pathway. Oncogene 17: 769–780.

Xie JY, Lee JA, Kress TL, Mowry KL, Black DL . (2003). Protein kinase A phosphorylation modulates transport of the polypyrimidine tract-binding protein. Proc Natal Acad Sci USA 100: 8776–8781.

Yang X, Chernenko G, Hao Y, Ding Z, Pater MM, Pater A et al. (1998). Human BAG-1/RAP46 protein is generated as four isoforms by alternative translation initiation and overexpressed in cancer cells. Oncogene 17: 981–989.

Zeiner M, Gebauer M, Gehring U . (1997). Mammalian protein RAP46: an interaction partner and modulator of 70 kDa heat shock proteins. EMBO J 16: 5483–5490.
Acknowledgements
This work was supported by grants from the BBSRC (HCD; KAS; TH; MB, David Phillips fellowship) and the LRF (KH).
Supplementary information
About this article
Cite this article
Dobbyn, H., Hill, K., Hamilton, T. et al. Regulation of BAG-1 IRES-mediated translation following chemotoxic stress. Oncogene 27, 1167–1174 (2008). https://doi.org/10.1038/sj.onc.1210723
Received:

Revised:

Accepted:

Published:

Issue Date:

DOI: https://doi.org/10.1038/sj.onc.1210723
Keywords