Abstract
Cisplatin (CDDP) is an efficient DNA-damaging antitumor agent employed for the treatment of various human cancers. CDDP activates nuclear as well as cytoplasmatic signaling pathways involved in regulation of the cell cycle, damage repair and programmed cell death. Here we report that CDDP also activates a membrane-integrated protein, the epidermal growth factor receptor (EGFR). We show that EGFR is activated in response to CDDP in various types of cells that overexpress the receptor, including transformed human glioma cells and human breast tumor cells. CDDP-induced EGFR activation requires its kinase activity, as it can be blocked by an EGFR kinase inhibitor or by expression of a kinase dead receptor. We also show that CDDP-induced EGFR activation is independent of receptor ligand. CDDP induces the activation of c-Src, and EGFR activation is blocked by Src-family inhibitor PP1, suggesting that Src kinases mediate CDDP-induced EGFR activation. We propose that EGFR activation in response to CDDP is a survival response, since inhibition of EGFR activation enhances CDDP-induced death. These findings show that signals generated by DNA damage can modulate EGFR activity, and argue that interfering with CDDP-induced EGFR activation in tumor cells might be a useful approach to sensitize these cells to genotoxic agents.
Relevant articles
Open Access articles citing this article.
Adelina Plangger

,

Barbara Rath

…

Gerhard Hamilton

Investigational New Drugs Open Access 01 October 2021

Vinaya Phatak

,

Yannick von Grabowiecki

…

Patricia A. J. Muller

Cell Death & Disease Open Access 24 February 2021

Michael Rose

,

Angela Maurer

…

Nadine T. Gaisa

Oncogene Open Access 25 September 2020
Access options
Subscribe to Journal
Get full journal access for 1 year
$119.00
only $2.38 per issue
All prices are NET prices.
VAT will be added later in the checkout.
Tax calculation will be finalised during checkout.
Buy article
Get time limited or full article access on ReadCube.
$32.00
All prices are NET prices.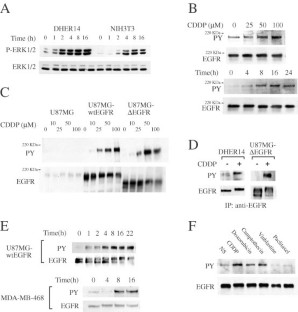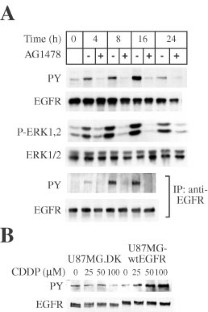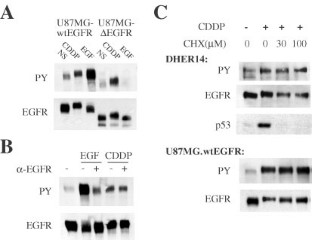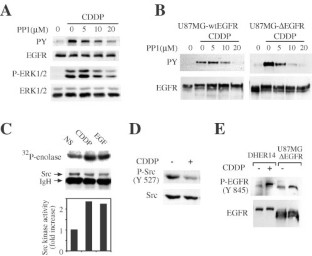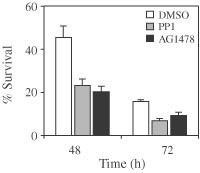 References
Aikawa R, Komuro I, Yamazaki T, Zou Y, Kudoh S, Tanaka M, Shiojima I, Hiroi Y, Yazaki Y . 1997 J. Clin. Invest. 100: 1813–1821

Benhar M, Dalyot I, Engelberg D, Levitzki A . 2001 Mol. Cell. Biol. 21: 6913–6926

Benhar M, Engelberg D, Levitzki A . 2002 EMBO Rep. 3: 420–425

Biscardi JS, Maa MC, Tice DA, Cox ME, Leu TH, Parsons SJ . 1999 J. Biol. Chem. 274: 8335–8343

Chen K, Vita JA, Berk BC, Keaney Jr JF . 2001 J. Biol. Chem. 276: 16045–16050

Daub H, Wallasch C, Lankenau A, Herrlich A, Ullrich A . 1997 EMBO J. 16: 7032–7044

Deschesnes RG, Huot J, Valerie K, Landry J . 2001 Mol. Biol. Cell. 12: 1569–1582

Fang L, Li G, Liu G, Lee SW, Aaronson SA . 2001 EMBO J. 20: 1931–1939

Gebauer G, Mirakhur B, Nguyen Q, Shore SK, Simpkins H, Dhanasekaran N . 2000 Int. J. Oncol. 16: 321–325

Gibson S, Tu S, Oyer R, Anderson SM, Johnson GL . 1999 J. Biol. Chem. 274: 17612–17618

Haas M, Wang H, Tian J, Xie Z . 2002 J. Biol. Chem. 277: 18694–18702

Hanke JH, Gardner JP, Dow RL, Changelian PS, Brissette WH, Weringer EJ, Pollok BA, Connelly PA . 1996 J. Biol. Chem. 271: 695–701

Johnson GR, Kannan B, Shoyab M, Stromberg K . 1993 J. Biol. Chem. 268: 2924–2931

Jordan P, Carmo-Fonseca M . 2000 Cell. Mol. Life Sci. 57: 1229–1235

Kartalou M, Essigmann JM . 2001 Mutat. Res. 478: 23–43

Kitagawa D, Tanemura S, Ohata S, Shimizu N, Seo J, Nishitai G, Watanabe T, Nakagawa K, Kishimoto H, Wada T, Tezuka T, Yamamoto T, Nishina H, Katada T . 2001 J. Biol. Chem. 2: 2

Knebel A, Rahmsdorf HJ, Ullrich A, Herrlich P . 1996 EMBO J. 15: 5314–5325

Leu CM, Chang C, Hu C . 2000 Oncogene 19: 1665–1675

Lin RZ, Hu ZW, Chin JH, Hoffman BB . 1997 J. Biol. Chem. 272: 31196–31202

Luttrell LM, Della Rocca GJ, van Biesen T, Luttrell DK, Lefkowitz RJ . 1997 J. Biol. Chem. 272: 4637–4644

Maudsley S, Pierce KL, Zamah AM, Miller WE, Ahn S, Daaka Y, Lefkowitz RJ, Luttrell LM . 2000 J. Biol. Chem. 275: 9572–9580

Miyajima A, Nakashima J, Yoshioka K, Tachibana M, Tazaki H, Murai M . 1997 Br. J. Cancer 76: 206–210

Moro L, Dolce L, Cabodi S, Bergatto E, Erba EB, Smeriglio M, Turco E, Retta SF, Giuffrida MG, Venturino M, Godovac-Zimmermann J, Conti A, Schaefer E, Beguinot L, Tacchetti C, Gaggini P, Silengo L, Tarone G, Defilippi P . 2002 J. Biol. Chem. 277: 9405–9414

Moro L, Venturino M, Bozzo C, Silengo L, Altruda F, Beguinot L, Tarone G, Defilippi P . 1998 EMBO J. 17: 6622–6632

Nagane M, Levitzki A, Gazit A, Cavenee WK, Huang HJ . 1998 Proc. Natl. Acad. Sci. USA 95: 5724–5729

Nishikawa R, Ji XD, Harmon RC, Lazar CS, Gill GN, Cavenee WK, Huang HJ . 1994 Proc. Natl. Acad. Sci. USA 91: 7727–7731

Osherov N, Levitzki A . 1994 Eur. J. Biochem. 225: 1047–1053

Pandey P, Raingeaud J, Kaneki M, Weichselbaum R, Davis RJ, Kufe D, Kharbanda S . 1996 J. Biol. Chem. 271: 23775–23779

Parsons JT, Parsons SJ . 1997 Curr. Opin. Cell. Biol. 9: 187–192

Pearce AK, Humphrey TC . 2001 Trends Cell. Biol. 11: 426–433

Persons DL, Yazlovitskaya EM, Cui W, Pelling JC . 1999 Clin. Cancer Res. 5: 1007–1014

Sato K, Sato A, Aoto M, Fukami Y . 1995 Biochem. Biophys. Res. Commun. 215: 1078–1087

Shiloh Y . 2001 Curr. Opin. Genet. Dev. 11: 71–77

Simizu S, Takada M, Umezawa K, Imoto M . 1998 J. Biol. Chem. 273: 26900–26907

Stoll SW, Benedict M, Mitra R, Hiniker A, Elder JT, Nunez G . 1998 Oncogene 16: 1493–1499

Tice DA, Biscardi JS, Nickles AL, Parsons SJ . 1999 Proc. Natl. Acad. Sci. USA 96: 1415–1420

Wang X, Martindale JL, Holbrook NJ . 2000a J. Biol. Chem. 275: 39435–39443

Wang X, McCullough KD, Franke TF, Holbrook NJ . 2000b J. Biol. Chem. 275: 14624–14631

Wu W, Graves LM, Gill GN, Parsons SJ, Samet JM . 2002 J. Biol. Chem. 277: 24252–24257

Xu W, Doshi A, Lei M, Eck MJ, Harrison SC . 1999 Mol. Cell. 3: 629–638

Yoshizumi M, Abe J, Haendeler J, Huang Q, Berk BC . 2000 J. Biol. Chem. 275: 11706–11712

Young MA, Gonfloni S, Superti-Furga G, Roux B, Kuriyan J . 2001 Cell 105: 115–126

Zhou BB, Elledge SJ . 2000 Nature 408: 433–439
Acknowledgements
This study was supported by the Ministry of Science of the state of Israel and by the Israel Cancer Association through the estate of the late Alexander Smidoda.
About this article
Cite this article
Benhar, M., Engelberg, D. & Levitzki, A. Cisplatin-induced activation of the EGF receptor. Oncogene 21, 8723–8731 (2002). https://doi.org/10.1038/sj.onc.1205980
Received:

Revised:

Accepted:

Published:

Issue Date:

DOI: https://doi.org/10.1038/sj.onc.1205980
Keywords
cisplatin

EGF receptor

Src

Glioblastoma

DNA damage