Abstract
Previous work has demonstrated that lineage-specific transcription factors play essential roles in red blood cell development. More recent studies have shown that these factors participate in critical protein-protein interactions in addition to binding DNA. The zinc finger transcription factor GATA-1, a central mediator of erythroid gene expression, interacts with multiple proteins including FOG-1, EKLF, SP1, CBP/p300 and PU.1. The mechanisms by which these interactions influence GATA-1 function, as well as any possible relationships between these seemingly disparate complexes, remain incompletely understood. However, several new findings have provided further insight into the functional significance of some of these interactions. Studies involving point mutants of GATA-1 have shown that a direct physical interaction between GATA-1 and FOG-1 is essential for normal human erythroid and megakaryocyte maturation in vivo. In addition, evidence has emerged that physical interaction between GATA-1 and the myeloid/lymphoid specific factor PU.1, an oncogene implicated in murine erythroleukemia, acts to functionally cross-antagonize one another. This provides a possible mechanism by which dysregulated expression of hematopoietic transcription factors leads to lineage maturation arrest in leukemias.
This is a preview of subscription content
Access options
Subscribe to Journal
Get full journal access for 1 year
$119.00
only $2.38 per issue
All prices are NET prices.
VAT will be added later in the checkout.
Tax calculation will be finalised during checkout.
Buy article
Get time limited or full article access on ReadCube.
$32.00
All prices are NET prices.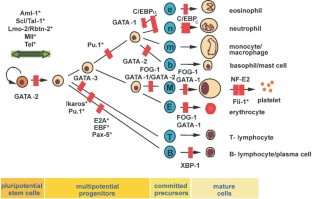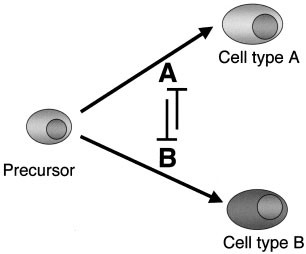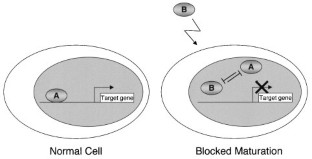 References
Adams B, Dorfler P, Aguzzi A, Kozmik Z, Urbanek P, Maurer-Fogy I, Busslinger M . 1992 Genes Dev. 6: 1589–1607

Armstrong JA, Bieker JJ, Emerson BM . 1998 Cell 95: 93–104

Bash RO, Hall S, Timmons CF, Crist WM, Amylon M, Pullen J, Carrol AJ, Buchanan GR, Smith RG, Baer R . 1993 Blood 86: 666–676

Begley CG, Aplan PD, Denning SM, Haynes BF, Waldmann TA, Kirsch IR . 1989 Proc. Natl. Acad. Sci. USA 86: 10128–10132

Blobel GA, Nakajima T, Eckner R, Montminy M, Orkin SH . 1998 Proc. Natl. Acad. Sci. USA 95: 2061–2066

Boyes J, Byfield P, Nakatani Y, Ogryzko V . 1998 Nature 396: 594–598

Brownlie A, Donovan A, Pratt SJ, Paw BH, Oates AC, Brugnara C, Witkowska HE, Sassa S, Zon LI . 1998 Nat. Genet. 20: 244–250

Chen Q, Cheng J-T, Tsai L-H, Schneider N, Buchanan G, Carroll A, Crist W, Ozanne B, Siciliano MJ, Baer R . 1990 EMBO J. 9: 415–424

Coghill E, Eccleston S, Fox V, Cerruti L, Brown C, Cunningham J, Jane S, Perkins A . 2001 Blood 97: 1861–1868

Crispino JD, Lodish M, Mackay JP, Orkin SH . 1999 Mol. Cell 3: 219–228

Crispino JD, Lodish Maya, Thurberg BL, Litovsky SH, Collins T, Molkentin JD, Orkin SH . 2001 Genes Dev. 15: 839–844

Donovan A, Brownlie A, Zhou Y, Shepard J, Pratt SJ, Moynihan J, Paw BH, Drejer A, Barut B, Zapata A, Law TC, Brugnara C, Lux SE, Pinkus GS, Pinkus JL, Kingsley PD, Palis J, Fleming MD, Andrews NC, Zon LI . 2000 Nature 403: 776–781

Evans T, Felsenfeld G . 1989 Cell 58: 877–885

Evans T, Felsenfeld G . 1991 Mol. Cell Biol. 11: 843–853

Finger LR, Kagan J, Christopher G, Kurtzberg J, Hershfield MS, Nowell PC, Croce CM . 1989 Proc. Natl. Acad. Sci. USA 86: 5039–5043

Fossett N, Tevosian SG, Gajewski K, Zhang Q, Orkin SH, Schulz RA . 2001 Proc. Natl. Acad. Sci. USA 98: 7342–7347

Fox AH, Liew C, Holmes M, Kowalski K, Mackay J, Crossley M . 1999 EMBO J. 18: 2812–2822

Fujiwara Y, Browne CP, Cunniff K, Goff SC, Orkin SH . 1996 Proc. Natl. Acad. Sci. USA 93: 12355–12358

Goodman RH, Smolik S . 2000 Genes Dev. 14: 1553–1577

Hromas R, Orazi A, Neiman RS, Maki R, Van Beveran C, Moore J, Klemsz M . 1993 Blood 82: 2998–3004

Hung H-L, Lau J, Kim AY, Weiss MJ, Blobel GA . 1999 Mol. Cell Biol. 19: 3496–3505

Ito E, Toki T, Ishihara H, Ohtani H, Gu L, Yokoyama M, Engel JD, Yamamoto M . 1993 Nature 362: 466–468

Jasinski M, Keller P, Fujiwara Y, Orkin SH, Bessler M . 2001 Blood 98: 2248–2255

Keller G, Kennedy M, Papayannopoulou T, Wiles MV . 1993 Mol. Cell. Biol. 13: 473–486

Keller G, Wall C, Fong AZC, Hawley TS, Hawley RG . 1998 Blood 92: 877–887

Kulessa H, Frampton J, Graf T . 1995 Genes Dev. 9: 1250–1262

Kung AL, Rebel VI, Bronson RT, Ch'ng L-E, Sieff CA, Livingston DM, Yao T-P . 2000 Genes Dev. 14: 272–277

Lebestky T, Chang T, Hartenstein V, Banerjee U . 2000 Science 288: 146–149

Liao EC, Paw BH, Peters LL, Zapata A, Pratt SJ, Do CP, Lieschke G, Zon LI . 2000 Development 127: 5123–5132

Lu J-R, Mckinsey TA, Xu H, Wang D-Z, Richardson JA, Olson EN . 1999 Mol. Cell. Biol. 19: 4495–4502

Martin DIK, Orkin SH . 1990 Genes Dev. 4: 1886–1898

McKercher SR, Torbett BE, Anderson KL, Henkel GW, Vestal DJ, Baribault H, Klemsz M, Feeney AJ, Wu GE, Paige CJ, Maki RA . 1996 EMBO J. 15: 5647–5658

Merika M, Orkin SH . 1995 Mol. Cell Biol. 15: 2437–2447

Miller IJ, Bieker JJ . 1993 Mol Cell Biol. 13: 2776–2786

Moreau-Gachelin F, Ray D, Mattei MG, Tambourin P, Tavitian A . 1989 Oncogene 4: 1449–1456

Moreau-Gachelin F, Wendling F, Molina T, Denis N, Titeux M, Grimber G, Briand P, Vainchenker W, Tavitian A . 1996 Mol. Cell. Biol. 16: 2453–2463

Nerlov C, Querfurth E, Kulessa H, Graf T . 2000 Blood 95: 2543–2551

Nichols KE, Crispino JD, Poncz M, White JG, Orkin SH, Maris JM, Weiss MJ . 2000 Nat. Genet. 24: 266–270

Nuez B, Michalovich D, Bygrave A, Ploemacher R, Grosveld F . 1995 Nature 375: 316–318

Nutt SL, Heavey B, Rolink AG, Busslinger M . 1999 Nature 401: 556–562

O'Neil J, Billa M, Oikemus S, Kelliher M . 2001 Oncogene 20: 3897–3905

Orkin SH, Kazazian HHJ, Antonarakis SE, Goff SC, Boehm CD, Sexton JP, Waber PG, Giardina PJ . 1982 Nature 296: 627–631

Orkin SH . 1992 Blood 80: 575–581

Osada H, Grutz G, Axelson H, Forster A, Rabbitts TH . 1995 Proc. Natl. Acad. Sci. USA 92: 9585–9589

Pabst T, Mueller BU, Harakawa N, Schoch C, Haferlach T, Behre G, Hiddemann W, Zhang D-E, Tenen DG . 2001 Nat. Med. 7: 444–451

Perkins AC, Gaensler KM, Orkin SH . 1996 Proc. Natl. Acad. Sci. USA 93: 12267–12271

Perkins AC, Sharpe AH, Orkin SH . 1995 Nature 375: 318–322

Pevny L, Simon CM, Robertson E, Klein WH, TSai SF, D'Agati V, Orkin SH, Costantini F . 1991 Nature 349: 257–260

Porcher C, Liao EC, Fujiwara Y, Zon LI, Orkin SH . 1999 Development 126: 4603–4615

Porcher C, Swat W, Rockwell K, Fujiwara Y, Alt FW, Orkin SH . 1996 Cell 86: 47–57

Querfurth E, Schuster M, Kulessa H, Crispino JD, Doderlein G, Orkin SH, Graf T, Nerlov C . 2000 Genes Dev. 14: 2515–2525

Rajewsky K, Gu H, Kuhn R, Betz UAK, Muller W, Roes J, Schwenk F . 1996 J. Clin. Invest. 98: 600–603

Rekhtman N, Radparvar F, Evans T, Skoultchi AI . 1999 Genes Dev. 13: 1398–1411

Robb L, Lyons I, Li R, Hartley L, Kontgen F, Harvey RP, Metcalf D, Begley CG . 1995 Proc. Natl. Acad. Sci. USA 92: 7075–7079

Schuetze S, Stenberg PE, Kabat D . 1993 Mol. Cell. Biol. 13: 5670–5678

Scott EW, Simon CM, Anastasi J, Singh H . 1994 Science 265: 1573–1577

Seale P, Sabourin LA, Girgis-Gabardo A, Mansouri A, Gruss P, Rudnicki MA . 2000 Cell 102: 777–786

Shivdasani RA, Fujiwara Y, McDevitt MA, Orkin SH . 1997 EMBO J. 16: 3965–3973

Shivdasani RA, Mayer E, Orkin SH . 1995 Nature 373: 432–434

Shivdasani RA, Orkin SH . 1996 Blood 87: 4025–4039

Svensson EC, Tufts RL, Polk CE, Leiden JM . 1999 Proc. Natl. Acad. Sci. USA 96: 956–961

Svensson ED, Huggins GS, Lin H, Clendenin C, Jiang F, Tufts R, Dardik FB, Leiden JM . 2000 Nat. Genet. 25: 353–356

Tevosian SG, Deconinck AE, Cantor AB, Reiff HI, Fujiwara Y, Corfas G, Orkin SH . 1999 Proc. Natl. Aca. Sci. USA 96: 950–955

Tevosian SG, Deconinck AE, Tanaka M, Schinke M, Silvio LH, Izumo S, Fujiwara Y, Orkin SH . 2000 Cell 101: 729–739

Tsai SF, Marting DIK, Zon LI, D'andrea AD, Wong GG, Orkin SH . 1989 Nature 339: 446–451

Tsang AP, Fujiwara Y, Hom DB, Orkin SH . 1998 Genes Dev. 12: 1176–1188

Tsang AP, Visvader JE, Turner AC, Fujiwara Y, Yu C, Weiss M, Crossley M, Orkin SH . 1997 Cell 90: 109–119

Visvader JE, Elefanty AG, Strasser A, Adams JM . 1992 EMBO J. 11: 4557–4564

Vyas P, Ault K, Jackson CJ, Orkin SH, Shivdasani R . 1999 Blood 93: 2867–2875

Wadman IA, Osada H, Grutz GG, Agulnick AD, Westphal H, Forster A, Rabbitts TH . 1997 EMBO J. 16: 3145–3157

Warren AJ, Colledge WH, Carlton MBL, Evans MJ, Smith AJH, Rabbitts TH . 1994 Cell 78: 45–58

Weiss MJ, Orkin SH . 1995a Exp. Hematol. 23: 99–107

Weiss MJ, Orkin SH . 1995b Proc. Natl. Acad. Sci. USA 92: 9623–9627

Wijgerde M, Gribnau J, Trimborn T, Nuez B, Philipsen S, Grosveld F, Fraser P . 1996 Genes Dev. 10: 2894–2902

Zhang P, Behre G, Pan J, Iwama A, Wara-Aswapati N, Radomska HS, Auron PE, Tenen DG, Sun Z . 1999 Proc. Natl. Acad. Sci., USA 96: 8705–8710

Zhang P, Zhang X, Iwama A, Yu C, Smith KA, Mueller BU, Narravula S, Torbett BE, Orkin SH, Tenen DG . 2000 Blood 96: 2641–2648
Acknowledgements
AB Cantor was supported by an NCI K08 Mentored Clinical Scientist Award (CA 82175-02)
About this article
Cite this article
Cantor, A., Orkin, S. Transcriptional regulation of erythropoiesis: an affair involving multiple partners. Oncogene 21, 3368–3376 (2002). https://doi.org/10.1038/sj.onc.1205326
Published:

Issue Date:

DOI: https://doi.org/10.1038/sj.onc.1205326
Keywords
GATA-1

FOG-1

PU.1

EKLF

transcription factor

cross-antagonism