Abstract
Monoclonal antibodies are widely used for the assessment of protein expression levels, protein–protein interactions and protein localization. Phosphorylation of one or more residues within an epitope recognized by a particular antibody may compromise the ability of that antibody to bind the target protein. Inhibition of immunoreactivity by phosphorylation has been reported for many antibody/protein pairs. Here we describe a simple convenient protocol for assessing the effect of phosphorylation on immunoreactivity, employing phosphatase treatment of Western blotted membranes. The efficacy of this protocol is demonstrated for p53 and for Mdm2. This method is useful for obtaining more uniform protein quantification, as well as for rapid assessment of changes in the extent of phosphorylation within a given epitope in response to defined signals.
Access options
Subscribe to this journal
Receive 50 print issues and online access
$259.00 per year
only $5.18 per issue
Rent or buy this article
Get just this article for as long as you need it
$39.95
Prices may be subject to local taxes which are calculated during checkout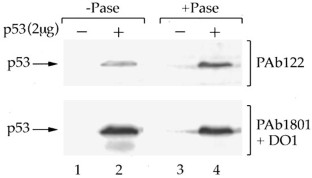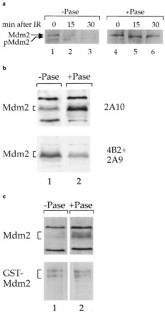 References
Baudier J, Delphin C, Grunwald D, Khochbin S and Lawrence JJ. . 1992 Proc. Natl. Acad. Sci. USA 89: 11627–11631.

Blander G, Kipnis J, Martinez Leal JF, Yu C-E, Schellenberg GD and Oren M. . 1999 J. Biol. Chem. 274: 29463–29469.

Bond JA, Webley K, Wyllie FS, Jones CJ, Craig A, Hupp T and Wynford-Thomas D. . 1999 Oncogene 18: 3788–3792.

Chehab NH, Malikzay A, Stavridi ES and Halazonetis TD. . 1999 Proc. Natl. Acad. Sci. USA 96: 13777–13782.

Chen JD, Marechal V and Levine AJ. . 1993 Mol. Cell Biol. 13: 4107–4114.

Craig AL, Blaydes JP, Burch LR, Thompson AM and Hupp TR. . 1999 Oncogene 18: 6305–6312.

Fuchs SY, Fried VA and Ronai Z. . 1998 Oncogene 17: 1483–1490.

Giaccia AJ and Kastan MB. . 1998 Genes Dev. 12: 2973–2983.

Hupp TR and Lane DP. . 1995 J. Biol. Chem. 270: 18165–18174.

Juven-Gershon T, Shifman O, Unger T, Elkeles A, Haupt Y and Oren M. . 1998 Mol. Cell Biol. 18: 3974–3982.

Khosravi R, Maya R, Gottlieb T, Oren M, Shilo Y and Shkedy D. . 1999 Proc. Natl. Acad. Sci. USA 96: 14973–14977.

Meek DW. . 1998 Cell. Signal. 10: 159–166.

Milne DM, Mckendrick L, Jardine LJ, Deacon E, Lord JM and Meek DW. . 1996 Oncogene 13: 205–211.

Milner J. . 1984 Nature 310: 143–145.

Mundt M, Hupp T, Fritsche M, Merkle C, Hansen S, Lane D and Groner B. . 1997 Oncogene 15: 237–244.

Oren M. . 1999 J. Biol. Chem. 274: 36031–36034.

Pitkanen K, Haapajarvi T and Laiho M. . 1998 Oncogene 16: 459–469.

Raynal S, Jullien P and Lawrence DA. . 1994 Growth Factors 11: 197–203.

Stephen CW, Helminen P and Lane DP. . 1995 J. Mol. Biol. 248: 58–78.

Takenaka I, Morin F, Seizinger BR and Kley N. . 1995 J. Biol. Chem. 270: 5405–5411.

Ullrich SJ, Mercer WE and Appella E. . 1992 Oncogene 7: 1635–1643.

Wade-Evans A and Jenkins JR. . 1985 EMBO J. 4: 699–706.

Yonish-Rouach E, Borde J, Gotteland M, Mishal Z, Viron A and May E. . 1994 Cell Death Diff. 1: 39–47.
Acknowledgements
We thank D Ginsberg, O Shifman, D Shkedy and Y Shiloh for helpful discussions. This work was supported in part by grants from NIH (RO1 CA-40099), the Center for Excellence Program of the Israel Science Foundation, the Israel Ministry of Science- BMFT (Germany) and the Bosch Foundation (Germany).
About this article
Cite this article
Maya, R., Oren, M. Unmasking of phosphorylation-sensitive epitopes on p53 and Mdm2 by a simple Western-phosphatase procedure. Oncogene 19, 3213–3215 (2000). https://doi.org/10.1038/sj.onc.1203658
Received:

Revised:

Accepted:

Published:

Issue Date:

DOI: https://doi.org/10.1038/sj.onc.1203658
Keywords
p53

Mdm2

phosphatase

monoclonal antibodies

Western blot