Abstract
Anethole, a chief constituent of anise, camphor, and fennel, has been shown to block both inflammation and carcinogenesis, but just how these effects are mediated is not known. One possibility is TNF-mediated signaling, which has also been associated with both inflammation and carcinogenesis. In the present report we show that anethole is a potent inhibitor of TNF-induced NF-κB activation (an early response) as monitored by electrophoretic mobility shift assay, IκBα phosphorylation and degradation, and NF-κB reporter gene expression. Suppression of IκBα phosphorylation and NF-κB reporter gene expression induced by TRAF2 and NIK, suggests that anethole acts on IκBα kinase. Anethole also blocked the NF-κB activation induced by a variety of other inflammatory agents. Besides NF-κB, anethole also suppressed TNF-induced activation of the transcription factor AP-1, c-jun N-terminal kinase and MAPK-kinase. In addition, anethole abrogated TNF-induced apoptosis as measured by both caspase activation and cell viability. The anethole analogues eugenol and isoeugenol also blocked TNF signaling. Anethole suppressed TNF-induced both lipid peroxidation and ROI generation. Overall, our results demonstrate that anethole inhibits TNF-induced cellular responses, which may explain its role in suppression of inflammation and carcinogenesis.
Relevant articles
Open Access articles citing this article.
Sun Haeng Park

,

Yoon-Young Sung

…

Ho Kyoung Kim

BMC Complementary and Alternative Medicine Open Access 15 July 2015

Miraf Mesfin

,

Kaleab Asres

&

Workineh Shibeshi

BMC Complementary and Alternative Medicine Open Access 23 August 2014
Access options
Subscribe to Journal
Get full journal access for 1 year
$119.00
only $2.38 per issue
All prices are NET prices.
VAT will be added later in the checkout.
Tax calculation will be finalised during checkout.
Buy article
Get time limited or full article access on ReadCube.
$32.00
All prices are NET prices.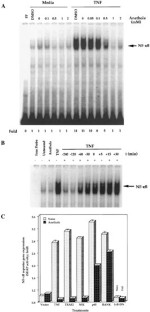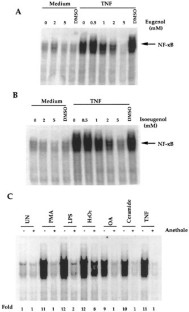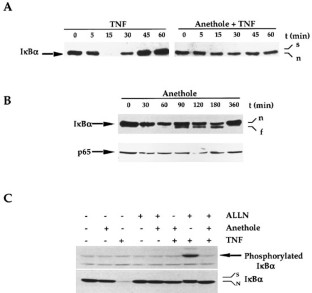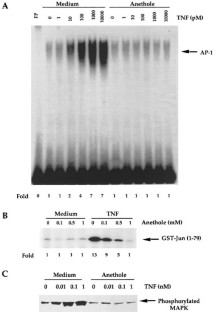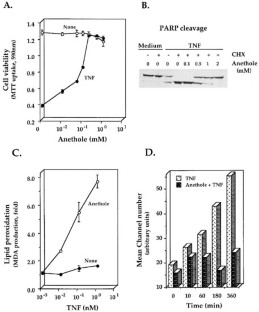 Abbreviations
ALLN:

N-acetylleucylleucylnorleucinal

DHR123:

dihydrorhodamine 123

DOC:

deoxycholate

FADD:

Fas-associated death domain

FLICE:

FADD-like ICE

IκB:

inhibitory subunit of NF-κB

IκB-DN:

IκB-dominant negative

IKK:

IκBα kinase

EMSA:

electrophoretic mobility shift assay

JNK:

c-jun amino terminal kinase

LPS:

lipopolysaccharide

MDA:

malondialdehyde

MEK:

mitogen activated protein kinase kinase

NE:

nuclear extracts

NIK:

NF-κB inducing kinase

NF-κB:

nuclear transcription factor-κB

OA:

okadaic acid

PMA:

phorbol myristate acetate

PARP:

poly (ADP) ribose polymerase

TRADD:

TNF receptor-associated death domain

TRAF2:

TNF receptor-associated factor 2
References
Aggarwal BB and Natarajan K . 1996 Eur Cytokine Network 7: 93–124

Al-Harbi MM, Qureshi S, Raza M, Ahmed MM, Giangreco AB and Shah AH . 1995 Eur J Cancer Preven 4: 307–318

Baeuerle PA and Baichwal VR . 1997 Adv Immunol 65: 111–137

Bouthillier L, Charbonneau M and Brodeur J . 1996 Toxicol Appl Pharmacol 139: 177–185

Bowie AG, Moynagh PN and O';Neill LAJ . 1997 J Biol Chem 272: 25941–25950

Budavari S ed . 1996 The Merck Index Merck & Co, Inc, Rahway NJ 108–109

Chaturvedi MM, Kumar A, Darnay BG, Chainy GBN, Agarwal S and Aggarwal BB . 1997 J Biol Chem 272: 30129–30134

Darnay BG, Haridas V, Ni J, Moore PA and Aggarwal BB . 1998 J Biol Chem 273: 20551–20555

Darnay B, Ni J, Moore PA and Aggarwal BB . 1999 J Biol Chem 274: 7724–7731

Drukarch B, Schepens E, Stoof JC and Langeveld CH . 1997 Eur J Pharmacol 329: 259–262

Haridas V, Darnay BG, Natarajan K, Heller R and Aggarwal BB . 1998 J Immunol 160: 3152–3162

Hsu H, Shu H-B, Pan M-G and Goeddel DV . 1996 Cell 84: 299–308

Karin M . 1995 J Biol Chem 270: 16483–16486

Khanna S, Sen CK, Roy S, Christen MO and Packer L . 1998 Biochem Pharmacol 56: 61–69

Ko FN, Liao CH, Kuo YH and Lin YL . 1995 Biochim, Biophys, Acta 1258: 145–152

Kopp E and Ghosh S . 1994 Science 265: 956–959

Kumar A and Aggarwal BB . 1999 Methods in Enzymol, Vol 300: Packer L ed Academic Press pp 339–345

Lee FS, Hagler J, Chen ZJ and Maniatis T . 1997 Cell 88: 213–222

Lubet RA, Steele VE, Eto I, Juliana MM, Kelloff GJ and Grubbs CJ . 1997 Int J Cancer 7295–7301

Manna S, Zhang HJ, Yan T, Oberley LW and Aggarwal BB . 1998 J Biol Chem 273: 13245–13254

Manna SK, Kuo MT and Aggarwal BB . 1999a Oncogene 18: 4371–4382

Manna SK, Mukhopadhyay A, Van NT and Aggarwal BB . 1999b J Immunol 163: 6800–6809

Mansuy D, Sassi A, Dansette PM and Plat M . 1986 Biochem Biophys Res Comm 135: 1015–1021

Nagababu E and Lakshmaiah N . 1994 Free Radical Res 20: 253–266

Naidu KA . 1995 Prostagl Leukotri Essenl Fatty Acids 53: 381–383

Rajakumar DV and Rao MN . 1993 Biochem Pharmacol 46: 2067–2072

Reddy BS, Rao CV, Rivenson A and Kelloff G . 1993 Cancer Res 53: 3493–3498

Reddy BS . 1996 Preventive Med 25: 48–50

Reddy BS . 1997 Adv Exp Med Biol 400B: 931–936

Robertson FM, Ross MS, Tober KL, Long BW and Oberyszyn TM . 1996 Carcinogen 17: 1719–1728

Rompelberg CJ, Verhagen H and van Bladeren PJ . 1993 Food Chem Toxicol 31: 637–646

Schreck R, Alvermann K and Baeuerle PA . 1992 Free Radical Res Comm 17: 221–237

Sen CK, Traber KE and Packer L . 1996 Biochem Biophys Res Comm 218: 148–153

Sharma JN, Srivastava KC and Gan EK . 1994 Pharmacol 49: 314–318

Simeonidis S, Stauber D, Chen G, Hendrickson WA and Thanos D . 1999 Proc Natl Acad Sci USA 96: 49–54

Stohs SJ, Lawson TA, Anderson L and Bueding E . 1986 Mech Ageing Develop 37: 137–145

Suganuma M, Okabe S, Sueoka E, Iida N, Komori A, Kim SJ and Fujiki H . 1996 Cancer Res 56: 3711–3715

Taira J, Ikemoto T, Yoneya T, Hagi A, Murakami A and Makino K . 1992 Free Radical Res Comm 16: 197–204

Tewari M, Quan LT, O';Rouke K, Desnoyers S, Zeng Z, Beidler DR, Poirier GG, Salvesan GS and Dixit VM . 1995 Cell 81: 801–809

Whiteside ST, Ernst MK, LeBail O, Laurent-Winter C, Rice NR and Israel A . 1995 Mol Cell Biol 15: 5339
Acknowledgements
This research was conducted by The Clayton Foundation for Research. We would like to thank Dr B Darnay and Dr NT Van for assistance with IκBα Western blot analysis and with FACS analysis, respectively.
About this article
Cite this article
Chainy, G., Manna, S., Chaturvedi, M. et al. Anethole blocks both early and late cellular responses transduced by tumor necrosis factor: effect on NF-κB, AP-1, JNK, MAPKK and apoptosis. Oncogene 19, 2943–2950 (2000). https://doi.org/10.1038/sj.onc.1203614
Received:

Revised:

Accepted:

Published:

Issue Date:

DOI: https://doi.org/10.1038/sj.onc.1203614
Keywords
Anethole

TNF

NF-κB

AP-1

JNK

Apoptosis