Abstract
The aim of the study was to investigate the effect of therapy by rilmenidine on endothelial and platelet function in 23 patients with the early stages of untreated essential hypertension. The measurements were carried out before therapy, after 1 week of placebo administration, after 1 week, after 1 month and after 3 months of therapy. After 1 week of therapy both systolic (SBP) and diastolic blood pressure (DBP) were reduced (P < 0.001) all over the study period. Plasma thrombomodulin (TM) and von Willebrand factor (vWF) as indicators of endothelial dysfunction, and plasma β-thromboglobulin (βTG) as an indicator of in vivo platelet activation, were investigated. Fibrinogen as a risk factor for vascular changes was also assayed. Platelet aggregation without stimulation (spontaneous, SPA) and induced by adrenaline (APA) was measured. A decrease of plasma vWF level after 1 month (P < 0.05) and after 3 months (P < 0.05) of therapy was observed. We failed to find any changes of plasma TM and fibrinogen level. A reduction of platelet aggregation was evident after 1 week (SPA and APA, P < 0.05, respectively) but mainly after 1 month (SPA P < 0.01, APA P < 0.05) and after 3 months of therapy (SPA and APA, P < 0.01, respectively). It was accompanied by a decrease of plasma ßTG level after 3 months of therapy (P < 0.05). The vasculoprotective and antiplatelet effect of rilmenidine may be important in terms of the favourable role of antihypertensive drugs in cardiovascular morbidity.
Access options
Subscribe to Journal
Get full journal access for 1 year
$119.00
only $9.92 per issue
All prices are NET prices.
VAT will be added later in the checkout.
Tax calculation will be finalised during checkout.
Buy article
Get time limited or full article access on ReadCube.
$32.00
All prices are NET prices.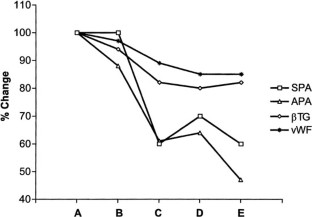 References
Spencer CGC, Beevers DG, Lip GYH . Haemorheological, endothelial and platelet function in subjects with hypertension: relationship to cardiovascular risk and influence of antihypertensive treatment J Hum Hypertens 2001; 15 (Suppl 1): S39–S42

Lip GYH, Beevers DG . Abnormalities of rheology and coagulation in hypertension J Hum Hypertens 1994; 8: 693–702

Blann AD, Naqvi T, Waite M, McCollum CN . Von Willebrand factor and endothelial damage in essential hypertension J Hum Hypertens 1993; 7: 107–111

Kloczko J et al. Von Willebrand factor antigen and fibronectin in essential hypertension Thromb Res 1995; 79: 331–336

Blann A, Seigneur M . Soluble markers of endothelial cell function Clin Hemorheol Microcirc 1997; 17: 3–11

Lee AJ, Lowe GDO, Woodward M, Tunstall-Pedoe H . Fibrinogen in relation to personal history of prevalent hypertension, diabetes, stroke, intermittent claudication, coronary heart disease, and family history: the Scottish Heart Health Study Br Heart J 1993; 69: 338–342

Remko M, Walsh OA, Richards WG . Molecular structure and gas-phase reactivity of clonidine and rilmenidine: two layered ONIOM calculations Phys Chem Chem Phys 2001; 3: 901–907

Bousquet P, Dontenwill M, Greney H, Feldman J . Imidazoline receptors in cardiovascular and metabolic diseases J Cardiovasc Pharmacol 2000; 35 (Suppl 4): S21–S25

Safar ME . Rilmenidine: a novel antihypertensive agent Am J Med 1989; 87 (Suppl 3C): 24S–29S

Okrucká-Remková A, Pechán J, Kratochvíl'ová H . Effects of the angiotensin-converting enzyme (ACE) inhibitor perindopril on endothelial and platelet functions in essential hypertension Platelets 1998; 9: 63–67

Trifiletti A et al. Effects of medium-term antihypertensive therapy on haemostatic parameters inpatients with essential hypertension Haemostasis 1997; 27: 35–38

Messerli F . Moxonidine: a new and versatile antihypertensive J Cardiovasc Pharmacol 2000; 35 (Suppl 4): S53–S56

Boneu B, Abbal M, Plante J, Bierme R . Letter: Factor-VIII complex and endothelial damage Lancet 1975; i: 1430

Kario K et al. Factor VII hyperactivity and endothelial cell damage are found in elderly hypertensives only when concomitant with microalbuminuria Arterioscler Thromb Vasc Biol 1996; 16: 455–461

Verhaar MC et al. Progressive vascular damage in hypertension is associated with increased levels of circulating P-selectin J Hypertens 1998; 16: 45–50

Pedrinelli R et al. Microalbuminuria and endothelial dysfunction in essential hypertension Lancet 1994; 344: 14–18

Ferri C et al. Clustering of endothelial markers of vascular damage in human salt-sensitive hypertension: influence of dietary sodium load and depletion Hypertension 1998; 32: 862–868

Seigneur M et al. Levels of plasma thrombomodulin are increased in atheromatous arterial disease Thromb Res 1993; 71: 423–431

Seigneur M, Dufourcq P, Conri C . Plasma thrombomodulin – new approach of endothelial damage Int Angiol 1993; 12: 85–93

Remkova A, Kovacova E, Prikazska M, Kratochvilova H . Thrombomodulin as a marker of endothelium damage in some clinical conditions Eur J Int Med 2000; 11: 79–84

Cacoub P et al. Plasma levels of thrombomodulin in pulmonary hypertension Am J Med 1996; 101: 160–164

Makris TK et al. Fibrinolytic/hemostatic variables in arterial hypertension: response to treatment with irbesartan or atenolol Am J Hypertens 2000; 13: 783–788

Krespi PG et al. Moxonidine effect on microalbuminuria, thrombomodulin, and plasminogen activator inhibitor-1 levels inpatients with essential hypertension Cardiovasc Drugs Ther 1998; 12: 463–467

De Luca N et al. Haemodynamic and metabolic effects of rilmenidine in hypertensivepatients with metabolic syndrome X. A double-blind parallel study versus amlodipine J Hypertens 2000; 18: 1515–1522

Piletz JE, Andorn AC, Unnerstall JR, Halaris A . Binding of [3H]-p-aminoclonidine to α2-adrenoceptor states plus a non-adrenergic site on human platelet plasma membranes Biochem Pharmacol 1991; 42: 569–584

Piletz JE, Sletten K . Nonadrenergic imidazoline binding sites on human platelets J Pharmacol Exp Ther 1993; 267: 1493–1502

Wiest SA, Steinberg MI . Effect of the imidazoline receptor ligand moxonidine on human platelet aggregation Ann NY Acad Sci 1995; 763: 606–609

Ernsberger P . Pharmacology of moxonidine: an I1-imidazoline receptor agonist J Cardiovasc Pharmacol 2000; 35 (Suppl 4): S27–S41

Esler M, Kaye D . Sympatethic nervous system activation in essential hypertension, cardiac failure and psychosomatic heart disease J Cardiovasc Pharmacol 2000; 35 (Suppl 4): S1–S7

Mancia G, Di Rienzo M, Parati G, Grassi G . Sympathetic activity, blood pressure variability and end organ damage in hypertension J Hum Hypertens 1997; 11 (Suppl 1): S3–S8
Acknowledgements
The authors thank Mrs Viera Tokárová, Mrs Eva Csizmáziová and Mrs Helena Mackovýchová for their technical assistance. This research was supported by grants from the Slovak Ministry of Education (Grant No 1/7361/20 and No 1/8289/01).
About this article
Cite this article
Remková, A., Kratochvíl'ová, H. Effect of the new centrally acting antihypertensive agent rilmenidine on endothelial and platelet function in essential hypertension. J Hum Hypertens 16, 549–555 (2002). https://doi.org/10.1038/sj.jhh.1001427
Received:

Revised:

Accepted:

Published:

Issue Date:

DOI: https://doi.org/10.1038/sj.jhh.1001427
Keywords
rilmenidine

endothelial function

platelet function

essential hypertension