Abstract
Objective:
To investigate the anti-obesity effects of the pomegranate leaf extract (PLE) in a mouse model of high-fat diet induced obesity and hyperlipidemia.
Design:
For the anti-obesity experiment, male and female ICR mice were fed with a high-fat diet to induce obesity. When the weight of the high-fat diet group was 20% higher than the normal diet group, the animals were treated with 400 or 800 mg/kg/day of PLE for 5 weeks. Body weight and daily food intake were measured regularly during the experimental period. The various adipose pads were weighed and serum total cholesterol (TC), triglyceride (TG), glucose and high-density lipoprotein cholesterol (HDL-C) were measured after 5 weeks, treatment with PLE. In the fat absorption experiment, both the normal and obese mice were given 0.5 ml lipid emulsion and PLE at a dose of 800 mg/kg at the same time. Serial serum TG levels were measured at times 1, 2, 3, 4 and 6 h after the treatment. TGs in fecal excretions were measured after the mice were orally given a lipid emulsion. Effects of PLE and its isolated compounds (ellagic acid and tannic acid) on pancreatic lipase activity were examined in vitro.
Results:
The PLE-treated groups showed a significant decrease in body weight, energy intake and various adipose pad weight percents and serum, TC, TG, glucose levels and TC/HDL-C ratio after 5 weeks treatment. Furthermore, PLE significantly attenuated the raising of the serum TG level and inhibited the intestinal fat absorption in mice given a fat emulsion orally. PLE showed a significant difference in decreasing the appetite of obese mice fed a high-fat diet, but showed no effect in mice fed a normal diet.
Conclusion:
PLE can inhibit the development of obesity and hyperlipidemia in high-fat diet induced obese mice. The effects appear to be partly mediated by inhibiting the pancreatic lipase activity and suppressing energy intake. PLE may be a novel appetite suppressant that only affects obesity owing to a high-fat diet.
Relevant articles
Open Access articles citing this article.
Sasan Nemati

,

Vahid Tadibi

&

Rastegar Hoseini

BMC Nutrition Open Access 17 May 2022
Access options
Subscribe to this journal
Receive 12 print issues and online access
$259.00 per year
only $21.58 per issue
Rent or buy this article
Get just this article for as long as you need it
$39.95
Prices may be subject to local taxes which are calculated during checkout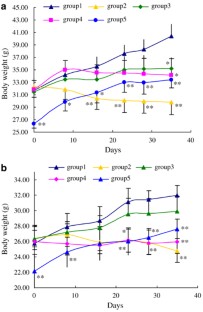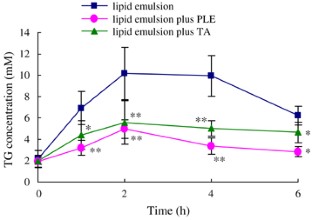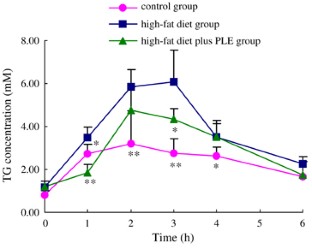 References
Allan JD . Rampant obesity: what you can do? Sexuality, Reproduction and Menopause 2004; 2: 195–198.

Paccaud F, Schiuter-Fasmeyer V, Wietlisbach V, Bovet P . Dyslipidemia and abdominal obesity: an assessment in three general populations. J Clin Epid 2000; 53: 393–400.

Rebuffe-Scrive M, Surwit R, Feinglos M, Kuhn C, Rodin J . Regional fat distribution and metabolism in a new mouse model (C57BL/6J) of non-insulin-dependent diabetes mellitus. Metabolism 1993; 42: 1405–1409.

Surwit RS, Kuhn CM, Cochrane C, McCubbin JA, Feinglos MN . Diet-induced type II diabetes in C57BL/6J mice. Diabetes 1988; 37: 1163–1167.

Widdowson PS, Upton R, Buckingham R, Arch J, Williams G . Inhibition of food response to intracerebroventricular injection of leptin is attenuated in rats with diet-induced obesity. Diabetes 1997; 46: 1782–1785.

Storlien LH, James DE, Burleigh KM, Chisholm DJ, Kraegen EW . Fat feeding causes widespread in vivo insulin resistance, decreased energy expenditure, and obesity in rats. Am J Physiol 1986; 251 (5 Part 1): E576–E583.

Ajaikumar KB, Asheef M, Babu BH, Padikkala J . The inhibition of gastric mucosal injury by Punicagranatum L. (pomegranate) methanolic extract. J Ethnopharmacol 2005; 96: 171–176.

Murthy KN, Reddy VK, Veigas JM, Murthy UD . Study on wound healing activity of Punica granatum peel. J Med Food 2004; 7: 256–259.

Braga LC, Shupp JW, Cummings C, Jett M, Jett M, Takahashi JA et al. Pomegranate extract inhibits Staphylococcus aureus growth and subsequent enterotoxin production. J Ethnopharmacol 2005; 96: 335–339.

Chidambara Murthy KN, Jayaprakasha GK, Singh RP . Studies on antioxidant activity of pomegranate (Punica granatum) peel extract using in vivo models. J Agric Food Chem 2002; 50: 4791–4795.

Hora JJ, Maydew ER, Lansky EP, Dwivedi C . Chemopreventive effects of pomegranate seed oil on skin tumor development in CD1 mice. J Med Food 2003; 6: 157–161.

Kohno H, Suzuki R, Yasui Y, Hosokawa M, Miyashita K, Tanaka T . Pomegranate seed oil rich in conjugated linolenic acid suppresses chemically induced colon carcinogenesis in rats. Cancer Sci 2004; 95: 481–486.

Afaq F, Saleem M, Krueger CG, Reed JD, Mukhtar H . Anthocyanin- and hydrolyzable tannin-rich pomegranate fruit extract modulates MAPK and NF-kappaB pathways and inhibits skin tumorigenesis in CD-1 mice. Int J Cancer 2005; 113: 423–433.

Wang RF, Xie WD, Zhang Z, Xing DM, Ding Y, Wang W et al. Bioactive compounds from the seeds of Punica granatum (pomegranate). J Nat Prod 2004; 67: 2096–2098.

Kaplan M, Hayek T, Raz A, Coleman R, Dornfeld L, Vaya J et al. Pomegranate juice supplementation to atherosclerotic mice reduces macrophage lipid peroxidation, cellular cholesterol accumulation and development of atherosclerosis. J Nutr 2001; 131: 2082–2089.

Huang TH, Peng G, Kota BP, Li GQ, Yamahara J, Roufogalis BD et al. Pomegranate flower improves cardiac lipid metabolism in a diabetic rat model: role of lowering circulating lipids. Br J Pharmacol 2005; 145: 767–774.

Astrup A, Toubro S, Raben A, Skov AR . The role of low-fat diets and fat substitutes in body weight management: what have we learned from clinical studies? J Am Diet Assoc 1997; 97 (Suppl): S82–S87.

Van DE, Kamer JH, Ten Bokkel H, Weyers HA . Rapid method for the determination of fat in feces. J Biol Chem 1949; 177: 347–355.

Han LK, Kimura Y, Kawashima M, Takaku T, Taniyama T, Hayashi T et al. Anti-obesity effects in rodents of dietary teasaponin, a lipase inhibitor. Int J Obes Relat Metab Disord 2001; 25: 1459–1464.

Lowe ME . Pancreatic triglyceride lipase and colipase: insights into dietary fat digestion. Gastroenterology 1994; 107: 1524–1536.

Drent ML, Van der Veen EA . First clinical studies with Orlistat: a short review. Obes Res 1995; 3 (Suppl 4): 623s–625s.
Acknowledgements
The study was supported by Natural Science Foundation of China (30572340).
About this article
Cite this article
Lei, F., Zhang, X., Wang, W. et al. Evidence of anti-obesity effects of the pomegranate leaf extract in high-fat diet induced obese mice. Int J Obes 31, 1023–1029 (2007). https://doi.org/10.1038/sj.ijo.0803502
Received:

Revised:

Accepted:

Published:

Issue Date:

DOI: https://doi.org/10.1038/sj.ijo.0803502
Keywords
pomegranate leaf extract

ellagic acid

anti-obesity

appetite suppressant activity

pancreatic lipase inhibition