Abstract
Objective:
To compare relative associations of eating patterns and dietary composition with body mass index (BMI) in younger (aged 20–59 years, n=1792) and older (aged 60–90 years, n=893) participants in the Continuing Survey of Food Intakes by Individuals, collected 1994–1996.
Methods:
Data from two 24-h dietary recalls from individuals reporting physiologically plausible energy intake (within ±22% of predicted energy requirements, based on previously published methods) were used.
Results:
Mean reported energy intake was 96 and 95% of predicted energy requirements in younger and older subjects, respectively. Older subjects were less likely than younger subjects to skip a meal, but snacking was common in both age groups. Fiber density was significantly higher in the older group. A higher BMI in both age groups was associated with a higher total daily energy intake, and higher energy intakes at all eating occasions. In both age groups, eating frequency was positively associated with energy intake, and eating more than three times a day was associated with being overweight or obese. In the younger group but not the older group, a lower fiber density coupled with higher percentage of energy from fat was independently associated with having a higher BMI.
Conclusions:
While no one eating occasion contributes more than any other to excess adiposity, eating more often than three times a day may play a role in overweight and obesity in both younger and older persons. A reduced satiety response to dietary fiber in addition to lower energy expenditure may potentially further contribute to weight gain in older persons.
Relevant articles
Open Access articles citing this article.
Neda Azizi

,

Sakineh Shab-Bidar

…

Kurosh Djafarian

BMC Nutrition Open Access 07 February 2022

Denise de Ridder

,

Caroline Schlinkert

…

Jeroen Benjamins

TSG - Tijdschrift voor gezondheidswetenschappen Open Access 24 June 2020

Zach Conrad

,

LuAnn K. Johnson

…

Lisa Jahns

Nutrition Journal Open Access 17 May 2018
Access options
Subscribe to this journal
Receive 12 print issues and online access
$259.00 per year
only $21.58 per issue
Rent or buy this article
Get just this article for as long as you need it
$39.95
Prices may be subject to local taxes which are calculated during checkout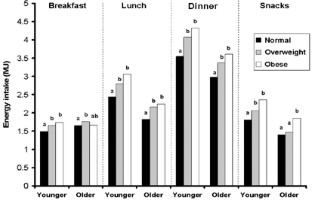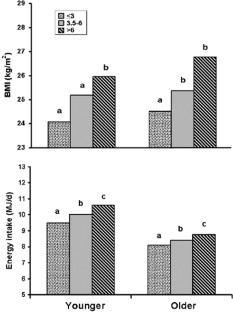 Accession codes
Accessions
GenBank/EMBL/DDBJ
References
Flegal KM, Carroll MD, Ogden CL, Johnson CL . Prevalence and trends in obesity among US adults, 1999–2000. JAMA 2002; 288: 1723–1727.

Steen B . Body composition and aging. N Engl J Med 1988; 46: 45–51.

Shimokata H, Tobin JD, Muller DC, Elahi D, Coon PJ, Andres R . Studies in the distribution of body fat: I. Effects of age, sex, and obesity. J Gerontol 1989; 44: M66–M73.

Roberts SB, Williamson DF . Causes of adult weight gain. J Nutr 2002; 132: 3824S–3825S.

Roberts SB, Pi-Sunyer FX, Dreher M, Hahn R, Hill JO, Kleinman RE et al. Physiology of fat replacement and fat reduction: effects of dietary fat and fat substitutes on energy regulation. Nutr Rev 1998; 56: S29–S49.

Willett WC . Dietary fat plays a major role in obesity: no. Obes Rev 2002; 3: 59–68.

Roberts SB . High-glycemic index foods, hunger, and obesity: is there a connection? Nutr Rev 2000; 58: 163–170.

Roberts SB, McCrory MA, Saltzman E . The influence of dietary composition on energy intake and body weight. J Am Coll Nutr 2002; 21: 140S–145S.

Kirk RR . 2nd plenary session of 'body weight balance and regulation'. Role of dietary carbohydrate and frequent eating in body-weight control. Proc Nutr Soc 2000; 59: 349–358.

Bellisle F, McDevitt R, Prentice AM . Meal frequency and energy balance. Br J Nutr 1997; 77: S57–S70.

Ma Y, Bertone ER, Stanek EJI, Reed GW, Hebert JR, Cohen NL et al. Association between eating patterns and obesity in a free-living US adult population. Am J Epidemiol 2003; 158: 85–92.

Fricker J, Giroux S, Fumeron F, Apfelbaum M . Circadian rhythm of energy intake and corpulence status in adults. Int J Obes 1990; 14: 387–393.

Cho S, Dietrich M, Brown CJP, Clark CA, Block G . The effect of breakfast type on total daily energy intake and body mass index: results from the Third national Health and Nutrition Examination Survey (NHANES III). J Am Coll Nutr 2003; 22: 296–302.

Ortega RM, Redondo MR, Lopez-Sobaler AM, Quintas ME, Zamora MJ, Andres P et al. Associations between obesity, breakfast-time food habits and intake of energy and nutrients in a group of elderly Madrid residents. J Am Coll Nutr 1996; 15: 65–72.

Andersson I, Rossner S . Meal patterns in obese and normal weight men: the 'Gustaf' study. Eur J Clin Nutr 1996; 50: 639–646.

Summerbell CD, Moody RC, Shanks J, Stock MJ, Geissler C . Relationship between feeding pattern and body mass index in 220 free-living people in four age groups. Eur J Clin Nutr 1996; 50: 513–519.

Song Y, Buring JE, Manson JE, Liu S . A prospective study of red meat consumption and type 2 diabetes in middle-aged and elderly women. Diabetes Care 2004; 27: 2108–2115.

Drummond S, Crombie N, Kirk T . A critique of the effects of snacking on body weight status. Eur J Clin Nutr 1996; 50: 779–783.

Forslund HB, Torgerson J, Sjostrom L, Lindroos AK . Snacking frequency in relation to energy intake and food choices in obese men and women compared to a reference population. Int J Obes 2005; 29: 711–719.

Basdevant A, Craplet C, Guy-Grand B . Snacking patterns in obese French women. Appetite 1993; 21: 17–23.

Summerbell CD, Moody RC, Shanks J, Stock MJ, Geissler C . Sources of energy from meals versus snacks in 220 people in four age groups. Eur J Clin Nutr 1995; 49: 33–41.

Huang TT-K, Roberts SB, Howarth NC, McCrory MA . Effect of screening out implausible energy intake reports on relationships between diet and BMI. Obes Res 2005; 13: 1205–1217.

Schoeller DA, Bandini LG, Dietz WH . Inaccuracies in self-reported intake identified by comparison with the doubly labeled water method. Can J Physiol Pharmacol 1990; 68: 941–949.

Schoeller DA . Limitations in the assessment of dietary energy intake by self-report. Metabolism 1995; 44: 18–22.

Bingham SA, Cassidy A, Cole TJ, Welch A, Runswick SA, Black AE et al. Validation of weighed records and other methods of dietary assessment using the 24 h urine nitrogen technique and other biological markers. Br J Nutr 1995; 73: 531–550.

Hirvonen T, Mannisto S, Roos E, Pietinen P . Increasing prevalence of underreporting does not necessarily distort dietary surveys. Eur J Clin Nutr 1997; 51: 297–301.

Lafay L, Basdevant A, Charles MA, Balkau B, Borys JM, Eschwege E et al. Determinants and nature of dietary underreporting in a free-living population: the Fleurbaix Laventie Ville Sante (FLVS) Study. Int J Obes Relat Metab Disord 1997; 21: 567–573.

Poppitt SD, Swann D, Black AE, Prentice AM . Assessment of selective under-reporting of food intake by both obese and non-obese women in a metabolic facility. Int J Obes 1998; 22: 303–311.

Rolls BJ, Dimeo KA, Shide DJ . Age-related impairments in the regulation of food intake. Am J Clin Nutr 1995; 62: 923–931.

Roberts SB, Fuss P, Heyman MB, Evans WJ, Tsay R, Rasmussen H et al. Control of food intake in older men. JAMA 1994; 272: 1601–1606.

Moriguti JC, Das SK, Saltzman E, Corrales A, McCrory MA, Greenberg AS et al. Effects of a 6-week hypocaloric diet on changes in body composition, hunger, and subsequent weight regain in healthy young and older adults. J Gerontol Biol Sci 2000; 55A: B580–B587.

Morley JE . Anorexia of aging: physiologic and pathologic. Am J Clin Nutr 1997; 66: 760–773.

MacIntosh CG, Morley JE, Chapman IM . The anorexia of aging. Nutrition 2000; 16: 983–995.

Roberts SB, Hays NP . Regulation of Energy Intake in Old Age. Functional Neurobiology of Aging. Academic Press: New York, 2001, pp 829–837.

Drewnowski A, Henderson SA, Driscoll A, Rolls BJ . The dietary variety score: assessing diet quality in healthy young and older adults. J Am Diet Assoc 1997; 97: 266–271.

Hjartaker A, Lund E . Relationship between dietary habits, age, lifestyle, and socio-economic status among adult Norwegian women. The Norwegian women and cancer study. Eur J Clin Nutr 1998; 52: 565–572.

Roberts SB, Hajduk CL, Howarth NC, Russell R, McCrory MA . Dietary variety predicts low body mass index and inadequate macronutrient and micronutrient intakes in community-dwelling older adults. J Gerontol Biol Sci 2005; 60: 613–621.

Howarth NC, Huang TT-K, Roberts SB, McCrory MA . Dietary fiber and fat associations with excess weight in young and middle-aged US adults. J Am Diet Assoc 2005; 105: 1365–1372.

Huang TT-K, Howarth NC, Lin B-H, Roberts SB, McCrory MA . Energy intake and meal portions: associations with BMI percentile in US children. Obesity Res 2004; 12: 1875–1885.

Macdiarmid JI . The sugar–fat relationship revisited: differences in consumption between men and women of varying BMI. Int J Obes 1998; 22: 1051–1061.

McCrory MA, Hajduk CL, Roberts SB . Procedures for screening out inaccurate reports of dietary energy intake. Public Health Nutr 2002; 5: 873–882.

US Dept of Agriculture ARS AFSRG. Data (CD-ROM) and documentation for the 1994–1996 Continuing Survey of Food Intakes by Individuals (CSFII)-Diet and Health Knowledge Survey. National Technical Information Service Accession No. PB98-500457, 1998.

Institute of Medicine. Dietary Reference Intakes Energy, Carbohydrate, Fiber, Fat, Fatty Acids, Cholesterol, Protein, and Amino Acids, Part 1. Institute of Medicine: Washington, DC, 2002, pp 7-1–7-69.

Goldberg GR, Black AE, Jebb SA, Cole TJ, Murgatroyd PR, Coward WA et al. Critical evaluation of energy intake data using fundamental principles of energy physiology: 1. Derivation of cut-off limits to identify under-recording. Eur J Clin Nutr 1991; 45: 569–581.

Black AE . Critical evaluation of energy intake using the Goldberg cut-off for energy intake:basal metabolic rate. A practical guide to its calculation, use and limitations. Int J Obes 2000; 24: 1119–1130.

Chamontin A, Pretzer G, Booth DA . Ambiguity of 'snack' in British usage. Appetite 2003; 41: 21–29.

Clarkston WK, Pantano MM, Morley JE, Horowitz M, Littlefield JM, Burton FR . Evidence for the anorexia of aging: gastrointestinal transit and hunger in healthy elderly vs. young adults. Am J Physiol Regul Integr Comp Physiol 1997; 41: R243–R248.

Schiffman S . Changes in Taste and Smell with Age space:Psychophysical Aspects. Raven Press: New York, 1979.

Morley JE . Anorexia, sarcopenia, and aging. Nutrition 2001; 17: 660–663.

Horwitz BA, Blanton CA, McDonald RB . Physiologic determinants of the anorexia of aging: insights from animal studies. Annu Rev Nutr 2002; 22: 417–438.

MacIntosh CG, Andrews JM, Jones KL, Wishart JM, Morris HA, Jansen JBMJ et al. Effects of age on concentrations of plasma cholecystokinin, glucagon-like peptide 1, and peptide YY and their relation to appetite and pyloric motility. Am J Clin Nutr 1999; 69: 999–1006.

Rolls BJ . Aging and appetite. Nutr Rev 1992; 50: 422–426.

De Castro J . Age-related changes in spontaneous food intake and hunger in humans. Appetite 1993; 21: 255–272.

Evans WJ, Meredith CN . Exercise and nutrition in the elderly. In: Munro HN, Danforth DE (eds). Nutrition, Aging and the Elderly. Plenum Press: New York, 1989, pp 89–126.

Howarth NC, Saltzman E, Roberts SB . Dietary fiber and weight regulation. Nutr Rev 2001; 59: 129–139.

Yao M, Roberts SB . Dietary energy density and weight regulation. Nutr Rev 2001; 59: 247–258.

Fabry P, Fodor J, Hejl Z, Braun T, Zvolankova K . The frequency of meals its relation to overweight, hypercholesterolaemia, and decreased glucose-tolerance. Lancet 1964; 2: 614–615.

Metzner HL, Lamphiear DE, Wheeler NC, Larkin FA . The relationship between frequency of eating and adiposity in adult men and women in the Tecumseh Community Health Study. Am J Clin Nutr 1977; 30: 712–715.

Kant AK, Ballard-Barbash R, Schatzkin A . Evening eating and its relation to self-reported body weight and nutrient intake in women, CSFII 1985–86. J Am Coll Nutr 1995; 14: 358–363.

Whybrow S, Kirk TR . Nutrient intakes and snacking frequency in female students. J Hum Nutr Diet 1997; 10: 237–244.

Drummond SE, Crombie NE, Cursiter MC, Kirk TR . Evidence that eating frequency is inversely related to body weight status in male, but not female, non-obese adults reporting valid dietary intakes. Int J Obes 1998; 22: 105–112.

Wahlqvist ML, Kouris-Blazos A, Wattanapenpaiboon N . The significance of eating patterns: an elderly Greek case study. Appetite 1999; 32: 23–32.

Ruidavets JB, Bongard V, Bataille V, Gourdy P, Ferrieres J . Eating frequency and body fatness in middle-aged men. Int J Obes 2002; 26: 1476–1483.

Keski-Rahkonen A, Kaprio J, Rissanen A, Rose RJ . Breakfast skipping and health-compromising behaviour in adolescents and adults. Eur J Clin Nutr 2003; 57: 842–853.

Johnson RK, Soultanakis RP, Matthews DE . Literacy and body fatness are associated with underreporting of energy intake in US low-income women using the multiple-pass 24-h recall: a doubly labeled water study. J Am Diet Assoc 1998; 98: 1130–1140.

Livingstone MBE, Black AE . Markers of the validity of reported energy intake. J Nutr 2003; 133: 895S–920S.

Luhrmann PM, Herbert BM, Neuhauser-Berthold M . Underreporting of energy intake in an elderly German population. Nutrition 2001; 17: 912–916.

Tomoyasu NJ, Toth MJ, Poehlman ET . Misreporting of total energy intake in older men and women. J Am Geriatr Soc 1999; 47: 710–715.

Tomoyasu NJ, Poehlman ET . Misreporting of total energy intake in older African Americans. Int J Obes Relat Metab Disord 2000; 24: 20–26.

Zizza C, Siega-Riz AM, Popkin BM . Significant increase in young adults' snacking between 1977–1978 and 1994–1996 represents a cause for concern! Prev Med 2001; 32: 303–310.

Cross AT, Babicz D, Cushman LF . Snacking habits of senior Americans. J Nutr Elderly 1995; 14: 27–38.
Acknowledgements
This study was supported in part by USDA/ERS/FANRP Grant No. 43-3AEM-2-80088. Contents of this publication do not necessarily reflect the views or policies of the US Department of Agriculture. We thank Vanessa Howarth for technical assistance, Johanna Dwyer and Lynne Ausman for their helpful comments on the manuscript and Gerard Dallal for statistical help.
About this article
Cite this article
Howarth, N., Huang, TK., Roberts, S. et al. Eating patterns and dietary composition in relation to BMI in younger and older adults. Int J Obes 31, 675–684 (2007). https://doi.org/10.1038/sj.ijo.0803456
Received:

Revised:

Accepted:

Published:

Issue Date:

DOI: https://doi.org/10.1038/sj.ijo.0803456
Keywords
energy intake

eating frequency

meal skipping

snacking

dietary fiber

dietary misreporting