Abstract
Objective:
Human adenovirus Ad-36 causes adiposity in animal models and enhances differentiation and lipid accumulation in human and 3T3-L1 preadipocytes, which may, in part, explain the adipogenic effect of Ad-36. We determined the consequences of Ad-36 infection on leptin and glucose metabolism in fat cells.
Design:
3T3-L1 preadipocytes were used to determine the effect of infection by human adenoviruses Ad-36, Ad-2, Ad-9 and Ad-37 on leptin secretion and lipid accumulation. Rat primary adipocytes were used to determine the effect of Ad-36 infection on leptin secretion and glucose uptake in vitro. Furthermore, the effect of Ad-36 on expressions of leptin and selected genes of de novo lipogenesis pathway of visceral adipose tissue were compared ex vivo, between Ad-36 infected and uninfected control rats.
Results:
Ad-36 suppressed the expression of leptin mRNA in 3T3-L1 cells by approximately 58 and 52% on days 3 and 5 post-infection, respectively. Leptin release normalized to cellular lipid content was 51% lower (P<0.002) in the Ad-36 infected 3T3-L1 cells. Lipid accumulation was significantly greater and leptin secretion was lower for the 3T3-L1 cells infected with other human adenoviruses Ad-9, Ad-36, or Ad-37. Whereas, human adenovirus Ad-2 did not influence cellular lipid accumulation or the leptin release. In rat primary adipocytes, Ad-36 reduced leptin release by about 40% in presence of 0.48 (P<0.01) or 1.6 nM insulin (P<0.05) and increased glucose uptake by 93% (P<0.001) or 18% (P<0.05) in presence of 0 or 0.48 nM insulin, respectively. Next, the adipose tissue of Ad-36 infected rats showed two to fivefold lower leptin mRNA expression, and 1.6- to 21-fold greater expressions for acetyl Co-A carboxylase-1 and 1.2- to 6.3-fold greater expressions for fatty acid synthase, key genes of de novo lipogenesis, compared to the uninfected weight and adiposity matched controls.
Conclusion:
The in vitro and ex vivo studies show that Ad-36 modulates adipocyte differentiation, leptin production and glucose metabolism. Whether such a modulation contributes to enhanced adipogenesis and consequent adiposity in Ad-36 infected animals or humans needs to be determined.
Relevant articles
Open Access articles citing this article.
Nader Lessan

,

Koramannil R. Saradalekshmi

…

Richard L Atkinson

Scientific Reports Open Access 15 May 2020

Yi Jiao

,

Xiaodi Liang

…

Yaqun Guan

Lipids in Health and Disease Open Access 21 March 2019
Access options
Subscribe to this journal
Receive 12 print issues and online access
$259.00 per year
only $21.58 per issue
Rent or buy this article
Get just this article for as long as you need it
$39.95
Prices may be subject to local taxes which are calculated during checkout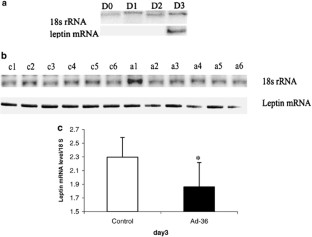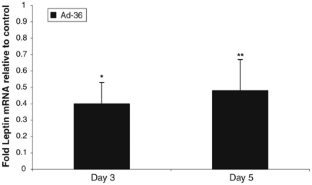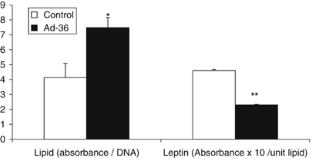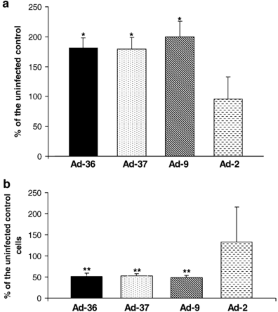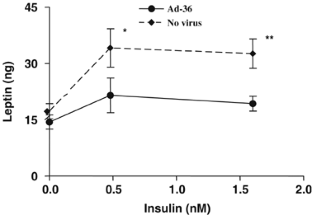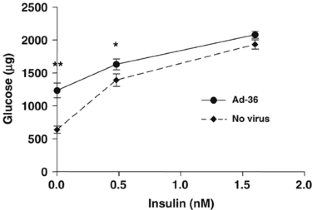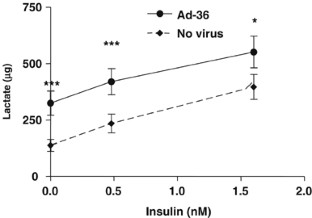 References
Sclafani A . Animal models of obesity: classification and characterization. Int J Obes 1984; 8: 491–508.

Astrup A, Lundsgaard C, Stock MJ . Is obesity contagious? Int J Obes Relat Metab Disord 1998; 22: 375–376.

Rossner S . Can obesity be an infectious disease? Lakartidningen 2005; 102: 1896–1898.

Dhurandhar NV . Infectobesity: obesity of infectious origin. J Nutr 2001; 131: 2794S–2797S.

So PW, Herlihy AH, Bell JD . Adiposity induced by adenovirus 5 inoculation. Int J Obes Relat Metab Disord 2005; 29: 603–606.

Dhurandhar NV, Israel BA, Kolesar JM, Mayhew G, Cook ME, Atkinson RL . Transmissibility of adenovirus-induced adiposity in a chicken model. Int J Obes Relat Metab Disord 2001; 25: 990–996.

Dhurandhar NV, Israel BA, Kolesar JM, Mayhew GF, Cook ME, Atkinson RL . Increased adiposity in animals due to a human virus. Int J Obes Relat Metab Disord 2000; 24: 989–996.

Dhurandhar NV, Whigham LD, Abbott DH, Schultz-Darken NJ, Israel BA, Bradley SM et al. Human adenovirus Ad-36 promotes weight gain in male rhesus and marmoset monkeys. J Nutr 2002; 132: 3155–3160.

Dhurandhar NV, Augustus AS, Atkinson RL . Evidence of an association of a virus with obesity in humans. FASEB J 1997; 3: A230.

Atkinson RL, Dhurandhar NV, Allison DB, Bowen RL, Israel BA, Albu JB et al. Human adenovirus-36 is associated with increased body weight and paradoxical reduction of serum lipids. Int J Obes Relat Metab Disord 2005; 29: 281–286.

Vangipuram SD, Sheele J, Atkinson RL, Holland TC, Dhurandhar NV . A human adenovirus enhances preadipocyte differentiation. Obes Res 2004; 12: 770–777.

Havel PJ . Control of energy homeostasis and insulin action by adipocyte hormones: leptin, acylation stimulating protein, and adiponectin. Curr Opin Lipidol 2002; 13: 51–59.

Havel PJ . Update on adipocyte hormones: regulation of energy balance and carbohydrate/lipid metabolism. Diabetes 2004; 53 (Suppl 1): S143–S151.

Chen X, Hausman DB, Dean RG, Hausman GJ . Differentiation-dependent expression of obese (ob) gene by preadipocytes and adipocytes in primary cultures of porcine stromal-vascular cells. Biochim Biophys Acta 1997; 1359: 136–142.

Ahima RS, Flier JS . Adipose tissue as an endocrine organ. Trends Endocrinol Metab 2000; 11: 327–332.

Huan JN, Li J, Han Y, Chen K, Wu N, Zhao AZ . Adipocyte-selective reduction of the leptin receptors induced by antisense RNA leads to increased adiposity, dyslipidemia, and insulin resistance. J Biol Chem 2003; 278: 45638–45650.

Orci L, Cook WS, Ravazzola M, Wang MY, Park BH, Montesano R et al. Rapid transformation of white adipocytes into fat-oxidizing machines. Proc Natl Acad Sci USA 2004; 101: 2058–2063.

Wang MY, Lee Y, Unger RH . Novel form of lipolysis induced by leptin. J Biol Chem 1999; 274: 17541–17544.

Zhou YT, Wang ZW, Higa M, Newgard CB, Unger RH . Reversing adipocyte differentiation: implications for treatment of obesity. Proc Natl Acad Sci USA 1999; 96: 2391–2395.

Komers R, Vrana A . Thiazolidinediones--tools for the research of metabolic syndrome X. Physiol Res 1998; 47: 215–225.

Lagace DC, McLeod RS, Nachtigal MW . Valproic acid inhibits leptin secretion and reduces leptin messenger ribonucleic acid levels in adipocytes. Endocrinology 2004; 145: 5493–5503.

Verges B . Clinical interest of PPARs ligands. Diabetes Metab 2004; 30: 7–12.

Perez C, Fernandez-Galaz C, Fernandez-Agullo T, Arribas C, Andres A, Ros M et al. Leptin impairs insulin signaling in rat adipocytes. Diabetes 2004; 53: 347–353.

Zhang HH, Kumar S, Barnett AH, Eggo MC . Intrinsic site-specific differences in the expression of leptin in human adipocytes and its autocrine effects on glucose uptake. J Clin Endocrinol Metab 1999; 84: 2550–2556.

Ramirez-Zacarias JL, Castro-Munozledo F, Kuri-Harcuch W . Quantitation of adipose conversion and triglycerides by staining intracytoplasmic lipids with Oil red O. Histochemistry 1992; 97: 493–497.

Mueller WM, Gregoire FM, Stanhope KL, Mobbs CV, Mizuno TM, Warden CH et al. Evidence that glucose metabolism regulates leptin secretion from cultured rat adipocytes. Endocrinology 1998; 139: 551–558.

Landt M, Gingerich RL, Havel PJ, Mueller WM, Schoner B, Hale JE et al. Radioimmunoassay of rat leptin: sexual dimorphism reversed from humans. Clin Chem 1998; 44: 565–570.

Moreno-Aliaga MJ, Stanhope KL, Havel PJ . Transcriptional regulation of the leptin promoter by insulin-stimulated glucose metabolism in 3t3-l1 adipocytes. Biochem Biophys Res Commun 2001; 283: 544–548.

Pasarica M, Ou Lang H, Mahida M, Yu M, Mohankumar S, Mohankumar P et al. Human Adenovirus Ad-36 induces adiposity and increases insulin sensitivity. Obes Res 2004; 12: A122.

Igel M, Taylor BA, Phillips SJ, Becker W, Herberg L, Joost HG . Hyperleptinemia and leptin receptor variant Asp600Asn in the obese, hyperinsulinemic KK mouse strain. J Mol Endocrinol 1998; 21: 337–345.

Wigand R, Gelderblom H, Wadell G . New human adenovirus (candidate adenovirus 36), a novel member of subgroup D. Arch Virol 1980; 64: 225–233.

MacDougald OA, Hwang CS, Fan H, Lane MD . Regulated expression of the obese gene product (leptin) in white adipose tissue and 3T3-L1 adipocytes. Proc Natl Acad Sci USA 1995; 92: 9034–9037.

De Vos P, Lefebvre AM, Miller SG, Guerre-Millo M, Wong K, Saladin R et al. Thiazolidinediones repress ob gene expression in rodents via activation of peroxisome proliferator-activated receptor gamma. J Clin Invest 1996; 98: 1004–1009.

Hwang CS, Loftus TM, Mandrup S, Lane MD . Adipocyte differentiation and leptin expression. Annu Rev Cell Dev Biol 1997; 13: 231–259.

Yoshida T, Monkawa T, Hayashi M, Saruta T . Regulation of expression of leptin mRNA and secretion of leptin by thyroid hormone in 3T3-L1 adipocytes. Biochem Biophys Res Commun 1997; 232: 822–826.

Zhang Y, Guo KY, Diaz PA, Heo M, Leibel RL . Determinants of leptin gene expression in fat depots of lean mice. Am J Physiol Regul Integr Comp Physiol 2002; 282: R226–R234.

Considine RV, Sinha MK, Heiman ML, Kriauciunas A, Stephens TW, Nyce MR et al. Serum immunoreactive-leptin concentrations in normal-weight and obese humans. N Engl J Med 1996; 334: 292–295.

Frederich RC, Hamann A, Anderson S, Lollmann B, Lowell BB, Flier JS . Leptin levels reflect body lipid content in mice: evidence for diet-induced resistance to leptin action. Nat Med 1995; 1: 1311–1314.

Lonnqvist F, Nordfors L, Jansson M, Thorne A, Schalling M, Arner P . Leptin secretion from adipose tissue in women. Relationship to plasma levels and gene expression. J Clin Invest 1997; 99: 2398–2404.

Guo KY, Halo P, Leibel RL, Zhang Y . Effects of obesity on the relationship of leptin mRNA expression and adipocyte size in anatomically distinct fat depots in mice. Am J Physiol Regul Integr Comp Physiol 2004; 287: R112–R119.

Moller N, O'Brien P, Nair KS . Disruption of the relationship between fat content and leptin levels with aging in humans. J Clin Endocrinol Metab 1998; 83: 931–934.

Scholz GH, Englaro P, Thiele I, Scholz M, Klusmann T, Kellner K et al. Dissociation of serum leptin concentration and body fat content during long term dietary intervention in obese individuals. Horm Metab Res 1996; 28: 718–723.

Whigham LD, Israel BA, Atkinson RL . Adipogenic potential of multiple human adenoviruses in vivo and in vitro in animals. Am J Physiol Regul Integr Comp Physiol 2006; 290 (1): R190–R194.

Mueller WM, Stanhope KL, Gregoire F, Evans JL, Havel PJ . Effects of metformin and vanadium on leptin secretion from cultured rat adipocytes. Obes Res 2000; 8: 530–539.

Leibel RL . The role of leptin in the control of body weight. Nutr Rev 2002; 60: S15–S19; discussion S68–S84, 85–17.

Bernard A, Cohen R, Khuth ST, Vedrine B, Verlaeten O, Akaoka H et al. Alteration of the leptin network in late morbid obesity induced in mice by brain infection with canine distemper virus. J Virol 1999; 73: 7317–7327.

Zhou YT, Shimabukuro M, Lee Y, Koyama K, Higa M, Ferguson T et al. Enhanced de novo lipogenesis in the leptin-unresponsive pancreatic islets of prediabetic Zucker diabetic fatty rats: role in the pathogenesis of lipotoxic diabetes. Diabetes 1998; 47: 1904–1908.

Buettner R, Bollheimer LC, Zietz B, Drobnik W, Lackner K, Schmitz G et al. Definition and characterization of relative hypo- and hyperleptinemia in a large Caucasian population. J Endocrinol 2002; 175: 745–756.
Acknowledgements
This work was supported in part by funds from the William Hardy Endowment for Obesity Research, and NIH Grant 1R01 DK066164-01 to NVD.
About this article
Cite this article
Vangipuram, S., Yu, M., Tian, J. et al. Adipogenic human adenovirus-36 reduces leptin expression and secretion and increases glucose uptake by fat cells. Int J Obes 31, 87–96 (2007). https://doi.org/10.1038/sj.ijo.0803366
Received:

Revised:

Accepted:

Published:

Issue Date:

DOI: https://doi.org/10.1038/sj.ijo.0803366
Keywords
infectobesity

adiposity

Ad-36

glucose

lactate

3T3-L1