Abstract
BACKGROUND: The benefit of spreading energy intake over many small meals ('nibbling') rather than few large ones ('gorging') for control of blood glucose, serum lipids and body fat accretion has been known for 60 y, but the mechanisms are poorly understood. Men exhibit more of a gorging eating pattern than women and are also more prone to the metabolic complications of obesity, as are women with a 'male', central distribution of adipose tissue. We have shown correlations between central fat distribution, and other components of the metabolic 'Syndrome X' and fatty infiltration of the liver. Here we study relationships between eating rate and fat distribution and test the hypothesis that gorging might be associated with fatty liver.
SUBJECTS AND METHODS: In 30 non-alcoholic, non-diabetic, severely obese women (body mass index, BMI=47±1 kg/m2; mean±s.e.m.) with a mean age of 36±1 y and 16 men (BMI: 52±3) age 38±2 y, who were candidates for anti-obesity surgery, we measured eating rate using an eating monitor, and fat distribution by the waist–hip circumference ratio (WHR). In addition in the 17 women and 11 men who had surgery, serum lipids were analyzed and routine liver biopsies were evaluated for steatosis by a pathologist blinded to the conditions of the study.
RESULTS: Men ate significantly faster than women (188±28 vs 123±9 g/min; P<0.01), and had more liver fat (score: 2.7±03 vs 1.5±0.3; P<0.01), with no statistically significant sex differences in s-cholesterol or s-triglycerides. Eating rate correlated with WHR (r=0.46; P<0.01, n=46), liver fat (r=0.55; P<0.01), and s-triglycerides (r=0.42; P<0.05) adjusting for sex. Liver fat correlated with WHR (r=0.50; P<0.05), s-triglycerides (r=0.70; P<0.01) and s-cholesterol (r=0.50; P<0.05), while there were no significant correlations with BMI or body weight. In multivariate analysis eating rate (32%), meal size (8%) and WHR (6%) contributed 46% of the variance in liver fat.
CONCLUSION: We showed increased eating rates in severely obese men and women with central fat distribution. Furthermore, increased eating rates were associated with fatty liver and elevated serum lipids. Eating rate in severely obese women and men may be a determinant of the metabolic syndrome.
Relevant articles
Open Access articles citing this article.
International Journal of Obesity Open Access 01 March 2022

Luigi Barrea

,

Claudia Vetrani

…

Giovanna Muscogiuri

Journal of Translational Medicine Open Access 24 December 2021

Xia Zeng

,

Li Cai

…

Yajun Chen

Scientific Reports Open Access 25 September 2018
Access options
Subscribe to this journal
Receive 12 print issues and online access
$259.00 per year
only $21.58 per issue
Rent or buy this article
Get just this article for as long as you need it
$39.95
Prices may be subject to local taxes which are calculated during checkout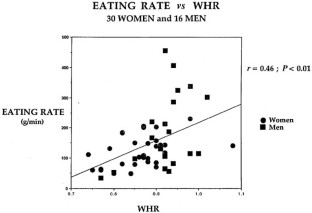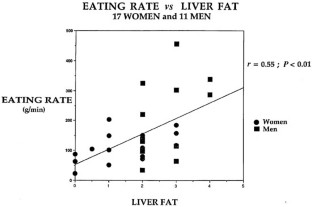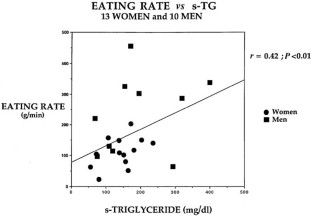 References
Vague J . La differenciation sexuelle—facteur determinant des formes de l'obesité Presse Med 1947 30: 339–340.

Björntorp P . Hazards in subgroups of human obesity. [Editorial.] Eur J Clin Invest 1984 14: 239–241.

Kissebah AH, Krakower GR . Regional adiposity and morbidity Physiol Rev 1994 74: 761–811.

Reaven GM . Role of insulin resistance in human disease Diabetes 1988 37: 1595–1607.

Kral JG, Schaffner F, Pierson RN, Wang J . Body topography as an independent predictor of fatty liver Metabolism 1993 42: 548–551.

Marceau P, Biron S, Hould FS, Marceau S, Simard S, Thung SN, Kral JG . Liver pathology and the metabolic Syndrome X in severe obesity J Clin Endocrinol Metab 1999 84: 1513–1517.

Kral JG, Lundholm K, Björntorp P, Sjöström L, Schersten T . Hepatic lipid metabolism in severe human obesity Metabolism 1977 26: 1025–1031.

Goto T, Onuma T, Takebe K, Kral JG . The influence of fatty liver on insulin clearance and insulin resistance in non-diabetic Japanese subjects Int J Obes Relat Metab Disord 1995 19: 841–845.

Svedberg J, Strömblad G, Wirth A, Smith U, Björntorp P . Fatty acids in the portal vein of the rat regulate hepatic insulin clearance J Clin Invest 1991 88: 2054–2058.

Fabry P, Tepperman J . Meal frequency—a possible factor in human pathology Am J Clin Nutr 1970 23: 1059–1068.

Gwinup G, Byron RC, Roush WH, Kruger F, Hamwi GJ . Effect of nibbling versus gorging on glucose tolerance Lancet 1963 2: 165–167.

Hollifield G, Parson W . Metabolic adaptations to a stuff and starve feeding program. I. Studies of adipose tissue and liver glycogen in rats limited to a short daily feeding period J Clin Invest 1962 41: 245–249.

Wadhwa PS, Young EA, Schmidt K, Elson CE, Pringle DJ . Metabolic consequences of feeding frequency in man Am J Clin Nutr 1973 26: 823–830.

Jenkins DJA, Wolever TMS, Vuksan V et al. Nibbling versus gorging: metabolic advantages of increased meal frequency New Engl J Med 1989 321: 929–934.

Jenkins DJA, Wolever TMS, Ocana AM, Vuksan V, Cunnane SC, Jenkins M . Metabolic effects of reducing rate of glucose ingestion by single bolus versus continuous sipping Diabetes 1990 9: 775–781.

Jenkins DJA, Ocana A, Jenkins AL et al. Metabolic advantages of spreading the nutrient load: effects of increased meal frequency in non-insulin dependent diabetes Am J Clin Nutr 1992 55: 461–467.

Hermier D . Lipoprotein metabolism and fattening in poultry J Nutr 1997 127 (Suppl 5): 805S–808S.

Kissileff H . Is there an eating disorder in the obese? Ann NY Acad Sci 1989 575: 410–419.

Kral JG, Kissileff HR . Fat distribution and eating behavior J Cell Biochem 1992 16B (Suppl): 262.

Spitzer RL, Devlin M, Walsh BT, Hasin D, Wing R, Marcus M, Stunkard A, Wadden T, Yanovski S, Agras S, Mitchell J, Nonnas C . Binge eating disorder: A multisite field trial of diagnostic criteria Int J Eating Disord 1992 11: 191–203.

Kissileff HR, Klingsberg G, Van Itallie VB . Universal eating monitor for continuous recording of solid or liquid consumption in man Am J Physiol 1980 238: R14–R22.

Kissileff HR, Thornton J, Becker E . A quadratic equation adequately describes the cumulative food intake curve in man Appetite 1982 3: 255–272.

Cohn C, Joseph D . Changes in body composition attendant on force feeding Am J Physiol 1959 196: 965–968.

Cohn C, Joseph D . Role of rate of ingestion of diet on regulation of intermediary metabolism ('meal eating vs nibbling') Metabolism 1960 9: 492–500.

Tepperman J, Brobeck J, Long CNH . The effects of hypothalamic hyperphagia and of alterations in feeding habits on the metabolism of the albino rat Yale J Biol Med 1942 15: 855–874.

Banerji MA, Buckley C, Chaiken RL, Gordon D, Lebovitz HE, Kral JG . Liver fat, serum triglycerides and visceral adipose tissue in insulin-sensitive and insulin resistant black men with NidDM Int J Obes Relat Metab Disord 1995 19: 846–850.

Ferster CB, Nurnberger JI, Levitt EB . The control of eating J Math 1961 1: 87–109.

Rising R, Larson DE, Ravussin E . Do obese eat faster than lean subjects? Food intake studies in Pima India men Obes Res 1994 2: 19–23.

Hill SW, McCutcheon NB . Contributions of obesity, gender, hunger, food preference, and body size to bite size, bite speed, and rate of eating Appetite 1984 5: 73–83.

Kissileff HR . Where should human eating be studied and what should be measured Appetite 1990 19: 61–68.

Hsu LKG, Betancourt S, Sullivan SP . Eating disturbances before and after vertical banded gastroplasty: a pilot study Int J Clin Eating Disord 1996 13: 23–34.

Karmann H, Rideau N, Zorn T, Malan A, Maho YL . Early insulin response after food intake in geese Am J Physiol 1992 263: R782–R784.

Wiley JH, Leveille GA . Significance of insulin in the metabolic adaptation of rats to meal ingestion J Nutr 1970 100: 1073–1080.

Teff KL, Engelman K . Oral sensory stimulation improves glucose tolerance: effects on post-prandial glucose, insulin, C-peptide and glucagon Am J Physiol 1996 270: R1371–R1379.

Andersen DK, Elahi DA, Brown J, Tobin JD, Andres R . Oral glucose augmentation of insulin secretion: interactions of gastric inhibitory polypeptide with ambient glucose and insulin levels J Clin Invest 1978 62: 152–161.

Creutzfeldt W, Ebert R, Willms B, Frerichs H, Brown JC . Gastric inhibitory polypeptide (GIP) and insulin in obesity: increased response to stimulation and defective feedback control of serum levels Diabetologia 1978 14: 15–24.

Leveille GA, Chakrabarty K . Absorption and utilization of glucose by meal-fed and nibbling rats J Nutr 1968 96: 69–75.

Wisén O, Johansson C . Gastrointestinal function in obesity: motility, secretion, and absorption following a liquid test meal Metabolism 1992 41: 390–395.

Kimura K, Kamiyama Y, Ozawe K, Honjo I . Changes in adenylate energy change of the liver after an oral glucose load Gastroenterology 1976 70: 665–668.

Porte DJ, Schwartz MW . Diabetes complications: why is glucose potentially toxic? Science 1996 272: 699–700.

Wise SD, Nielsen MF, Cryer PE, Rizza RA . Overnight normalization of glucose concentrations improves hepatic but not extrahepatic insulin action in subjects with type 2 diabetes mellitus J Clin Endocrinol Metab 1998 83: 2461–2469.

Phillips WT, Schwartz JG, McMahan CA . Rapid gastric emptying of an oral glucose solution in type 2 diabetic patients J Nucl Med 1992 33: 1496–1500.

Horowitz M, Cunningham KL, Wishart JM, Jones KL, Read NW . The effect of short-term dietary supplementation with glucose in gastric emptying of glucose and fructose and oral glucose tolerance in normal subjects Diabetologia 1996 39: 481–486.

Cohen JC, Noakes TD, Benade AJS . Serum triglyceride responses to fatty meals: effects of meal fat content Am J Clin Nutr 1988 47: 825–827.

Hennes MMI, Shrago E, Kissebah AH . Receptor and postreceptor effects of free fatty acids (FFA) on hepatocyte insulin dynamics Int J Clin Obes 1990 14: 831–841.

Phillips WT, Schwartz JG, McMahan CA . Reduced postprandial blood glucose levels in recently diagnosed noninsulin-dependent diabetics secondary to pharmacologically induced delayed gastric emptying Dig Dis Sci 1993 38: 51–58.

Schwartz JG, Guan D, Green GM, Phillips WT . Treatment with an oral proteinase inhibitor slows emptying and acutely reduces glucose and insulin levels after a liquid meal in type 2 diabetic patients Diabetes Care 1994 17: 255–262.
About this article
Cite this article
Kral, J., Buckley, M., Kissileff, H. et al. Metabolic correlates of eating behavior in severe obesity. Int J Obes 25, 258–264 (2001). https://doi.org/10.1038/sj.ijo.0801469
Received:

Revised:

Accepted:

Published:

Issue Date:

DOI: https://doi.org/10.1038/sj.ijo.0801469
Keywords
fatty liver

Syndrome X

dyslipidemia

fat distribution