Abstract
OBJECTIVE: To assess the long-term effects of a multidisciplinary approach involving structured fun-type skill learning physical activities in the treatment of obese and overweight children.
DESIGN: A longitudinal investigation incorporating repeated measurements before and after the 8 week intervention and after the 44 week follow-up period.
METHODS: The camp programme (Massachusetts, USA) utilised structured fun-based skill learning physical activities, moderate dietary restriction and behaviour modification. The primary aims of the intervention were to reduce body mass and promote the maintenance of the reduction in body mass using an alternative to standard exercise prescription.
SUBJECTS: One-hundred and ninety-four children (64 boys and 130 girls, aged 12.6±2.5 y) enrolled at a summer weight loss camp, of which 102 children (38 boys and 64 girls aged 13.6±2.4 y) returned 1 y later.
MEASUREMENTS: On commencement of the programme all children were assessed for body mass and stature. At follow-up, data was available on 102 subjects for body mass and stature.
RESULTS: Over the 8 week intervention significant reductions (P=0.00) in body mass were obtained. During the 44 week follow-up significant increases (P=0.00) were noted in body mass, body mass index (BMI) and stature, but as expected there were large variations in the responses. One year after the initial measures had been taken mean body mass and BMI were lower than at the start of the intervention, BMI significantly so (week 0, 32.9±7.4 kg/m2; week 8 29.1±6.5 kg/m2; week 52, 30.05±7.04 kg/m2); (P=0.00). Stature increased significantly (week 0, 1.58±0.12 m; week 52, 1.64±0.11 m) (P=0.00) during this period, demonstrating a reduction in mean body mass over a 1 y period whilst subjects continued to increase in stature. When changes in BMI are analysed with the use of standard scores, there is a non-significant increase (P=0.07) in BMI during the follow-up phase and 89% of children had a lower BMI than at week 0.
CONCLUSIONS: These findings suggest that the use of a structured fun-based skill learning programme may provide an alternative method of exercise prescription to help children prolong the effects of the 8 week intervention. Further investigations will help identify the key factors that are necessary for long-term lifestyle modification.
Relevant articles
Open Access articles citing this article.
Ivo Vlaev

,

Michael J. Taylor

…

Mohamed Ahmedna

BMC Public Health Open Access 29 April 2021

G. A. Ten Hoor

,

G. Kok

…

G. Plasqui

BMC Public Health Open Access 10 June 2016

Shauna M Burke

,

Sheree Shapiro

…

Joel Kevin Shoemaker

BMC Obesity Open Access 14 May 2015
Access options
Subscribe to this journal
Receive 12 print issues and online access
$259.00 per year
only $21.58 per issue
Rent or buy this article
Get just this article for as long as you need it
$39.95
Prices may be subject to local taxes which are calculated during checkout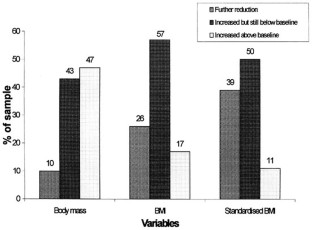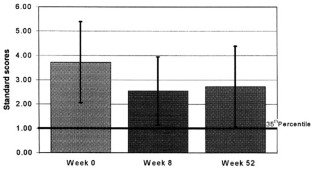 References
Hubert HB, Feinleib M, McNara PM, Castelli WP . Obesity as an independent risk factor for cardiovascular disease a 26 y follow up of participants in the Framingham Heart study Circulation 1983 67: 452–458.

Sjonstrom LV . Morbidity of severely obese subjects Am J Clin Nutr 1992 55: 508S–515S.

Kuczmarski RJ, Flegal KM, Campbell SM, Johnson CL . Increasing prevalence of overweight among US adults. The National Health and Nutrition Examination Surveys 1960 to 1991 JAMA 1994 272: 205–211.

Center for Disease Control . Update: prevalence of overweight among children, adolescents and adults—United States, 1988–1994 JAMA 1997 277: 1111.

Cohen CJ, McMillan CS, Samuelson DR . Long-term effects of a lifestyle modification exercise programme on the fitness of sedentary, obese children J Sports Med Phys Fitness 1991 31: 183–188.

Hagan RD, Upton SJ, Wong L, Whittam J . The effects of aerobic conditioning and/or caloric restriction in overweight men and women Med Sci Sports Exercise 1986 18: 87–94.

Hill JO . The effects of exercise and food restriction on body composition and metabolic rate of obese women Am J Clin Nutr 1987 46: 622–627.

Garner DM, Wooley SC . Confronting the failure of behavioural and dietary treatments for obesity Clin Psychol Rev 1991 11: 729–780.

Wardle J . Obesity and behaviour change: matching problems to practice Int J Obes Relat Metab Disord 1996 20: S1–S8.

Depres JP, Bouchard C, Savard A . The effect of a twenty week endurance training programme on adipose tissue morphology and lipolysis in men and women Metabolism 1984 33: 235–239.

Bar-Or O, Foreyt J, Bouchard C, Brownell K, Dietz WH, Ravussin E, Salbe AD, Schwenger S, St . Joer S, Torun B. Physical activity, genetic and nutritional considerations in childhood weight management Med Sci Sports Exerc 1998 30: 2–10.

Brown MR, Klish WJ, Hollander J . A high protein, low calorie liquid diet in the treatment of very obese adolescents: long term effect on lean body mass Am J Clin Nutr 1983 38: 20–31.

Prentice AM, Jebb SA . Obesity in Britain; gluttony or sloth BMJ 1995 311: 437–439.

Bouchard C, Depres JP, Tramblay A . Exercise and obesity Obes Res 1993 1: 133–147.

Pavlou KN, Krey S, Steffee WP . Exercise as an adjunct to weight loss and maintenance in moderately obese subjects Am J Clin Nutr 1989 49: 1115–1123.

Parker DL, Bar-Or O . Juvenile obesity. The importance of exercise and getting children to do it T Physician Sportsmed 1991 19: 113–125.

Epstein LH, Valoski AM, Vara LS, Mccurley J, Wisniewski L, Kalarchian MA, Klein KR, Shrager LR . Effects of decreasing sedentary behavior and increasing activity on weight change in obese children Health Psychol 1995 14: 109–115.

Ballor DL, Poehlman ET . A meta-analysis of the effects of exercise and/or dietary restriction on resting metabolic rate Eur J Appl Physiol 1995 71: 535–542.

Garrow JS, Summerbell CD . Meta-analysis: effect of exercise, with or without dieting, on the body composition of overweight subjects Eur J Clin Nutr 1995 49: 1–10.

Miller WC, Koceja DM, Hamilton EJ . A meta-analysis of the past 25 y of weight loss research using diet, exercise or diet plus exercise intervention Int J Obes Relat Metab Disord 1997 21: 941–947.

Ready AE, Fitzpatrick DW, Boreskie SL, Hrycaiko DW . The response of obese females to low impact exercise and diet counselling J Sports Med Phys Fitness 1991 31: 587–595.

Armstrong N . The challenge of promoting physical activity J R Soc Health 1995 115: 187–192.

Malina RM . Tracking of physical activity and physical fitness across the lifespan Res Q Exercise Sport 1996 67 (Suppl 3): 48–57.

Dietz WH . Therapeutic strategies in childhood obesity Horm Res 1993 39: 86–90.

Stark O, Atkins E, Wolff OH, Douglas JWB . Longitudinal study of obesity in the national survey of health and development Br Med J (Clin Res Ed) 1981 283: 13–17.

Freedman DS, Shear CL, Burke GL, Srinivasan SR, Webber LS, Harsha DW, Berenson GS . Persistence of juvenile onset obesity over eight years. The Bogalusa Heart study Am J Public Health 1987 77: 588–592.

Must A, Strauss RS . Risks and consequences of childhood and adolescent obesity Int J Obes Relat Metab Disord 1999 23: S2–S11.

Must A, Jacques PF, Dallal GE, Bajema CJ, Dietz WH . Long-term morbidity and mortality of overweight adolescents New Engl J Med 1992 327: 1350–1355.

Epstein LH, Valoski AM, Wing RR, McCurley J . Ten-year outcomes of behavioural family-based treatment for childhood obesity Health Psychol 1994 13: 373–383.

Epstein LH, McCurley J, Valoski A, Wing R . Growth in obese children treated for obesity Am J Dis Child 1990 140: 1360–1364.

Van Lenthe FJ, Kemper CG, Van Mechelen W . Rapid maturation in adolescence results in greater obesity in adulthood: the Amsterdam Growth and Health Study Am J Clin Nutr 1996 64: 18–24.

Fox K, Biddle S . The child's perspective in physical education. Part 2: Children's Participation Motives Br J Phys Educ 1988 19: 79–82.

Gould D . Psychosocial development and children's sport. In: Thomas JR (ed) Motor Development During Childhood and Adolescence Burgess: Minneapolis, MN 1984.

Wankel LM, Kreisel PS . Factors underlying enjoyment of youth sports: sport and age group comparisons J Sports Psychol 1985 7: 51–64.

Thompson CE, Wankel LM . The effects of perceived activity choice upon frequency of exercise behaviour J Appl Soc Psychol 1980 10: 436–443.

Lohman TG, Roche AF, Martorell R . Anthropometric Standardization Reference Manual Human Kinetics: Champaign, Il 1989.

Guo SS, Roche AF, Chumlea WC, Gardner JD, Siervogel RM . The predictive value of childhood body mass index values for overweight at age 35 y Am J Clin Nutr 1994 59: 810–819.

Hammer LD, Kraemer HC, Wilson DM, Ritter PL, Dornbusch SM . Standard percentile curves of body-mass index for children and adolescents Am J Dis Child 1991 145: 259–263.

Hamill PV, Drizd TA, Johnson CL, Reed RB, Roche AF, Moore WM . Physical growth: National Center for Health Statistics percentiles Am J Clin Nutr 1979 32: 607–629.

Dietz WH, Robson TN . Assessment and treatment of childhood obesity Pediat Rev 1993 14: 337–344.

Must A, Dallal E, Dietz WH . Reference data for obesity: 85th and 95th percentiles of body mass index (wt/ht2) and triceps skinfold thickness Am J Clin Nutr 1991 53: 839–846.

World Health Organisation . Obesity, preventing and managing the global epidemic Report of a WHO consultation on obesity. WHO: Geneva 1997.

Rowland T . Exercise and Children's Health, 2nd edn Human Kinetics: Champaign, Il, 1990.

Saris W . The role of exercise in the dietary treatment of obesity Int J Obes Relat Metab Disord 1993 17: S17–S21.

Epstein L, Wing RR, Koeske R, Ossip DJ, Beck S . A comparison of lifestyle change and programmed aerobic exercise on weight and fitness changes in obese children Behav Ther 1982 13: 651–665.

Sasaki J, Shindo M, Tanaka H, Ando M, Arakawa K . A long-term aerobic exercise program decreases the obesity index and increases the high density lipoprotein cholesterol concentration in obese children Int J Obes 1987 11: 339–345.
About this article
Cite this article
Gately, P., Cooke, C., Butterly, R. et al. The effects of a children's summer camp programme on weight loss, with a 10 month follow-up. Int J Obes 24, 1445–1452 (2000). https://doi.org/10.1038/sj.ijo.0801405
Received:

Revised:

Accepted:

Published:

Issue Date:

DOI: https://doi.org/10.1038/sj.ijo.0801405
Keywords
childhood obesity

physical activity

multidisciplinary approach

weight loss