Featured Content
Announcement

The upcoming solar eclipse is a golden opportunity for outreach activities. Free access.

Announcement

In this Nature Astronomy Focus we put the spotlight on the issue of equity (or lack thereof) in our community.

Announcement

This joint Nature Astronomy and Nature Physics Insight explores the history and current status of dark matter searches in particle physics, astrophysics and cosmology.
Current Issue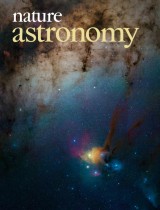 ESO/Stéphane Guisard (www.eso.org/~sguisard)
Star formation in barren and fecund clouds
A pair of neighbouring molecular clouds, Pipe and Ophiuchus, have similar masses and ages yet very different star formation rates, evident from Ophiuchus's burst of colour due to stellar feedback. The different birth rates had been a mystery until this study looking into the alignment of the clouds' structure with their magnetic fields.
Naturejobs.com
Natureevents Directory
–

Nasuhoğlu Cultural Center, Ortakent, Muğla, Turkey

–

2700 Jungmun-dong, Seogwipo-si, Jeju-do, Jeju, Korea, Republic of

–

300 E Green St, Pasadena, Pasadena, California, United States

–

Av. de las Garzas #3 Zona Hotelera Norte, Puerto Vallarta, Jal. C.P. 48333., Puerto Vallarta, , Mexico