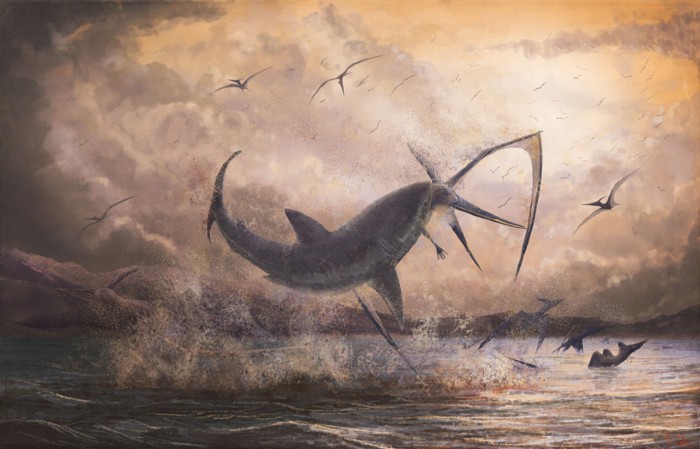 Graceful winged reptiles known as pterosaurs ruled the skies for millions of years while dinosaurs roamed the Earth. But aerial prowess could not keep one unfortunate pterosaur from the jaws of a predator known as the Ginsu shark.
The pterosaur in question was a Pteranodon, a fish-eater that soared over the sea on wings that measured as much as 7.25 metres from tip to tip. The shark was Cretoxyrhina mantelli, a fearsome and now-extinct predator nicknamed for the similarity between its teeth and the blades of a popular brand of knife. Examining a museum display of a Pteranodon skeleton dated to about 85 million years ago, David Hone of Queen Mary University of London and his colleagues identified an object wedged in one of the skeleton's neck vertebrae as a tooth from a C. mantelli. The tooth's size indicates that the shark measured roughly 2.5 metres long.
The shark may have snatched a Pteranodon bobbing on the waves. But Pteranodon carcasses would probably have floated for long periods, which would also have allowed the shark to scavenge its reptilian repast, the authors say.