Open Access Publishing
Contents
Open access
All articles published in Nutrition & Diabetes are made freely and permanently available online immediately upon publication, without subscription charges or registration barriers. Further information about open access can be found here.
As authors of articles published in Nutrition & Diabetes, you are the copyright holders of your article and have granted to any third party, in advance and in perpetuity, the right to use, reproduce or disseminate your article.
Article processing charges
In order to publish in Nutrition & Diabetes, authors of accepted articles are required to pay an article processing charge (APC). The APC is determined at the date of acceptance.
The APC for all published articles is as follows, subject to VAT or local taxes where applicable:
Original article:
$3290 (The Americas*, Greater China**, and Japan)
£2490 (United Kingdom)
€2790 (Europe & Rest of the World)
Brief Communication:
$1935 (The Americas*, Greater China**, and Japan)
£1200 (United Kingdom)
€1500 (Europe & Rest of the World)
Correspondence:
$1055 (The Americas*, Greater China**, and Japan)
£745 (United Kingdom)
€900 (Europe & Rest of the World)
Springer Nature offers authors a free open access (OA) support service to make it easier to discover and apply for funding for OA publication charges for articles: find out more information about our funding and support service.

We offer APC waivers and discounts for papers published in our fully open access journals whose corresponding authors are based in the world's lowest income countries (see our APC waivers and discounts policy for further information). Requests from other authors for APC waivers and discounts will be considered on a case-by-case basis, and may be granted in cases of financial need.

All applications for APC waivers and discounts should be made as part of the submission process; requests made during the review process or after acceptance will not be considered. For more information on APCs, please see our Journal Pricing FAQs.
Benefits of open access
Publishing OA offers a number of benefits, including greater reach and readership for your work:
Free availability thanks to unrestricted online access
Increased citation and usage
Wider collaboration
Compliance with open access mandates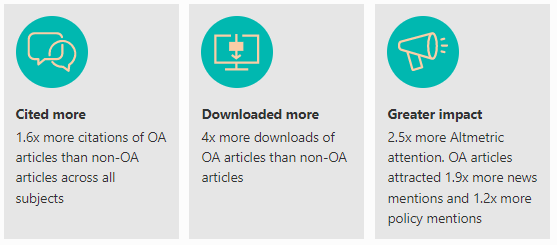 Find out more about benefits of OA.
Creative Commons licenses
OA articles in Springer Nature journals are published under Creative Commons licenses. These provide an industry-standard framework to support easy re-use of OA material. Under Creative Commons licenses, authors retain copyright of their articles.
Nutrition & Diabetes articles are published OA under a CC BY license (Creative Commons Attribution 4.0 International license). The CC BY license is the most open license available, and is considered the industry 'gold standard' for open access; it is also preferred by many funders. This license allows readers to copy and redistribute the material in any medium or format, and to alter, transform, or build upon the material, including for commercial use, providing the original author is credited.
In instances where authors are not allowed to retain copyright to their own article (where the author is a US Government employee, for example), authors should contact the Open Research Support team (ORSupport@springernature.com) before submitting their article so we can advise as to whether their non-standard copyright request can be accommodated.
* The Americas = USA, Canada, Central America and South America
** Greater China = Mainland China, Hong Kong, Taiwan and Macau