Featured
This Review summarizes the genetic and epigenetic basis of primary Sjögren syndrome, including genetic interactions with factors such as sex and environment. Understanding these processes provides insight into the molecular basis of this disease and might reveal new treatment targets.

Gudny Ella Thorlacius

Albin Björk

Marie Wahren-Herlenius

The involvement of citrulline-specific CD4+ T cells in anti-citrulline protein antibody-positive rheumatoid arthritis (RA) is well described, whereas less attention has been given to CD8+ T cells. New data suggest that CD8+ T cells also contribute to citrulline-specific immune responses in RA.

Karine Chemin

Vivianne Malmström

This Evidence-Based Guideline presents the latest treatment recommendations for medication selection in psoriatic arthritis (PsA), covering the six clinical domains of PsA, related conditions and associated comorbidities, and reflecting important advances in the field since the previous update.

Laura C. Coates

Enrique R. Soriano

the GRAPPA Treatment Recommendations domain subcommittees
Janet E. Pope

Christopher P. Denton

Tatiana Nevskaya

Chi Chiu Mok

Y. K. Onno Teng

Yoshiya Tanaka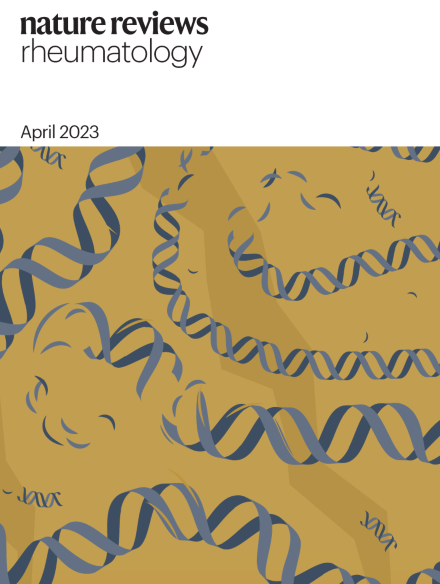 Announcements
Keep up to date with changes to the conference calendar this year and find out which meetings will be attended by the editors of Nature Reviews Rheumatology.

Finding it hard to navigate the flood of scientific literature? The Nature Reviews journals filter and highlight the most impactful research. Take a look at this animation to learn how Nature Reviews can help you stay up-to-date in your field

This online collection contains articles from Nature Reviews Rheumatology that describe aspects of the epidemiology of rheumatic diseases that between them are important contributors to global morbidity and mortality.
In a large cohort of patients with psoriasis, treatment with biologic DMARDs targeting the IL-23 pathway was associated with a reduced risk of developing inflammatory arthritis as compared with anti-TNF treatment.

Daniel J. Clauw

Ernest H. S. Choy

Gary J. Macfarlane

Ana Margarida Pinto

Rinie Geenen

José A. P. da Silva

Ana Margarida Pinto

Rinie Geenen

José A. P. da Silva

Protein phosphatase magnesium-dependent 1A is a negative modulator of transforming growth factor β signalling and a potential new therapeutic target in osteoarthritis.

The Key Advances in Rheumatology collection offers expert insight into the most important discoveries made each year, and is an essential resource for students, physicians and clinical researchers.