Featured
In this Review, Savitz and Cox consider the evidence for a model of cell-based therapy referred to as the bioreactor hypothesis, in which exogenous cells migrate to peripheral organs and reprogramme host immune cells to generate an anti-inflammatory, regenerative environment.

Sean I. Savitz

Charles S. Cox Jr

Despite substantial research advances, treatment of neuropathic pain remains inadequate and responses to treatment are highly variable. In this Perspective, the authors argue that rational stratification of patients with neuropathic pain will aid identification of subgroups of patients who will benefit most from a given treatment.

Ralf Baron

Anthony H. Dickenson

David L. Bennett

In a study of 17,000 Medicare beneficiaries with mild cognitive impairment or dementia, non-Hispanic white older adults were more likely than Asian, Black or Hispanic older adults to have elevated cortical amyloid, as measured by PET. These findings have important implications for the use of amyloid-targeting therapies.

Heather E. Dark

Keenan A. Walker
Annamaria Vezzani

Teresa Ravizza

Detlev Boison

Juliet K. Knowles

Ankita Batra

Michelle Monje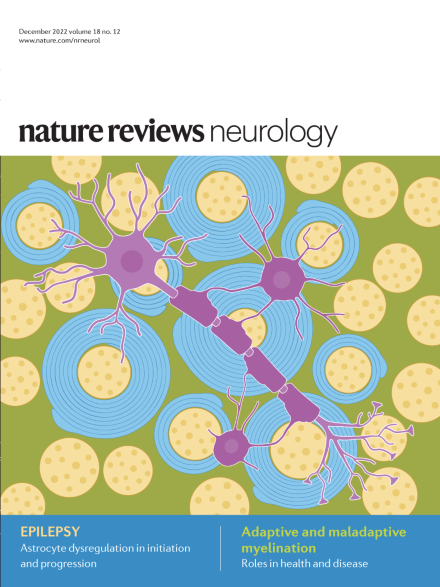 Announcements
Looking back at the impact of the pandemic on the neurology field in 2020

Finding it hard to navigate the flood of scientific literature? The Nature Reviews journals filter and highlight the most impactful research. See this animation to learn how Nature Reviews can help you stay up-to-date in your field, or visit www.springernature.com/naturereviews
A new study used a metagenomic approach to survey the entire gut microbiome in people with Parkinson disease and identified specific changes that could be linked to the pathogenesis of the disease.

According to new findings in a mouse model of Parkinson disease, the glial response to nigrostriatal degeneration differs depending on brain region.

The first disease-modifying therapy for relapsing–remitting multiple sclerosis — interferon‑β 1b — was approved by the FDA in 1993. The following 25 years have seen rapid expansion of the therapeutic options as an evolving understanding of the disease has enabled development of therapies with different modes of action.