Featured
Stem cell function declines during ageing, resulting in the loss of tissue integrity and health deterioration. Ageing is associated with defects in the maintenance of stem cell quiescence and cell differentiation ability, clonal expansion and infiltration of immune cells in the niche. This Review discusses the mechanisms underlying ageing in stem cells and their niches, and potential rejuvenation strategies.

Anne Brunet

Margaret A. Goodell

Thomas A. Rando

Mitochondrial respiratory function needs to adapt to the energetic demands of the cell. These adaptive responses encompass transcriptional, translational and post-translational mechanisms that together enable regulation of respiratory chain assembly and mitochondrial membrane remodelling to fine-tune energy generation in accordance with intracellular and extracellular cues.

Christopher F. Bennett

Pedro Latorre-Muro

Pere Puigserver
Sara Lopez-Gomollon

David C. Baulcombe

Ron Mittler

Sara I. Zandalinas

Frank Van Breusegem

Rainer Waadt

Charles A. Seller

Julian I. Schroeder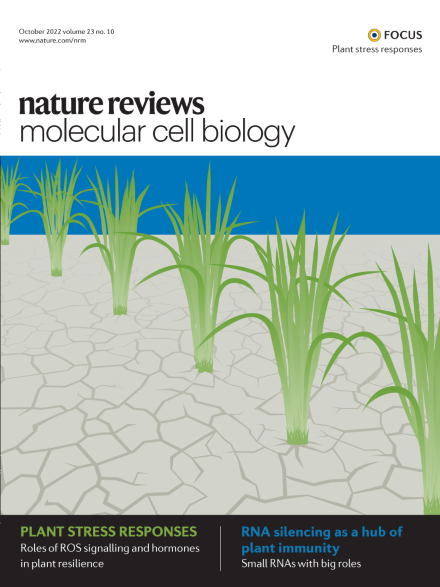 Announcements
We are thrilled to run the Nature Conference on Metabolism again this year with our colleagues at Nature Cell Biology and Nature Metabolism. The theme for this edition is metabolic communication across biological scales. Register today and contribute by submitting an abstract!

Nature Reviews Molecular Cell Biology is committed to facilitating training in peer review and to ensuring that everyone involved in our peer-review process is appropriately recognised. We have therefore joined an initiative to allow and encourage established referees to involve one early-career researcher in our peer-review process.

Are you an Early Career Researcher/New Investigator and are interested in sharing your experiences with others? NRMCB has opened a space to do just that! If you like the idea, please get in touch with us at nrm@nature.com with suggestions for potential content for this section.
This article series brings together Reviews that focus on key advances in understanding membrane biology as well as the regulation and functions of their lipid components, including their roles as bioactive molecules and their interplay with metabolism.