Featured
The use of antibiotics affects the gut microbiota. Fenneman and colleagues discuss the role of antibiotics in the epidemiology and pathogenesis of several inflammatory conditions that involve the digestive tract: types 1 and 2 diabetes, eosinophilic oesophagitis, coeliac disease and inflammatory bowel disease.

Aline C. Fenneman

Melissa Weidner

Martin J. Blaser

Eosinophilic oesophagitis (EoE) is a chronic inflammatory disease of the oesophagus with distinct clinicopathological features and a relationship to other atopic diseases. This Review provides an updated overview of the pathogenesis and clinical management of EoE and discusses treatment options.

Luc Biedermann

Alex Straumann

Secretory antibodies regulate intestinal bacteria, but their specificity and dependence on T cells have been matters of debate. This Perspective argues that bacteria-reactive antibodies are highly specific and that their production is under the control of T cells.

Ludvig M. Sollid

Rasmus Iversen
Aline C. Fenneman

Melissa Weidner

Martin J. Blaser

Luc Biedermann

Alex Straumann

Ludvig M. Sollid

Rasmus Iversen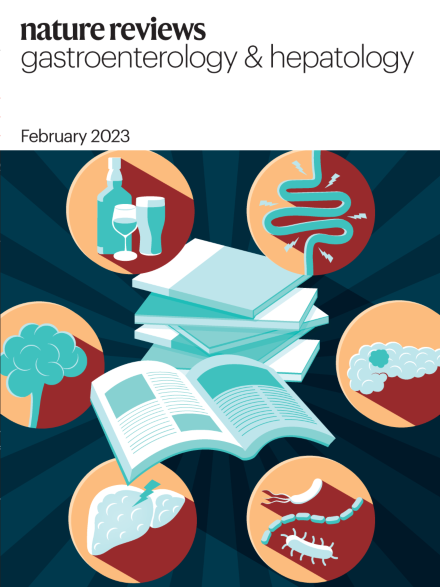 Announcements
Leading experts describe their key advances of the year. Topics covered include: IBD; IBS; pancreatic cancer; gut-brain axis; gut microbiota; NAFLD and obesity; ALD

FREE ACCESS - This Collection covers the COVID-19 pandemic and its implications for patients with gastrointestinal and liver diseases.

Follow us for news about the journal and the latest updates from the gastroenterology and hepatology field.
A careful integration of the effectiveness and safety of the therapies for inflammatory bowel disease, considering patients' disease risks, treatment complications and preferences, is warranted to inform the positioning of therapies in clinical practice. Precision medicine might help choose the best option for an individual patient.

The feasibility of long-term organ preservation ex vivo has been reported for the first time with proof of concept in human transplantation. Here, we discuss the possible applications of this novel technology in the clinical setting.

Dilmurodjon Eshmuminov

Pierre-Alain Clavien

A new report from the World Health Organization has evaluated the risks of dietary exposure to nanoplastic and microplastic particles (NMPs) to human health. Although challenges in the detection of NMPs in food and beverages remain, it is clear that humans are being exposed. Presently, no convincing evidence of adverse health effects are found, but major knowledge gaps remain.

Luc J. W. van der Laan

Thijs Bosker

Willie J. G. M. Peijnenburg

The European Medicines Agency safety committee has revisited the label and recommended the use of Janus kinase inhibitors in patients with certain risk factors only if no suitable treatment alternatives are available. Although regulatory decisions are key to place therapeutic options based on safety, broad restrictions might lead to unintended consequences without an individualized benefit–risk evaluation.

Silvio Danese

Virginia Solitano

Laurent Peyrin-Biroulet

The Key Advances in Gastroenterology & Hepatology collection offers expert insight into the most important discoveries made each year, and is an essential resource for students, physicians and clinical researchers.