Featured
Advances in single-cell technologies and lineage tracing have improved our understanding of liver development. In this Review, Hoodless and colleagues discuss the formation of liver parenchymal and non-parenchymal cell types, and describe emerging parallels between early liver development and the pathogenesis of liver injury.

Jeremy Lotto

Tabea L. Stephan

Pamela A. Hoodless

The appendix is thought to have a role in the pathogenesis of ulcerative colitis but the association remains unclear. In this Perspective, the authors consider the biology of the appendix with respect to its immunological function and the microbiome, and how this relates to its possible involvement in ulcerative colitis.

Manasi Agrawal

Kristine H. Allin

Jean-Frederic Colombel

Colon capsule endoscopy (CCE) is used for restricted indications only. Growing demand for out-of-hospital treatment combined with technical and clinical improvements in quality has made a wider use plausible. Artificial intelligence-supported footage analysis and quality assessment might further improve quality and reduce the price of CCE to a competitive level.

Anastasios Koulaouzidis

Gunnar Baatrup
Anastasios Koulaouzidis

Gunnar Baatrup

Jeremy Lotto

Tabea L. Stephan

Pamela A. Hoodless

Heidi M. Staudacher

Christopher J. Black

Laurie Keefer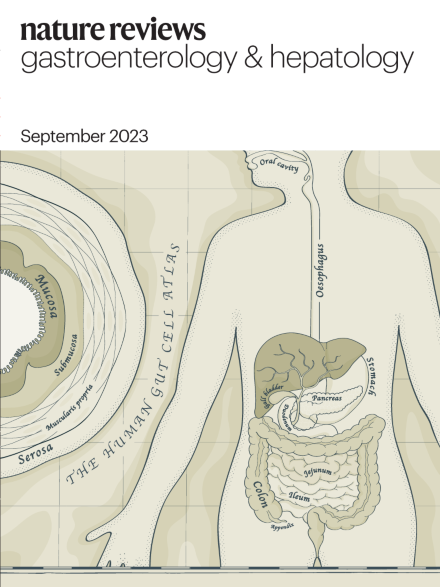 Announcements
Leading experts describe their key advances of the year. Topics covered include: IBD; IBS; pancreatic cancer; gut-brain axis; gut microbiota; NAFLD and obesity; ALD

FREE ACCESS - This Collection covers the COVID-19 pandemic and its implications for patients with gastrointestinal and liver diseases.

Follow us for news about the journal and the latest updates from the gastroenterology and hepatology field.

Fuelled by increasing obesity rates, NAFLD has emerged as a leading global cause of chronic liver disease in the past few decades. Despite growing prevalence, the factors influencing NAFLD development and subsequent progression to NASH, liver fibrosis, cirrhosis and hepatocellular carcinoma are poorly understood. In this article series, Nature Reviews Gastroenterology & Hepatology explores the epidemiology of NAFLD, disease mechanisms and therapeutics, and clinical approaches to diagnosis and management.