Featured
Hepatic stellate cells (HSCs) drive liver fibrosis and are closely linked to liver cancer development. This comprehensive Review provides an in-depth analysis of the specific characteristics of HSCs in cancer, highlighting therapeutic implications based on progress in clarifying HSC biology.

Bruno Cogliati

Chittampalli N. Yashaswini

Scott L. Friedman

Increasing evidence shows a role of cellular stress responses in nonalcoholic steatohepatitis (NASH) and liver fibrosis pathogenesis. This Review provides a comprehensive overview of the molecular mechanisms involved in cellular stress in fibrogenesis and their role in NASH progression.

Sachin Sharma

Dounia Le Guillou

Jennifer Y. Chen

Tackling fibrosis in patients with nonalcoholic steatohepatitis (NASH), one of the major causes of liver cirrhosis, is critical in improving patient outcomes. This Perspective discusses potential strategies to develop better antifibrotic therapies in NASH, from the discovery process to future clinical trials.

Paul N. Brennan

Ahmed M. Elsharkawy

Jonathan A. Fallowfield
Bruno Cogliati

Chittampalli N. Yashaswini

Scott L. Friedman

Sachin Sharma

Dounia Le Guillou

Jennifer Y. Chen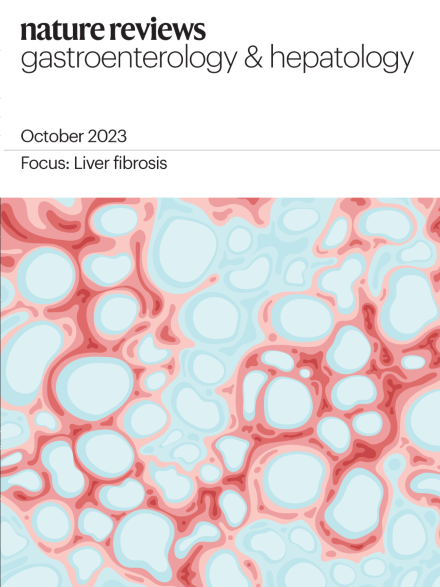 Announcements
Leading experts describe their key advances of the year. Topics covered include: IBD; IBS; pancreatic cancer; gut-brain axis; gut microbiota; NAFLD and obesity; ALD

FREE ACCESS - This Collection covers the COVID-19 pandemic and its implications for patients with gastrointestinal and liver diseases.

Follow us for news about the journal and the latest updates from the gastroenterology and hepatology field.
Liver fibrosis is a substantial risk factor for liver cancer development. In this issue, we focus on molecular and cellular mechanisms of hepatic fibrogenesis and discuss therapeutic implications.

Fuelled by increasing obesity rates, NAFLD has emerged as a leading global cause of chronic liver disease in the past few decades. Despite growing prevalence, the factors influencing NAFLD development and subsequent progression to NASH, liver fibrosis, cirrhosis and hepatocellular carcinoma are poorly understood. In this article series, Nature Reviews Gastroenterology & Hepatology explores the epidemiology of NAFLD, disease mechanisms and therapeutics, and clinical approaches to diagnosis and management.