Featured
In this Review, Cowardin, Moore and colleagues discuss advances in our understanding of environmental enteric dysfunction in the context of intestinal adaptation and the gut microbiome during pregnancy, lactation and early childhood.

Carrie A. Cowardin

Sana Syed

Sean R. Moore

In this Review, the authors consider various paths to functional cure of chronic hepatitis B (CHB) and the need to individualize therapy of this heterogeneous infection until a therapeutic avenue for all patients with CHB is available.

Seng Gee Lim

Thomas F. Baumert

Fabien Zoulim

Intestinal B cell responses are crucial in maintaining gut homeostasis. This Review discusses the role of human intestinal B cells in health and intestinal disease and provides a comprehensive overview of their features.
Constanza Alcaino

Florencia Carbone

Naomi E. B. Tjaden

Mabel Guzman

Gisela Canedo-Marroquín

Nestor N. Jimenez-Vargas

Carrie A. Cowardin

Sana Syed

Sean R. Moore

Seng Gee Lim

Thomas F. Baumert

Fabien Zoulim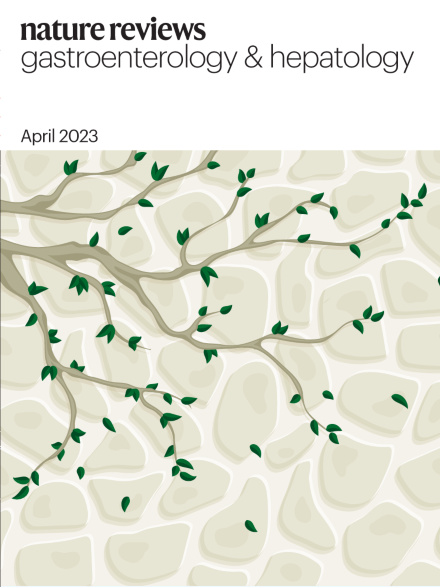 Announcements
Leading experts describe their key advances of the year. Topics covered include: IBD; IBS; pancreatic cancer; gut-brain axis; gut microbiota; NAFLD and obesity; ALD

FREE ACCESS - This Collection covers the COVID-19 pandemic and its implications for patients with gastrointestinal and liver diseases.

Follow us for news about the journal and the latest updates from the gastroenterology and hepatology field.

Viral hepatitis is a global public health problem, and the burden of disease is increasing. In 2016, spurred by development of effective new treatments for hepatitis C and expanding access to hepatitis B vaccination, the 194 Member States of the WHO committed to eliminating viral hepatitis as a public health threat by 2030. Here, Nature Reviews Gastroenterology & Hepatology explores areas vital to meeting this ambitious target, from basic viral research to public policy.