Podcasts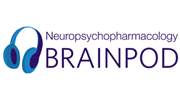 BrainPod is the podcast from the journal Neuropsychopharmacology, produced in association with Nature Publishing Group. Join us as we delve into the latest basic and clinical research that advance our understanding of the brain and behavior, featuring highlighted content from a top journal in fields of neuroscience, psychiatry, and pharmacology. Tune in here: iTunes, Google Podcasts, Overcast, RSS Feed, SoundCloud. For complete access to the original papers and reviews featured in this podcast, subscribe to Neuropsychopharmacology.
Latest Episode:
November 4: Big behavior: challenges and opportunities in a new era of deep behavior profiling.
Scientists who study neuropsychiatric conditions and treatments often use rodent models to do so. From depression to anxiety to memory impairment and impulsivity, there are certain rodent behaviors that are used to represent these types of conditions in humans. And to use these models, researchers have had to watch the animals live or on video and jot down every instance of, say, exploratory behavior. As the process is labor intensive and results vary slightly from researcher to researcher, Dr. Bohacheck and his colleagues created a new system based on machine learning, and they published the results of their study in the journal Neuropsychopharmacology, along with a review of the field. Have a listen to learn more! Related Review and Article.