Reviewer of the Month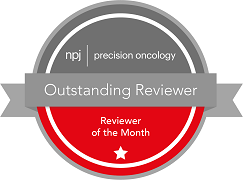 Each month beginning in June 2021, our editors will select one of our outstanding referees to be featured as Reviewer of the Month.
Our featured reviewers are those who have:
made a significant and positive contribution to the peer review process, regardless of whether the paper was eventually accepted by the journal;
taken both a broad and detailed view of the paper;
demonstrated professionalism and compassion in their reviews; and
provided comments that truly help the authors to improve their work.
We must note that, while it is our opinion that these referees have provided exceptional reviews, many of our referees meet the above criteria and we regret that we cannot recognize each of them publicly here. We are equally grateful to all of the individuals who agree to review for npj Precision Oncology, thereby helping to strengthen the scientific record. We hope that by highlighting a few of our most outstanding referees, we can bring attention to the valuable contributions of peer reviewers to the scientific process.
August 2021
Jakob Nikolas Kather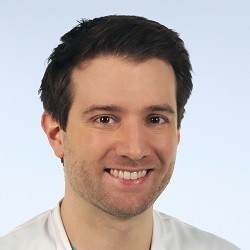 Jakob Nikolas Kather is an Assistant Professor at RWTH Aachen University in Germany. In addition to his clinical activities in gastrointestinal oncology, he leads a research group focused on artificial intelligence biomarkers. His work on deep-learning-based biomarkers in solid tumors has recently been published in Nature Medicine and Nature Cancer. Learn more about his research here. You can follow him on Twitter @jnkath.
Regarding peer review, Dr. Kather says, "I chose to review for npj Precision Oncology because I support its mission to bring the latest technology to the clinic and translate it into better outcomes for our patients."
July 2021
Collin Blakely, MD, PhD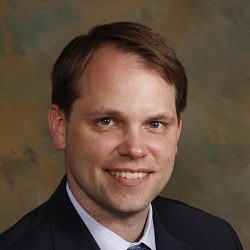 Dr. Collin Blakely is a physician-scientist and medical oncologist at the University of California, San Francisco Helen Diller Family Comprehensive Cancer Center (HDFCCC) where he specializes in the study and treatment of thoracic malignancies. His recent studies have focused on identifying mechanisms of early adaptive resistance and acquired resistance to targeted therapies in lung cancer. Dr. Blakely is currently an Assistant Clinical Professor in medical oncology and Thoracic Oncology Oversight Committee Chair for the HDFCCC. You can follow him on Twitter @collin_blakely.
When asked about peer review, Dr. Blakely says, "I review for npj Precision Oncology because I appreciate that the pace of new discoveries in precision oncology dictates that novel findings need to be disseminated quickly, but also must be thoroughly vetted for their scientific rigor and clinical relevance."
June 2021
Elisa Espinet, PhD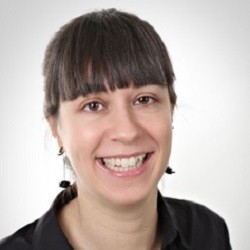 Elisa works as a senior postdoctoral researcher in the group of Stem Cells and Metastasis of the Heidelberg Institute for Stem Cell Technology and Experimental Medicine (HI-STEM). How the heterogeneity of cancer cells is regulated and how this defines the interactions with the tumor microenvironment impacting ultimately the progression of the disease are the main questions her research aims to answer. You can follow her on Twitter @ElisaEspinet.
Regarding peer review, Dr. Espinet says, "The reviewing process should be best seen as a collaborative work between the authors, the reviewers and the journal to present new scientific findings to the community in the strongest and clearest way possible. As an author, this vision helps me to evaluate the comments I get from the reviewers and to be grateful for the suggestions that will improve my manuscript. As a reviewer, I try to evaluate that the data presented are the in the best way to address and support the author's findings, and that the message of the manuscript is clearly conveyed. It is very rewarding when you see that your comments have been useful for the authors and the editor, and that you have contributed your two cents' worth to the complex and often long process of publishing a scientific work."