5 Questions with Our New Editor-in-Chief
Get to know our new Editor-in-Chief, Professor Ioanna Tsiligianni, as she answers 5 questions about her research experience and shares her thoughts about becoming involved with the journal.
Ioanna Tsiligianni, MD, PhD, MPH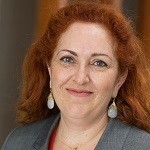 Ioanna Tsiligianni is an Assistant Professor in the Department of Social Medicine at the University of Crete in Greece.
What is your research background?
I have a Masters degree in Public Health and Health Care Management, and two PhDs — one on interstitial lung diseases from the Faculty of Medicine, University of Crete, Greece, and the other on health status and COPD in primary care from the University of Groningen in the Netherlands.
My main research interests are related to public health and primary care issues, with a special focus on primary care respiratory medicine, mainly COPD, asthma and also lung cancer. I focus on health outcomes assessment and health status in respiratory diseases, as well as the use of diagnostic tools for chronic diseases. My research has also included broader topics of public health/primary care, such as disease prevalence and burden, risk factors, comorbidities, financial crisis, barriers to prevention strategies (e.g. smoking cessation implementation), diet, over-the-counter medicines, chronic diseases management, rural and deprived populations, etc. Several of my research activities took place during my Presidency of the International Primary Care Respiratory Group (IPCRG), and others within the Department of Social Medicine in Crete, Greece.
What is your current research focused on?
My current research focuses mainly on asthma and COPD and more specifically on health status, multimorbidity, polypharmacy, frailty, adherence, spirtuality and other concepts within these respiratory diseases. Participation in European research projects in COPD and asthma in primary care gives me the ability to do research in Greece, a country that has suffered a lot from the European financial crisis for over a decade, especially in rural and deprived areas.
What has been the biggest challenge and your greatest achievement in your career so far?
My biggest challenge has been to work for many years in a rural deprived area as a general practitioner (GP) and at the same time to try to do research and build on educational activites within the respiratory medicine field. It was a real challenge to have frequent 24-hour shifts in the health care center, work five or often six mornings a week as a GP and at the same time to be a researcher, educator and a mum. One of my greatest achievements was moving abroad to UMCG in Groningen, and being involved in international networks, mainly IPCRG (firstly as chair of the world IPCRG conference in Athens, research coordinator of the Middle East and Mediterranean countries, and finally on the board and as President of IPCRG), WONCA, EURIPA, etc.
What are you most looking forward to in your role as Editor-in-Chief?
npj Primary Care Respiratory Medicine is a journal that aims to promote respiratory diseases, linking them with primary care and public health by having the patient in the epicenter of care and research. I would like to increase the journal's visibility within many international organizations and promote the value of primary care through research in under-represented areas like the patients' views and their needs that are rarely expressed, and in concepts like multimorbidity that deal with the patient in a holistic way. I would be really interested in promoting implementation science, multidisciplinary care and global health, especially in low- and middle-income countries, and research that focuses on clinical (pharmaceutical or not) care that can improve patient well-being and outcomes.
Why should researchers submit their work to npj Primary Care Respiratory Medicine?
That's a simple question! There is no doubt that the Springer Nature partnership is a guarantee of the quality of the research published. The mission of npj Primary Care Respiratory Medicine is to provide an authoritative setting for the publication of high-quality, internationally relevant clinical research that is essential to the future of primary care management of patients with respiratory and respiratory-related allergic diseases. Additionally, the journal aims to inform and educate healthcare professionals worldwide of the research and service developments that promote excellence in the care of patients with respiratory and respiratory-related allergic diseases. I think this mission is unique and makes npj Primary Care Respiratory Medicine the home of clinicians and researchers from around the world who focus on primary care respiratory disease management.
We have a strong management and editorial team and peer reviewer base who are all dedicated to this mission. I am available to every author, clinician or researcher to discuss any issue, challenge or barrier and provide advice and support to communicate their research.