3 Questions with Our New Editor-in-Chief
Get to know our new Editor-in-Chief, Dr. Catarina Frazão Santos, as she answers 3 questions about her research and experience and shares her thoughts about becoming involved with the journal.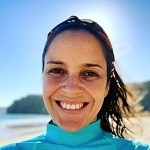 What is your research background?
I hold a PhD in Marine Sciences from the University of Lisbon (co-directed by Duke University), a master's degree in Ecology and Environmental Management, and I've graduated in Marine Biology. It was during my doctoral project on sustainable ocean planning and policy that my research became truly interdisciplinary and deeply focused on the multiple dimensions of ocean sustainability. I was fortunate to receive national and international research awards since early in my scientific path, which granted me the opportunity to establish an international network of collaborations, and later launched my career as an independent investigator – I am a Researcher and Lecturer at the University of Lisbon, Department of Animal Biology. I'm also an integrated member of the Marine and Environmental Sciences Center (MARE-UL) and an invited research associate and lecturer at the NOVA School of Business and Economics (Portugal).
What is your current research focused on?
I've been conducting research on sustainable ocean management and governance for about 15 years (from ocean policy to spatial planning, stakeholder perceptions, environmental assessments, risk and vulnerability analyses). For the past five years, though, my research interests have focused specifically on the interlinks between marine spatial planning and global climate change. Developing climate-smart, resilient, and adaptive ocean plans, while challenging, is critical to ensure sustainable ocean use and conservation in the long term. I am the coordinator of a research project on the topic, where I'm privileged to work with renowned international senior experts and inspiring early career researchers. I'm deeply committed to finding practical solutions and pathways to support ocean sustainability and raising awareness close to the scientific community, policymakers, practitioners, NGOs, and civil society on the importance of the matter.
What are you most looking forward to in your role as Editor-in-Chief?
I'm really looking forward to contributing to creating a notable forum for sharing and critically debating innovative and integrative solutions and approaches to support ocean sustainability at multiple levels. I am thrilled to see the upcoming research that will be submitted to the journal, and excited to work with an esteemed group of Associate Editors and a distinguished Editorial Board with members from across the globe. The journal will equally welcome research from natural and social sciences, recognizing the fundamental role of understanding and integrating the human dimension into ocean research and management to effectively ensure sustainability. It will also welcome local and global research, from all ocean basins, developed and developing coastal states, and particularly small island developing nations. As the ocean is one, solutions and approaches must be integrative, equitable, recognize interlinkages, and allow decision-makers to perceive the "full picture" of what a sustainable ocean entails. This is what we want to support with npj Ocean Sustainability.