Fahad Ahmed

Jake W. O'Brien

Daniel A. Burgard

Catherine E. Richards

Asaf Tzachor

Richard Fenner

Erik Svensson Grape

Antonio J. Chacón-García

A. Ken Inge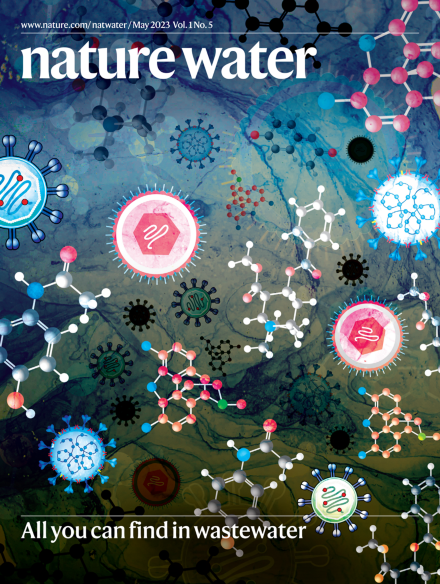 Announcements
The addition of chlorine to water increases the generation of disinfection by-products (DPBs). In this webinar we discuss with William Mitch (Stanford), Susan Richardson (South Carolina Univ) and Maria José Farré (ICRA, Barcellona) about high molecular weight DBPs, exploring the formation, potential environmental hazard and risk assessment.

The UN 2023 Water Conference will be held in New York on March 22-24, 2023, To highlight the importance of research and scientific evidence in addressing the water-related challenges, we present a new compilation of research articles from across the Nature Portfolio that corresponds to the dialogue themes of the conference.

Ahead of the first global conference on water in almost 50 years, held on March 22-24, Karin Sjöstrand from Nat Water spoke to Quentin Grafton (Australian National University), Joyeeta Gupta (University of Amsterdam), John Matthews (AGWA), and Rachael McDonnell (IWMI) about expectations of this global event and about challenges and opportunities on the road ahead
Efficiency is only one of the parameters involved in solar evaporation that should be improved to make it practical. Depending on the application, various factors of merit should be taken into consideration, as discussed in this Perspective.

Wastewater-based epidemiology was widely used to monitor the spreading of COVID-19. We should now build on the knowledge acquired over the past three years to extend the use of the technique to a wide range of human health and lifestyle aspects.

Treatment of brackish groundwater can help to alleviate potential competition for freshwater resources between the power sector and other sectors in water-stressed regions.

The approach based on analysing wastewater to monitor drugs or pathogens in the population had been used for decades before it became widespread during the COVID 19 pandemic. We have asked experts located in a number of different nations to share their views on the potential and limitations of wastewater-based epidemiology in the future.

Andrew C. Singer

Janelle R. Thompson

Kevin V. Thomas

This study reveals trade-offs in freshwater savings, cost and capacity shortfalls from deploying treated brackish water for wet thermoelectric cooling, as well as its cost-effectiveness, relative to dry cooling retrofit, in saving freshwater.

Zitao Wu

Haibo Zhai

Nicholas S. Siefert

The successful use of wastewater-based data during the COVID-19 pandemic has led to the creation of the National Wastewater Surveillance System in the USA for pathogen monitoring. Now a complementary system is needed for help tackling the opioid epidemic.

Fahad Ahmed

Jake W. O'Brien

Daniel A. Burgard

Heterogeneous water disinfection is a promising way to avoid secondary pollution, but it is not very efficient. The development of nanoflakes shows that a much higher efficiency than previously achieved can be achieved through solar-driven heterogeneous disinfection.