Journal Updates
Pancreatobiliary Neoplasms: Virtual Collection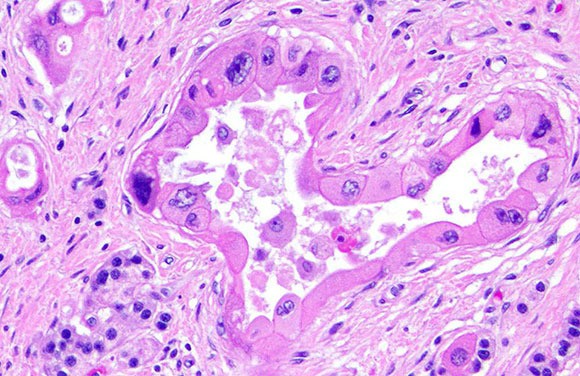 Neoplastic diseases of the pancreas and the biliary tract share numerous common features regarding their morphology, immunohistochemical profile and molecular driver events. In the last few years, numerous efforts have been made towards standardization of the diagnostic approach to these malignancies and exploration of their biologically relevant pathomechanisms, such as the interaction with the microenvironment. In addition, the integration of immunophenotypical and molecular data into the classical histomorphological approach has led to the definition of new entities and to a clear-cut and more clinically relevant classification of the already known ones.
In this virtual issue we highlight papers from Modern Pathology and Virchows Archiv which deal with the most recent developments in molecular pathogenesis, classification, and diagnosis of pancreatobiliary neoplasms.
Courtesy of Modern Pathology
Quasimesenchymal phenotype predicts systemic metastasis in pancreatic ductal adenocarcinoma. Mahadevan, K.K., Arora, K.S., Amzallag, A., et al.
Pancreatic cancer arising in the remnant pancreas is not always a relapse of the preceding primary. Luchini, C., Pea, A., Yu, J., et al.
Immunohistochemical and molecular features of cholangiolocellular carcinoma are similar to well-differentiated intrahepatic cholangiocarcinoma. Balitzer, D., Joseph, N.M., Ferrell, L., et al.
Pathologic assessment of gastrointestinal tract and pancreatic carcinoma after neoadjuvant therapy. Pai, R.K., Pai, R.K.
Sclerosing epithelioid mesenchymal neoplasm of the pancreas – a proposed new entity. Olca Basturk, Britta Weigelt, David S. Klimstra, et al.
Three-dimensional visualization of cleared human pancreas cancer reveals that sustained epithelial-to-mesenchymal transition is not required for venous invasion. Seung-Mo Hong, DongJun Jung, Ashley Kiemen, et al.
Metachronous intraductal papillary mucinous neoplasms disseminate via the pancreatic duct following resection. Kazumasa Nagai, Yusuke Mizukami, Yuko Omori, et al.
Courtesy of Virchows Archiv
Lost in Translation: Confusion on Resection and Dissection Planes Hampers the Interpretation of Pathology Reports for Perihilar Cholangiocarcinoma. Roos E, Franken LC, Soer EC, et al.
Sarcomatoid carcinomas of the gallbladder: clinicopathologic characteristics. Taskin OC, Akkas G, Memis B, et al.
Immune cell score in pancreatic cancer – comparison of hot spot and whole-section analyses. Tahkola K, Leppänen J, Ahtiainen M, et al.
c-MYC amplification and c-myc protein expression in pancreatic acinar cell carcinomas. New insights into the molecular signature of these rare cancers. La Rosa S, Bernasconi B, Vanoli A, et al.
Tumour origin and R1 rates in pancreatic resections: towards consilience in pathology reporting. Bal M, Rane S, Talole S, et al.
High Immune Cell Score Predicts Improved Survival in Pancreatic Cancer. Tahkola K, Mecklin J-P, Wirta E-V, et al.
Dilemmas for the pathologist in the oncologic assessment of pancreatoduodenectomy specimens. Soer E, Brosens L, van de Vijver M, et al.
DLEC1 methylation is associated with a better clinical outcome in patients with intrahepatic cholangiocarcinoma of the small duct subtype. Kim Y, Lee K, Jeong S, et al.
Prognostic role of BAP-1 and PBRM-1 expression in intrahepatic cholangiocarcinoma. Sarcognato S, Gringeri E, Fassan M, et al.
EVI1 expression is associated with aggressive behavior in intrahepatic cholangiocarcinoma. Tanaka M, Shibahara J, Ishikawa S, et al.
Cover image from Pai RK & Pai RK (2018) Pathologic assessment of gastrointestinal tract and pancreatic carcinoma aftre neoadjuvant therapy. Mod Pathol 4-23. ©USCAP.