USCAP Vogel Award
On this page: The F. Stephen Vogel Award | 2017 Vogel Award Winner | Previous Awardees
The F. Stephen Vogel Award
The F. Stephen Vogel Award was established by contributions to a fund created by his family and friends. It is to be awarded in recognition of an outstanding paper by a resident or fellow published in one of the Academy journals, Modern Pathology or Laboratory Investigation, during the preceding calendar year. Thus, the 2017 award will be based on papers published during the calendar year 2016.
The awardee must: (1) be a USCAP member, in good standing, at least one year prior to receiving the award; (2) possess an M.D., or international equivalent, degree; and (3) be a pathologist-in-training (resident or fellow) in a program accredited for training at the time the scientific investigation on which the article is based was initiated and substantially completed. Applicants should be the first author or submit documentation of a significant contribution to the paper.
On papers with multiple authors, only one author is eligible, and only one paper per author may be submitted. The prize will consist of a check for $1,000 and a certificate. Applicants should complete the application form available on the USCAP website at www.uscap.org and electronically submit the form along with a reprint (or preprint) of their manuscript to denice@uscap.org. The Vogel Award Committee will select the awardee.
2017 Vogel Award Winner
Matthew W. Rosenbaum, M.D. (Vogel Award)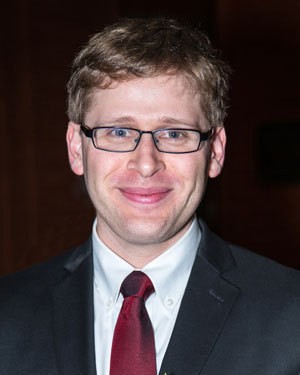 Matthew W. Rosenbaum, M.D. is a California native who studied biology and Japanese linguistics at Macalester College. After college, he received a Fulbright Fellowship to study longevity in Japan at the Okinawa Research Center for Longevity Science. He also studied biomedical translation at the Inter-university Center for Japanese Linguistics in Yokohama, Japan. Upon his return from Japan, Matthew enrolled at Cornell University Medical School and spent time at the World Health Organization in Geneva and the University of Sydney in Westmead, Australia. He graduated receiving the Herman L. Jacobius Prize in Pathology and membership in the Alpha Omega Alpha Honor Medical Society. He is currently in his third year of anatomic and clinical pathology training at Massachusetts General Hospital, where his research interests include gastrointestinal pathology, cytopathology, molecular diagnostics, and the tumor immune microenvironment. He has received research awards from the Rodger C. Haggitt Gastrointestinal Pathology Society and Papanicolaou Society of Cytopathology. He is currently slated to complete a cytopathology fellowship at Massachusetts General Hospital and is excited to further his research and clinical training.
This award will be presented on Tuesday, March 7, 2017 during the USCAP Annual Meeting in San Antonio, Texas.
Previous Awardees
2016 Charlotte (C.F.) Kweldam
2015 Patrick J. Cimino
2014 Ghassan Allo
2013 Bojana Djordjevic
2012 Elizabeth Demicco
2011 Jose Gaal
2010 Ibrahim Batal
2009 Samantha L. Butler
2008 Jeremy Wallentine
2007 Donna E. Hansel
2006 Rohit Bhargava
2005 Dylan V. Miller
2004 Robert Pu
2003 Dinesh Rakheja
2002 Ilene B. Bayer-Garner
2001 Pei Hui
2000 Julie Teruya-Feldstein